For the backstory on this murder, go here.
Police announced on Friday that 43-year-old Robert Robin Cropearedwolf is wanted for manslaughter after the death of 73-year-old Michael Finlay.

Hillier said that police do not believe Cropearedwolf and Finlay were known to each other.

"It does appear to be a happen chance meeting," Hillier said. "Mr. Cropearedwolf if you are watching this I encourage you to speak to a lawyer and turn yourself into the nearest police station. I also encourage anybody with information that know his whereabouts to please contact us so that we can get him into custody."

Hillier said that investigators are not aware of prior interaction between the suspect and the victim prior to the assault. He said that Finlay was conscious when he was transported to hospital and spoke with officers prior to his death.

A cause of death has not yet been released.
Robert Cropearedwolf. That sure sounds like a typical WASP name. Do you think we could get a picture of this Aryan man CTV news?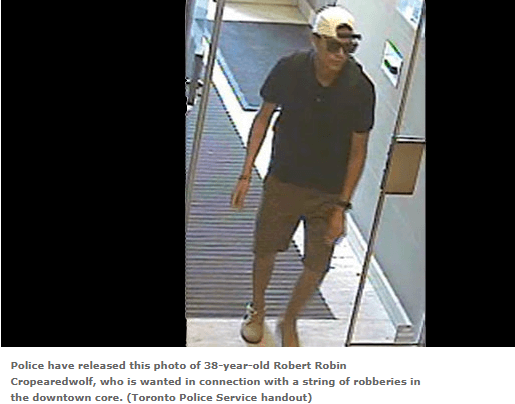 It's difficult, but yes you can, because it turns out this loser was thrown in jail a half decade ago for a string of robberies. 
Police are searching for a suspect wanted in connection with a string of break-ins at stores in the Entertainment District.

The incidents occurred sometime on Sept. 22 in the area of Duncan Street and King Street West.

It is alleged that a male suspect broke into several stores in the neighbourhood and stole cash, electronics and jewelry.

In a news release issued Thursday, police said the suspect has been identified as 38-year-old Robert Robin Cropearedwolf, of Toronto.

He is believed to be five-foot-six, 145 pounds and has long, black hair that is frequently braided. Police say the man also has star tattoos on both elbows.
Boy is it ever a good thing that this human detritus was out of jail where he could randomly assault White People just cause. Remember, Crimeworld is a set of policies.