I was forwarded the following lead by a supporter on telegram.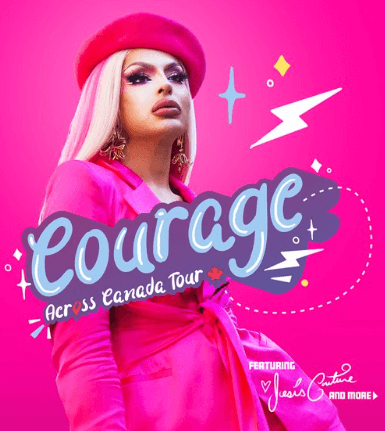 This is the "Courage Across Canada Tour," and it's being put on by "Day Of Pink.
Did you hear the exciting news? Courage Across Canada Tour 2023: ReOpening with Pride is on its way to your city.

The Courage Across Canada Tour is a celebration of the resiliency of queer, trans and non-binary folks over the last few years and to build a sense of pride throughout Canada.

Join me, Icesis Couture (winner of Canada's Drag Race), and my drag siblings as we travel across Canada, coast to coast.

We will be visiting 10 communities (see the complete schedule below) sharing drag and stories at local schools by day, and celebrating with free performances at local venues by night.
Who wouldn't want these lovely ladies around children?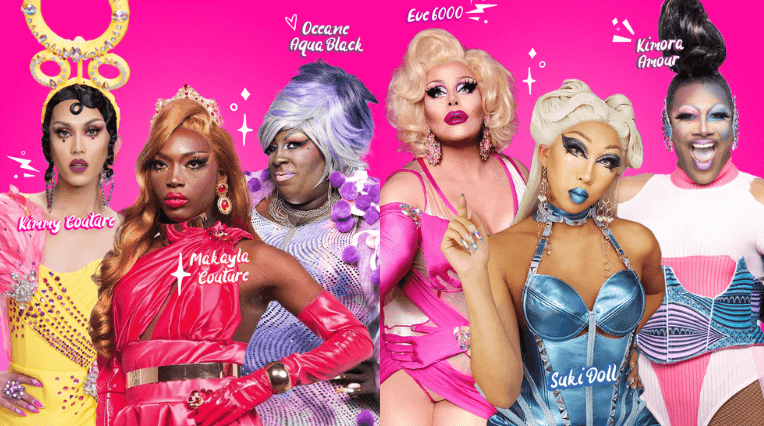 Bigots, that's who. Bigots who are sometimes referred to as pedophobes by us here in the Prolapse-Community. Bigots who are on their way out.
Get your free tickets NOW to hear fun inspirational stories, see the best drag performances, and engage in Q&As.

We will also be honouring 2SLGBTQIA+ community who have made a difference (more info coming soon).
You might be wondering how they can offer free tickets. Perhaps their business model is to get cash tips, like strippers. To some extent yes, but they're also just funded by your taxes.
Join us in thanking our Sponsors: the Government of Canada's Ministry of Heritage, US Communications, Air Canada, VIA Rail, Sparkle Productions, the Arts Hotel, The Fort Garry Hotel, Spa & Conference Centre, the Hyatt Regency, The Westin Edmonton, the Holiday Inn Toronto Downtown, Pink Mafia Productions, Flight Plan, our local partners, our amazing volunteers, and donors like YOU!

For more information on this project and to become a sponsor, please contact us at: info@dayofpink.org
Yeppers. The Government of Canada's Ministry of Heritage is giving your taxdollars to this all ages groomer fiesta. The same is true for Via Rail, which is the passenger rail Crown Corporation. Remember, work hard so that the government can steal your money and give it to Zelensky, Fake Refugees, and whatever this is. A stunning and brave Groomer, I'm sure.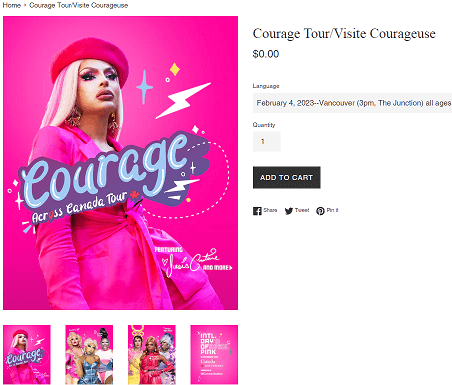 Luckily for all of us, the tickets are free, probably because they know that no one would show up if they had to pay to get in. All of which means that we get to have a little fun.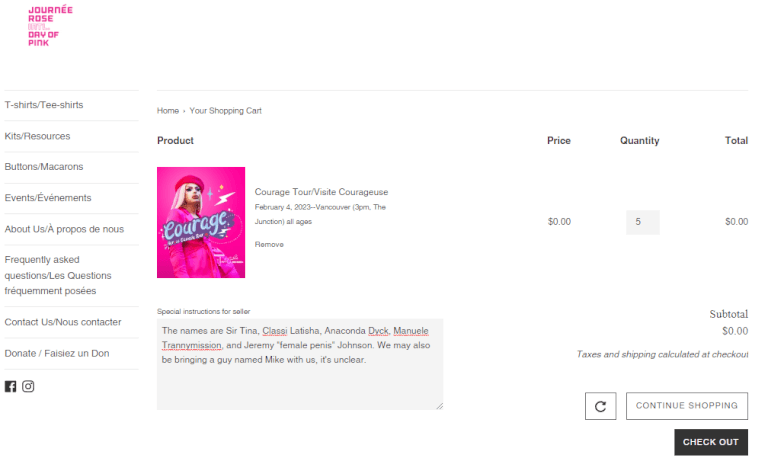 I order five of them for me and my friends. Sir Tina, Classi Latisha, Anaconda Dyke, Manuele Trannymission, and Jeremy "female penis" Johnson all get in on that sweet sweet unsupervised child action.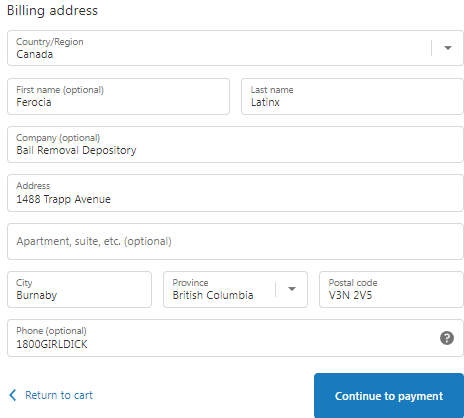 They ask me to fill out my information. This is no problem, as my company, Ball Removal Depository – located on 1488 Trapp Avenue – is famous in these circles. I, Ferocia Latinx, will not be denied my rightful chance to rape small children, and if they don't like that they can call me at 1-800-GIRLDICK. I don't care that there are too many numbers, having the right number of digits in your phone number is White Supremacist fascism. Deal with it.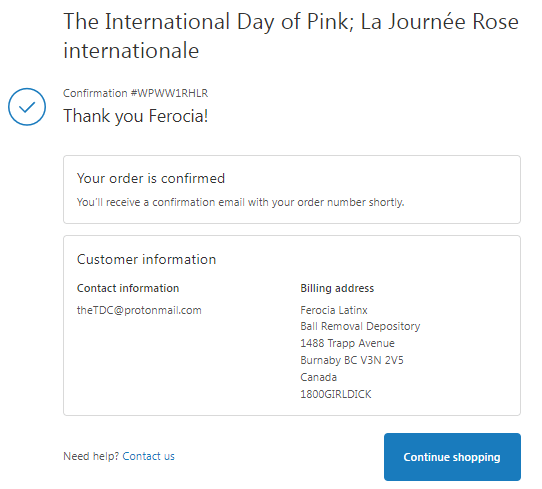 I give them this site's email, since obviously I'm not going to give them false information, and sign up for their newsletter. 

With that, my purchase, for free, of these tickets is a success.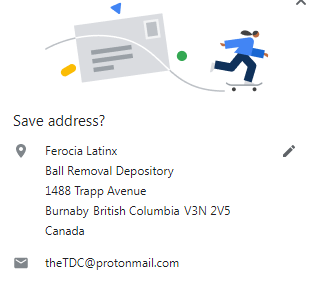 Ferocia Latinx and the Ball Removal Depository, which is also my band name, is on xir's way to the Groomer Party. We're Gay, here to stay, and also play with terrified children today. Or in this case tomorrow.
By the way, they didn't even demand a confirmation email, so theoretically, not like I'm advocating for this, you could go and sign up for their event.

I'm 95% sure that I won't be attending this event, since there wasn't enough lead up time to organize an effective real life action against them. However, since they are keeping track of the tickets "Sold," you could, hypothetically, steal all the tickets on behalf of the Ball Removal Depository and shut out potential groomers. I'm just sayin', it's a possibility.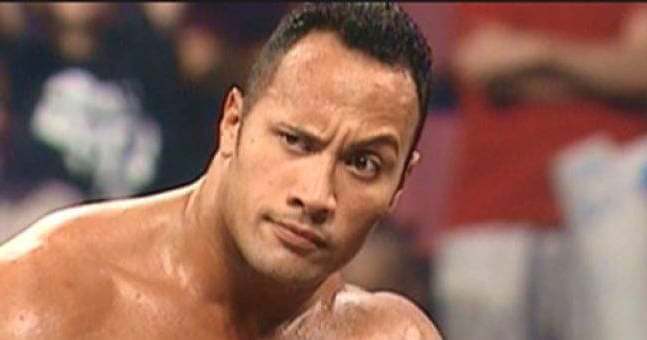 Look I'm not sayin, I'm just sayin. You hear me?