Here's an official police report that your taxes paid for.
West Vancouver – West Vancouver Police are investigating a mischief to property, after someone defaced the departments new Pride crosswalk.

On July 7, 2020 at 4:04 pm staff inside the police station heard a loud and sustained tire squealing outside. When officers took a closer look, they discovered that someone had just left tire marks across a portion of the crosswalk, at the intersection of 16th St and Esquimalt Ave. 

The suspect vehicle left the area at a high rate of speed and was not located.

"This is very upsetting," says Cst. Kevin Goodmurphy. "For whatever reason, this person has chosen to leave a gesture of hate on a crosswalk that stands for the exact opposite."
  
Investigators have captured CCTV footage of the incident and are looking for the following vehicle:

1999-2004 Ford Mustang, black in colour, with red racing stripes along the top and sides, with a rear spoiler and hood scoop. 

There appear to be two occupants in the vehicle.

"We have had nothing but support from community members following the installation of the crosswalk, and we know that those people represent the majority." says Goodmurphy. 

Anyone with information is asked to contact the West Vancouver Police at 604-925-7300 and reference file #20-7149. If you wish to remain anonymous, visit Crime Stoppers online at solvecrime.ca or call 1-800-222-8477. 
The West Vancouver Police Department (WVPD) has been horrified to find their new Rainbow Crosswalk "vandalized," by someone driving a Mustang a little too fast. At around 4PM on July 7th, the WVPD heard some loud tire squeals, and saw a Mustang drive away, which was caught on camera. The Pension Seekers immediately rushed into action. "What, a rape on Cambie? Ain't nobody got time for that. Somebody left a tire mark on a Rainbow we painted a week ago."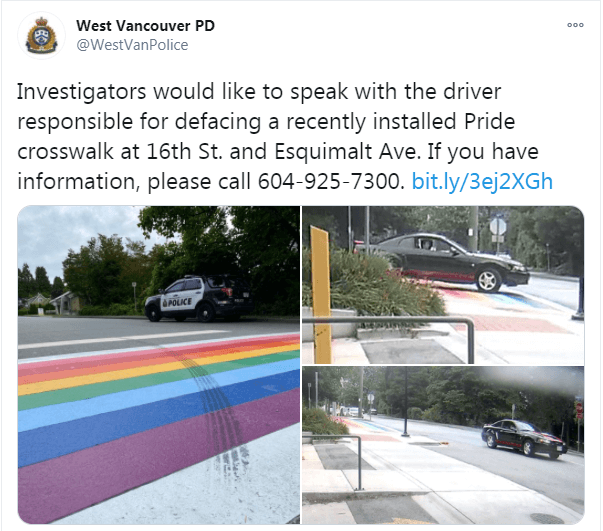 Upon arriving at the scene, which was pretty easy since that's literally their driveway that you're seeing in the shot, taken by cameras installed on their police station, the Adolf-Enjoyer was seen speeding away. And by speeding away, I mean slowly pulling out into traffic. To my eternal shame, this happened in 2020, and I had not yet learnt my lesson to always download these videos when they happen.
To say that this story is ridiculous is only half true. This is the police doing what they're paid to do, which is enforce AIDS cultural norms. I think "muh thin blue line," is mostly dead anyway, but if you see someone try that shit link back to here. 
But yes, the facts of the case are ridiculous. Above is the picture of the skid mark. Below is a random picture of different skid marks. I feel stupid for even having to say that these things happen.
The WVPD left two numbers for people to call in with this story, and have one Constable Kevin GoodMurphy on the case. So what can we find out about Kevin GoodMurphy? Well here's his twitter page. 
Typical Oven-Middle Class Striver. Retweets the WVPD account. Sucks up to his bosses. Tweets about LGBT garbage. If you want to see an actually somewhat disturbing twitter thread, go look at this.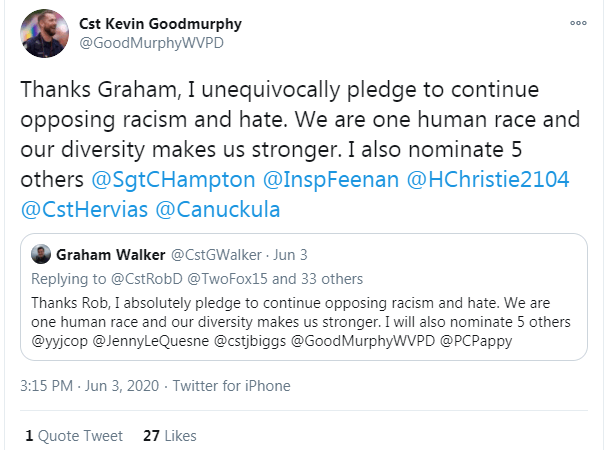 Click on that, then click on what he's retweeting, and you'll find yourself 10 cops deep all repeating "Count me in. There is no place for racism or hate in this world. We have the power to be part of the change! Join me by nominating 5 others to do the same." It's bizarre and downright creepy.
Anyway, GoodMurphy can be quoted as saying,
"This is very upsetting," says Cst. Kevin Goodmurphy. "For whatever reason, this person has chosen to leave a gesture of hate on a crosswalk that stands for the exact opposite."
From WVPD's own website. Later, we find GoodMurphy saying,
"It's our belief now, having interviewed this young person, that a mistake was made. We have no evidence to suggest that a hate crime took place, that any hateful behaviour towards a specific group, LGBTQ2S+ or otherwise, took place when this vehicle was driven in this manner. This person was issued violation tickets as opposed to charged criminally," he said.
BTW, Constable GoodFaggot also has a comedy routine.
Oh my god these guys are just two peas in a pod aren't they? And did you see the part where they tried to get on their bikes and then pretended to fall off. I've started the video from the right spot.
ABSOLUTE CHUCKLE FACTORY!
Originally when I wrote this I ended up calling into Constable Goodmurphy himself, and getting this little cunt on the phone. Needless to say, it went very productively, but since I'm not quite at the self-doxxxing point with this website, I'm not going to be releasing that video yet. Besides, while the conversation went quite well, my setup was quite poor.