MSN:
Though not official from the IIHF, Daily Faceoff's Chris Peters was among the first of multiple insiders to report that the tournament has been cancelled after COVID-19 outbreaks on several teams forced the postponement of games on Wednesday.

The United States was forced to forfeit its game versus Switzerland on Tuesday after two positive tests were discovered. Two more games were shelved Wednesday after positive cases turned up on the Russian and Czech teams, leading to the official cancellation of the tournament.

Officially, the last game of the tournament was Canada's 11-2 win over Austria on Tuesday.

According to several reporters, planning — or more specifically the protection of players, coaches and staff members — was severely lacking in Edmonton and Red Deer. There has apparently been an unavoidable level of overlap between participants and the general public as the conditions fail to provide suitable protection from potential contamination of the highly transferrable virus.
Oh my god! I hope none of those athletic, in great shape young men keel over and die from the sniffles. Four players caught the cold, so of course the entire World Juniors Tournament needed to be canceled.
In some of the same venues last winter, the IIHF successfully operated inside a bubble, preventing the virus from entering and spreading through the facilities and teams.

It seems the IIHF and tournament organizers severely underestimated the spread and potential impacts of the virus, which is both inexcusable but also somewhat understandable, given the ever-changing landscape.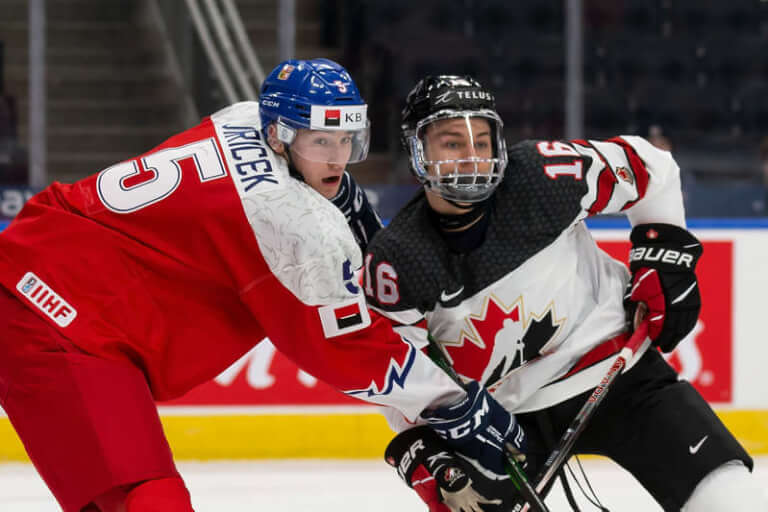 Absolutely inexcusable. I'll bet both the young men in this picture are dead now. Murdered by the sniffles, and the indefensible lack of precautions against the common cold.
Everybody pray for these young men, that they might survive a disease that has a 99.9993% survival rate amongst otherwise healthy people under the age of 40. Pray to Pfizer for the lives of these young men.