Story originally from two years ago, but we had to print it now.
CBC:
CBC News host Wendy Mesley has been suspended from hosting, pending an investigation, after she said she "used a word that should never be used" during an editorial discussion about race.
If you listen closely, you can actually hear the sound of the entire world simultaneously thinking "nigger," all at the same time.
Mesley, whose program, The Weekly, aired on Sunday without her, took to Twitter on Tuesday to apologize publicly. "It was not aimed at anyone, I was quoting a journalist we were intending to interview on a panel discussion about coverage of racial inequality," she wrote.

"I was careless with my language and wrong to say it. Regardless of my intention, I hurt people, and for that, I am very sorry. I am also deeply ashamed.

"I immediately apologized to my co-workers, and recognize this is a word that no one like me should ever use. I made a big mistake and promise to change my behaviour."

Neither Mesley nor Thompson clarified what word she used.
I bet it was the nigger-word. I'll bet my life she said the nigger-word in a private conversation when quoting someone else. Filthy nigger-word sayer.
Andray Domise, a contributing editor at Maclean's magazine, told CBC's Eli Glasner he doesn't know what word Mesley used but said he finds the incident "emblematic of what it's like to work in Canadian media and Canadian journalism: that everything is just a one-off scenario."

"We want to look at it as a series of one-offs, little blunders that we can fix," he said. "But that's exactly how systemic racism works."
This nigger-word has the right idea. You can't just look at things from an individualistic perspective. For example, the Canadian Military's "White Fragility," ask me anything that I've been covering cannot be seen as a one time example of anti-White hate propaganda being perpetuated without punishment. That must be viewed inside of a larger anti-White context that includes racial discrimination in university admission, corporate and governmental hiring, mass migration, anti-White hate propaganda, and even foreign wars for Israel.
Domise said Mesley's comment is part of a wider issue of racial insensitivity at CBC News. He pointed to recent incidents including the airing of a video about demonstrations in New York City that did not include the critical moment a police cruiser drove into a crowd of protesters, as well as comments made by former Conservative cabinet minister Stockwell Day about racism in Canada on CBC's Power & Politics.

"When do you stop dropping the ball and figure out that you've got clumsy hands, is my question," Domise said. "In our national broadcaster, there's a commitment to diversity, but there is no conversation around who makes the news, who's in front of the camera, who's behind the cameras.
Turns out this nigger-word got charged with domestic abuse, because he beat his old girlfriend.
The three assault charges against Toronto journalist and activist Andray Domise were withdrawn Monday after more than a year of legal proceedings.
Domise was arrested in February 2016 and charged with assaulting his former live-in partner on three separate occasions between March and September 2015. He has vehemently denied the accusations.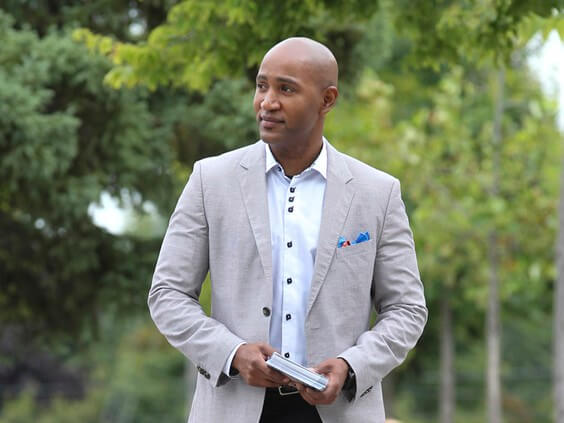 But the charges were dropped, so who knows? What we do know is that the CBC's interviewing of this anti-White shows a systemic anti-White bias amongst CBC higher ups. As always, the people using the multibillion dollar state propaganda agency to whine about being discriminated against debunk their own arguments by virtue of having made them. In contrast, we, as actually marginalized people, do not get to have so much as twitter accounts, because we speak truth to power.