Fox:
SAVANNAH, Ga. (WTGS) — A day to honor Ahmaud Arbery will be observed in Georgia thanks to a resolution passed by the state House.

State Rep. Sandra Scott introduced the resolution designating Feb. 23 "annually in the State of Georgia as The Ahmaud Arbery Day."
Sandra Scott is a Democrat, but I looked up the Georgia House, to try to see how many of them are Republicans. After all, I have been assured that there is a "Democrat Agenda," by the Manlet Cult many times over.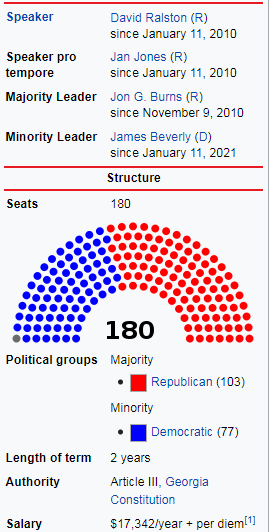 And yet we see that the Georgia House is solidly controlled by the senate. You see, it's so important to elect Republicans, because otherwise you'd get these DEMONrats passing legislation celebrating a Black thief who got himself killed assaulting three White Men who confronted him scoping out areas to steal shit.
Well I mean you'll still get that policy, but it'll have to be proposed by the DEMONrats. So this is definitely something you should get very worked up about, and spend your energy promoting. Anyone who tells you not to waste your time getting Republicans elected is just a normal sized heterosexual anyway.