A train carrying potash derailed in southern Alberta Sunday morning.

Fort Macleod RCMP said police and fire crews were called to the derailment east of Fort Macleod at 8:15 a.m. Police said it happened along Highway 3 between Range Road 251 and Range Road 252.

RCMP said the train was heading west when about 43 cars carrying potash derailed.

There are no injuries or concerns to public safety, the RCMP said. CP Rail has also responded to the incident.

"CP personnel have responded to the scene and recovery operations are under way. The cause of the derailment is under investigation," read a statement from CP Rail.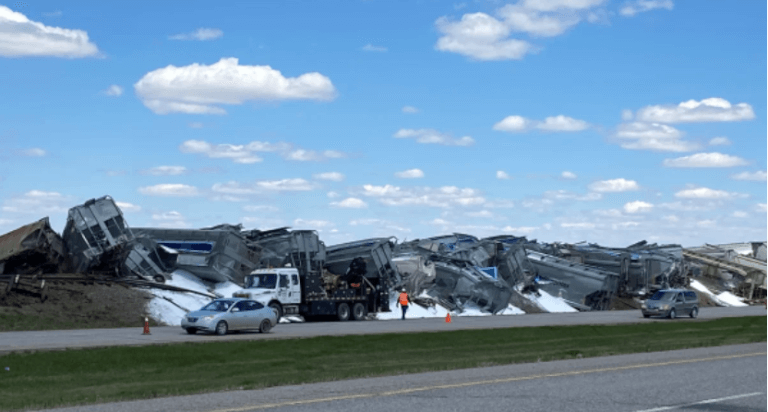 There's a huge shortage of potash, which is primarily used in fertilizer. It's also something that we're going through a huge shortage of now, since so much of our supply comes from Russia, and they have decided to reverse sanction the rest of the World over this. It's a weird coincidence.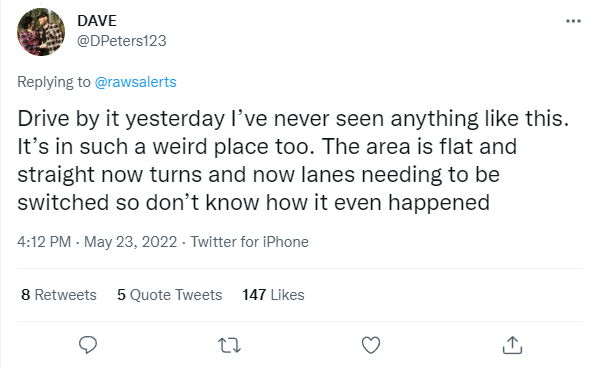 Made all the more weird considering that it happened in a very flat and straight area.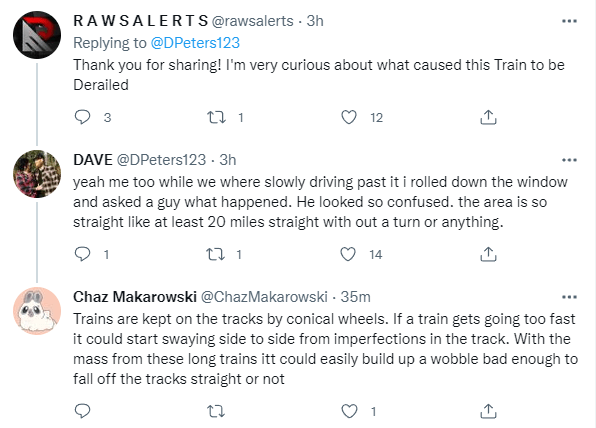 To quote that last tweet.
Trains are kept on the tracks by conical wheels. If a train gets going too fast it could start swaying side to side from imperfections in the track. With the mass from these long trains itt[sic] could easily build up a wobble bad enough to fall off the tracks straight or not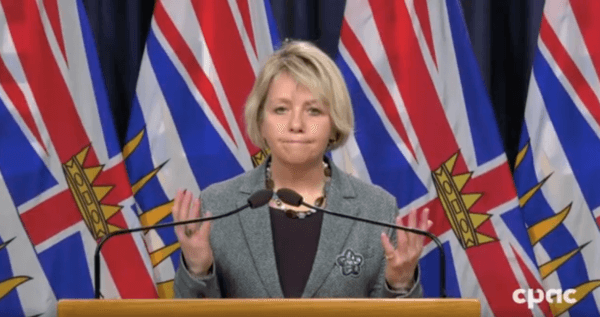 In my opinion, this is just a weird coincidence, especially when we crank out some numbers.
You can expect an average train weight to be about 3,000 to 18,000 tons or more depending on the load and number of cars in the train. Local trains designed for the transport of people or to carry less of a load may weigh anywhere from 1,500 to 6,000 tons or more.
Let's assume that there was 10,000 tonnes of potash on board.
According to the US Geological Survey's most recent data, the top ten potash-producing countries are as follows, with estimated production for the year listed for each. Not surprisingly, Canada continues to account for the largest share, with a lead almost double that of the next in line, Russia. This year, Russia moved into second place, knocking Belarus down one spot with a slight lead in tonnage.

Canada, 14 million metric tons

Russia, 7.6 million metric tons

Belarus, 7.3 million metric tons

China, 5 million metric tons

Germany, 3 million metric tons

Israel, 2 million metric tons

Jordan, 1.5 million metric tons

Chile, 900 thousand metric tons

Spain, 470 thousand metric tons

In total, the world produced an estimated 43,000 million tons of potash in 2020. 
Canada alone produces 14 million tonnes of potash. I get that trains are big, and there's a lot of product on the ground, but a single train getting derailed doesn't really mean much in the grand scheme of things. There are a lot of trains in Canada, some of them get derailed. Sometimes weird things happen. If another train containing potash derails in a perfectly flat area with no turns, then we have something that is truly suspicious.