I forget who it was now, but in response to A. Nonymous' excellent and ongoing series on the Canadian Armed Forces someone posted a collection of the CAF Borden Base, about 100km north of Toronto, proudly boasting about how many drag shows they've put on.
Pte Jordan Riley is a vehicle tech student who was posted to Edmonton in July. Riley participated in the Borden Pride Drag Dinner event this year perfomring[sic] as 'Mae Regret Rayne' at the Base Borden Officers Mess on 25 May.
Let's take a look at this Private Jordan Riley, also known as "Mae Regret Rayne."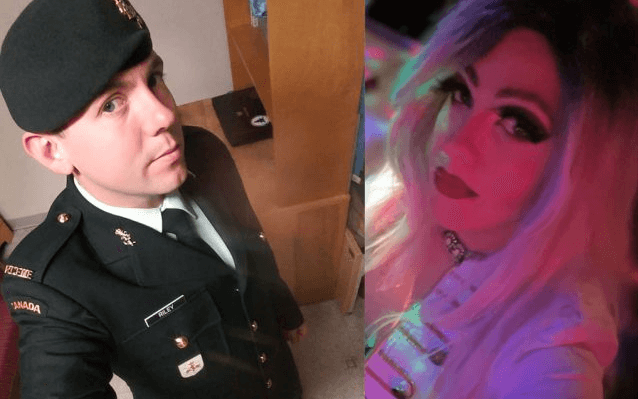 The longer I look at the picture the more unnerving the image on the left becomes. Sometimes the subtly perverted is more disturbing than the full on effect, although both are bad.
Q: When did you begin drag?

A: I started doing drag probably around grade 12, first year of college. I kind of got into the club scene; I was hosting shows in Hamilton but driving back here (Angus) after. I did a couple things in Barrie, Toronto, and as the years progressed, I got the opportunity to perform in Vancouver, out in Calgary, Edmonton and performed at Jasper Pride – just wherever I could find a stage. 

Q: What motivated you to join the Armed Forces? 

A: My Dad served 30-some-odd years, and I'm fourth or fifth generation to join. When we were younger, we always said that the military wasn't for us. As I grew older, I noticed that hit my Dad hard. I got to a point in my hospitality career, I was either at Crabby Joes or East Side Marios in Barrie, where there were a couple nights, I found myself thinking, 'okay, I've managed places from the Rockies to Southern Ontario, what do I want to do next?' Next thing I know a couple days pass by, and I wake up one morning, to an email telling me, 'your application has been processed, and we look forward to hearing from you.'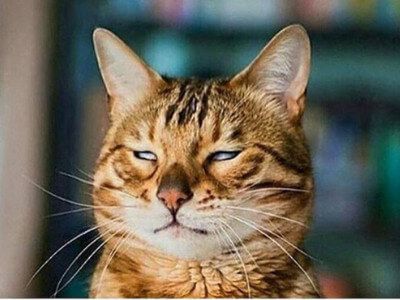 It's easy to get distracted by the astonishing pervertedness of our armed forces, but don't ignore how he trivializes military service. To him, the CAF is just another thing to do. You will hear no mention of honour, duty, or sacrifice from Private Riley. His interests are purely mercenary.
Q: What's your favourite part of performing?

A: At the drag dinner there's a video where I perform my first song, and I'm handed a microphone. In the video, I make a joke saying how I never thought that a year and a half ago, when I joined the military, I'd be walking across this floor, through those doors in six-inch heels – so, it's the humour, it's the interaction. 

Q: What are your hopes for the future in drag and in the Armed Forces?

A: I'm going to do my five-year contract; if I'm enjoying what I'm doing, and I've been able to grow in other aspects of my life as well, I'll stay in, and try to stay longer than Dad. Believe it or not, green isn't a bad colour to wear every day. I love what I do, and I wouldn't change that. It's funny, in the world of drag, everyone's talking about how they're doing a Drag Race Canada – who knows maybe I can block up a bunch of leave, maybe throw my name in the ring. 

The exposure, this year alone, being able to be a part of what we've (The Borden Pride Network) been able to accomplish, (at) the Junior Ranks Mess, (and) the Officers Mess, it was a good year for progression. I'm hoping, once we get a couple more pride networks out here, around the different bases, it'll be nice to see the colours come out of the military.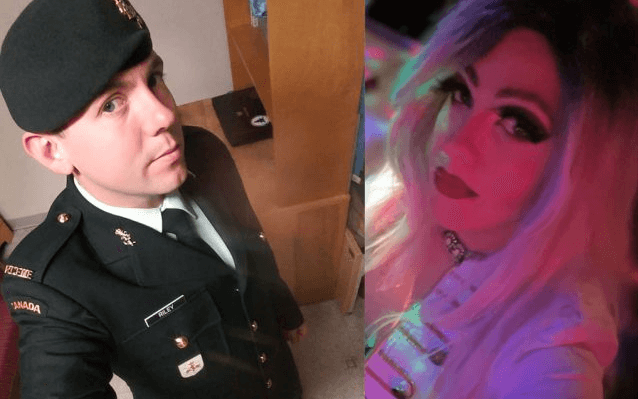 Once again we see these perverts immediately taking over institutions, like human locusts. Their entire perspective is "how do we make this institution serve our purposes." And since the koshervatives exist to throw the fight against these types, they have absolutely no opposition, no matter how unpopular they are.
CFB Borden is known to host a large number of community, charity and other initiatives throughout the year, but this one dragged on — in a good way.

Held in conjunction with Barrie Pride at the Base Borden Officers Mess on 25 May, the Borden Pride Network's (BPN) most recent event – "Drag me to Dinner", a fundraiser that included fun and the raising of awareness – featured a dinner, drag show and dance that has, according to one member, received rave reviews.

Featuring three drag queens, one a Canadian Armed Forces (CAF) member, who sang and danced wearing spectacular costumes. One spectator suggested – in a positive way – she was trying to get a better understanding of "this drag queen thing".  

"It's part of the LGBTQ+ culture to promote social gatherings," said Sgt Shannon Vickery, a member and former BPN co-chair, explaining the aim behind the performances. "These types of activities help send the message that it's important that everyone feel comfortable with who they are."

"It moments like this that mean so much to our community, because it brings people together," said Mitchell LaFramboise (Justine D'as). "Whether you are an LGBTQ person or you are part of the +, being able to tear down these walls that have kept us divided for so long – and to build bridges of love, caring and understanding – that's what this event was all about."

The drag dinner was just the latest BPN event. Earlier this spring, BPN hosted a "Drag Bingo Night" – a fun evening of comedy, bingo, and lip-sync performances – in partnership with the Borden Junior Ranks Mess. Not only did the event raise awareness, it also raised $845 for "Support the Troops", which helps CAF members and their families cope with the challenges of military service.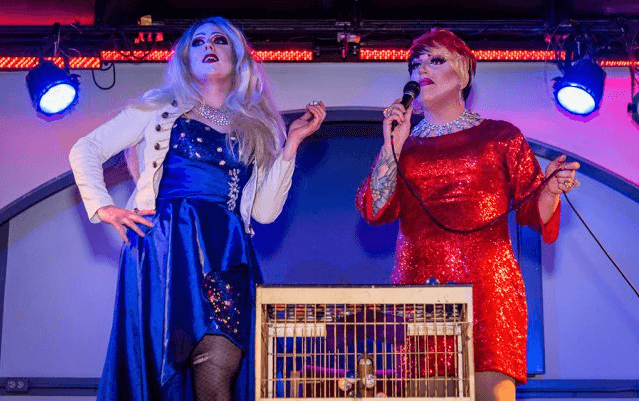 Here I was complaining about these people making everything about themselves, and then they go out and raise a whole $845 for some vague charity. What's more, I've pointed out that these shows are basically awful, with these creeps having zero charisma or likability to normal people, but then this one person said that they got "rave reviews," so what do I know?
Members of the Borden Pride Network (BPN) showed up in force to march in the Barrie Pride Parade on 11 June and show their support for the LGBTQ2S+ community. 

"To be able to wear our uniform at our local Pride parade makes us proud and happy to serve in the CAF," said Sgt Carole Cloutier, co-chair of the BPN since 2018.

Anyone in uniform was welcome to join them. The group of 25 included BPN members, allies, and family and friends who wanted to join in the fun. Sgt Cloutier said the group was happy to return to this event which, like many others, was put on pause during the pandemic. 

BPN supports LGBTQ2S+ soldiers year-round by offering a safe space for new members and their families through various events. They also support local Pride chapters from Barrie to Collingwood, and have a presence at Base Borden events, including flag raisings, Welcome to Borden Day, and the recent Canadian Armed Forces Day and Air Show. Sgt Cloutier says BPN is looking forward to resuming Drag Bingos in the fall and have organized monthly showings of LGBTQ2S+ movies at the Terra Theatre starting in September.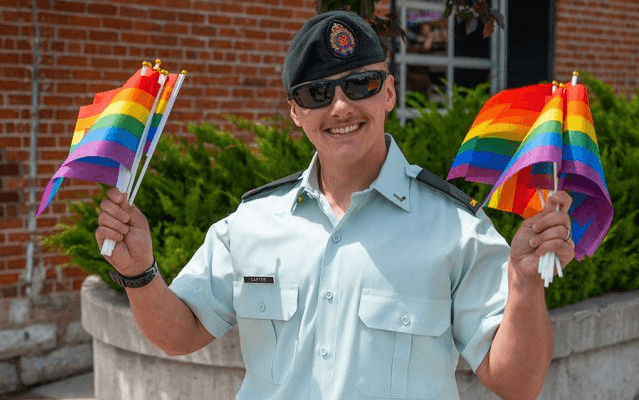 The first two stories were from 2019, but they want to make it abundantly clear that no, they didn't stop being fetishists during Covid-19, they just had less opportunity to enjoy anuses together in public. While it's something of a dead horse, notice again that they imply they weren't proud to serve before, despite service being ostensibly on behalf of the country. But now that the Military is bending over backwards to be as ghey as possible, they're extremely proud. And they all enjoy celebrating with a monthly pervert flick.