It was heartening to see the NJP protests of the anti-White BLM terrorist attack in Waukesha. You can read our piece on that here, and find all of our Waukesha coverage here. 
In an attempt to not give NJP credit, they were referred to by the Schlomo Owned Wisconsin Senators, one Democrat, one Republican, as "outside actors trying to politicize this tragedy," when they staged a protest outside the Waukesha Courthouse. You can read about that here. 
Thanks to TRS, and the TRS forums it has been brought to my attention that Schlomo has a new cuckold team rearing and ready to go. The latest attempt to get out in front of White Advocacy comes in the form of the American Patriot Union, or APU. Yes, they go by APU. 
And here are some pictures from what appears to be their one and only public event, done July 23rd of this year.
That last one is John Doyle. He's the Radical, Hip, Maybe Even Heterosexual new boy leader of Cuckservatism. I could write an effort post on how much of a fag he is, and I will at some point, but for now just take a look at this.
Yeah it's as bad as you think it is. He's Cuckservatism's Fuentes Replacement as Designated Young White Man Coraller. I'll admit to having a small chuckle when I look at his face because I can feel The Mixed-Race Mexican American Patriot Child Savior of the White Race seething all the way from here.
We talked about him earlier, and he's funny for now, but once Fuentes has been farmed for the last smug, gloating chuckle, we should move on to someone actually relevant, like this queer.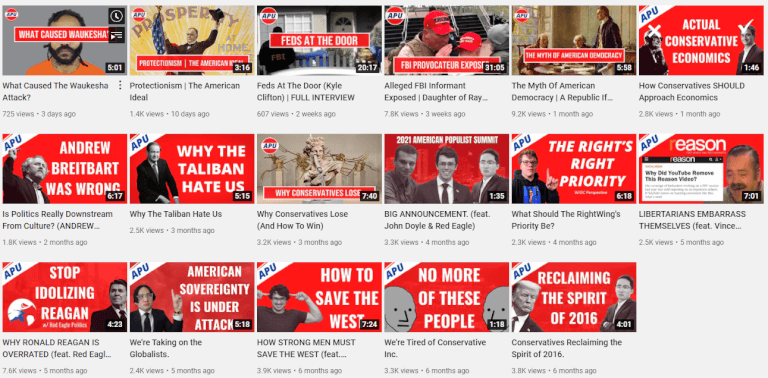 APUs YouTube channel, pictured above, gets around 3k views per video, and their Odysee channel, pictured below, averages less than a single view per video. Yes, you read that correctly, the majority of videos they have created get zero views on Odysee. Zero.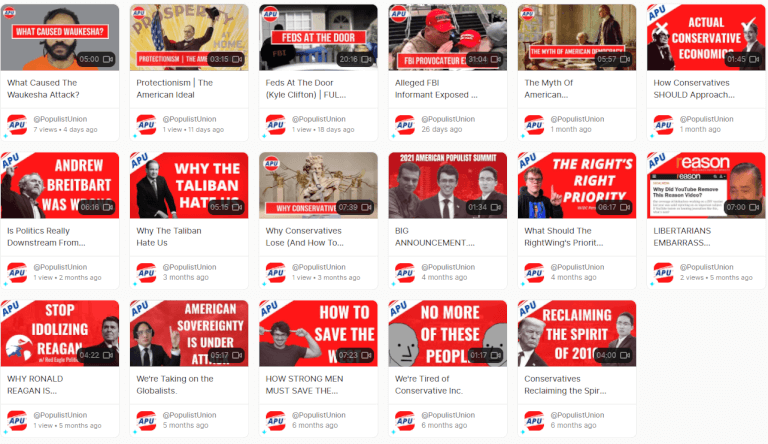 To put that into perspective, below are pictures of our channels, first YouTube, then Odysee. 


And our video channels are complete afterthoughts, since we only use them to supplement articles we've written. 
American Populist Union has a twitter account, and it's nice to see just how lame it truly is.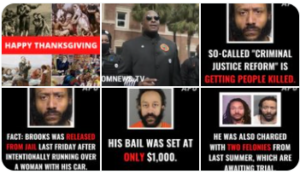 They're going super hard on the cuckservative narrative that the problem with the anti-White BLM terrorist was just that he shouldn't have gotten $1,000 bail. Of course he shouldn't have, but if you don't mention him as a BLM activist who openly talked about doing violence to White People than STFU. 
For reference, our article on him can be seen here. And our video on him is below. 
We've also got an actual serious article on the scum who are trying to get him out on bail once again. EDIT: Actually that isn't on this site.
They're also attacking Ilhan Omar, who has said things like "America won't be a country for White Men anymore," not as anti-White, but as being a meanie little jew basher terrorist sympathizer. And they're doing this to support Lauren Boebert. The above tweet is ambiguous until you see Boebert's video, but they're supporting this bimbo.
Eric Striker had an excellent article on the Conservative Casting Couch, which you can read here. To make a long story short, Lauren Boebert is basically a wannabe porn star who went into politics.
Really serious guys these APUs.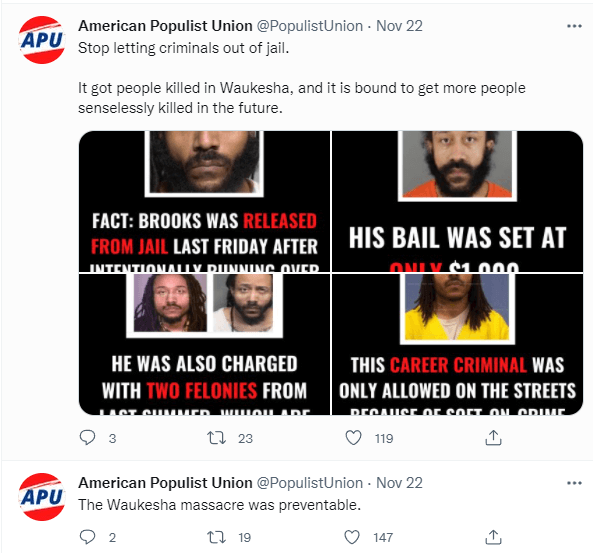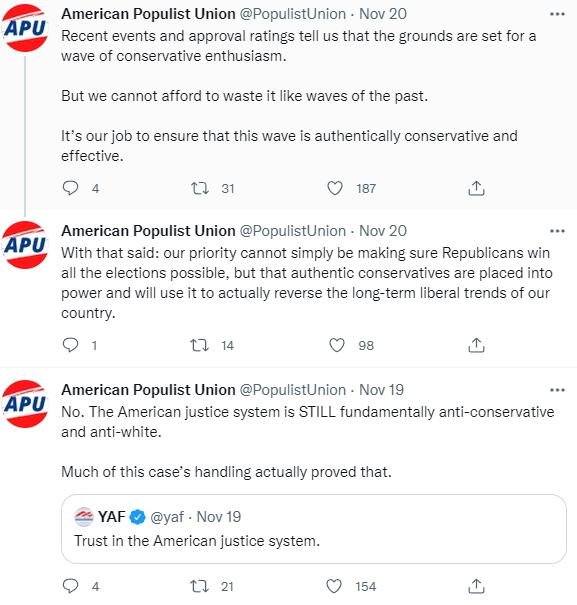 I saw a tiny smidgeon of "anti-white," in their feed. They don't capitalize the White of course, and they don't call Ilhan Omar anti-White. Nor do they call the BLM terrorist who talked about "hitting TF outta white ppl," online.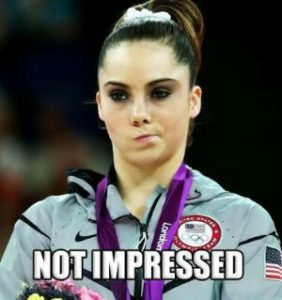 Before continuing, I want to point out that this isn't just fake and designed to go nowhere, and therefore anti-White, this rhetoric is harmful to White People in and of itself. Saying things like "the justice system is anti-conservative and anti-White," is worse than simply an attempt to keep white people on the (((conservative plantation))). 
The justice system is anti-White, but when you couple that with absolutely refusing to bring up examples of anti-White discrimination in the justice system, like the no hate crime charges, or even terrorism charges, for the Waukesha BLM terrorist, you make White Advocacy look pathetic, weak, and stupid, which is precisely their goal.
Contrary to a theme you will hear from grifting manlets like Andrew Anglin, or Nicky "Catboi Cock Forever" Fuentes, Cuckservatives mentioning White People is not "based," or necessarily a sign things are getting better. It does not mean that little Mexican Cucklets who don't have platforms anymore are somehow pushing the John Doyle's and Charlie Kirk's in pro-White directions with their "based" video game streams.
This is a tried and true attempt to get out in front of Whitey's anger at anti-Whiteness and make sure that goes absolutely nowhere, and that you get nothing. It's the same for when Kosher-Leftists start talking about something something capitalism. They're trying to keep people's anger at billionaires channeled into giving money to them, while going nowhere.
And to the extent anyone "pushed," Cuckservatives into this, it's actual heterosexual advocacy, like the NJP demanding hate crime charges for the anti-White attack. 
Having said that, I think I may have been taking these retards way too seriously. After all, the TRS forum goys shoved me in the direction of "APU Chads," a substack. Below are the pictures of these "Chads".
I've read both their substack articles. Trust me, it's so much funnier than you even know, but I'm saving that for a second article.
We might have a nice LOLcow to milk after we've used up the AIDS ridden CatNat movement.