CBC:
The federal government says it will not back down on its vaccination rule for cross-border truckers despite entrenched opposition from some drivers and groups claiming to represent their interests.

In a joint media statement released today, Transport Minister Omar Alghabra, Labour Minister Seamus O'Regan, Employment Minister Carla Qualtrough and Stephen Laskowski, the president of the Canadian Trucking Alliance (CTA), said COVID-19 vaccines are the "most effective tool to reduce the risk of COVID-19" and protect public health.

In an interview with CBC's Power & Politics, Alghabra said the government is not interested in alternatives like rapid testing for unvaccinated truckers. He said truckers and the wider industry have had months to prepare for the new regulations and drivers must now get the shot or stop driving over the border.

"Our plan is to defeat COVID and end the pandemic as quickly as possible. What we're doing right now is for the protection of truck drivers but also for the protection of our supply chains and our economy," Alghabra said. "The best way to deal with COVID is through vaccination."
For some context as to what's going on here, below is a story from the 12th of this month.
MONTREAL — The federal government is backing down from its vaccine mandate for Canadian truckers three days before it was set to take effect.

Ottawa announced in mid-November that truck drivers crossing into Canada would need to be fully vaccinated by this Saturday.

But on Wednesday evening Canada Border Services Agency spokeswoman Rebecca Purdy told The Canadian Press that Canadian big-riggers will not have to quarantine if they are unvaccinated or have received only one dose.

About 10 per cent of the 120,000 Canadian truckers who traverse the border may not have been able to work those routes because they haven't been jabbed, according to the trucking alliance.
For even more context, let me remind you that Canada's border security policy during Covid-19 was basically retarded. First, they didn't shut down the border, pretending this was a "knee jerk reaction." Then, in December 2020, they finally shut down the border well after it mattered much at all.
Except they didn't actually shut down the border, because anyone who had a "business reason," to cross the border could do whatever sort of trip they wanted. The policy was actually even dumber than that, but I'll write about that in a later piece.
Truckers initially didn't need to get any sort of vaccination. Once again, while I support this, it doesn't actually fit the propaganda of "muh vaccines," because truckers doing long haul trips are certainly a high risk group for getting Covid-19. Predictably, despite having a totally different policy back when it actually mattered, the neo-liberal government decided that they were going to force truckers to be vaccinated, or not be allowed to do cross country trips. They caved on this mandate, but they've now gone back to enforcing it just two weeks later. 
It's not particularly justifiable, and it's hard to interpret this as anything other than a fuck you to Canadian Truckers.
Back to the CBC.
A convoy of protesters — including truckers and members of groups broadly opposed to public health mandates — are set to descend on Ottawa this weekend to stage a demonstration on Parliament Hill.

The effort, dubbed the "freedom convoy" by participants, is being organized by Canada Unity, a group that opposes COVID-19-related measures. A GoFundMe campaign organized by Tamara Lich — who has ties to the Maverick Party, a federal party with roots in Alberta separatist circles — has so far collected more than $4.3 million in donations to support the convoy.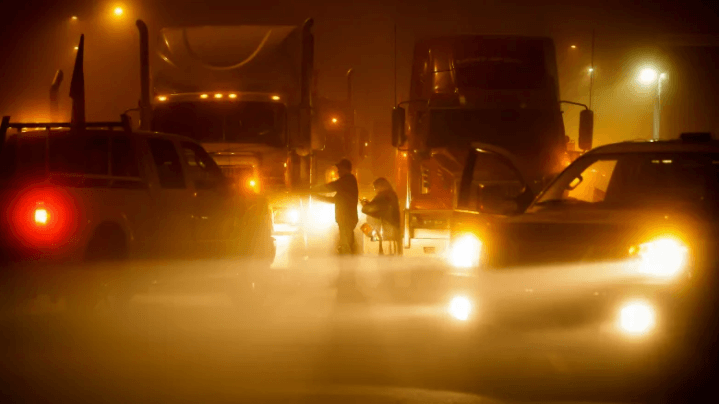 Peak aesthetics, but I have to admit my finkle-alarm is going off. These truckers have every reason to be pissed, but there's something about the tone and word choice here, not to mention raising $4.3 million that's giving me reason for pause.
I do need to say that they have collected that money from over 60k small donors. What's more, they have 50k trucks descending on Ottawa. This could be quite promising, or it could be a totally worthless grift.
A spokesperson for GoFundMe said today the company is putting a hold on the funds "until the organizer is able to provide the documentation to our team about how funds will be properly distributed."

"We require that fundraisers be transparent about the flow of funds and have a clear plan for how those funds will be spent. In this case, we are in touch with the organizer to verify that information," Rachel Hollis told CBC News.

Lich has said the money will be used to cover food, fuel and lodging costs associated with the convoy. "It's a small price to pay for our freedoms," she said in her appeal to would-be donors.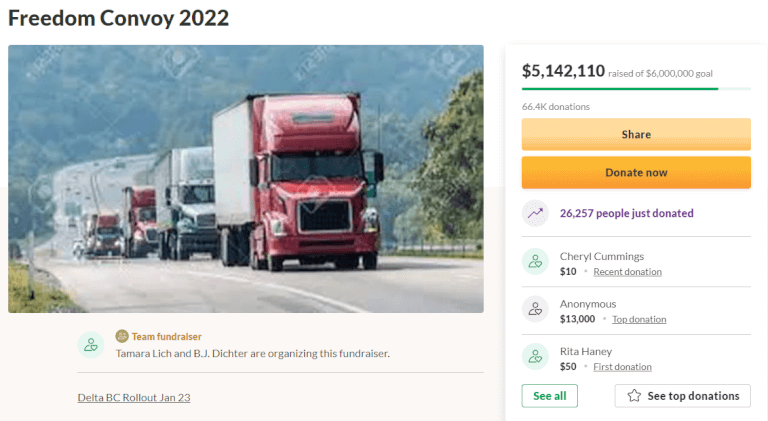 We're over 5 million now, but GoFundMe has frozen the funds.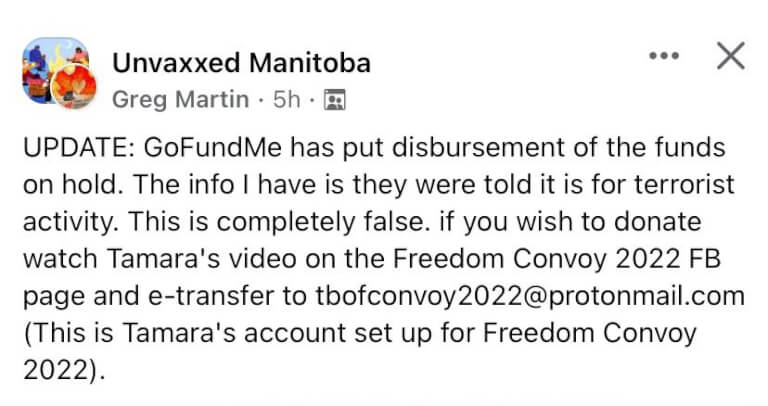 They're claiming that GoFundMe is freezing the funds because they're a "terrorist group." I'm not sure I believe that, especially since there's no direct confirmation that GoFundMe claimed this was terrorist activity. I mean, that's the kind of thing they might do, but they might also just be demanding that this broad explain why she needs all this money and she can't explain herself.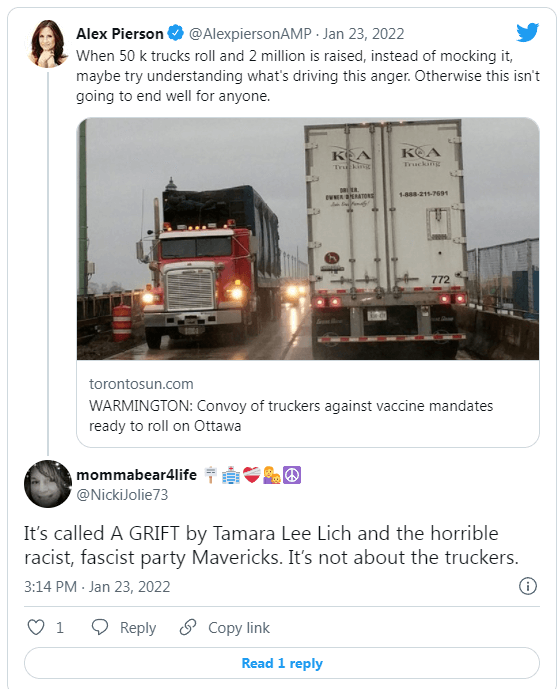 Then again, she does have 50k Truckers. $5 million sounds like a lot, but it only covers $100 for each trucker in this case. I can assure you that is a small fraction of the cost of gas required to go from Delta, British Columbia, all the way to the almost 5,000 km away Ottawa, Ontario, the capital.
It really could go either way.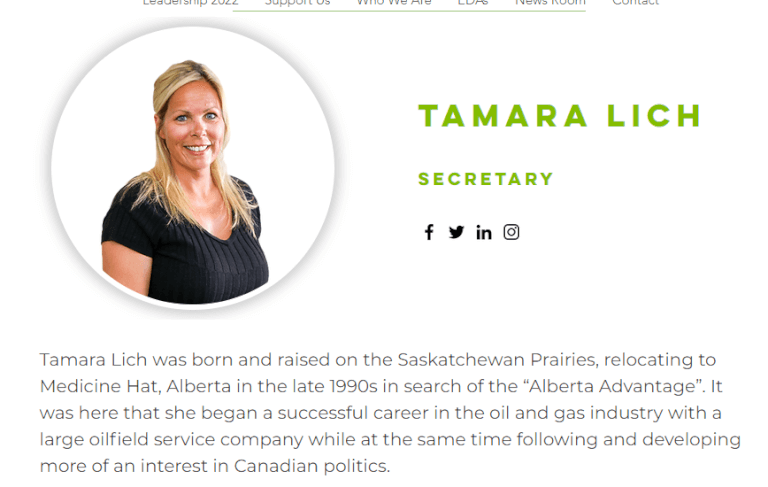 Tamara Lich is apparently the Secretary for the Maverick Party. I think I might have heard of them before, but a quick navigation of their website does not instill confidence.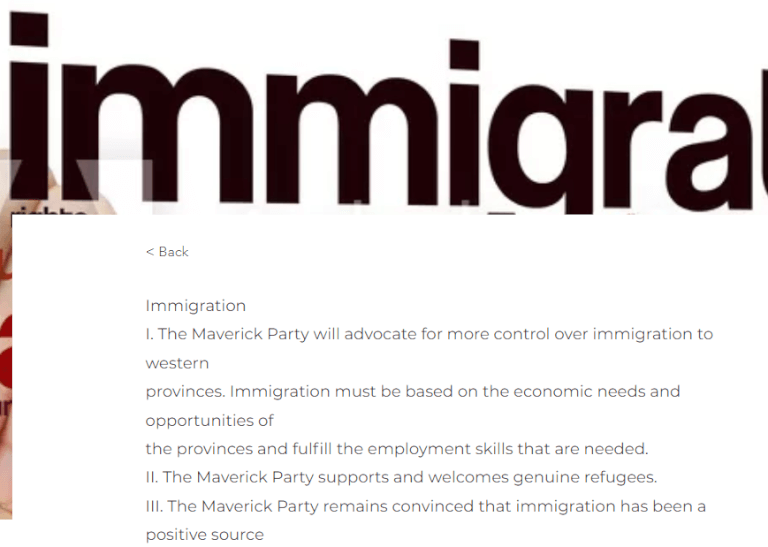 Yes, their own party website has the formatting broken. I know how tedious these issues can be to fix, I'm doing it myself, but my goodness. You are a political party, you shouldn't have these sorts of problems. And as far as the policy itself, let me quote them on this.
Immigration
I. The Maverick Party will advocate for more control over immigration to western
provinces. Immigration must be based on the economic needs and opportunities of
the provinces and fulfill the employment skills that are needed.
II. The Maverick Party supports and welcomes genuine refugees.
III. The Maverick Party remains convinced that immigration has been a positive source
of economic growth, cultural diversity, and social renewal.
IV. The Maverick Party believes the current refugee policy is unsustainable, costly, and
it is being consistently abused by refugees illegally entering at our borders. The
statutory responsibility of Canada's government is to first help those in need among
our own population, and then to give priority to genuine refugees in need. Strong
legislation and enforcement are required.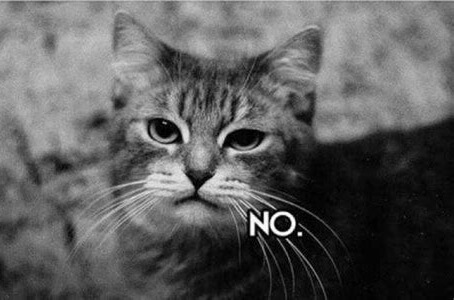 Miss me with this poorly formatted apologia for "high skill immigration," and "cultural diversity." 
Prime Minister Justin Trudeau defended the policy at a press conference Monday, saying a wave of COVID-19 cases is doing more to disrupt Canada's supply chains than any vaccine mandate could. He said enforcing this policy is the best way to keep new travel-related infections under control.

"We know that about 90 per cent of truckers are vaccinated across this country. We're going to continue to do everything we can to ensure COVID does not become a scourge and therefore we need to encourage everyone to get vaccinated," he said.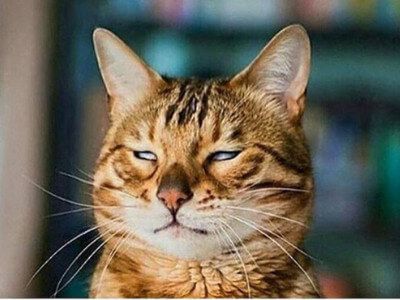 Let me bring some actual science into this conversation.
A study conducted by Humabs Biomed SA and the University of Washington that has not yet been peer-reviewed compared the effectiveness of vaccines against Omicron versus how well they could protect against the original strain of the virus. Results showed that shots from Johnson&Johnson, the Sputnik V vaccine developed in Russia, and the Sinopharm vaccine developed in China had no neutralizing activity against the variant, Reuters reports. Researchers also concluded that vaccines produced by Pfizer-BioNTech, Moderna, and AstraZeneca were all still active against Omicron—especially in patients who had been previously infected by the virus and received the shots—but saw a significant drop in effectiveness compared to previous versions of the virus.
On top of this, Omicron is literally the sniffles. It isn't even "just the flu," it's literally just the common cold at this point. 
I've been so out of the loop on Canadian Politics, it'll take me a while to get back. I'll have better analysis going forward.