For the backstory on the CryptoCaust, go here. I've decided that this story is too big to do with that one long article, and I don't want to wait another week or so to aggregate all the new stories that come out. This is going to be another recurring story until we've figured out everything that went on here.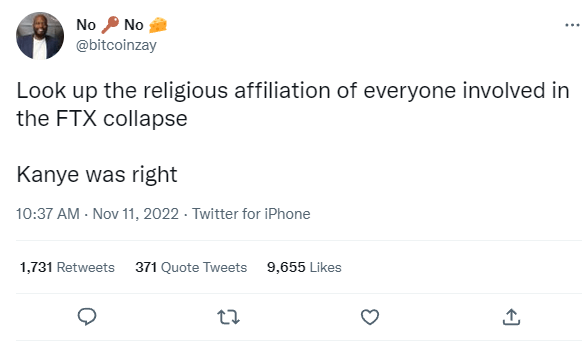 We start off with Bitcoin Zay, who tweeted out the above. Precisely two hours and fifty three minutes later, CoinDesk tweets in response.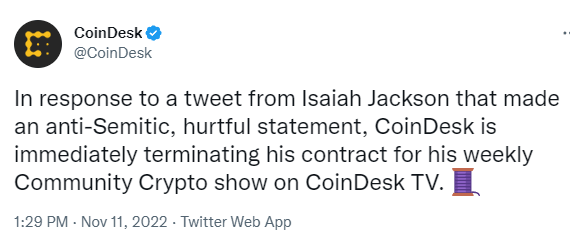 Silly golem stopped attacking Whitey and started attacking God's Chosen Race. Amateur.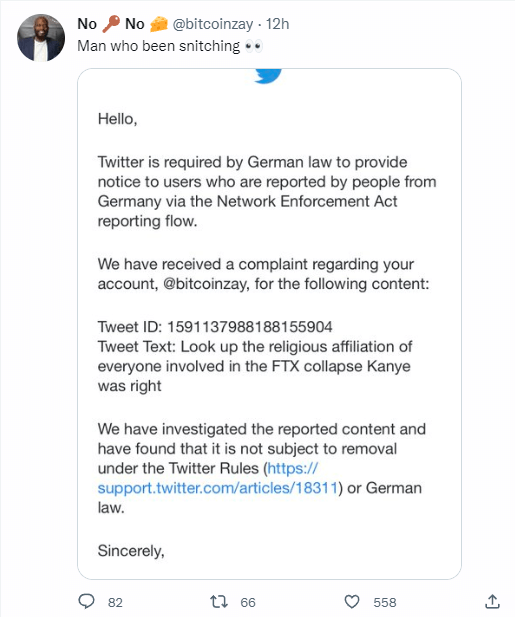 At least he's taking it well.
It was only after writing up the first article that I stumbled upon this video by someone called "Nobody Special". It's not perfect, but it's a better explanation of what happened than the dozen propaganda pieces I read.
I didn't even know that (((Jim Cramer))) was involved, although I shouldn't have been surprised.
The Jew Jim Cramer was made infamous through Wall Street Bets, an event that predates my writing. FTN, TDS, and Strike and Mike covered this at the time, but you can find him admitting to rigging the markets when shorting stock.
This video is so insane that I need to do a writeup on it. I was half-convinced it was all taken out of context and he was doing a bit, but it's real.
It's a lesson to remember as we watch the crypto space melt down, with ex-billionaire Sam Bankman-Fried—who was one of the single largest political donors in 2022—turning out to be nothing more than a standard Ponzi schemer. I summarized the scam he was running a few days ago:

Over the last 48 hours, SBF's $15 billion net worth evaporated in a fraud-induced bank run common to the crypto space. SBF's situation is a lot like that of Enron. One of his companies, FTX, claimed to have substantial assets valued at billions, but it didn't disclose that the market price of those assets—called FTT tokens—was set by trading back and forth to another one of his company's, Alameda Research. All the value was based on sham prices in sham transactions. When a rival decided to engineer a bank run on FTX, his network of firms simply didn't have enough cash to honor the withdrawal requests. Bloomberg has written SBF lost 94% of his net worth yesterday, and he's now under Federal investigation.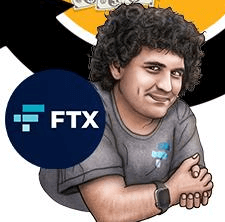 I disagree with his characterization of this as little more than a Ponzi scheme. It's more like he was doing fractional reserve crypto without telling anyone on top of a Ponzi scheme. This is why the competitor, Binance, could trigger a coin run. It's not just that the value of their coin went down to zero, it's that they sold the same coin to multiple people. This is what triggered the equivalent of a bank run on FTX, which ultimately took it down.
The target of most of the invective is Securities and Exchange Commission Chair Gary Gensler, who took office in April of 2021 with a deep background in Wall Street, regulatory policy, and crypto, which he had taught at MIT years before joining the SEC. Gensler came in with the goal of implementing the rule of law in the crypto space, which he knew was full of scams and based on unproven technology. Yesterday, on CNBC, he was again confronted with Andrew Ross Sorkin essentially asking, "Why were you going after minor players when this Ponzi scheme was so flagrant?"
(((Andrew Ross Sorkin))) interviews (((Gary Gensler))). Is there anyone in this story who doesn't reek of gefilte fish? 
You don't need to watch the above interview with Gary Gensler. He's pretending that he couldn't regulate (((FTX))) for bullshit reasons, but mostly I wanted to show you yet another Nosferatu clone.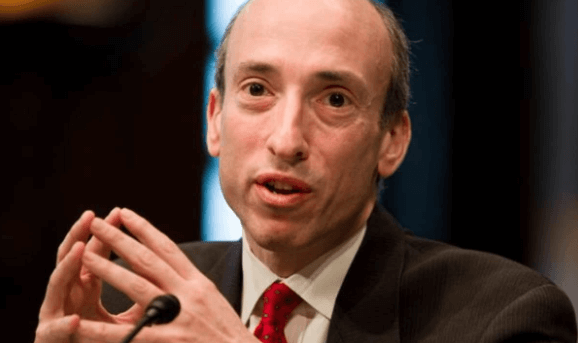 This guy genetically, looks like he's a commissioner for the NBA. 
Real shocker that he never investigated (((Sam Bankman-Fried's))) fraudulent corporations.
I have to wrap this up as quickly as possible. First, we have one of the worst aging videos of all time. Some guy who I've never heard of called "Nas Daily" is shilling for Sam Bankman-Fried.
Nas Faggot: Okay, the guy you see next to me is the most generous billionaire in the world, and I found him!
Top Comment as of time of writing: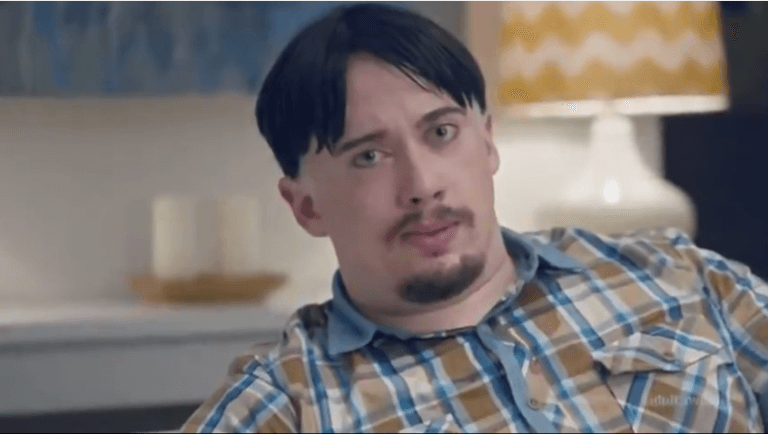 It also turns out that the FTX higher ups were partaking in some of the grossest orgies imaginable.
Many are former co-workers from quantitative trading firm Jane Street, others he met at the Massachusetts Institute of Technology, his alma mater. All 10 are, or used to be, paired up in romantic relationships with each other.
You're telling me that this.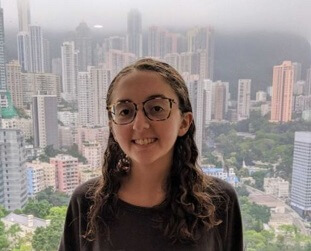 And this.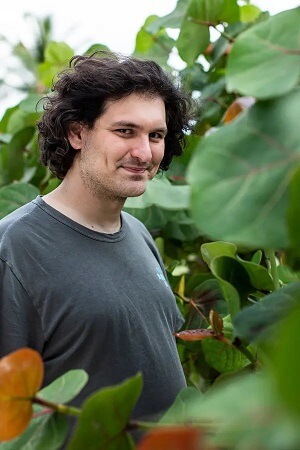 Were having some nice sweaty fuck festivals in the FTX penthouse in the Bahamas.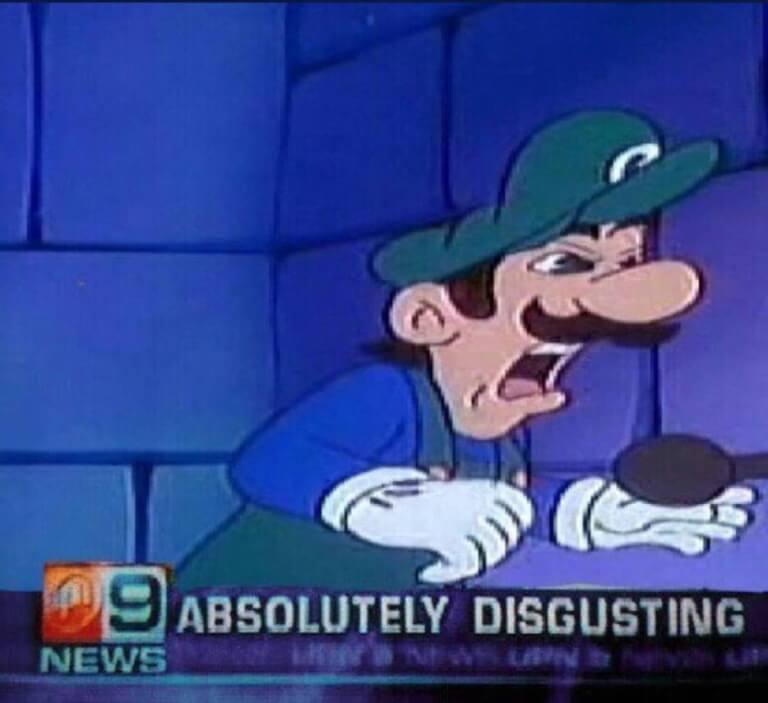 And this involved eight other people.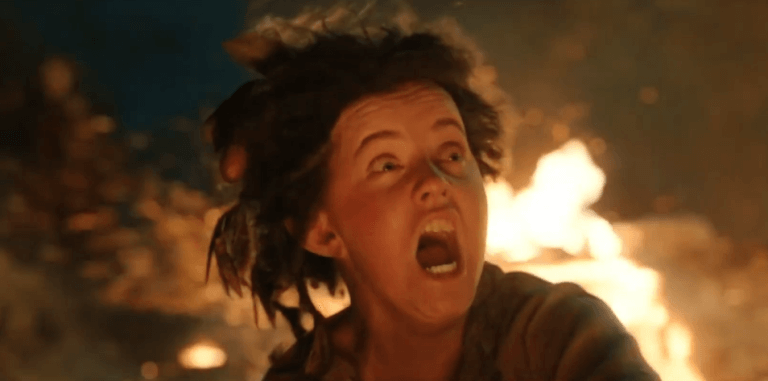 I was curious what Eldritch horrors awaited me in the form of the other eight members of the team. I headed on over to FTX's website.

Only to find everything but "Our Mission" grayed out and unclickable. 
That includes Alameda CEO Caroline Ellison, whose firm played a central role in the company's collapse – and who, at times, has dated Bankman-Fried, according to people familiar with the matter.
What is that supposed to mean? Who "at times," dates someone? 
Well apparently this beauty does. Even having said that, I still don't know what "dates… sometimes," means, but I'll assume it's gross and deeply unsavory.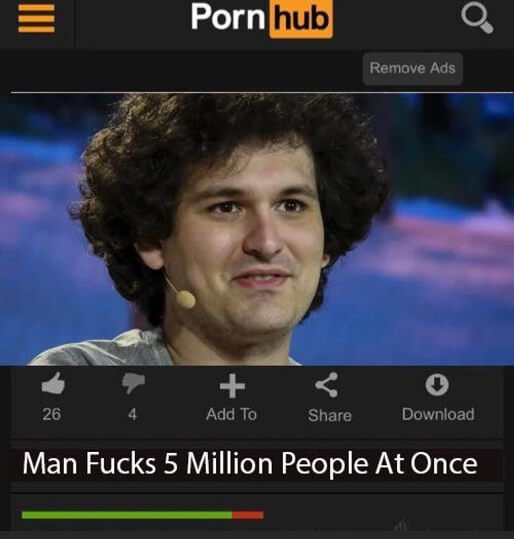 I do have to push back on one little bit of Finklethink that you'll see, about how Der Bankman and all these other Nose-Americans were only donating to Democrats. That's just not true.
Crypto billionaire Sam Bankman-Fried burst onto the political giving scene this election cycle, becoming the second largest billionaire donor to Democratic causes. Altogether he gave $39.9 million, including $35 million to three different political action committees. Two of his deputies at FTX, his cryptocurrency exchange–gave nearly $29 million more. But that giving looks awfully profligate now, following a single tweet Tuesday morning by the world's richest crypto billionaire, Changpeng Zhao (aka CZ), founder and CEO of crypto exchange Binance.

Bankman-Fried has supported Republicans during this cycle, primarily through his $2 million contribution to the blockchain and cryptocurrency-focused GMI super PAC. But the bulk of his giving, including $27 million to the Protect Our Future super PAC and $6 million to the House Majority super PAC, has gone to support Democrats. Bankman-Fried told Forbes last month that "much of this was for primaries, rather than D vs R general elections" ($33 million of his contributions were made during the first four months of 2022.)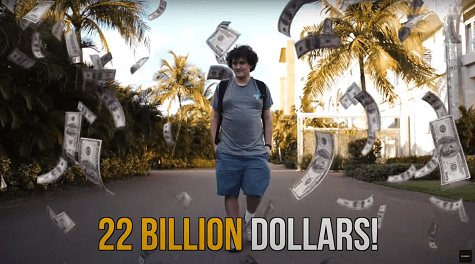 Sure, he gave much more of his money to DEMONrats, but he did give $2 million to Republicans. What he gave to Democrats was focused on primaries, probably to squeeze out any uppity goys who want economic or anti-war issues to get the slightest bit of attention.
Ryan Salame, co-CEO of FTX's Digital Markets subsidiary, has spent $21.4 million on the November midterms, including $15 million to fund his own American Dream Federal Action super PAC. In September, Salame told the Washington Examiner, his PAC would focus on preventing future pandemics and viral outbreaks, though its $11 million of independent expenditures to date have gone exclusively to support 14 Republicans. Another Bankman-Fried deputy, FTX's Director of Engineering Nishad Singh, has spent $7.4 million this cycle, with most of that going to support Democrats, including roughly $2 million apiece to a pair of left-leaning super PACs: Women Vote! and SMP (Senate Majority Party).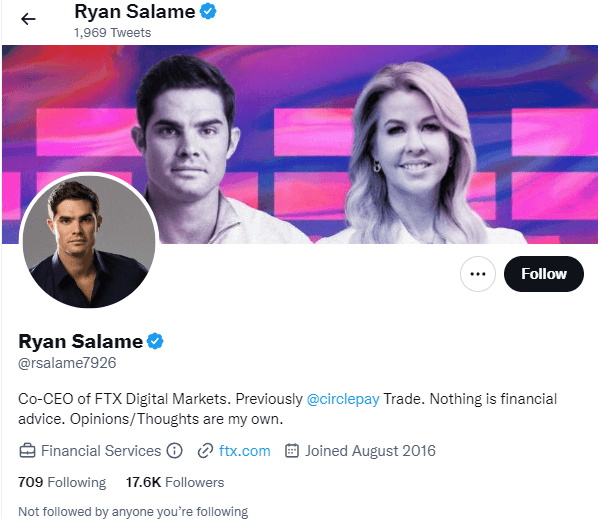 Another of the FTX inside crew, Ryan Salame – Heeb status: suspected – appears to have donated his money to Republicans. He's done so with the goal of making sure they don't do anything against the wishes of Pfizer and the rest of Big Pharma. His last two tweets, both from November 6th, are interesting only in that it shows how little these people work. You can delete twatter with a few button presses, and make everything private just as easily. But who has time for that when you're drinking on white sand beaches at 2 PM in the afternoon.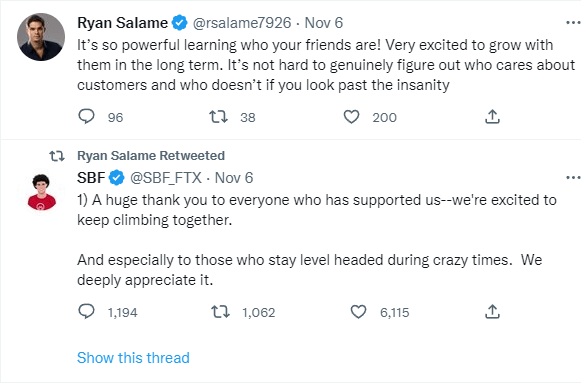 It also wouldn't mean anything even if they only gave money to muh DEMONrats. Just like (((Paul Singer))), (((Sheldon Adelson))), and the Koch Brothers give money to Republicans to make sure they refuse to do what the people want and shut down the border, fight against POZ, or anti-Whiteness, these "left wing" zionists do the same for the Democrat Party.