Yesterday I broke the story that Balenciaga was using children in extremely sexualized ways to sell product. Not only that, but they snuck in some CSAM easter eggs, such as including reproduced court documents from the 2002 case "Ashcroft v. Free Speech Coalition," which overturned a part of the 1996 Child Pornography Prevention Act.
At the time of publishing there were no major propaganda outlets covering the story. I did as much research as possible to verify everything, but it seemed so insane that a part of me still couldn't believe it.
After publishing Tucker Carlson talked about this scandal, which I'm calling The Balenciaga Saga, and Balenciaga themselves apologized.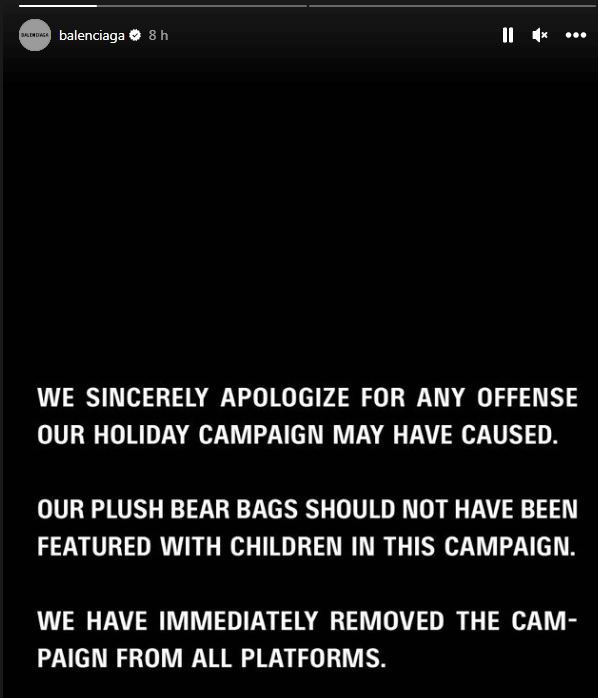 They did this through two different Instagram story post.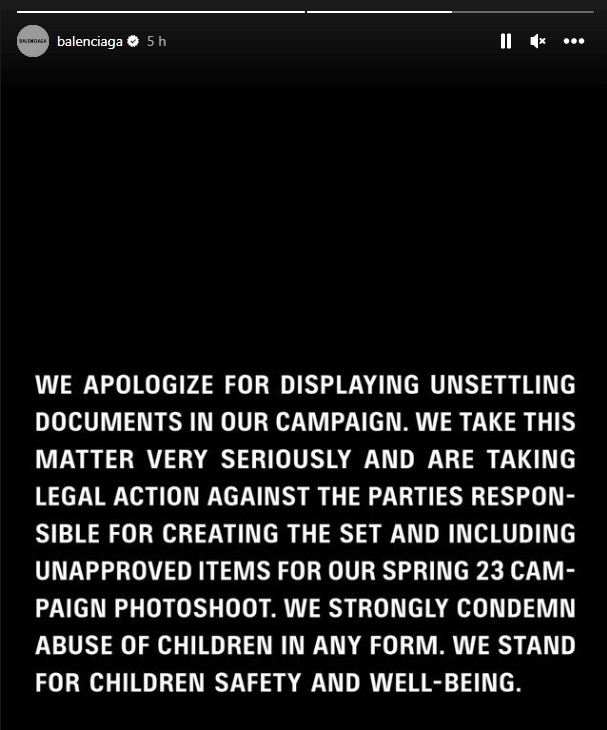 However, after just a few seconds the above two posts disappear and are replaced with the following. This is repeatable every time, so I'm not sure what's up with this.

Even if that didn't happen, Instagram stories are automatically deleted within 24 hours, so them not posting this on their regular Instagram feed seems to be a way for them to minimize the exposure this will get. They can say they apologized, while not having any memory of this be permanent, at least on their end. Whether the public will forgive them is much less clear, and Balenciaga was trending on twatter for all the wrong reasons.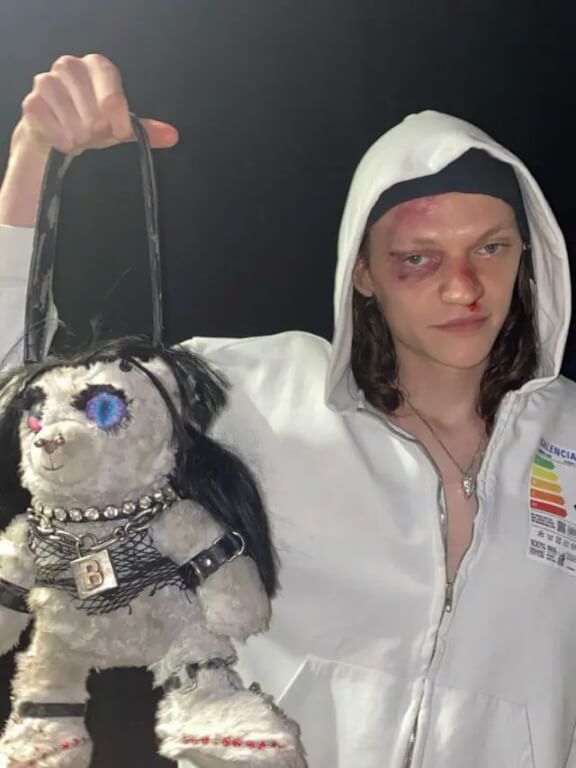 Someone found another Balenciaga photoshoot of a model pretending to be the victim of assault while holding up another bondage teddy bear.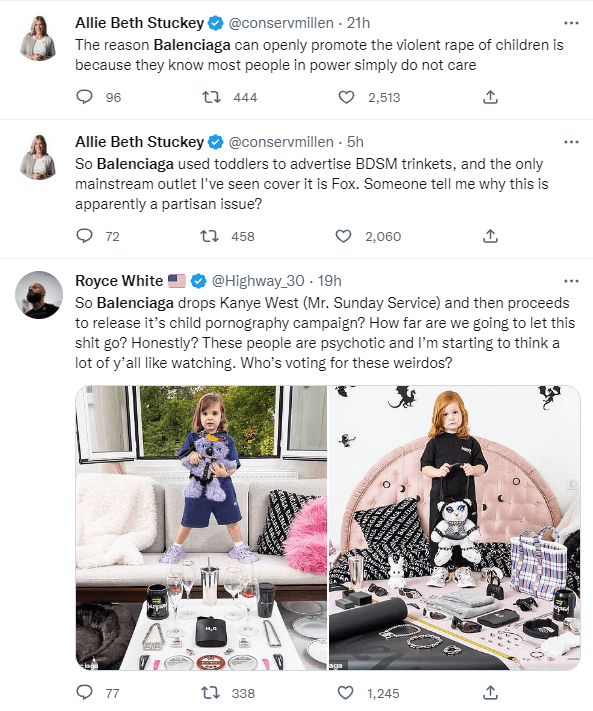 People rightfully pointed out that they dropped Kanye West immediately for saying true things about his experiences with Big Schlomo.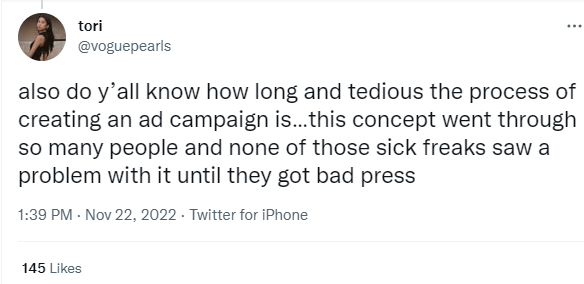 Tori Legario, a fashion industry model, points out the absurdity of this being on accident. Ad campaigns are tedious and well planned affairs. There are going to be many people in the room other than the photographer and model, and many more producing the shot. It would be extremely difficult for them to sneak in documents with court cases germane to child sexual abuse material. It would be downright impossible for them to not notice children holding bondage teddy bears. Or being posed with them in extremely disturbing fashion.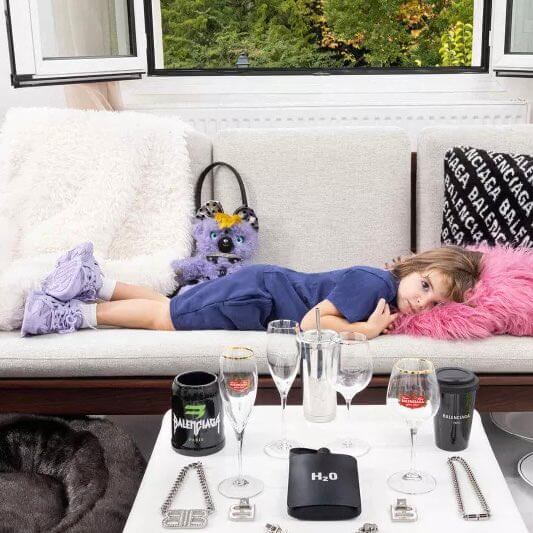 Everyone appears to have the right take on this issue, and Balenciaga has certainly done themselves no favours with their pedo friendly advertising. The same is true of their decision to drop Kanye West. So why would a corporation do such a thing? After all, they just exist to make money, right?
It turns out Balenciaga is entirely owned by parent corporation Kering, a multinational specializing in luxury goods. They also own Bottega Veneta, Gucci, Alexander McQueen, and Yves Saint Laurent, according to Wikipedia. The company was founded by Francois Pinault. However, it is currently run by his aristocrat son, Francois-Henri Pinault. 
Yes, it's more than a little weird that his son is given two first names, one of which is his father's, but we're more interested in his politics and who he works with. Maybe this Observer article from 2015 can shine some light on this situation?
Last night, fashion, arts and finance luminaries gathered to celebrate Francois-Henri Pinault, as he received the International Leadership Award from the Anti-Defamation League, for leading the Kering Group in their efforts to end violence against women.

The ADL has only bestowed this distinguished award ten times in its 100 year history. Mr.Pinault's wife Salma Hayek was also in attendance at the event hosted by Ashley Judd and featuring remarks from Jane Fonda, Susan D. Plagemann (Chief Revenue Officer and Publisher of Vogue), Maurice Lévy (CEO of Publicis Groupe), Jonathan Newhouse (CEO and Chairman of Condé Nast International), Bernard-Henri Lévy (French author and media personality), and Jonathan Greenblatt (ADL CEO) and a short performance by chanteuse Mia Maestro .

Before receiving the award, Mr Pinault said: "I strongly believe in ADL's ideals and core values of fairness, equality and mutual respect. As a father, I am even more grateful for what the ADL is doing to ensure that our children grow up in a world without hatred. In 2009, I created the Kering Foundation which is dedicated to fighting violence against women. I believe that each one of us bears a share of responsibility to stand up for women who's dignity and integrity are abused. In line with our long-standing engagement in solidarity initiatives, my wish is for Kering to stand by the side of women across the world."
It also turns out that the Balenciaga Instagram account was wiped of all images on October 6th, and not because people found out about additional CSAM. Take a minute, and try to think of what would have caused that.
Spanish maison Balenciaga has once again wiped its Instagram account, this time in support of women's rights in Iran.

On Wednesday, the official account, which has more than 14 million followers, featured only one post, which reads "Women Life Freedom" in English and Farsi.

The accompanying caption, on behalf of the brand and its parent company, reads: "Balenciaga, Kering and the Kering Foundation have always supported the fight for women's fundamental rights and freedom. We stand with all Iranian women, in memory of Mahsa."

Mahsa Amini is the Kurdish-Iranian woman whose death at the hands of the Iranian morality police sparked the recent unrest across the country. Iranian women have been removing their head coverings and cutting off their hair in protest to her death.
Ah yes, those fiery, but mostly peaceful protests going on by Globo Homo Enjoyers in Iran.
Thank goodness the ADL approved luxury brands are wiping their Instagram images in protest. That'll show 'em.
This is not the first time that Balenciaga, headed by the designer Demna, has offered support to social and political causes. In March, following the Russian invasion of Ukraine in February — the country where the designer spent part of his childhood — the Balenciaga Instagram account was wiped clean, except for an image of the Ukrainian flag. Its Stories and Reels have previously featured statements in support of numerous causes, including the fight against racism, for gender equality and in support of the human rights of refugees.
These are exactly the kinds of people that Jonathan Greenblatt goes to when he wants to put advertiser pressure on corporations and entities who are being naughty goyim. Similar to what he's doing to Elon Musk and twatter right now.

I love the insane levels of confirmation bias that I get. Balenciaga is supposedly part of this "non-Jewish world," that just hates "anti-semitism." And you're just a stupid conspiracy theorist for being "obsessed," with the non-existent "jewish question."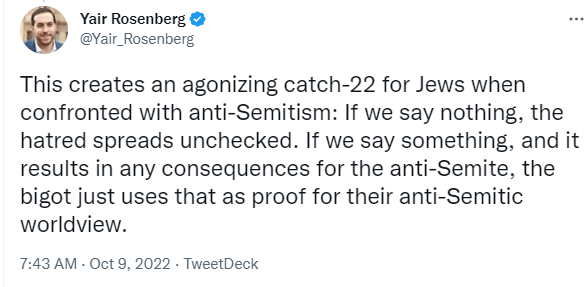 Oh but actually the aristocrat who runs Balenciaga is such a buttgoy that he wins a Buttgoy Of The Decade Award from none other than Jonathan Greenblatt of the ADL.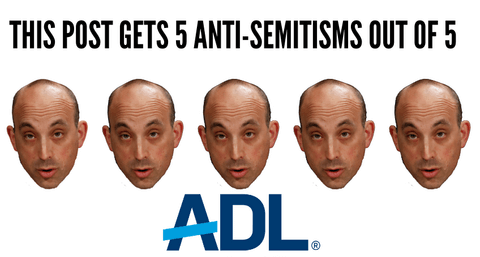 Globo, Homo, Schlomo. The alliance of aristocratic parasites, zionists, and spiteful mutants is a classic. That's why you have the ADL praised Balenciaga firing Kanye West and advertising to pedos. And no, don't think that they'll be economically destroyed by any sort of boycott people do. The only solution is state power.