Ottawa's National Arts Centre (NAC) says it does not engage in racial segregation after receiving backlash over its announcement of its first "Black Out night" featuring a performance with "an all-Black identifying audience." 

The NAC is facing a flurry of online accusations that the performing arts venue is engaging in racial segregation, reverse racism and general wokism.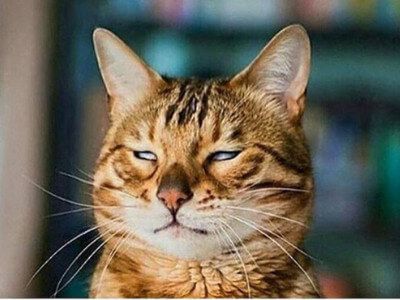 I know it's their job to get out in front of normal White People and make sure that any response is totally neutered and impotent, but servatives are so fucking gay that I can barely bother myself to analyze this garbage. CTRL + F "anti-White," or anything like it gives no results, because of course.
Here's the NAC's online statement.
NAC English Theatre is excited to begin 2023 with the Dora Mavor Moore Award-winning presentation of Aleshea Harris' Is God Is, running February 9-18. As one of the milestones in a series of offerings over Black History Month, this genre-smashing production will introduce the first of two Black Out nights that will be at the NAC this year.

On February 17, the evening's performance of Is God Is will welcome Black audiences to experience and enjoy a performance in the Babs Asper Theatre. Tickets for this performance are available now. 

A Black Out is an open invitation to Black Audiences to come and experience performances with their community. The evenings will provide a dedicated space for Black theatregoers to witness a show that reflects the vivid kaleidoscope that is the Black experience.

Creating evenings dedicated to Black theatregoers will allow for conversation and participation to be felt throughout the theatre and open the doors for Black-identifying audiences to experience the energy of the NAC with a shared sense of belonging and passion.
Obviously the correct response is to create a Whites Only series of events, and then when they whine, call them anti-White and tell them to shut their fucking mouths. Zionistervatives are just seething that this is good propaganda for actual White Advocates. 
Back to the True North piece. 
An NAC spokesperson confirmed to True North that the change to the notice was made, saying "the copy on Ticketmaster (which is on a third-party platform) was not aligned with our notice for ticket buyers and was asked to have it changed accordingly."
Once again the kikesuckers let these anti-Whites get off the hook. Obviously they intentionally wrote "Black only audiences," knowing that this would suppress everyone else, and they could always pretend that this was an accident. Their excuse of "this is a third party platform," makes zero sense, since it was their blurb. That's like saying that I'm not responsible for a video I made myself and uploaded to YouTube because it's a third party platform, so you can't quote me in any part of it.
The spokesperson also said that "there are no racially segregated shows at the NAC." 

"Of the nine performances of Is God Is, we have dedicated one performance to those who self-identify as Black and their guests. No one will be turned away at the door; there will be no checkpoints for Black Out Night ticket holders and no questions will be asked about anyone's identity or race," she added.

The spokesperson also defended the NAC's new "Black Out nights", saying they serve as "a way to strengthen relationships with historically underserved audiences." The first "Black Out" show took place in New York city in 2019 for a performance of Jeremy O'Harris' Slave Play on Broadway. The concept has since been adopted by venues in other cities, including in Toronto, London U.K., and now Ottawa.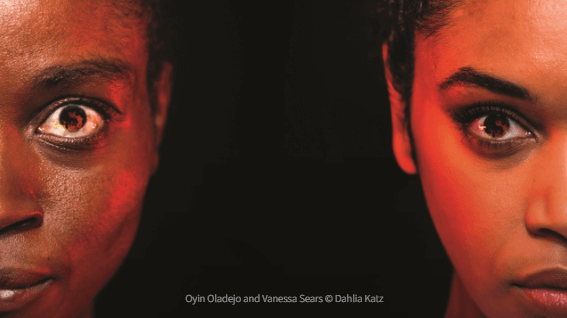 Once again, koshervatives are seething at this only because the anti-White double standard is so obvious that you almost don't even need to put on your own pro-White show where you ask for "White identifying audiences," and put "Whites only," on your Ticketmaster blurb. Everyone gets this, so rest assured, the double standard will be entirely ignored in favour of whining about the abstract principles.
The NAC received backlash on social media, including from Canadian author and psychologist Dr. Jordan Peterson –
Prepare thyself.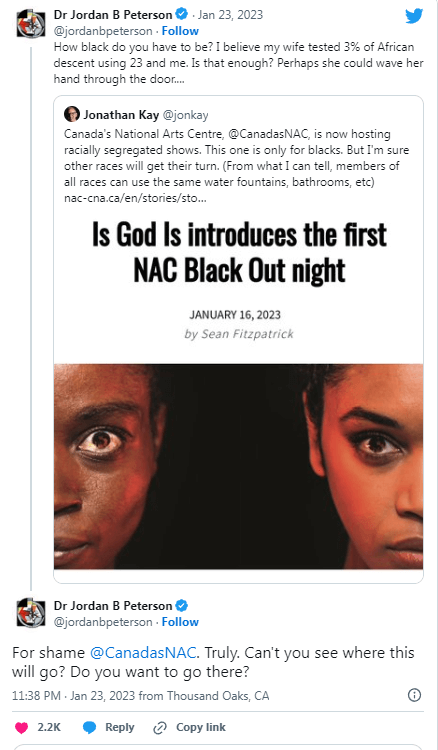 You think that's bad? Just wait.
– and British rapper and podcaster Zuby.
It's a tweet so bad that I have to transcribe it.
This is a perfect example of my 'Pac-Man' analogy of woke politics. When you go all the way to the far left of the screen, you pop back out on the far right. "Racial segregation is good" they said.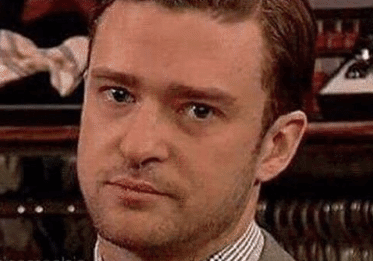 This is so fake and gay on so many different levels that I can barely even begin. First, fuck these people for calling this "left-wing," as opposed to "anti-White." Second, in theory there is nothing wrong with negroes putting on shows for negroes. But these anti-Whites would seethe, and try to make it illegal for Whites to put on shows for Whites, so they can go fuck themselves. Third, what the fuck is a ZUBY?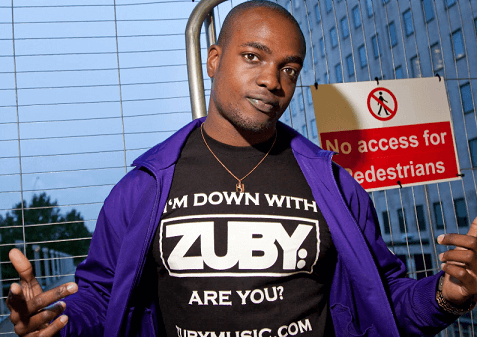 Well he's a "Black British Rapper," and he's the face of modern conservatism, behind only Benzo loving Juden Peterstein and zionist manlet Benny Shapiro. And he's here to make sure that when anti-Whites put on shows racially excluding you, that you remember that Adolf Hitler is really bad.