A few days ago I wrote up our first piece on Thuletide. He's the Cartoon Alex Jones Wannabe who keeps doing stupid, bad faith attacks on TRS/NJP. It's something about us being NazBol Dooginists who are secretly in cahoots with the Marxist CCP to cover up the New World Order. It's not particularly well thought out, and he doesn't really bother quoting us.
Chairman Moike doesn't respond much on telegram, but he did post this in response to WatchHentaiPlz and his bad faith attacks on them WRT Covid-19. Moike's response is here, and I'm going to print the relevant bit below.
[Thuletide] is also the guy that would fight against me tooth and nail for saying that Jews were behind the "migrant" invasion of Europe despite all the direct evidence for this, and Jews themselves telling you they were behind it. His argument? Because the migrants themselves want to go to Europe, therefore you can't blame Jews. No, really, that was his argument.
I remember watching that debate on twatter and being somewhat blown away at how idiotic ReadLinkolaBecauseIHavent was. I kept thinking he must be making some point other, but no. Enoch isn't kidding when he says ReadHentai's argument was literally "yeah but migrants want to come here, so you can't get mad at jew organizations like Hebrew Immigrant Aid Society for throwing open the borders."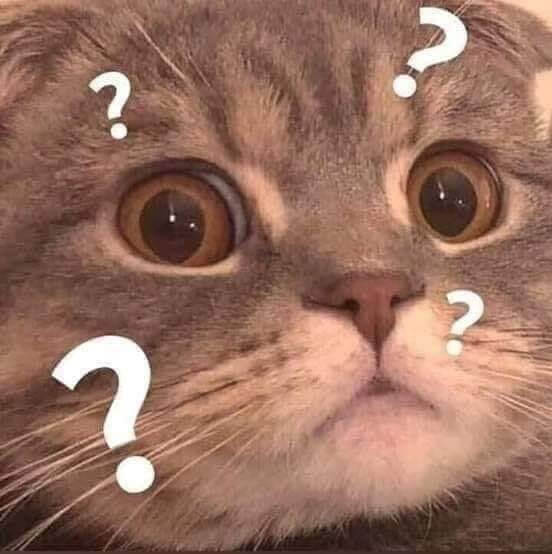 It's sort of difficult to explain why this is so retarded if you don't instantly get it. Imagine if someone purchases a tiger. Then they starved the tiger a bit before bringing it to an elementary school. Then the tiger goes and mauls a bunch of children. According to Thuletide's cuck logic, you're an idiot for getting mad at that guy and not just the tiger, because "the tiger wanted to eat the children." 
Again, it really is not any more intellectual than this. WatchLolitas is trying to thunderstrike with non-sequiturs and sheer stupidity.
BTW, I found this pinned post on his telegram channel. Notice the phrase "hypocrisy." We'll be coming back to that.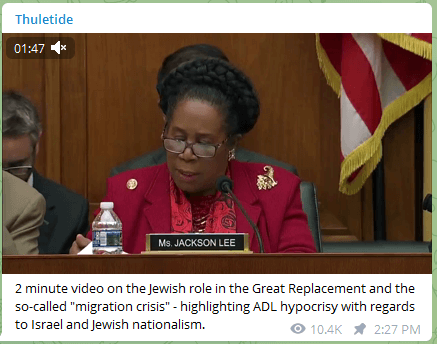 Pretty amazing stuff. In the debate he kept insinuating that whether or not jews were behind mass migration into White countries was irrelevant, you should just be mad at the brown people. He also implied that it's impossible to be mad simultaneously at anti-White jew orgs and the refugees himself. Yet here he is, pointing out jews behind opening our borders.
I sort of feel like this is the killshot we were looking for, but since even this faggot got censored from twatter I can't go back and show the tweets where he was explicitly saying that anyone attacking jews for mass migration was a Dooginist shill who wanted brown people to sleep with their wives. And now… he's also attacking a jew org in the ADL for mass migration. Wow, look at this DOOginist shill with a cuck fetish!
So PedoPornEnthusiast is 100% acting in bad faith. Not surprising.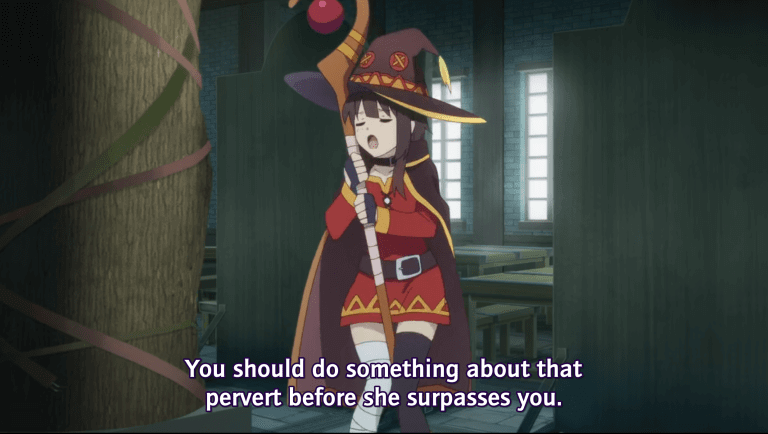 Thuletide responded to Enoch, and I'll print out the full response below the screencap.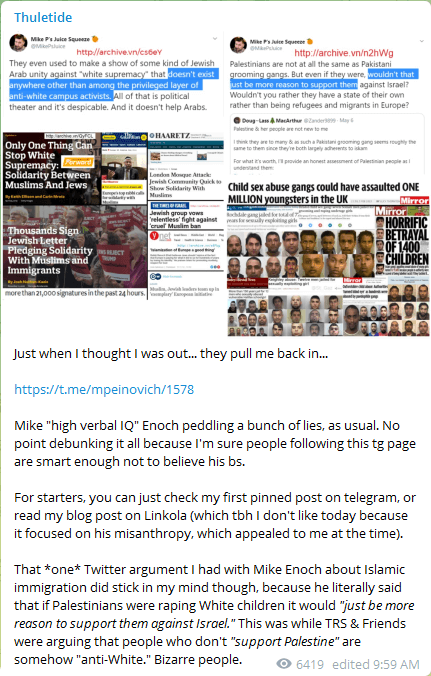 Just when I thought I was out… they pull me back in…

Mike "high verbal IQ" Enoch peddling a bunch of lies, as usual. No point debunking it all because I'm sure people following this tg page are smart enough not to believe his bs.
High verbal IQ is a "clever" reference to the utterly retarded claim that Mike Peinovich is a secret jew. Like the rest of the retarded conspiracies believed by the WatchHentai crowd, there is literally zero evidence. In fact, Enoch posted his 23 and me DNA test years ago, and is literally not even 0.1% jew.
Thuletide then uses a tried and true cult tactic by implying to his followers that they are stupid if they feel that Thuletide needs to dirty his hands doing something as rude and vulgar as actually making a cogent point against anything Mike Enoch is saying. No no, that's simply beneath the guy who pretended to have read Linkola because he wanted people to think he was smart.
For starters, you can just check my first pinned post on telegram, or read my blog post on Linkola (which tbh I don't like today because it focused on his misanthropy, which appealed to me at the time).
Fine, let me check out that pinned post.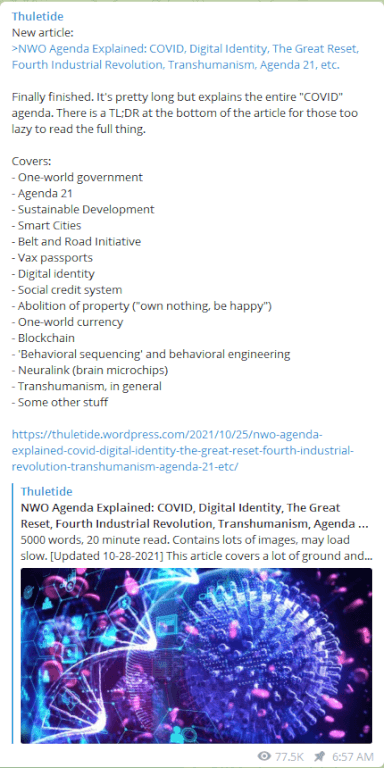 Okay so the pinned post he mentions that totes explains why HentaiLover92 wasn't just LARPing as someone who has read Linkola in order to appear smart… literally does not mention Linkola a single time. I even clicked on the shitty article he links to, searched for "Linkola," and got no results.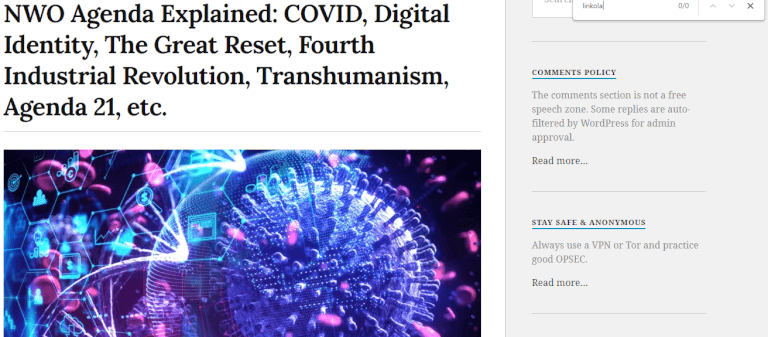 His short piece on Pentti Linkola shows no results for "Islam," "Muslim," or "Capitalism." None of the quotes in the images at the bottom of the article mention those terms either.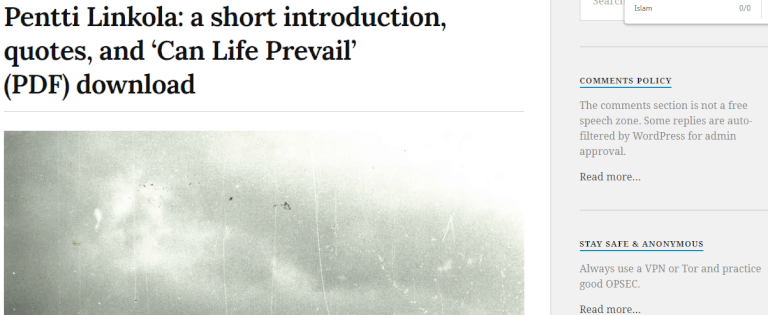 You might be wondering why this is important, but this guy went by the moniker "Read Linkola." Then got owned in a debate because Enoch and Striker have actually read Linkola and pointed out that Linkola would think this hentai lover is a weird faggot. I mean I also think that and I'm not even pro-Islam, and I don't describe myself as an "anti-capitalist," only anti-billionaire. Still, a guy named "Read Linkola," was lecturing us on how us supporting Palestinians REMAINING IN PALESTINE and not supporting trillion dollar multinational corporations engaging in mass censorship meant that we were secret muslim loving anti-capitalists.
Even though this would have been totally fine according to Pentti Linkola, the guy he was pretending everybody absolutely must read, but which he had obviously never read himself.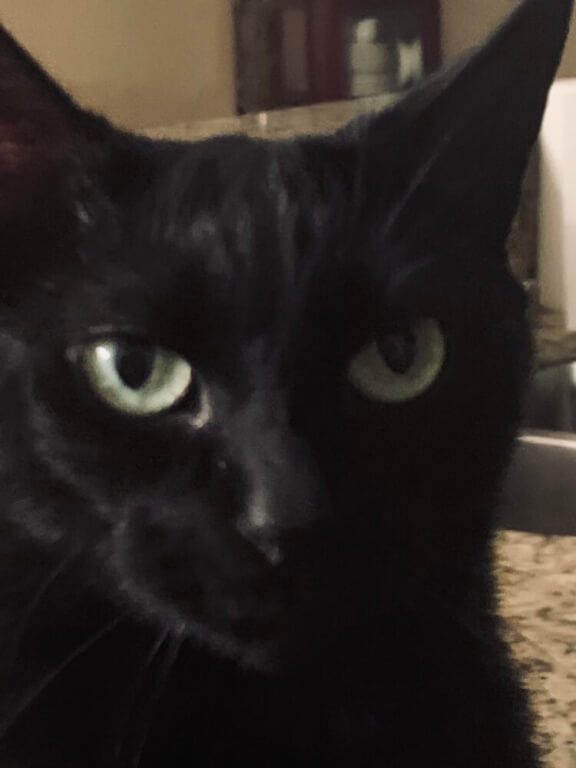 So in the space of two short paragraphs ShittierAlexJones has pretended that he's too smart to need to actually have basic arguments against anything we say, and also pretended that he has some explanation for why he isn't a comical tard for pretending to have read Linkola.
How will NazBol Dooginist Capitalism Haters ever recover?
That *one* Twitter argument I had with Mike Enoch about Islamic immigration did stick in my mind though, because he literally said that if Palestinians were raping White children it would "just be more reason to support them against Israel." This was while TRS & Friends were arguing that people who don't "support Palestine" are somehow "anti-White." Bizarre people.
The low IQ dishonesty just keeps coming. Thuletide shows two images which "deboonk," Enoch's imaginary claim that we should be supporting the rapers of White Children.
I'll start with the claim on the right. You'll notice that Mike says "if Palestinians are raping White Children, I support them more." Oh wait, he never says that, just like he never says he's a NazBol Dooginist, or any of the other retarded shit these HentaiEnthusiasts accuse us of. It's sort of a weird and ballsy form of gaslighting to include a picture of Enoch… not saying the thing you're accusing him of. To quote Moike:
Palestinians are not the same as Pakistani grooming gangs. But even if they were, wouldn't that just be more reason to support them against Israel? Wouldn't you rather they had a state of their own, rather than be refugees and migrants into Europe? – Mike Peinovich
The bold is mine.
Thuletide includes pictures of Pakistani Rape Gangs. This literally has nothing to do with anything, since even he would probably admit that Pakistanis and Palestinians are not the same thing. Instead he just pretends that Enoch… supports Pakistanis raping White Girls. I honestly am not quite sure what he's getting at, since the argument Peinovich is making is crystal clear even without the context of an entire twatter debate happening.
If Palestinians are so horrible, then [since jews racially cleanse them and send them to White Countries] why shouldn't I support them getting their own state so they get the fuck out of my country?
Again, in the context of the debate it had been 100% established that jew organizations such as the ADL, HIAS, and even the state of Israel directly were behind flooding Europe with "refugees." In fact, DishonestCartoonPornWatcher's telegram channel has the following as a pinned post, which I mentioned earlier.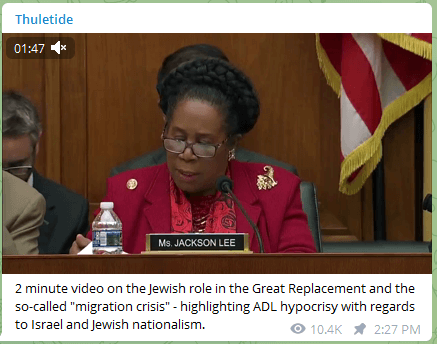 See, this is what I mean by the fundamental dishonesty of the Watch Hentai Sphere. They take a tweet that, even when viewed on its own is pretty clear in what it means, and is 100% clear in the context of the debate. Then they just pretend that we support Palestinians raping White Children. Or wait, actually they pretend that we would ONLY support them if they started raping White Children. Oh wait, no actually he's saying that we would support them MORE if they started raping White Children.
Sorry, sometimes it can be really hard to keep track of what political beliefs these liars pretend that we have, as opposed to the ones that we actually have. My bad.
Now let's focus on his le Epic Deboonking of our claim that jew-arab unity against "white supremacy," is a totally kosher astroturfed bit of bullshit. Once again, we encounter a retard-tier non-sequitur that Thuletide is pulling, similar to his "please please please don't get mad at jews for throwing open our borders. Only focus on brown people or you're a cuck." Even though now in order to maintain an audience he's tepidly calling out the ADL, which is basically admitting his own dishonesty, but whatevs.
The way these cucknats try to slander us is by pretending that we're like, secret brown supremacists or something. They present a false dichotomy whereby us advocating for Palestinians to not be murdered by jew nationalists in the jew ethnostate means that we want brown people to have sex with our girlfriends. No really, he explicitly said on twatter that we all just want brownies to have sex with our women. It really is not any more intellectual than that.
I'm going to explain this really slowly so that even these retards can't misrepresent us. We DON'T think that brown people should be getting murdered in wars for jews or racially cleansed by jews in Israel. However, we also DON'T think that brown people should be sent by jews into our countries.
Take a moment and gather yourselves. I know that seems like this amazingly contradictory position. I know the phrases "Red-Brown Alliance," and "muh DOOganism," are flashing through your heads right now. However, what you will find is that this is actually the position you would have if you were not retarded.

In contrast, here we see the ADL showing "solidarity with Muslims," after the Christchurch incident. See, the ADL's position is that they DO think brown people should be getting murdered in wars for jews and violent racial cleansings done in the name of jew nationalism. However, they also DO think that brown people should be sent by jews into our countries.
It's amazing how this totes-for-realzies alliance that these malicious cucknats pretend exists between Arabs and jews doesn't appear to stop Palestinian Arab Goy-Cattle from having their children murdered by jew nationalists who hold up signs saying "kill them all," and "death to Arabs." So weird. Oh but actually there's for realzies a super duper alliance between Arabs and jews on the racial level.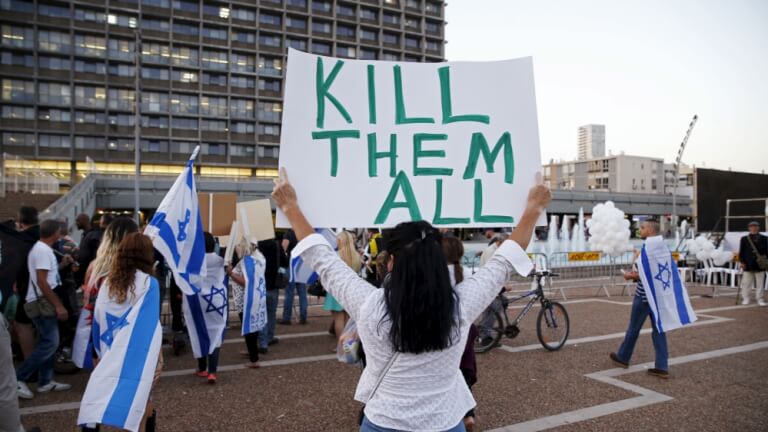 The headlines that are included in that picture are literally just jews trying to get muslims into White countries. So, where's the headlines about jews stopping… jews from murdering Arabs and stealing their land? When's that happening? And when are they actually getting policy on that? Oh right, never.
WatchHentaiWithMe is simply doing yet another in a long string of utterly disingenous attacks that intentionally conflate "I don't think jews should murder brown people in Israel," with "I want infinity brown people plowing my wife." Once again, it really is not any more intellectual than this.
Oh my gawd! Adolf Hitler with the Mufti I had no idea. Oh noes he's making an alliance with a brown person. Noooo, this means he secretly wanted brown people to fuck his wife. Noooo. I thought Hitler was based but according to RetardTide logic he actually secretly wanted brown people to be flooded into Germany.
I'm done with this tard for now. In the meantime I suggest he crack open some books. Maybe he should actually bother reading Linkola, instead of telling everybody else to do that and then getting owned by Striker, Enoch, and myself.
What an absolute clown.