For the backstory on this, go here and here. The long and short of it is that Carey Linde, while not quite our guy, has been fighting against the people who want to turn your children into trannies. As part of this fight he posted a harmless meme about having a showdown with the Law Society of BC, and they pretended that this was a serious threat of violence. They are also trying desperately to hide this from the public eye, because they know what they are doing is wrong and unpopular.
Here is an email I received from someone close to this case. It's originally from Carey Linde, but is forwarded from someone I know who is fighting to save their child from being turned into a tranny.
To media and the public:

At 9:00 am Pacific time this Thursday May 12 the Law Society of British Columbia will hold a hearing to, among other things, seek an order  the 3 day internal disciplinary  trial of lawyer Carey Linde scheduled for May 16, 17 and 18, 2022 be closed to the public and the media. This is a most unusual step for  questionable  reasons. The Law Society does not want you to know what they are doing or why.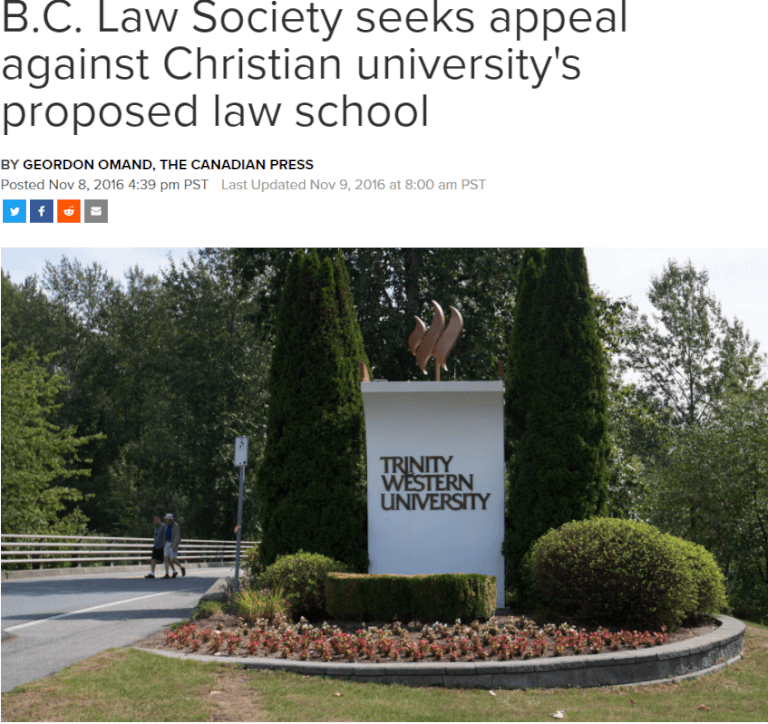 The Law Society of BC is an outright political institution. It has in the past five years denied Trinity Western University accreditation because they were a Christian university. No really, that was the reason given. By being Christian, they could maybe, at some point in the future, discriminate against perverts.
Needless to say they are once again acting politically here. They are aware this is unpopular, and are trying to cover this up.
This hearing on Thursday  is open to the public and media.

Anyone wishing to observe the hearing by Zoom or listen by  phone must submit today or tomorrow  a request to Ms Robertson of the Law Society at this email:    MRobertson@lsbc.org

The history of the matter and relevant  documents can be viewed at www.divorce-for-men.com

Also check out  www.hear2sides.com
Unfortunately I got this email forwarded to me a day late, so you only have today. It is of the utmost importance that you send an email to Ms. Robertson ASAP, so you can get in on this hearing.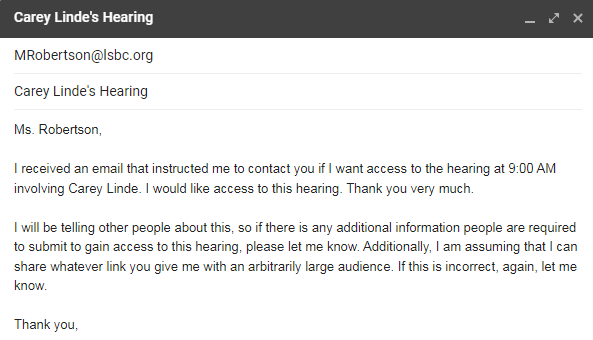 Here was the email I sent, with my real name cut out of the bottom of the screencap. Transcript below in case the picture ends up blurry.
I received an email that instructed me to contact you if I want access to the hearing at 9:00 AM involving Carey Linde. I would like access to this hearing. Thank you very much.

I will be telling other people about this, so if there is any additional information people are required to submit to gain access to this hearing, please let me know. Additionally, I am assuming that I can share whatever link you give me with an arbitrarily large audience. If this is incorrect, again, let me know.
And this is the email I received in exchange.
I confirm that the proceeding tomorrow is a prehearing conference.  Mr. Linde's discipline hearing is scheduled for three days beginning on May 16, 2022.  I would ask that you not share this Zoom link.  If anyone wants to attend, they can send me an email and I will provide the Zoom details.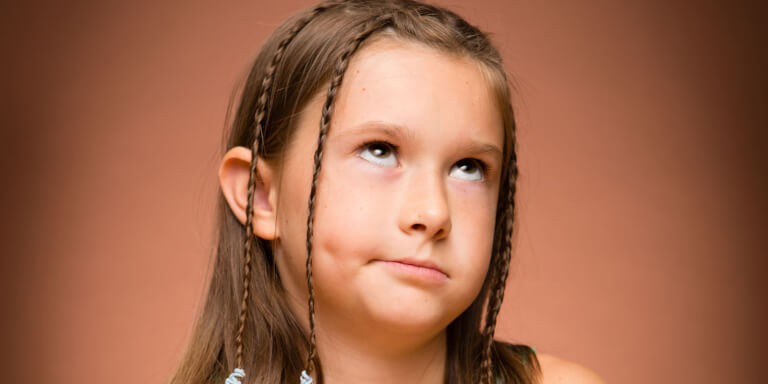 I don't think that's actually legally actionable. I think she's just wasting my time here, and yours, by demanding that you all send in emails to her. However, she did explicitly say that if you send in the email, she will provide you with the link. So do that. Below is all you need to send.
Ms. Robertson,

I would like access to the hearing at 9:00 AM involving Carey Linde. 

Thank you very much
You don't have to leave your name, just send that email. And, for the love of god, join without your camera turned on. If you have a webcam, unplug it. If you have a mic, unplug it. 
That's it. Send that email to this email address here, Right click and hit copy link, or just copy this address manually.
Do it ASAP. After you've done that familiarize yourself with the case, and generally what's going on in BC, because it's systemic child abuse in my opinion, and that of many others.
These people are scum, they're trying to hide what they're doing from the public, and that means we want as many eyeballs on this as possible.