CBC:
An Edmonton jury has found an Alberta father and son guilty in the March 2020 shooting deaths of two Métis hunters.

Anthony Bilodeau, 33, was found guilty of second-degree murder Tuesday in the death of Maurice Cardinal, 57. Bilodeau was also found guilty of manslaughter in the death of Jacob Sansom, 39.

The jury found Bilodeau's father, Roger Bilodeau, 58, guilty of two counts of manslaughter in the deaths of Cardinal and Sansom.

The two Bilodeaus were originally each charged with two counts of second-degree murder. Both pleaded not guilty. 

The 11-person jury started deliberating late Monday after a two-week trial in Edmonton Court of Queen's Bench.

Andrea Sandmaier, a representative from the Métis Nation of Alberta who spoke on behalf of the Sansom and Cardinal families, thanked a long list of supporters as well as the jury, the judge, and the Crown prosecution for their work "to bring justice for these senseless murders of Maurice and Jake."
Senseless murders, eh? Well if you read that CBC propaganda piece you might think so. Here's their recounting of the killings.
Roger Bilodeau and his teenage son Joseph chased Sansom and Cardinal down seven kilometres of rural road, reaching speeds of 152 km/h, after spotting the pair's truck in their driveway and thinking it could be thieves.

During the pursuit, Bilodeau called Anthony Bilodeau and told him to bring a gun.

Soon after arriving at the scene where the other two vehicles were stopped, Anthony Bilodeau shot and killed Sansom and Cardinal.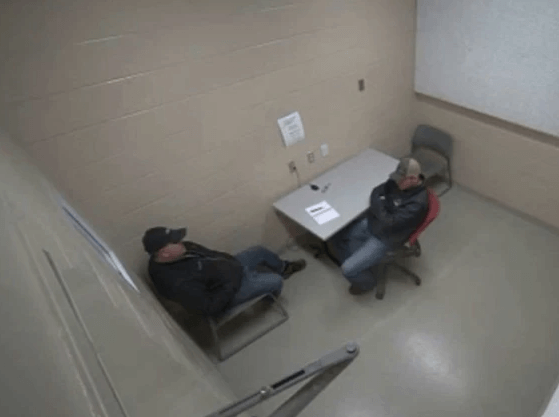 I can't find any pictures of Anthony or Roger Bilodeau, except for the above. One of the two men here is Roger Bilodeau, but I don't know which one. More importantly, here's how a somewhat less biased propaganda piece describes the confrontation between the Bilodeau's and the Aboriginal thieves.
An Alberta man who is facing second-degree murder charges in the deaths of two Métis hunters said he was fearing for his family as he drove to the scene of the eventual event.

As Anthony drove to the scene, his father and [teenage] brother were in a physical altercation with one of the men they were following.

"I heard my dad yell 'Joe look out','" Anthony said. "And then I heard this smashing of the window."

As Anthony continued to drive to the scene, he said he heard a man's voice say 'go get a knife so I can kill these (men).'

"That's when I heard my brother pleading 'Don't kill my dad'," Anthony said.
Don't feel like you need to include that little tidbit of information CBC. I think it's reasonable for the audience to get the idea that Anthony Bilodeau just shot the two Metis thieves for no particular reason. Oh and here's another bit of info that you should leave out.
Crown prosecutor Jeff Rudiak argued that Sansom and Cardinal's state of intoxication was not related.
So the two Metis were drunk, and violently assaulting the two White Men. Or the one White Man and his teenaged son. 
The Bilodeaus claim Roger Bilodeau's pickup got stuck after both vehicles came to a stop and turned. around, and that Sansom or Cardinal smashed the passenger-side window and tried to strangle Roger Bilodeau. Anthony Bilodeau stayed on the phone as he drove to the scene and said he heard breaking glass and his younger brother pleading for his dad's life.

The father and sons described a harrowing scene after their trucks came to a stop, in which Cardinal and Sansom allegedly broke their windows, grabbed them and threatened to skin them with knives. Anthony Bilodeau said all three were in mortal danger and that he fired in self-defence.

Once he arrived, Anthony Bilodeau claimed he repeatedly tried to calm the situation, telling the men they just wanted to talk. He shot the smaller of the two men only after he lunged for his gun, then the heavier-set man after he pointed a "very large firearm" in his direction.

[His defense lawyer] Beresh held up the "very large" rifle in court but did not identity the type of weapon. Bilodeau was armed with a lever-action rifle, which he said jammed in between shots.
So they were also armed with guns, or at least one gun. It is highly likely that these two Aboriginals were trying to do a South African style farm murder of the Bilodeau's, and while they got a corrupt court and intimidated jury to convict them on second degree murder, that's still preferable to death.
But let this be yet another lesson against the cowardice espoused by the "run away to da woods," types. It doesn't matter how rural you are, Globo Homo can still look the other way while you are murdered on your farm. What matters is political action.