Like I said in my previous article, it's difficult for me to truly wrap my head around the paranormies experience, because I've never been schizo enough to watch them myself. It's something about dinosaurs not being real, the earth being flat, and every celebrity being a tranny all mixed in together with pretending to be pro-White and against jew power. Although people tell me that the lampshadocaust being fake is the one conspiracy theory that they don't believe in.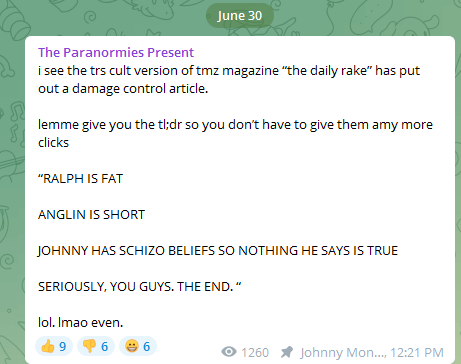 John Ramondetta, aka Johnny Monoxide, posted this on his telegram channel earlier today, and someone sent this to me in our writers group. 
i see the trs cult version of tmz magazine "the daily rake" has put out a damage control article.
The Daily Rake is a cult, and Tom Brady is a tranny. I truly hope that Johnny finds a way to get this crucially important message out to people in every corner of this flat earth that we reside on.
lemme give you the tl;dr so you don't have to give them amy more clicks

"RALPH IS FAT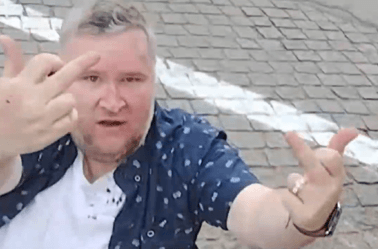 And here I was thinking that Mr. Monoxide had no reality based beliefs. Ethan Ralph is indeed fat, and what's more, there's not that much else to say about the guy. I said in my first piece on him that he's the "purest of LOLcows," in that he has no real talent and produces very little if any original content. He's just there, obese and soon to die, an utterly repulsive character in every respect.
ANGLIN IS SHORT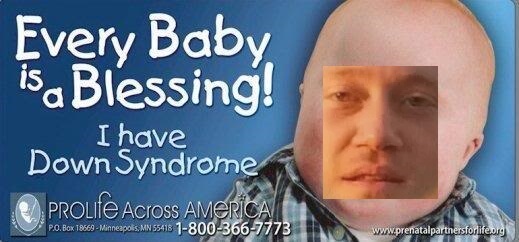 He sure is, and that's pretty much all I wrote in my 65k word series on the little fella. It was just "Anglin is Short," repeated 22k times, over and over again.
JOHNNY HAS SCHIZO BELIEFS SO NOTHING HE SAYS IS TRUE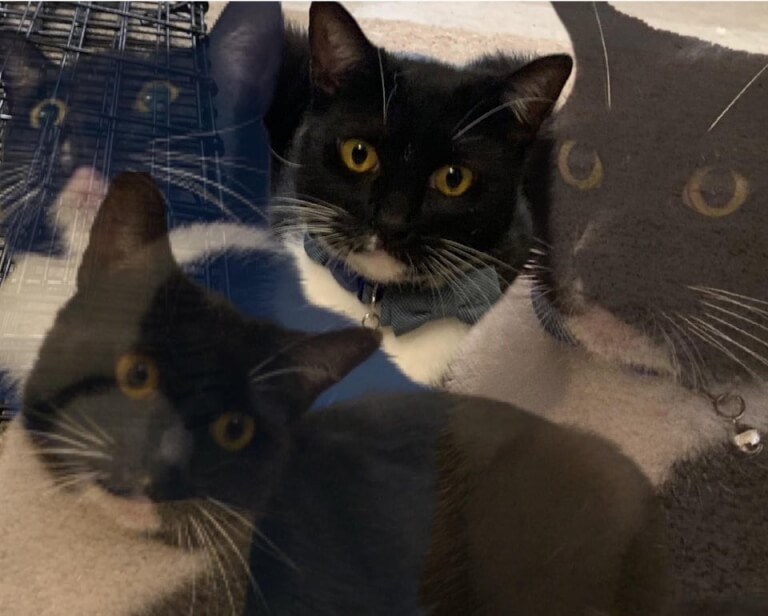 This was the line that made me write this piece. Imagine admitting to being a schizophrenic, and then being assblasted when people don't believe the insane things that come pouring out of your mouth. This is a big part of the problem with the internet, where you can get a congregation of these idiotic schizos all together in one place, where "take me seriously even though I'm psychotic," starts sounding like a reasonable demand to them.

This post of theirs appears to have created quite the kerfuffle. 394 comments is quite a bit more than the typical engagement they get at RealSchizosPresent.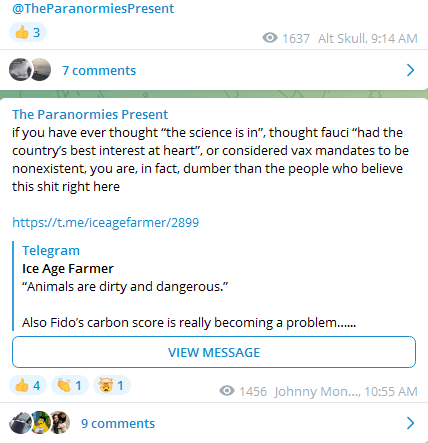 For reference, the two above posts got an average of eight comments. This leads me to believe there was some sort of tardfight, or even multiple tardfights going on in the comments section of this one in particular.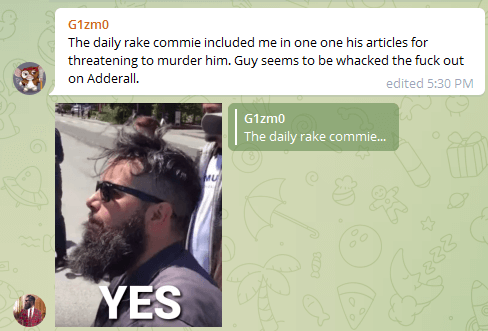 Well I'm not reading 400 comments from schizos, so I skipped to the very end and saw the above. That's G1zm0 informing everyone in the World that I am indeed a commie whacked on Adderall. In my drug inebriated state I included him in one of my articles because he impotently threatened to kill me online.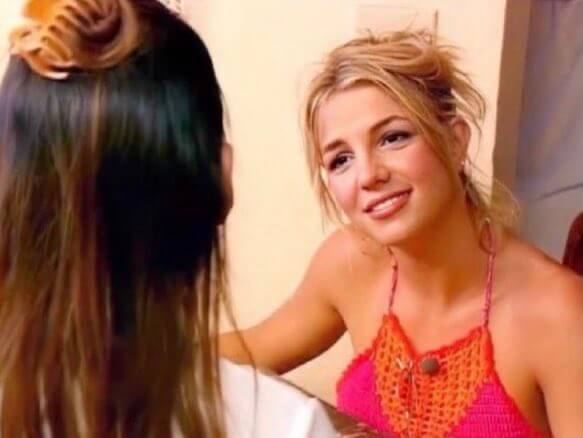 Hold on, let me to and find the part where this e-fag kept impotently threatening to kill me online. We have to see how the normal, sane, non-adderall using crowd behaves.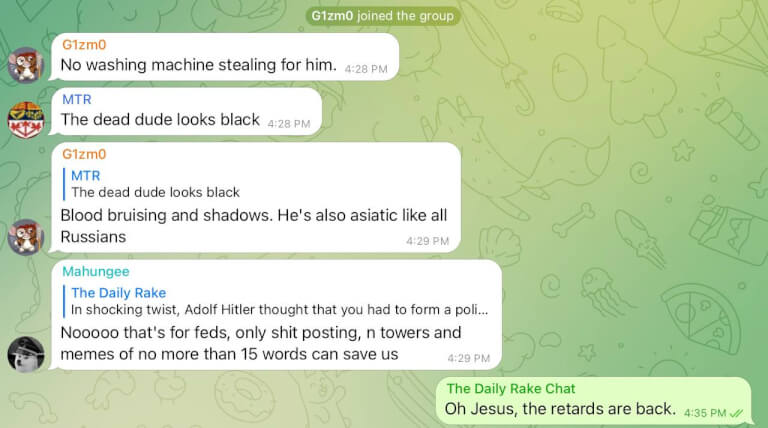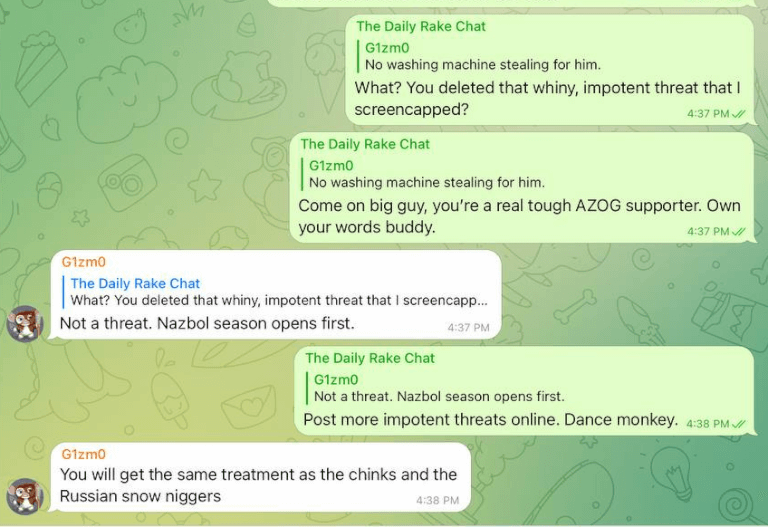 This is what I mean when I say that these people are beneath responding to on the object level. Deboonking the claim that Moike Enoch and Sven are secretly jews that Johnny Monoxide worked underneath for over half a decade is about as productive a use of your time as deboonking the claim that Tom Brady is secretly a tranny. Or his "wife," Gisele Bundchen, along with the rest of the Victoria Secret crew.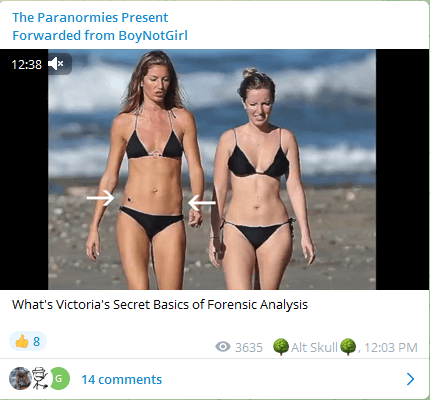 Who cares if these people seethe online? It's not like they're going to do anything in real life. There's comes a point with a group of people, in this case the e-schizos of paranormie land, where there's nothing to do but point and laugh.