Remember Tullip the Tranny? He's the transgender guy who realized that he wanted to not actually be a woman, and detailed his horrible experience with LARPing as one.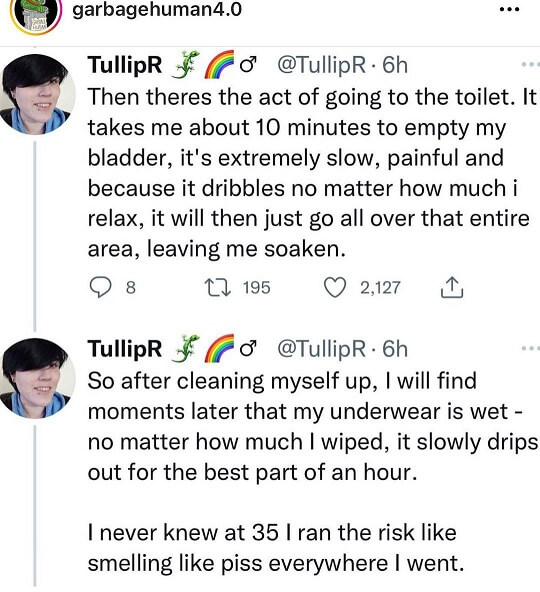 I don't mean to be too negative towards Tullip. He's a victim of misanthropic evil people, who pretend to children that LARPing as a woman is just like wearing a new style of clothes. Only to have their victims find out when it's far too late that they have been mutilated by evil people.
A British man is suing the taxpayer-funded National Health Service (NHS) after claiming that doctors did not warn him of the full effects of having his genitals removed as part of his "gender reassignment" surgery, the Daily Mail reported.

The man, who is in his thirties and in the process of "de-transitioning," revealed his struggle with his identity and subsequent surgical trauma in a series of tweets June 13, explaining to his 20,000 followers that he was a "vulnerable adult" when, age 26, he was convinced to undertake a life-changing "transgender" drug regimen.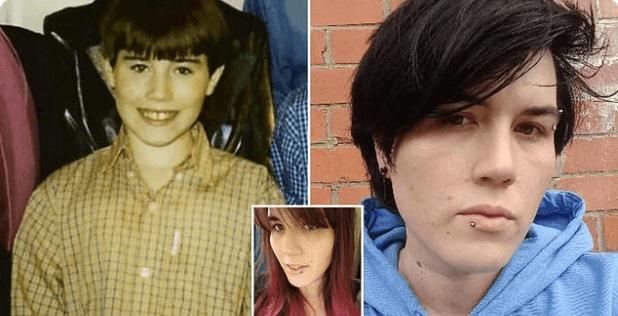 TullipR, real name Ritche Herron, deserves our utmost sympathy. He may have been twenty six when he decided to "transition," but he was unwell. And we know that he was unwell because he thought that he was secretly a woman.
Don't ever let the tranny lobby get away with the premise that such things as trannies exist. They don't. There are only mentally unwell people who think they are something that they are not. And in many cases, such as poor Ritchie above, they face horrifying lifetime trauma due to the castration and mutilation that evil misanthropes get them to do.
"I had a lot of complex issues that I was begging to be addressed, but I was affirmed [in]to being trans instead," said the man, who writes under the pseudonym TullipR.

Initially the man purchased female hormone drugs privately, but was later prescribed the pills by his doctor and an NHS-run "gender clinic," according to the Daily Mail. An NHS psychiatrist then proposed that he consider surgery.

Five years ago, he took the next step, opting to undergo irreversible "penile inversion with scrotal graft" surgery.

"Eventually I found myself on the operating table. Immediately on waking up from surgery, I knew I had made the biggest mistake of my life. My sex had been lobotomised."

He detailed the permanent outcomes of his surgery which have led to infertility, incontinence, and a lack of sensation, all of which he said has made him a "sexless eunuch."

Stephanie Davies-Arai, founder of pro-family group Transgender Trend, a group which has raised the alarm "about the medical transition of children and young people," said that she thinks TullipR "has a very real case for compensation against the health service," adding that the organization believes "he has suffered harm."

"It is hoped this will force a re-think by the NHS about this kind of barbaric surgery on patients who are told by medics it will help them," Davies-Arai said.

TullipR said that his doctors dismissed concerns that he had raised with them following the surgery and told him that there were no options for those who changed their mind.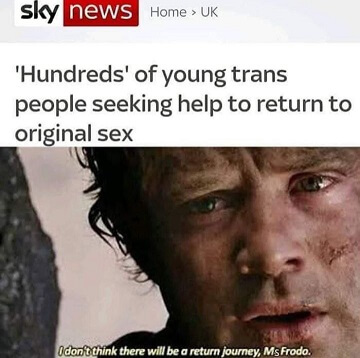 Like I said before, it's easy to get distracted by some truly repulsive and evil troons that you might engage with online, and do some "kill all troons," type posting. Making fun of these people is certainly a guilty pleasure of mine as well.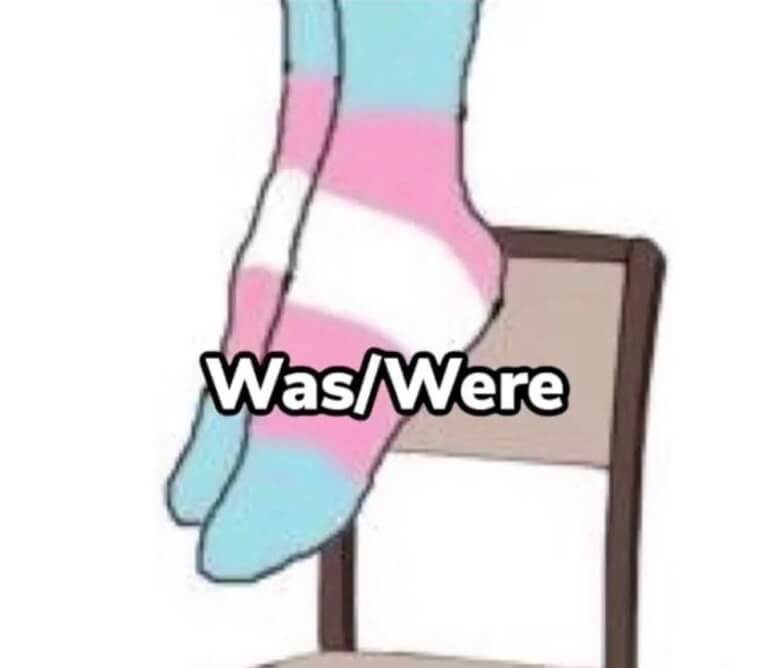 But many of these people are just mentally ill, like Ritche Herron was. They have extreme problems in their life, and they meet a group of people who appear to be kind and supportive of them. The more weird and perverted they convince themselves they are, the more supportive this group of "friends," is towards them. Then one day they wake up on the operating table and look down at the neo-vagina that has been grafted onto their bodies.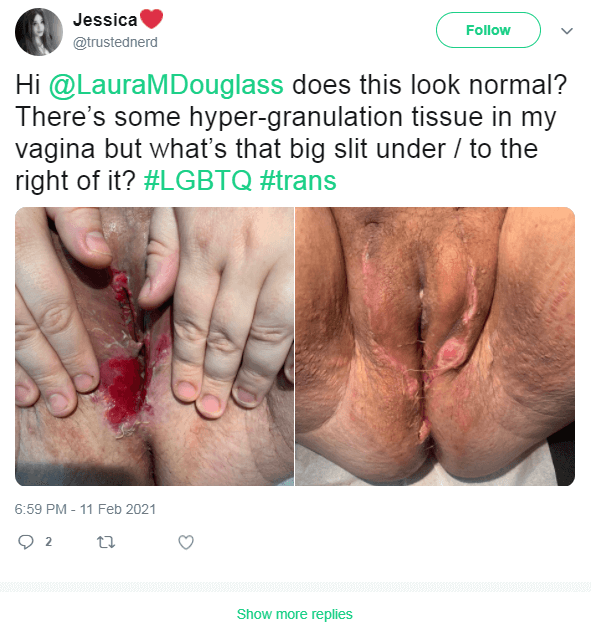 Or neo-penis, it works both ways.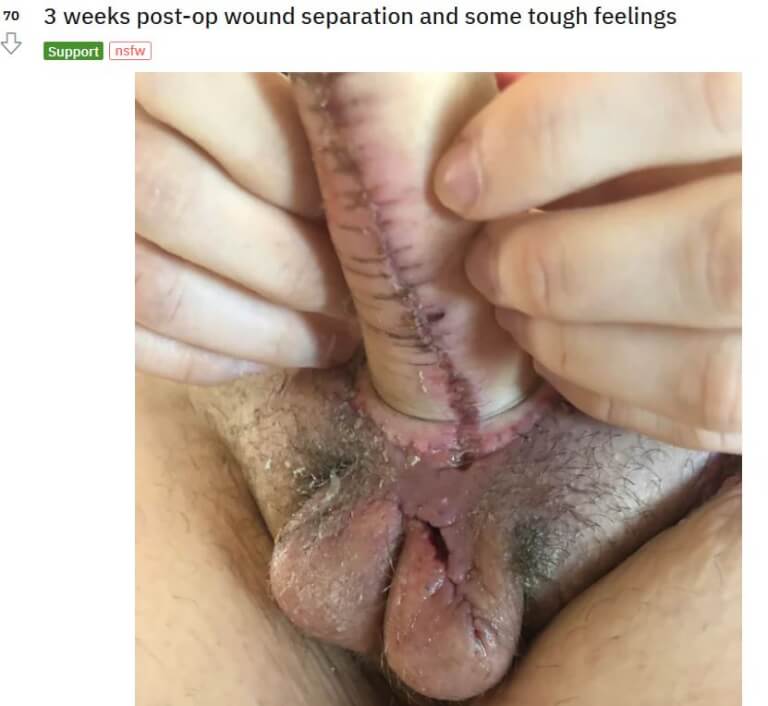 I can only stand on the sidelines and cheer on Ritchie from a distance, but I truly wish him the best. Koshervatives have made it extraodinarily clear that they do not have any intention of fighting against this stuff, even when done to children. The WMD Liars are whining that tranny stuff is the "gateway to the far right," and they're correct. This is our issue, the hard part is not convincing people that men are men and women are women. The hard part is the logistics and industry of politics.