Many of you reading this are aware of my announced candidacy for the School Board. I haven't decided whether to run in Surrey, or Kelowna, but I did mention Barry Neufeld, Chilliwack School Board member and dreaded R Word Enjoyer, as an inspiration to me. He's suing the former head of the BC Teachers Federation for defamation.
Chilliwack school board trustee Barry Neufeld has won his appeal against a court decision dismissing his defamation lawsuit against former B.C. Teachers' Federation president Glen Hansman.

In a written decision posted Wednesday morning, the Court of Appeal for B.C. found that the judge who dismissed Neufeld's claim under the Protection of Public Participation Act erred in assessing whether there was likely a valid defence of fair comment.

"Defamatory comments that accuse someone of committing hate speech can inflict serious reputational harm," Justice Lauri Ann Fenlon wrote in the decision. "The judge's error was in failing to consider the collateral effect that preventing Mr. Neufeld from defending himself from such serious accusations could have on other individual's willingness to express themselves on issues of public interest in future."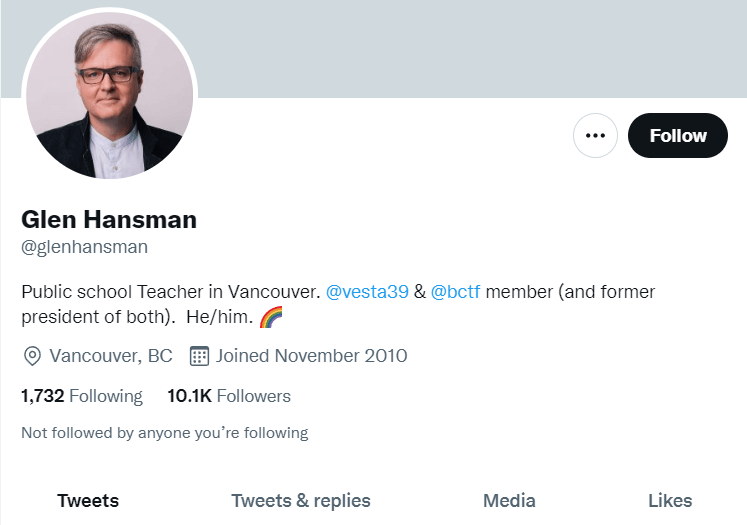 Glen Hansman is the former president of the BC Teachers Federation. He claims to still be a public school teacher, although I don't know at which school. He's also got his pronouns in his bio.
In 2018, Neufeld filed a civil lawsuit against Hansman for comments the former BCTF president made about the trustee in 2017 in the debate about anti-bullying gender identity materials used in schools in B.C., SOGI-123.

Neufeld has been vocal in his staunch opposition to SOGI, criticism that has been labelled anti-LGBTQ and homophobic by many people, Hansman included.

BC Supreme Court Justice Alan Ross tossed out the defamation suit in 2019 following anti-SLAPP (Strategic Lawsuit Against Public Participation) legislation, also saying it had no reasonable prospect of success, and calling Neufeld's submissions "skeletal at best."
Let's take a look at this Alan Ross. You can find his backstory here.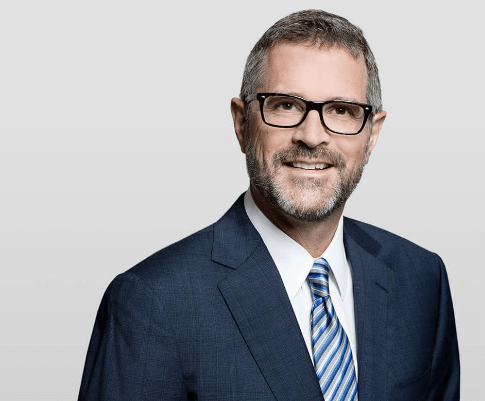 But more importantly what specific comments by Glen Hansman prompted this defamation lawsuit? Well we don't know, because The Chilliwack Progress isn't interested in telling us. The closest I've been able to find comes from this CBC article.
CBC:
According to the decision, Hansman reacted [to Barry Neufeld's SOGI-critical Facebook post] immediately and the two men continued to spar over the issue over the following months.

The Appeal Court ruling cites 2018 interviews in which Hansman said Neufeld was creating a "discriminatory and hateful school environment" and "had tiptoed quite far into hate speech."

…

Justice Lauri Ann Fenlon — the author of the unanimous ruling — said the judge did not consider "the potential chilling effect" on others who want to engage in controversial debates.

"Defamatory comments that accuse someone of committing hate speech can inflict serious reputational harm," Fenlon wrote.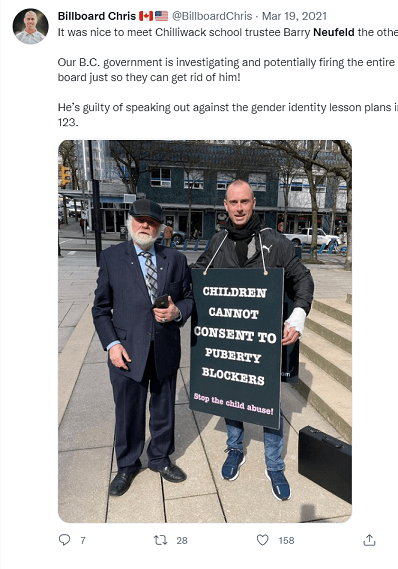 I think that's the closest we're going to get from the WMD Liars. Glen Hansman is a worthless antifa/shitlib, who freaked out over Barry Neufeld making statements critical of the groomer curriculum. We wouldn't know any more than that were it not for the Supreme Court of Canada's website, which is far more objective.
Supreme Court of Canada Website:
The applicant is a teacher and the president of the British Columbia Teacher's Federation. Mr. Neufeld is an elected public school board trustee in British Columbia. The Minister of Education published resources for teachers for the promotion of inclusive environments, policies and procedures in schools regarding sexual orientation and gender identity ("SOGI 123"). In 2017, Mr. Neufeld made negative comments and criticisms about the implementation of the SOGI 123 materials, which were posted on his Facebook page. His comments attracted significant criticism and media attention.

Mr. Hansman was interviewed about Mr. Neufeld's post. Mr. Neufeld alleged that Mr. Hansman defamed him in that interview, and in subsequent statements that were broadcast and published in the press and online. Mr. Neufeld filed a defamation action against Mr. Hansman, identifying 11 specific publications in which Mr. Hansman allegedly made defamatory remarks that Mr. Neufeld promoted hatred, was discriminatory against gay and transgender students, acted with malice, and presented a safety risk to students.

Mr. Hansman applied to have Mr. Neufeld's application dismissed pursuant to s. 4 of British Columbia's Protection of Public Participation Act. The application judge granted the motion and dismissed the defamation action. This decision was overturned on appeal.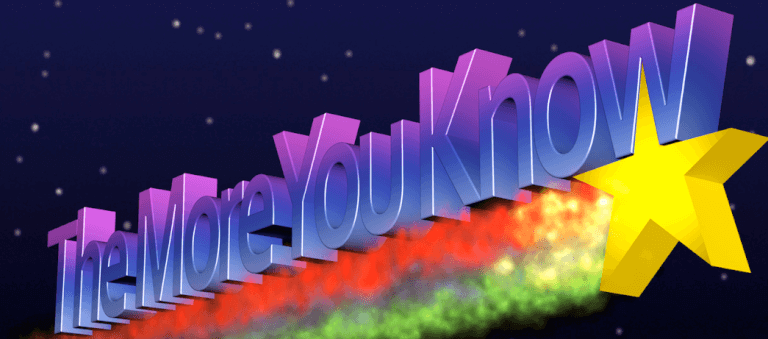 So it was more than him saying Barry Neufeld committed hate speech. He also implied that he was actively discriminating against the groomed students, and was a serious safety risk to the student body, all of which appears to be clear defamation.
A date in the Supreme Court of Canada has been set for the civil case between former B.C. Teachers' Federation (BCTF) president Glen Hansman's and Chilliwack school board trustee Barry Neufeld.

On Jan. 13, the Supreme Court of Canada granted Hansman's leave to appeal a B.C. Court of Appeal's decision to dismiss a defamation lawsuit against Neufeld.

That appeal will be heard by the highest court in the country on Oct. 11, 2022.
Thanks, Chilliwack Progress. Good reporting, even if you are a bunch of retards.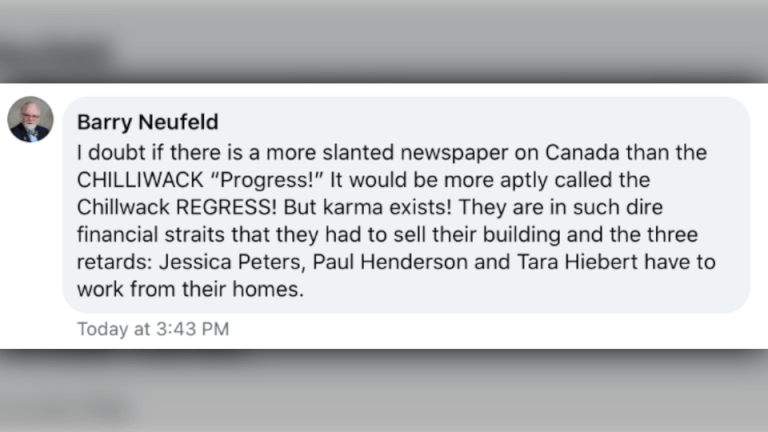 Barry won his appeal last year, and his trial is scheduled for this upcoming October 11th, in Ottawa. He was clearly defamed by Glen Hansman, whose words held quite a lot of institutional weight, what with him being the BCTF president at the time. Judge Alan Ross did his best to rig the case on Globo Homo's side, but this got overturned on appeals. I don't have any faith that the justice system will deliver justice for Barry, but I'll be covering the trial and supporting him from the sidelines.