Kanye West has become a friend of The Daily Rake ever since he sat down with us after his Schlomo Snafu. Or if not outright friend then accidental ally. Even the NJP penned a nice piece on the entire situation, and in the days since we've seen Kanye sextuple down, and be denounced by entire crops of shills.
Kanye West's ongoing public meltdown and antisemitic outbursts have become too extreme even for the famous rapper's most unapologetic, scandal-prone backers. This now includes the leader of the Republican Party, who used to brag that West was "a friend of mine for a long time."

In the days since West punctuated his recent tirades by posting to Twitter that he planned to go "death con 3" on "JEWISH PEOPLE," former President Donald Trump has told multiple people that West is acting too "crazy" and that he needs some professional "help," according to two sources with knowledge of the matter.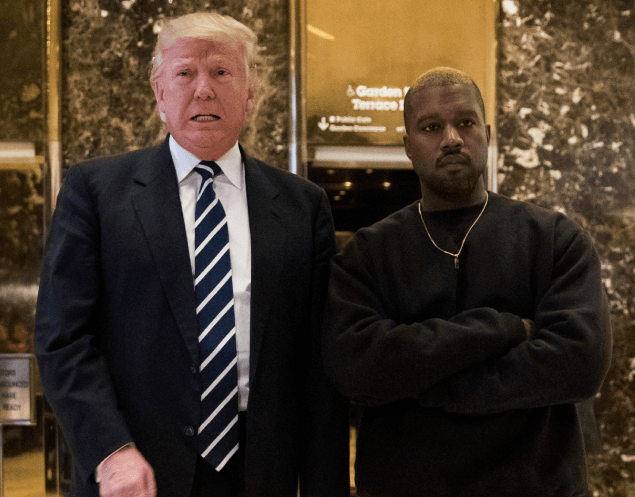 Gorland Blormph, the King of Israel, throws one of his closest friends under the bus because he feels it advantages him. Who could have seen this one coming?
The former president's comments came before West's antisemitism hit a new level in an interview released this weekend. On the show Drink Champs, West ranted about "the Jewish people" while he's impervious to charges of anti-Semitism because he's also a Jew "as the blood of Christ." He then said the Jewish people control all facets of media and entertainment and said they have "owned the Black voice" —  a trope frequently espoused by neo-Nazis.
He, and those "neon-natzees," aren't wrong. Warren Balogh made this little image and told everyone to share it on telegram. I have a feeling it's going to be a regular on this site, like the "Fags Out," sign guy turned into.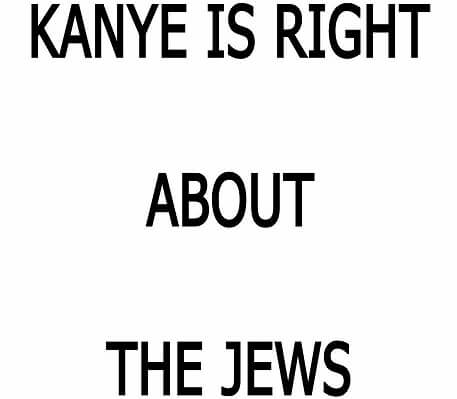 As far as the Drink Champs interview, you can no longer find that on YouTube. Or rather, you can find it, but you'll get this screen.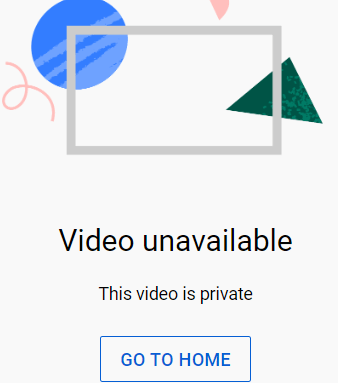 A few clips circulated on Telegram and I combined them into one video. Here you'll find about two minutes from the Drink Champs interview, and another two minutes from his interview with Chris Cuomo.
And here's another where he directly calls out not just Jared Kushner, but the jew mafia ownership of "every business that controls in the World." In fact, let me transcribe this for you.
Jared Kushner is an example of how the Jewish People have their hand on every single business that controls the World. And everybody knows that fo' fact. Like, you ever seen the movie the Lego Movie, where the guy realizes that everything is the same company, that's what's happening.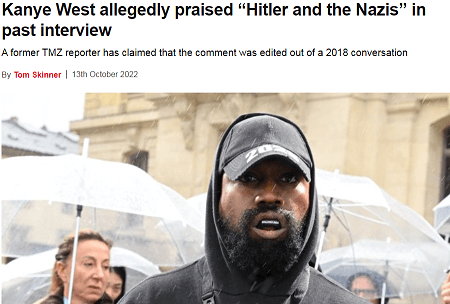 I do like how Kanye essentially takes a page out of the Mike Enoch playbook with the "no, you prove to me," bit. Remember, everyone knows that Schlomos have illegitimate power. They need to prove to you that they don't think that. You don't need to prove to them that Weinsteins run Hollywood.
After Kanye West unleashed more than three and a half hours of anti-Semitic rants, untruths about George Floyd and hostile comments toward everyone from Trevor Noah to Diddy during a Sunday appearance on Revolt.TV's "Drink Champs," interviewer N.O.R.E. apologized for using his platform to have such views aired during a call to the"Breakfast Club" on Monday morning.

N.O.R.E. (real name: Victor Santiago), who challenged West only occasionally during the interview, was on the receiving end of many angry social media posts for his tacit acceptance of many of the comments.

"I made a mistake doing the Kanye interview," he said. "I could come out here and say this was Kanye's thing and that's it. And guess what? People will forgive me and I could get away with that. But that's not what I'm doing. I feel like I failed my people. I called 'The Breakfast Club': because I wanted to apologize to my people.

"I want to be honest. I support freedom of speech," he continued. "I support anybody not being censored. But I do not support anybody being hurt," N.O.R.E told "The Breakfast Club" host  Charlamagne Tha God. "I did not realize that the George Floyd statements made by Kanye on my show were so hurtful. You have to realize that it was the first five minutes of the show – like when he walked in, he told my producer that if we stop filming, he'll walk out. So I didn't want a Birdman moment, like when he walked out, so I wanted the man to speak."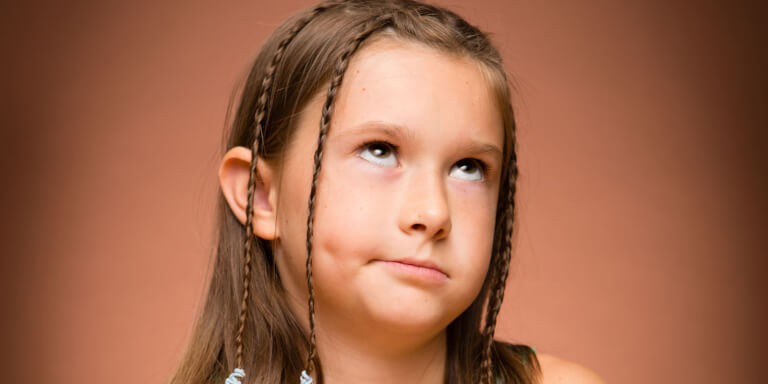 This N.O.R.E. clown, real name Victor Santiago, is himself a rapper. Not just any rapper, but a "gangsta rapper." Here's one of his songs.
Gangsta's don't die, they just cuck hard in public when their jew owners tell them to.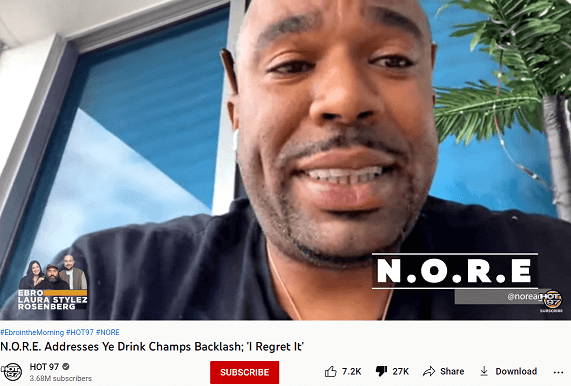 Santiago goes on the Morning Today podcast to grovel and beg his Hebrew Owners to let him continue to have a cushy life doing nothing of note and pretending to be a real hard nigga or whatever. The like/dislike ratio shows that this isn't popular, as do all the top comments.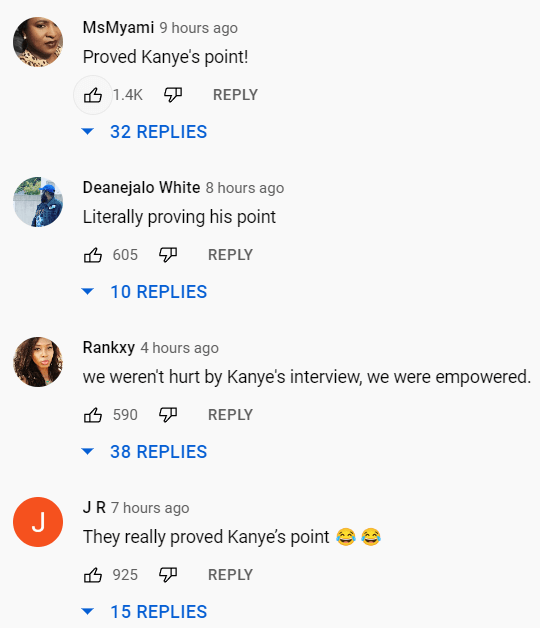 As if there were any doubt about it, the very first words you hear on said podcast are:
Ebro, Laura, and Rosenberg. Good Morning!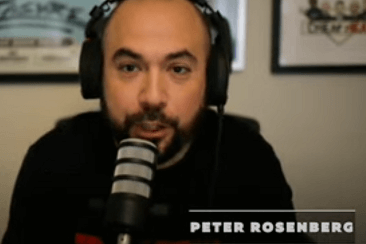 You can see for yourself.
Back to Variety.
"I don't watch my own interviews because I know I'm great. But when I watched this one, I cringed. And I felt terrible. So I have to say that I am sorry to anybody who was hurt by his rhetoric, anybody who was hurt by his speech. I want to apologize to the George Floyd family… I want to apologize to anyone who was hurt by someone saying something in my platform. Contrary to popular belief, we own 'Drink Champs.; We own our IP, so the person to blame is us. I'm not going to blame Puff Daddy [the owner of Revolt.TV where "Drink Champs" is aired]. Six years of this, I'm not going to have the excuse that I am not a journalist. I have responsibility…. I do not want my people to think that I did not step up at the time, but if you watch the whole 3 hour and 38-minute interview, I represent for George Floyd and Black people five, six, seven times."

N.O.R.E. also attempted to defend himself by stating, "I had four Jewish people in the room" during the interview, including Steve Rifkind from Loud Records. "I looked to the Jewish people in the room to tell me when Kayne was going over the line." Their looks, apparently, were those of "understanding where Kanye was coming from," he claimed, "but I don't support none of it."
This is literally "I looked to my jew massahs and they seemed cool with it at the time. I'm sorry I wasn't a more proactive housenigger." Also, Puff Diddy owns Revolt TV now? Get the fuck out of here. He's the frontman at best.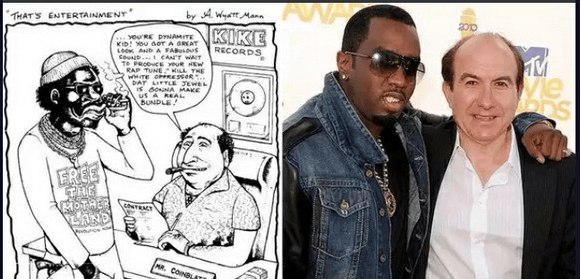 One quick look is enough to verify that (((Andy Schuon))) is the actual owner of REVOLT TV.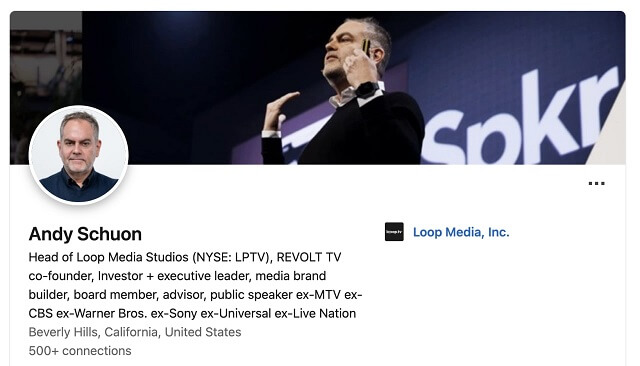 Do I love Kanye West? No. Do I think this is a good thing? Yes. Do I think this is all very funny? Absolutely.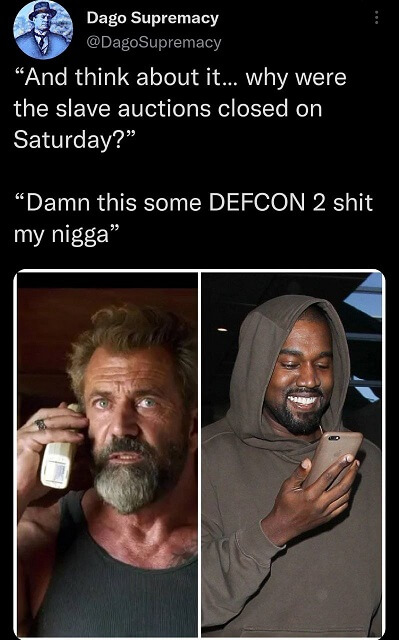 NJP Chairperson Mike Enoch (They/Them) had this to say on his Telegram channel.
There is literally no downside to the Kanye West situation.

Even if you think some of the things he is saying are dumb, so what? That was always going to be the case. No matter what, you were always going to live in a world with rappers saying stupid shit.

Now you have that plus the most popular rapper in the world openly calling out Jewish power, making all other rappers reveal themselves as pawns of Jews, and creating, as Yair Rosenberg says, "agonizing catch-22s" for Jews.

There is just no downside here.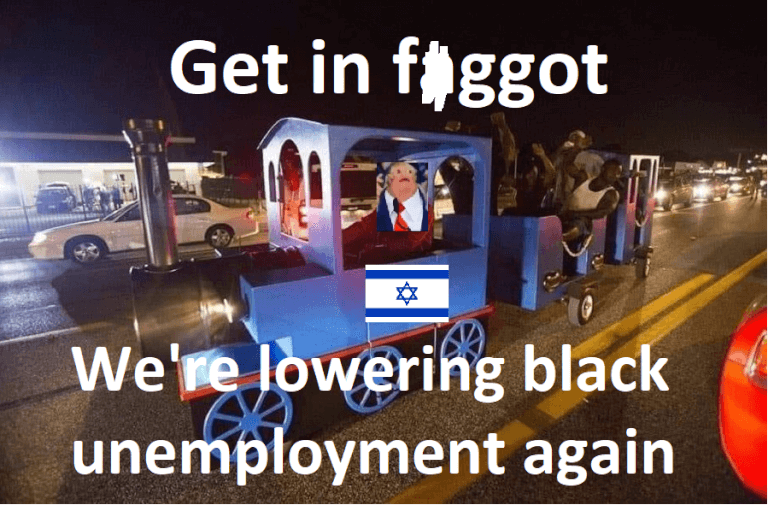 Kanye West is causing problems for zionist kikels worldwide by directly naming Der Schlomo. He's also causing problems for all these houseniggers like NORE and Puff Diddler. And he's causing problems for cuckservatives like Steven Crowder, who's had to remove "Kanye Lives Matter," from his gay little store.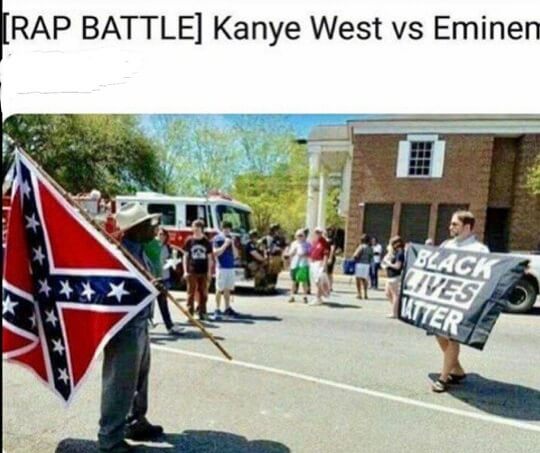 But more subtly he's caused serious problems for the credibility of the fake pro-Black but really just anti-White political agenda of Schlomo and the Rabbis of Zion. All this talk about us needing to listen to "Black Voices," and then Kanye West speaks some truth about Der Juden and the process of buck breaking revs up in full force with all these anti-White houseniggers siding with their Nose-American massahs. As another example, I went and checked Tariq Nasheed's twitter for mentions of Kanye West. You can look for yourself, but it's complete radio silence.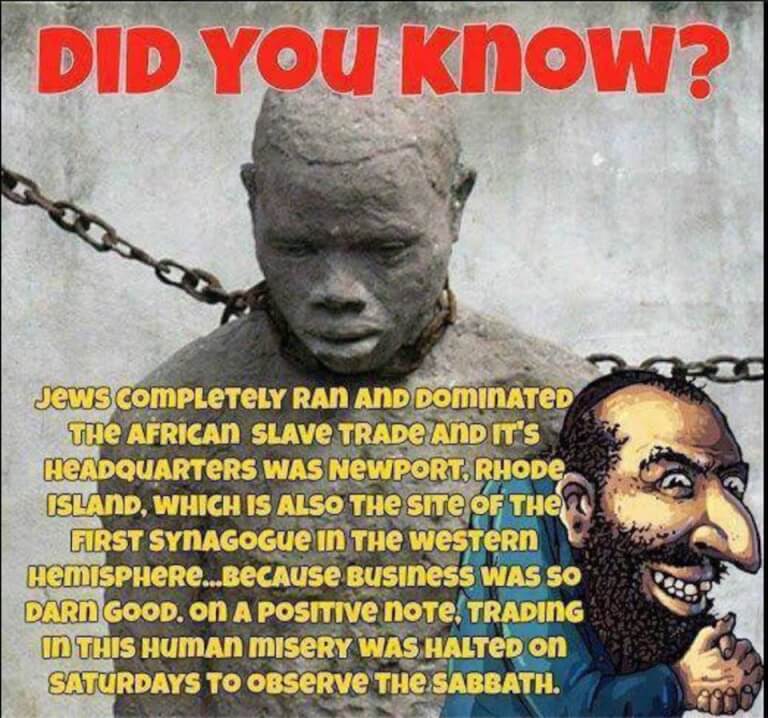 Attacking these people as the property of Jews is equally demoralizing to their supporters as attacking them as anti-White. Both should be done as often as possible.