CBC:
Danielle Stephanie Warriner sits alone in a Toronto hospital lobby, wearing little more than a pale blue medical gown. Moments later, she's wheeled away by guards, her slight frame slumped in a wheelchair, her legs dangling from the edge.

What happens in between isn't captured on video.

Instead, a security camera was purposely turned away as guards approached the 43-year-old, pushed her against a wall and restrained her on the ground before she lost consciousness — never to regain it. 
This is not an exaggerated story. You should see the video below.
There is no audio, but the security guards are clearly confronting Stephanie Warriner. The first part of their interaction is caught on tape.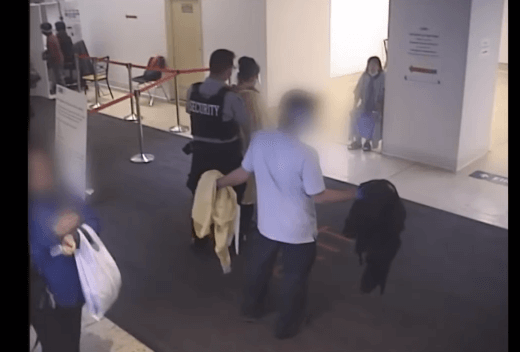 Then we see the guards attack Warriner.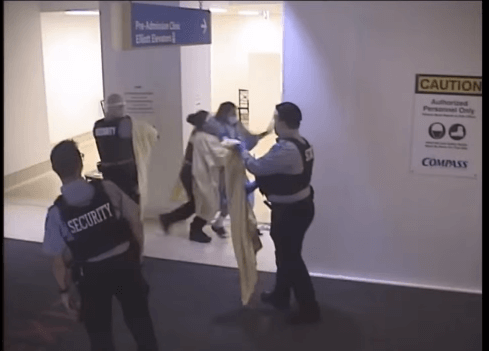 As this happens the camera points away to this random hallway.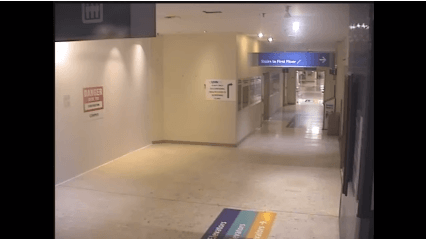 Even more disgusting, the camera is still pointing in that direction when Stephanie is wheeled away, or rather her corpse is. It's hard to grasp in stills, but they're shoving her head around as they wheel her body away.
Now, that won't happen. In a surprise move by an Ontario judge on Nov. 22, the case against the guards has been quashed and the trial that was supposed to begin this May struck from the docket. 

For months, Warriner's family has waited for their day in court. Instead, they say they're now left blindsided.
For years, actually. Stephanie Warriner was murdered on May 27th, 2020. Amanda Rojas-Silva and Shane Hutley were arrested in November of that year. Now, two and a half years later, some robed dictator decided that they are so innocent that they shouldn't need to go to court to prove their innocence.
"My first reaction was shock, horror," Warriner's sister, Denise, told CBC News. "There's been no accountability and there's a gaping hole in my heart."

"She was a very tiny woman who was clearly unwell, sitting, dealing with respiratory distress and they wrangled her to her death. There was no lawful reason for them to have ever put hands on her," she said she believes.

"This ought to have been put to a trial."
It should be made very clear that if she had been refusing to wear a mask as some sort of Covid-19 protest that this would have still been murder. 
Denise Warriner said that her sister went to Toronto General Hospital on May 10 due to some breathing issues she was having.

She said that as a result of those issues her sister was becoming confused. Then on May 11 the incident with the security guards happened.

"She suffered a deprivation of oxygen which then as a result she went into cardiac arrest, and of course then sustained deprivation of oxygen to her brain, she had a brain injury," Denise Warriner said. "One of the most painful things I could ever imagine in my life is to make the decision to remove my sister from life support."
Back to the CBC article from a few days ago.
Amanda Rojas-Silva, 42, and Shane Hutley, 35, had been charged with manslaughter and criminal negligence in Warriner's death — charges they denied, saying they used only the force necessary to gain a hold of her. 

Now, those charges have been dropped after a judge concluded there wasn't enough evidence to take the case to trial — a decision CBC News has learned the Crown won't appeal.

That's despite the available video footage, two security staff who testified the accused placed weight on her upper body while she was held chest down, a forensic pathologist who testified Warriner would still be alive had she not been restrained that day — and revelations one of the guards admitted he falsely claimed Warriner threw the first punch.

Until now, much of the evidence in Warriner's death has been covered by a publication ban. With the case quashed, CBC News can now report on the details that have never been made public and reveal the footage a jury will never see. 
I could have bolded that entire second last paragraph. This is almost parody-like in its one sidedness. We have a woman who came into the hospital with serious breathing problems. She is so out of it that she can't respond properly to the security guards.
They then violently assault her, kneeled on her chest – not the back of her neck George Floyd style – forcing the air out of her lungs, turned the video camera away for this premeditated attack, and had a security guard lie and say that the tiny woman threw the first punch. Which also implies that they were punching this tiny woman when she was on the ground.
Here's the full story of her death.
On May 10, Warriner, who suffered from chronic obstructive pulmonary disease or COPD, arrived in hospital with a cough and short of breath. It was early in the COVID-19 pandemic, and Warriner was presumptively treated as COVID-positive, though it was later found she tested negative for the virus. 

The next day, Warriner left the COVID floor to get something to eat, according to a coroner's report, and was spotted by hospital staff in the lobby with her mask down around her neck.
And here's why the security guard turned the camera away.
At a preliminary hearing, the guard who turned the camera testified he did so because he "panicked" and "got really anxious." 

Court heard that guard was allowed to keep his job. 
Who was the judge.
In the absence of footage from the moments on the ground, two eye witnesses testified the accused held the 125-pound woman down by her upper body despite their training warning of the risks of doing so. 

Still, in quashing the case, Superior Court Justice Sean Dunphy noted, "There is evidence that death could have been the culmination of the factors [the forensic pathologist] described."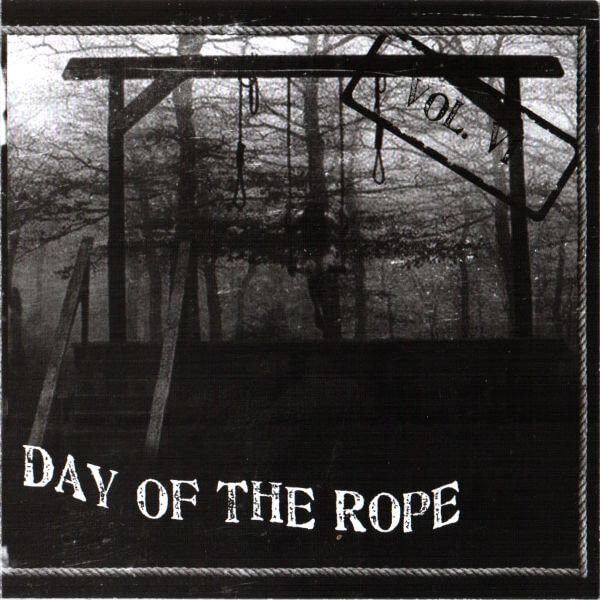 I've always hated the overuse of the term fedposting. It's definitely a real phenomenon that exists where CSIS, or the FBI will get in a chat and start telling everyone to go commit crimes against random people. You should watch out for that, and calling that fedposting is fine, since it's accurate.
But there is a time and a place for truthposting. And the truth is that judges in this country are dictators, and they are malicious and evil clowns. I sat in the courtroom of "justice" Michael Tammen as he ranted about "our democracy" for 45 minutes to a working class man, Rob Hoogland, who committed the sin of trying to save his daughter from being permanently sterilized and destroyed. Some of these robed dictators need to be made examples of.
Her supervisor testified he felt her actions were wrong. Pointing in Warriner's face and standing in her personal space, for example, would have been "triggering," the supervisor said, adding video of the incident is now shown in hospital training.

In the aftermath of the incident, both guards claimed Warriner repeatedly assaulted Rojas-Silva before she went hands on. 

But during an internal investigation by the hospital, court heard Hutley later admitted that didn't happen.

"Mr. Hutley went as far as to claim that Ms. Warriner delivered several overhand and underhand punches to Ms. Rojas-Silva's face and was kicking her feet," says a court document by the Crown.

Hospital officials then confronted Hutley with the footage of the incident, playing it for him multiple times.

"Later on, Mr. Hutley began sobbing and admitted he had not been truthful in the report, saying 'I'm sorry. I would have never said the things I said in there if I knew there was a video,'" the document says. 

To see a judge decide to quash a case in this way is rare, said Toronto criminal lawyer Frank Addario, who isn't associated with the case.
No, there are no pictures that I could find of this judge. The name Frank Addario rings a bell, but I can't recall from where. In any case, the Warriner family is now suing.
The sister of a 43-year-old woman who died 16 days after an altercation with security at a downtown Toronto hospital has filed a $16 million lawsuit against University Health Network and the guards allegedly involved in her death, claiming that they used "excessive" and "unreasonable" force.

Stephanie Warriner, a mother of five originally from Scarborough, died on May 27, 2020 at Toronto Western Hospital after reportedly going into medical distress and suffering a cardiac arrest following a physical interaction with hospital security.
I wish them all the best with their lawsuit, and if they're smart they can use this as an excuse to periodically bring the story up again. I hope they win. More to the point, Stephanie Warriner was a normal mother of five children. She was murdered by security, and an unelected and unaccountable judge just decided that this was perfectly fine, no trial needed. Then the prosecution throws the fight and that's that. Oh and it's next to impossible to find out who the specific people responsible for this were, let alone get pictures of them.
This is the actual Canadian "justice" system.