First, an Eebil HuWhyte Man's name must be stricken from an elementary school.
An elementary school in Vancouver has become the latest to replace its name with an Indigenous one, as governments and communities work to decolonize public places.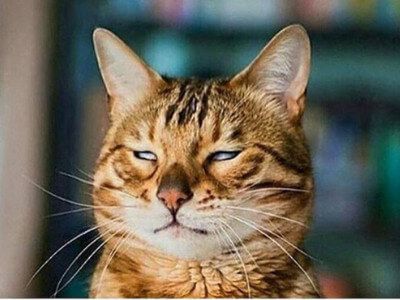 Let me guess, they came up with a retarded name that no one can pronounce.
Sir Matthew Begbie Elementary School's new name, wək̓ʷan̓əs tə syaqʷəm, was unveiled in a ceremony Friday with the xʷməθkʷəy̓əm (Musqueam) First Nation on Friday.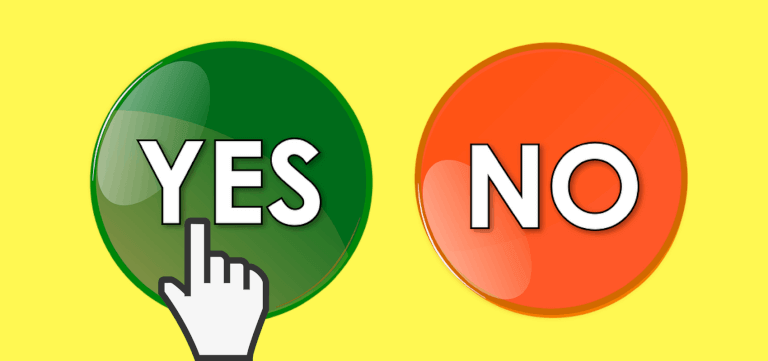 So were they mad that a White Man's name was on something, or this White Man in particular?
Speaking at the ceremony, Elder Larry Grant asked students and staff to look up Sir Matthew Begbie, the first Supreme Court judge in British Columbia, also known as the "Hanging Judge."
Looks like a bit of both. Begbie announced the execution of five Tsilhqot'in's, but why were they on trial? The Canadian Encyclopedia has more on this particular event.
In 1861, a pack-train trail was established from the Bella Coola Valley through Tsilhqot'in territory to the developing gold mine centres to the east, and work was begun on a wagon road from Bute Inlet to the interior. Resisting these intrusions, a small group of Tsilhqot'in killed several workers on this road in what is known as the Chilcotin War of 1864. Six Tsilhqot'in were eventually tried and executed for these killings. On 26 March 2018, Prime Minister Justin Trudeau exonerated the Tsilhqot'in chiefs of any wrongdoing, and on 2 November 2018, Trudeau formally apologized.
So they murdered "several" workers. Their names are not given, although we know them to be White. In response, six war chiefs were themselves hanged after a trial. These anti-Whites pretend this is some sort of grave injustice, and are blaming Judge Matthew Begbie.
And by the way, I did what "Elder Larry Grant" told me to do and looked up Sir Matthew Begbie, also known as "the Hanging Judge." And yes, I noticed his name is Larry Grant, but these people's identities have been jokes for a while now and we have to step over that today.
Wikipedia for Judge Matthew Begbie:
In 1860, Begbie found a white Californian man by the name of William Marshall guilty of assaulting a First Nations man based only on the testimony of First Nations people, the first time this had ever occurred. Begbie learned a number of Indigenous dialects and even conducted trials in those languages without the use of an interpreter. He had great friendships with a number of chiefs and he was clearly sympathetic when it came to trying to impose colonial law on Indigenous people. He recognized the concept of Aboriginal marriage and allowed an oath for truth telling that recognized Aboriginal beliefs. Begbie, a 19th-century Scotsman (born in colonial Mauritius), truly believed in the Scottish Enlightenment values of egalitarianism when it came to understanding and interacting with Aboriginal peoples. He allowed people of other cultures to swear an oath of truth on an object sacred to them in place of the Bible.
Far from being that EXTREME ARYAN SUPREEEEEMACIST that these anti-Whites are portraying him as, Begbie was respectful and even sympathetic to these people. 
Begbie ruled in 1886 that a law imposing very high licence fees discriminated against Chinese people even though it did not mention them, because laundries at the time were overwhelmingly run by Chinese. Another ruling with a similar logic two years later compelled the city of Victoria to renew the licences of Chinese pawnbrokers.[9]
Actually he was a great example of a condescending and somewhat anti-White judge. What does this proto-globalist get for his efforts? Slander from the Globo Homo Schlomo Enjoyers of today. Thus is the reward for all of these types.
Now back to the Globo News article.
For thousands of years, Musqueam people spoke hən̓q̓əmin̓əm̓, but according to Chief yəχʷyaχʷələq (Wayne Sparrow), there are no more fluent speakers in the nation.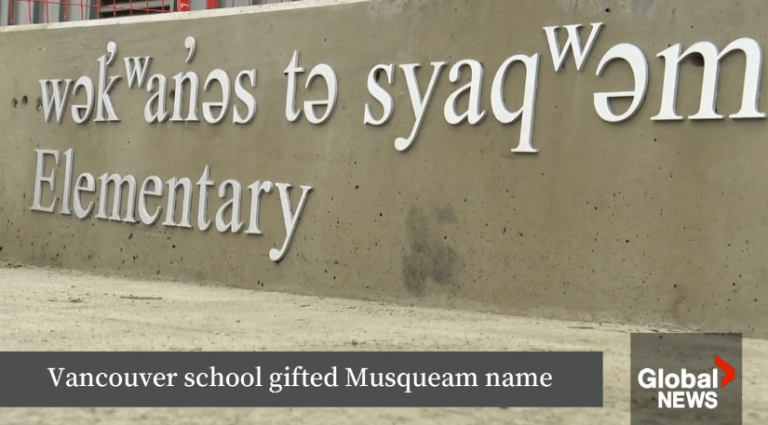 Chief Wayne Sparrow teams up with Elder Larry Grant, neither of whom speak Musqueam, to give an elementary school that is mostly full of Asians a Musqueam name after pretending that the murder of multiple White People was something good and great and those responsible shouldn't have been punished. Then they go and slap the new name on so shoddily that it's clearly at a downward angle, but everyone involved pretends not to notice this.
Across Canada, a number of schools, parks, public buildings and street names have changed to dissociate from colonizing figures linked with racism, hatred and violence, particularly directed towards First Nations, Inuit and Métis peoples. Various statues have been torn down as well.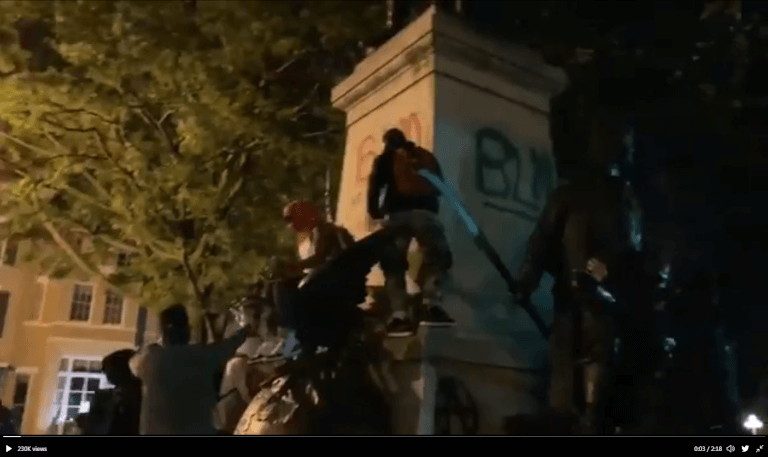 Remember everyone, you should be really angry that the all expenses paid boarding schools that Aboriginals demanded we build and fund for them are cultural genocide factories because children were taught how to read and do math. Oh but them tearing down our statues, renaming our schools, and cancelling our national holiday? Well that's not cultural genocide. Also it is, and you deserve it.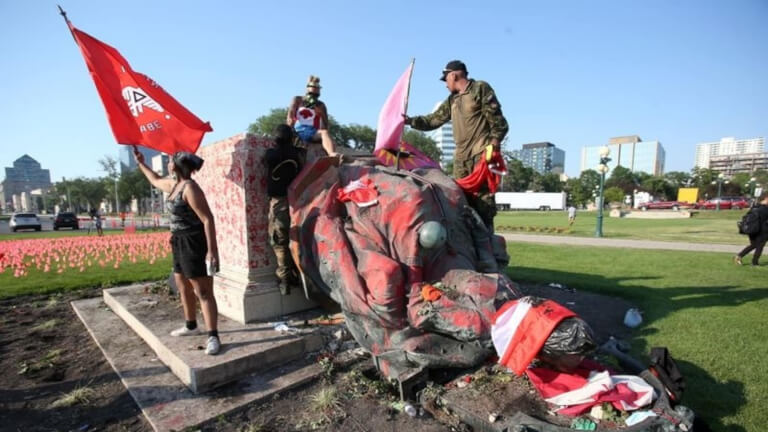 A disabled veteran in Canada has slammed her government for offering to euthanize her when she grew frustrated at delays in having a wheelchair lift installed in her home.

Retired Army Corporal Christine Gauthier, a former Paralympian, testified in Parliament on Thursday that a Veterans Affairs Canada (VAC) caseworker made the assisted suicide offer.

After years of frustrating delays in getting the home lift, Gauthier says the caseworker told her: 'Madam, if you are really so desperate, we can give you medical assistance in dying now.'

'I was like, 'I can't believe that you will … give me an injection to help me die, but you will not give me the tools I need to help me live," she said. 'It was really shocking to hear that kind of comment.'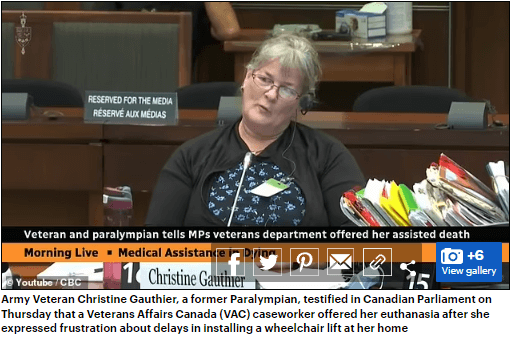 Christine Gauthier is far from the only veteran who was told to kill herself by the Canadian Government.
CBC:
Four — perhaps even five — Canadian military veterans were given the option of medically-assisted death (MAID) by a now-suspended Veterans Affairs Canada caseworker, the country's veterans minister told a House of Commons committee late Thursday.

Lawrence MacAulay said the matter is now being turned over to the RCMP for investigation and his department's internal review is ongoing.

"We expect all Veterans Affairs candidate employees to interact with veterans with care, compassion and respect and the actions of this one employee is simply disgusting," MacAulay told the veterans affairs committee. "And I condemn this behaviour in the strongest terms."

He went on to say there was "no way to justify" the actions and he wasn't about to defend the employee.
What employee? Tell me xir's name you faggot.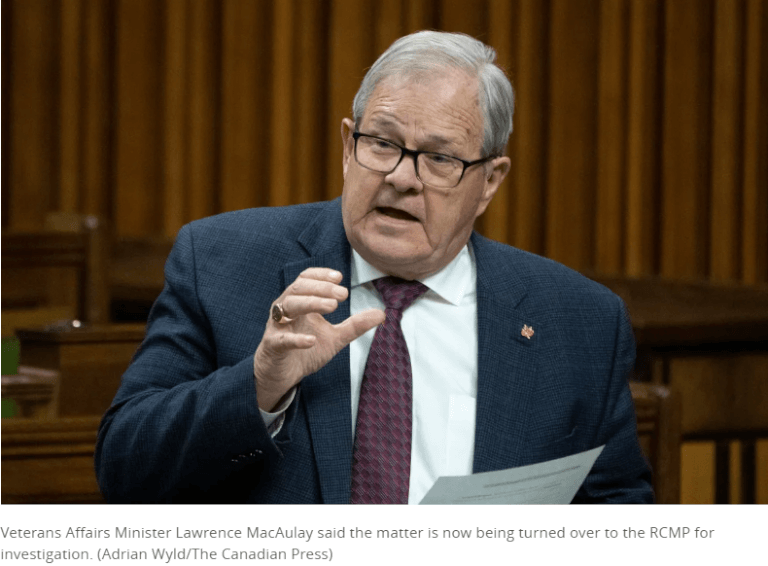 I know it's obvious, but the reason why he's not giving us the name is that he doesn't want us to know. This isn't protected information. If the RCMP is doing an investigation then he could tell us who they are investigating. But he won't, probably because it's some purple haired tranny who looks like a demon and that might get the peasants upset. So instead, they'll make some noise about how it was "unacceptable" to tell a bunch of veterans to go kill themselves and move on. Nothing will come of this, and duplicitous weasel Pierre Poilievre will not make an issue of this.
Carleton University's journalism program is partnering with CBC/Radio-Canada, the #NotOK project and the Stursberg family to hold a major public event on Dec. 1 grappling with the upsurge in targeted online abuse facing journalists, especially women journalists of colour.

Journalists and online hate: What to do when the battlefield is everywhere will feature presentations from media executives, journalists and at least one politician on how best to confront the corrosive force of online hate targeted at journalists.

Now, Carleton is working together with the CBC/Radio-Canada,  #NotOk and the Stursberg family on this major public event on Dec. 1 that will continue this dialogue, examine best practise[sic] and hopefully bring us closer to identifying how best to respond. Richard Stursberg and Judith Lawrie, the children of the late journalist Peter Stursberg, established an endowment at the School of Journalism and Communication in memory of their father to support both the Peter Stursberg Foreign Correspondents Lecture and the Peter Stursberg Award in Conflict Journalism and Media Studies. The Dec. 1 event will also be supported by the Stursberg endowment.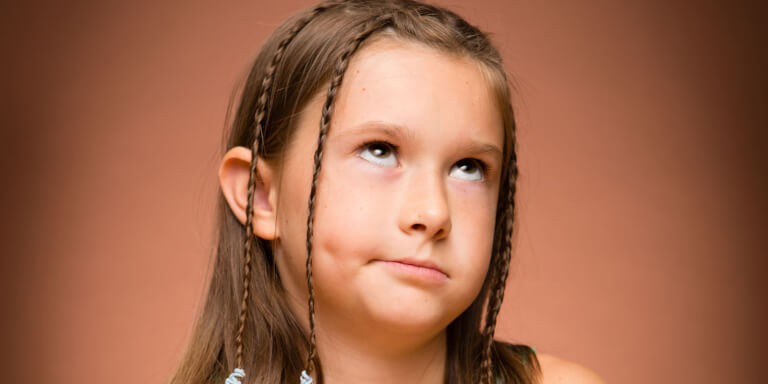 Elie Cantin-Nantel decided to show up to this event in person and live tweet about it. I'm not even going to provide commentary. It speaks for itself. Just skim through the bold.
Elie Cantin-Nantel Threadreader App:
Carleton journalism head Allan Thompson opens the event, warns that it will contain "harsh disturbing language." He does a land acknowledgment, and says he is conscious as a "fifth generation settler". Says journalists must challenge and dismantle white supremacist mindsets. 

Rachel Gilmore and Erica Ifill just arrived. 

CBC President Catherine Tait says the internet is a dangerous place. She says going after journalists undermines democracy. CBC is pushing for action to remove "toxic messages" and ways to prevent those messages in the first place. She also wants legislation & societal change.

The Star's Saba Eitizaz says hate followed Maxime Bernier's call to "get dirty" with journalists. Says other politicians have legitimized messages. She says the burden of facing attacks should not be held by journalists and the matter is a danger to democracy. 
Marco Mendicino expresses gratitude for journalists like Rachel Gilmore. Says attacks against journalists are racist, mysoginistic, and criminal, and done by people who want to preserve a status quo. Adds that spaces must be kept safe. 

Erica Ifill says her organization does not always support her. They recognize some threats but not others. She says a huge problem is the far-right; convoy people, convoy adjacent people, and white supremacists. Notes that the panel had not characterized it as such.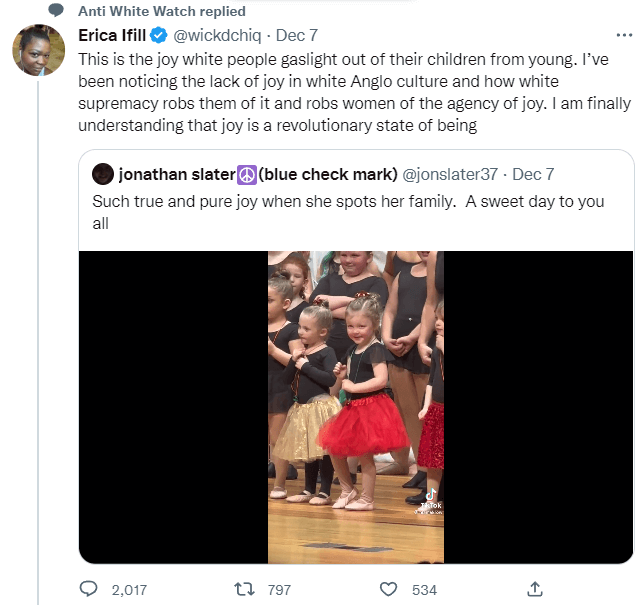 That's probably because she's an insane anti-White Shaniqua who calls happy White Children "gaslit," by "White Anglo culture." 
Saba Eitizaz brings up Diagolon, says the group has legitimized violent language. She also said that Trump and other populist leaders have created a problem for journalists. 

Erica Ifill says when she seeks an expert opinion, she does not talk to white men because her job is to challenge power. She then talked about CBC's Queen coverage, and noted she was glad the queen died. She also says the media treats black women very poorly. 

Erica Ifill also says women are expected to be submissive towards white men, she calls it "misogynoir" (misogyny directed towards black women). She expects people to be assholes, use the n-word and call her a bitch, but "digital lynchings" cross a line. 

Rachel Gilmore is talking about her TikToks. She says TikTok is a "far less toxic platform". She adds that it feels nice being on the platform as she can talk about her stories. 

Rachel Gilmore notes that when Holly Doan tweeted abt tonight's event, ppl were laughing at it. Notes David Menzies says what is happening to her is mean tweets, but its not because she feels unsafe in her community. The fact I am looking over my shoulder, is that a mean tweet? 

Erica Ifill on wokeness: she says calling things woke is gaslighting to the max. She says the word comes from black liberation, but has been manipulated to gaslight people out of fighting for social justice. 

Rachel Gilmore says the hate she is receiving is unfair. Notes this happening because she is a woman and the matter rooted in misogyny. She notes that white men do not have to deal with this to the same extent. 

The event has ended. Carleton journalism head Allan Thompson mentioned he is a "poster boy of white privilege" as he closed off the event.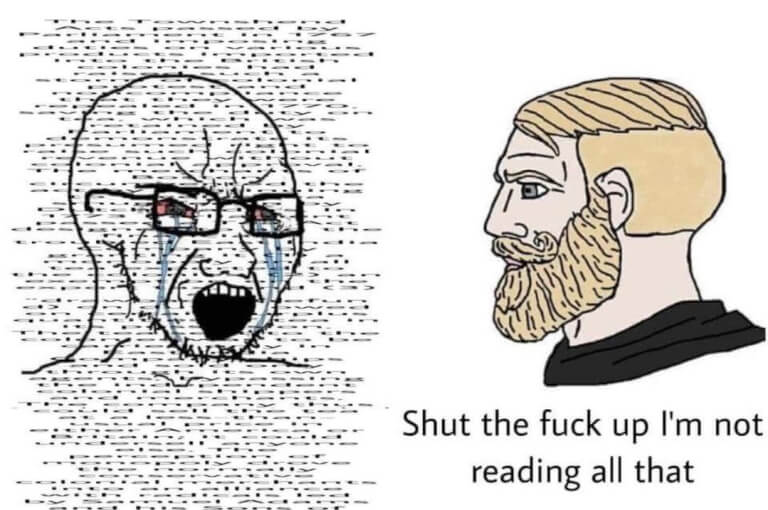 Credit to Elie Cantin-Nantel for watching that so I don't have to. And credit me for reading that so you don't have to. However, there is one part that I absolutely need to analyze, because it shows how divorced from reality our privileged class is.
[Former Minister of Immigration] Marco Mendicino expresses gratitude for journalists like Rachel Gilmore. Says attacks against journalists are racist, mysoginistic, and criminal, and done by people who want to preserve a status quo. Adds that spaces must be kept safe. 
If you listened to the uncensored propagandists for the privileged and powerful talk about themselves you might get the impression that they spend all their time running across WWI style no man's land avoiding mines just in order to save the lives of innocent puppies of colour. In reality they are the parasites who lie us into wars and squeal with joy when our soldiers come home missing limbs. Then they tell them to go kill themselves when they get angry at the government not installing the disability equipment they promised. These people are pure filth.
But the statement from Mendicino is so idiotic on the face of it that I can only imagine it is intentionally stupid in order to thunderstrike the audience. He says that people speaking truth to journalists are trying to preserve some status quo. Then in literally the next sentence he says that online spaces must be kept safe. He is literally trying to preserve the illegitimate status quo while accusing the peasants of doing exactly that.
The inversion of reality is so immense one must take a minute to collect oneself. The propagandists for the CBC, CTV, and others serve as the mouthpiece of the parasite class. Their purpose is purely to serve power, and telling one of these propagandists to go fuck themselves is a revolutionary act. But at a certain point it becomes impossible to respond to the things that they say, since they are just tactics designed to trip you up.
The Canadian Armed Forces (CAF) announced on Friday that permanent residents will now be allowed to enlist, as the military struggles with low recruitment levels.
That means non-Canadians if you didn't get it.
The CAF sounded an alarm in September over a severe shortage of recruits to fill thousands of vacant positions, meeting about half the number of applicants it needs per month to meet the goal of adding 5,900 members this year.

While the armed forces haven't said whether the recent move was made to boost recruitment, Christian Leuprecht, a professor at the Royal Military College of Canada, says that it makes good sense.

"In the past, the CAF has had the luxury of being able to limit itself to citizens because it has had enough applicants. This is no longer the case," Leuprecht told CTVNews.ca on Saturday in an email.

"The CAF had resisted opening up the ranks to permanent residents because it does create additional burdens and risks, in terms of security clearances, for instance."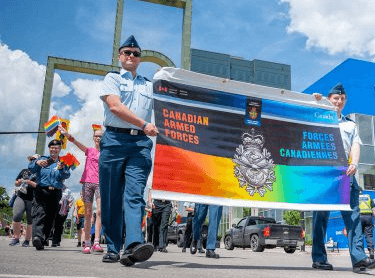 The Canadian Armed Faggots have had a recruitment problem for a while. A. Nonymous detailed this in his excellent paper, published on this site, which I strongly recommend everyone read. In short, it's an anti-White Globo Homo institution that is not coincidentally also run with extreme incompetence. The sole purpose is to loot the rest of the country for $20-30 billion per year, and it accomplishes little else. It's not even good for oppressing the citizenry, and the RCMP is militarized to serve that role instead.
The Canadian Armed Forces says it has received hundreds of applications from permanent residents interested in joining the military, but getting those prospective recruits into uniform could take up to two years.

The military says more than 2,400 people submitted applications in November, a number that the commander of the Canadian Forces Recruiting Group described on Wednesday as unexpected.

The number is especially notable when considering the military received about 4,000 applications over the same period from Canadian citizens.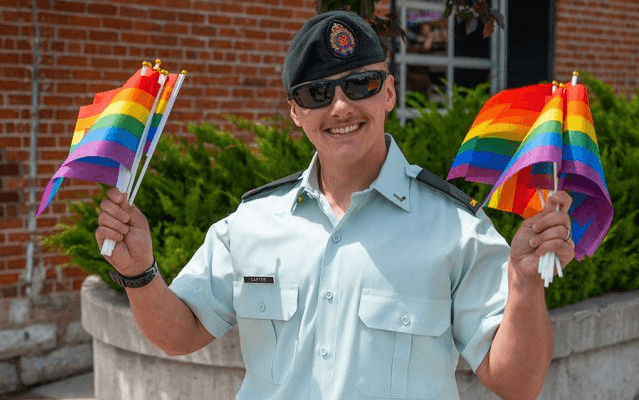 The article says hundreds, and then 2,400 just in November. This is the kind of shoddy reporting that we've come to love and expect from Global News. Why not just throw two numbers out there separated by an order of magnitude? In any case, the Canadian military remains a joke, as does the rest of this zionist occupied society.