As ridiculous as all this is going to be, it's nice having a ClownWorld Overdose that isn't all about child abuse for a change.
While the 90 Day Fiancé franchise may not churn out the most ready-for-household personalities compared to other celeb-friendly reality series, the TLC and Discovery+ shows definitely aren't lacking couples that make headline-grabbing drama both on and off the screen. But it wasn't even a relationship sitch that had Before the 90 Days and 90 Days: The Single Life star Stephanie Matto earning all kinds of attention in the final weeks of 2021. Rather, she gained instant notoriety for selling jars that she farted in to fans. Now, there's a chance she could team up with another 90 Day franchise vet for a new money-making idea that may or may not have to do with bodily functions.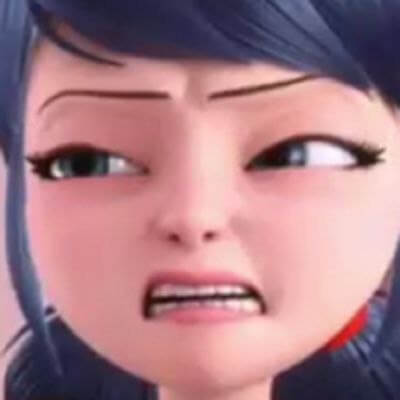 Having amassed a unique fandom to date, Stephanie Matto set up a date auction through her Unfiltrd profile, with 10% of the proceeds going to the bone marrow and blood stem cells organization Be The Match. She noted in an Instagram post that she initially low-balled what the bids would be, but the winning bid tapped out at $2,700. And as it turns out, the bidder was 90 Day Fiancé Season 8 cast member Stephanie Davison, and she's apparently interested in working with Matto on some kind of side hustle.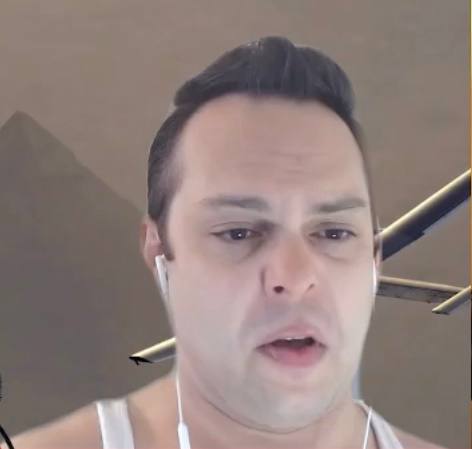 Stephanie Davison's winning bid earned her a one-hour dinner date with Stephanie Matto, and the fart-friendly told TMZ she was shocked to learn that she'd be going out with a fellow 90 Day vet, confirming that they'd never met each other before. But rather than focusing on the dinner side of things, Matto says Davison was interested in using the hour to talk about marketing ideas of some kind.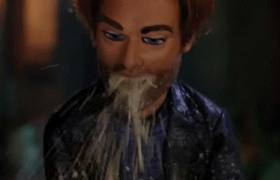 It's not clear if that means Davison would want to join in on Matto's current gig, though the latter said she'd very much be down to consider collaborating on selling the fart jars. (I'd be interested in that being the case just so one of them could talk about how that process would work with two people, but I'm content if it doesn't happen.) Let's not forget that Matto has also sold her boob sweat, among other things, so there's room for expansion. Which could provide necessary if health issues crop up like the ones that Matto dealt with early on.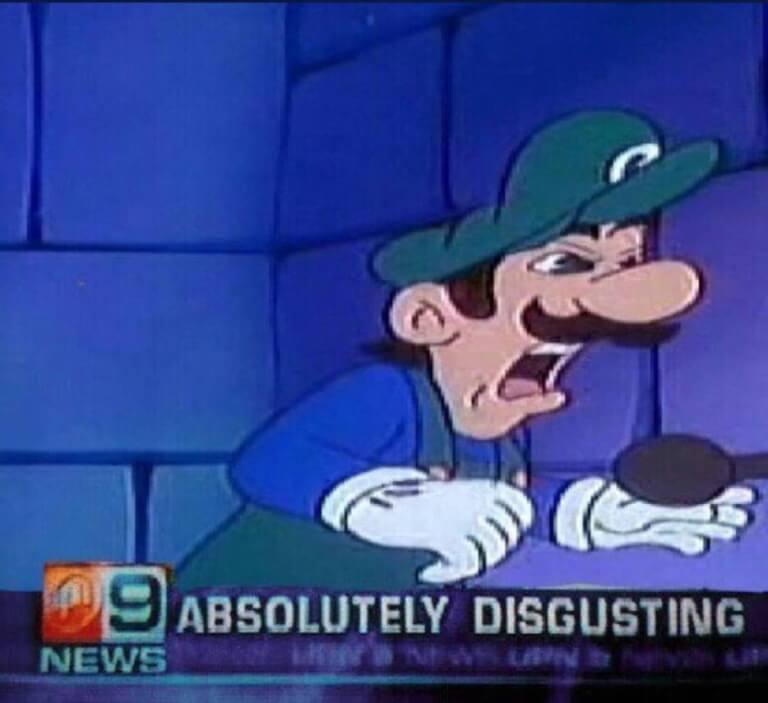 This is one of the grossest stories I've ever covered. It's so disgusting that I considered not covering it, despite how ClownWorldy it is. This ugly fat broad is passing gas into a jar, and SIMPs online are paying almost $3 grand for it.
Worse, she's "collaborating" with some other horseface. Meaning that they're both passing gas into a jar together, and some disgusting dysgenic pervert with too much money is getting his dick hard at the prospect. This isn't even funny to me. I'm getting queasy just thinking about it.
Vice:
In the last two weeks, at least a dozen public libraries across the U.S. received threats that resulted in canceled events and systemwide closures. While bomb and active shooter threats to public library systems in Nashville, Fort Worth, Denver, Salt Lake City, Boston, and other cities across the country were ultimately deemed hoaxes, library workers and patrons say they're still reeling in the aftermath. 
Oh a "teen" "drag star" eh? I suppose you mean a nineteen year old by that, right? Let's follow that link they give us and find out.
It was advertised as a "fun-filled afternoon" in a Bronx library with a "local celebrity/author who encourages you to embrace your own uniqueness." Instead, the free event planned at the Morrisania Library starring drag artist Desmond Napoles was canceled after the teenaged celebrity received hate-filled and violent threats — a trend that has led to many other family-oriented LGBTQ events being canceled across the nation.

Known by the stage name Desmond is Amazing, Desmond, 15, is an LGBTQ+ youth advocate, a published author and influencer with nearly 200,000 social media followers. The 15-year-old is also the owner of clothing line Be Amazing NYC.
Desmond Napoles is essentially the OG poster of child abuse. He used to be an abused ten year old boy.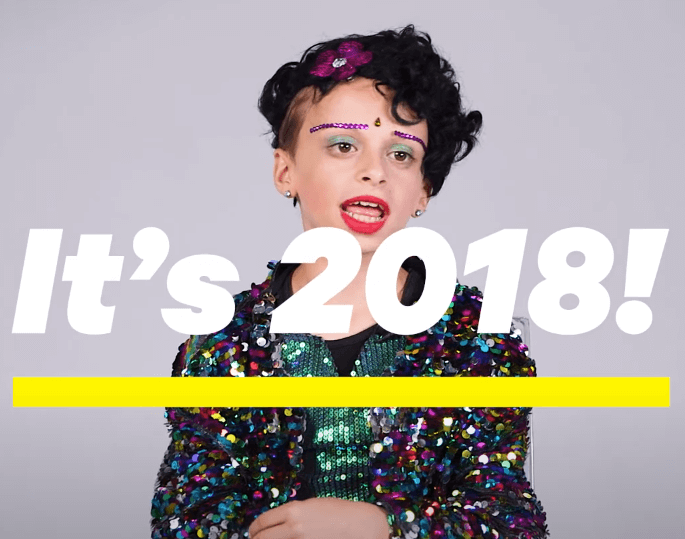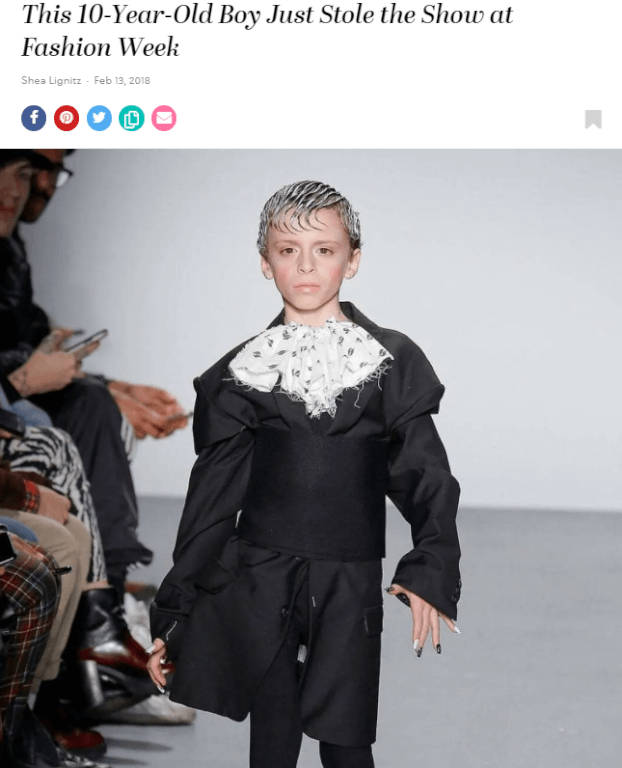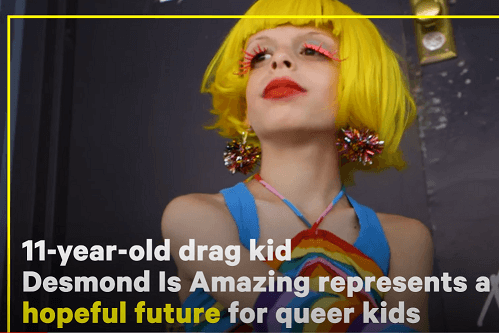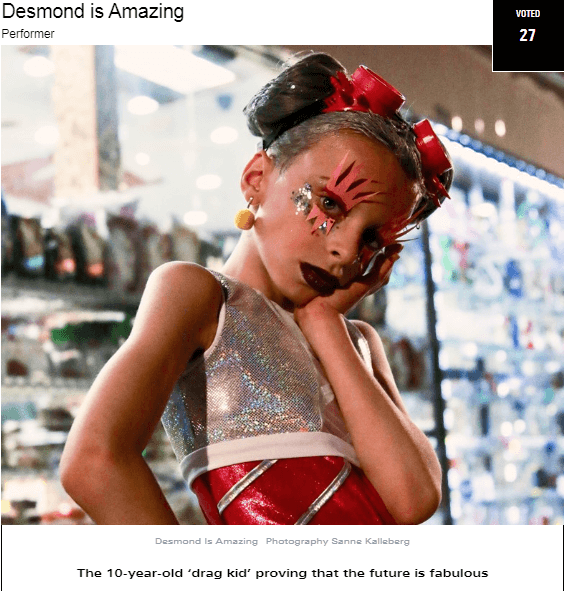 He was "stealing the show" at various fashion events when he wasn't being raped by his handlers backstage.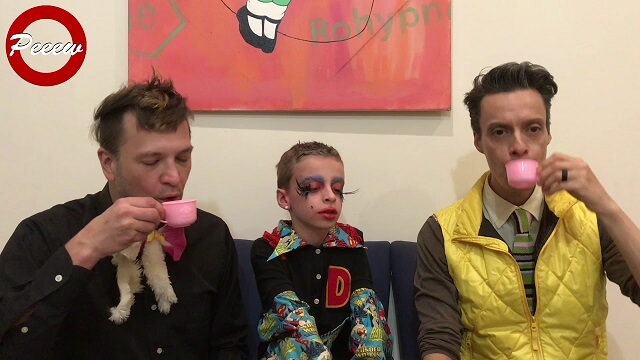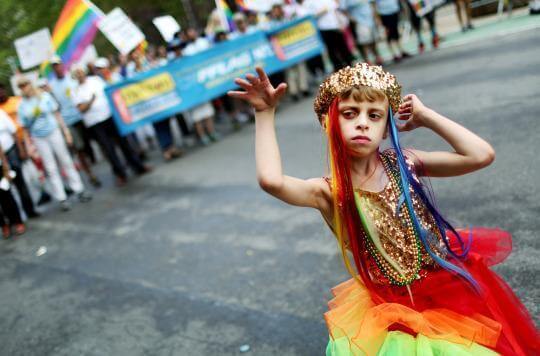 But now he's all grown up and he's blossomed into an abused fifteen year old.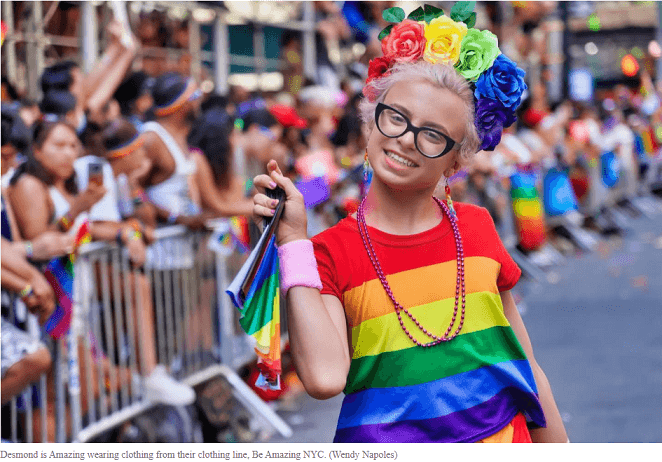 At least, I think he's fifteen. As if to add to the creepiness, no one seems to know when exactly Desmond was born. We think it's 2007, but we have no idea what month. This is probably because he comes from a broken home, which are prized by the groomer community due to the children having less advocates and authority figures in their lives to get in the way of the boy hungry pedophiles.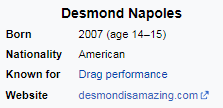 The real story is not that libraries are receiving death threats for putting these groomer shows on. The real story is that they're putting these shows on in the first place. And yes, I know I said we weren't making this ClownWorld Overdose all about Child Abuse, but this is ClownWorld after all, there's going to be abused children paraded around as sex symbols.
On the topic of perverts abusing children, antifa is getting involved. According to Ninja here he goes to a particularly based church. Some "winebox cat mom" found their YouTube channel and posted a segment of the based pastor's pro-hetero sermon. 
Some antifa LARPers armed with rifles showed up at the church and start bothering everyone. The church has a lot of concealed carry members, and the pastor not only didn't back down, but upped the ante rhetorically (based) and the antifas are openly threatening to murder the churchgoers online.

It's time to turn their churches into re-enactments of the Pulse and QClub events! Just saying, it[sic] the only way they'll learn and they deserve it! *smirkface* – jamesxavier319

This is what we need to do since they want to kill us. -hippiekat82
Now let's take a closer look at this brave troon militia.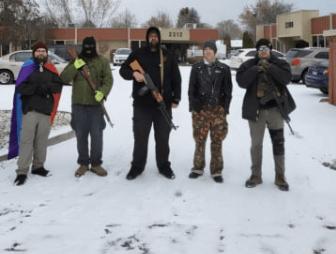 So three goofballs with rifles. One unarmed guy with camo pants (I thought his legs were missing for a minute there) and then one Harry Potter fan who just has a cape. I think we got this. I found the above on Weaponized Smirk's telegram channel, but if someone can tell me where this happened that would be greatly appreciated.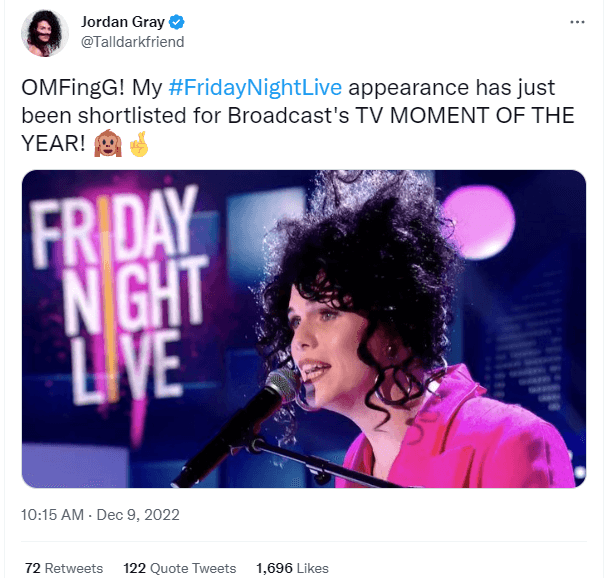 The above pervert, Jordan Gray, is nominated for an award for his video where he loudly boasts about how superior he is as a woman than the filthy vagina-womxyn. I wrote about this at the time, but I can't find it now and it's been buried in the rest of ClownWorld. He she ripped off his her clothes and showed the world his her penis.
Anyway, she and her penis are now up for an award for best moment in television history. I'm angry that her penis isn't up for all the awards ever, like the nobel prize in physics or the HP Lovecraft Memorial award for most unnerving horror. 
We end with a Dutch man who was wrapped up in the tranny cult for a while. You see, he was unhappy as a man, so they told him he was a woman. Except, and you'll never believe this, he ended up being far unhappier as an Ersatz science experiment LARPing as a woman, so after three years he decided to go back. But then he found out that he's sterilized, can't really be who he was, and has serious bladder and belly problems for the rest of his short life, so now he wants to kill himself.
Narrator: Patrick is so unhappy as a woman that he decided after three years to live as a man again.

Patrick: I always went to Marjolein for my nails, and I sat there crying out of regret. And she said 'Know what? We cut your hair, but new clothes, and you start living as a man again.' But that didn't make me happy. I can never be myself again. My belly and bladder are constantly bugging me.

Interviewer: Pain?

Patrick: Yes.

Narrator: After years of therapy, Patrick qualified for endless unbearable suffering. He has permission for euthanasia and his psychiatrist Gert Baker wants to help him.

Gert Baker: I can see that you suffer and that it is unbearable. I did the paperwork and contacted a SCEN doctor and we got a green light.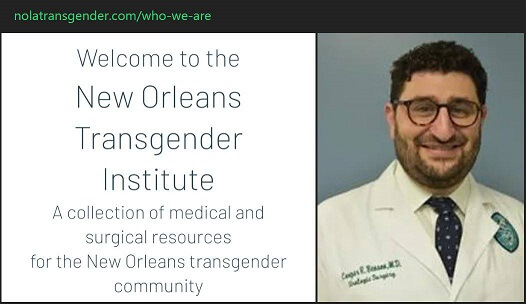 There is no such thing as a tranny. There are only mentally ill people who need and deserve psychiatric help to understand that they are not trannies. That is the only serious and compassionate response to this kind of thing. Everything else causes people serious and irreparable harm.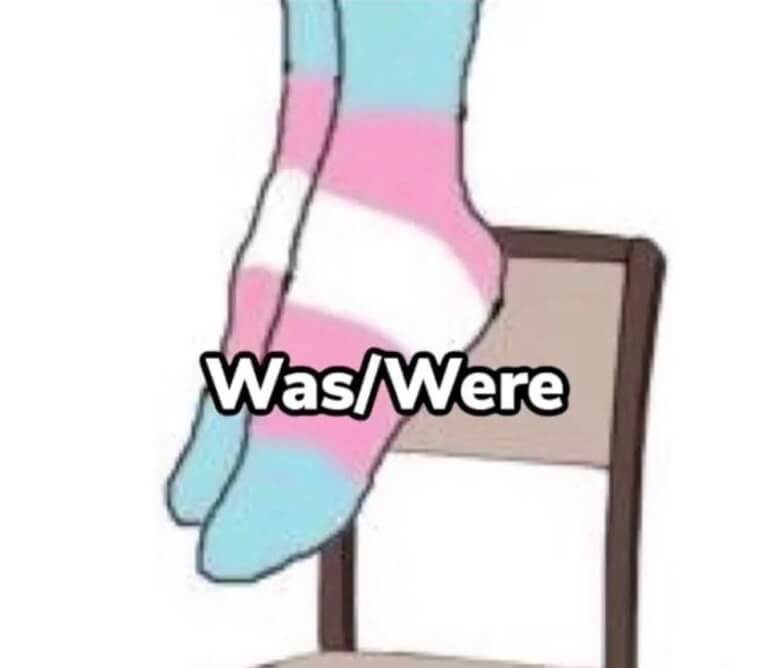 Or we could let these people cause themselves harm and then kill themselves. And maybe we could create an industry that offers to help while profiting off of their suffering. That's what a healthy society does.