I'm a few days late for this, because I didn't hear much about it at the time. But I recently lashed out at pearl clutching fags whining about Sam Smith and his "satanic" performance at the Grammy's or whatever. This is how he showed up to the Brit Awards. 
What you're looking at is a stunning and brave challenge to the genernormative cishetero fascism of Whiteness, and it's beautiful.
CNN:
Fashion is all about the silhouette. And no one took that sartorial maxim more literally than Sam Smith at the 2023 Brit Awards in London on Saturday.

Dressed in a custom look by HARRI — the emerging label helmed by British Indian designer Harikrishnan Keezhathil Surendran Pillai — Smith's supersized curves resembled a Rorschach test, a balloon animal, or to some, a charred roast chicken. The high-shine latex jumpsuit flared sharply at the singer's thighs, creating an exaggerated curvature that mirrored the dramatically squared shoulders. It was the boldest, and most contentious, look of the night.

Similarly, Pillai's designs are a hypnotic reminder that subversion isn't the only path to gender-fluid fashion. Beyond current trends seeing some cis-men in pink crop tops and skirts, androgyny can be as simple as shapes.
Look of the night? How about century?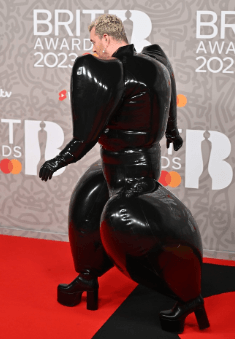 The purpose of civilization is to keep people like Sam Smith alive long after the potent cocktail of intestinal worms, STD's, and AIDS ought to have snuffed him out. Then he can attack balloon to his legs and shoulders and walk across a red carpet, as the beautiful womxyn that he is.