A young Black Ajax man who shot and killed a "racist" white Kingston man in a case of self-defence will not spend time in jail after pleading guilty to a firearms charge.
To be clear, there is almost zero evidence for this being self-defense. The White Man was unarmed, and the negro drug dealer shot him four times. At no point in this propaganda piece do they even bother trying to explain what exactly happened. Also, note the capitalization of B in Black, but not the W in White. Toronto Star is an anti-White propaganda rag.
Vaughan Oscar Roberts, 21, initially faced a second-degree murder charge, which was formally withdrawn along with other charges Tuesday at the conclusion of a Kingston trial and sentencing hearing that included expert evidence about the impacts of anti-Black racism.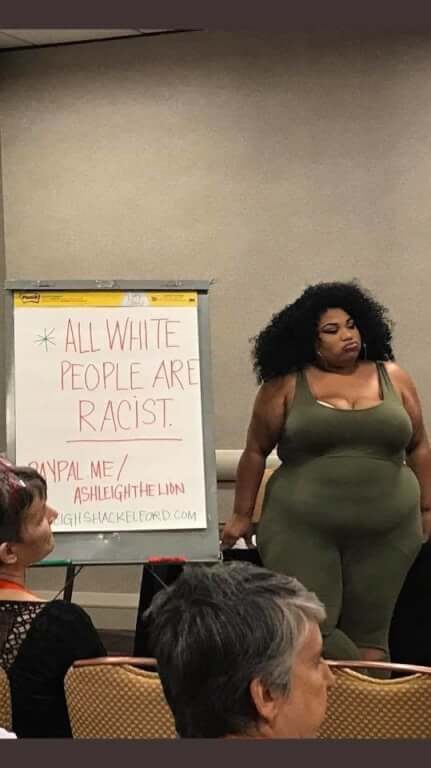 For possessing the handgun that he used to shoot Jason Wagar — in self-defence, after a failed conspiracy to rob him — Roberts was handed a conditional sentence by Judge Alison Wheeler of the Ontario Court of Justice, who cited systemic anti-Black racism as a factor in her written reasons, from which she read aloud.

"Black Canadians face discrimination in every important sphere of life, including the justice system," Wheeler said.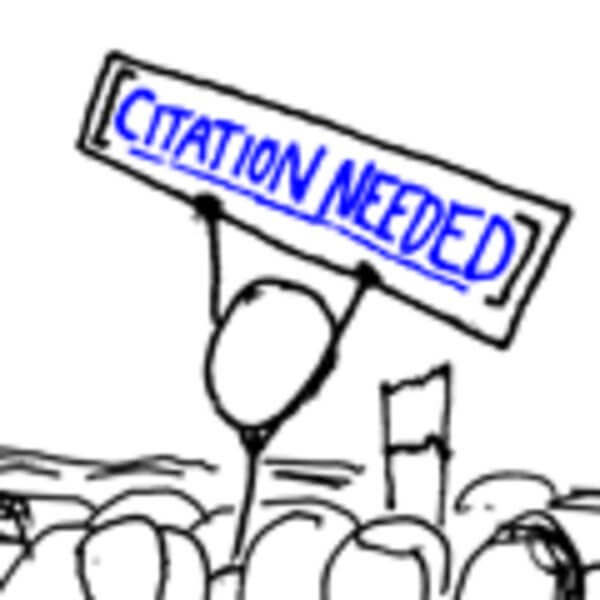 Blacks are explicitly privileged in many areas, such as hiring and university admissions. This isn't controversial, so understand that "justices" will make up imaginary discrimination against DeQueerus in order to coddle these people while throwing the book at you.
Though Roberts has a supportive family and stable home life, those elements were not enough to "insulate" him from that reality, the judge noted.

The "racist" attack on Roberts did not diminish his responsibility for possessing the illegal gun, but it is "still a central consideration" in sentencing, said Wheeler. It inflicted a "significant moral harm" on Roberts, she said — harm "compounded by the laying of the murder charge when in fact Mr. Roberts was the victim in those events."
That significant "moral harm" should be compared to the significant physical harm done to Jason Wagar. Because he, you know, shot the unarmed man four times and murdered him.
The case, which adds to existing jurisprudence on the consideration of historical and ongoing systemic racism in sentencing, was from the start underpinned by an unusual set of facts.
As is often the case, it is next to impossible to actually find pictures of the relevant judge in Canada. It's not like they don't have pictures of them, but the official government websites do not appear to show any of them. This is clearly a tactic to protect the judges from any scrutiny from the people, because one of the most damning things you can do to these people is simply post pictures of them to the general public.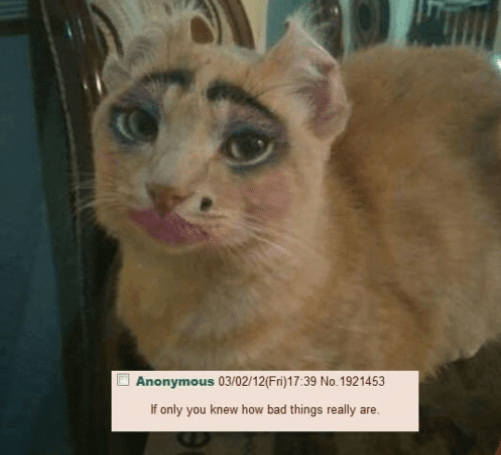 This is far from the first anti-White ruling that we've seen from the Canadian judiciary. Cooper's great piece on Judge Nakatsuru was eye opening to me and I've been involved in this kind of stuff for a while. And of course in 2016 a Calgary judge refused to press hate crime charges against an Abo who attacked a random White woman while screaming "I hate White People."
In a statement, Selwyn Pieters, Roberts' lawyer, said his client "was the victim of a racially-fuelled conspiracy to rob him." He added that "justice is served by the withdrawal of the second-degree murder charge."
Above you see Selwyn Pieters, Vaughan's lawyer. His statements in defense of his client are less vociferous than the judges, and he's a high up BLMer.
The judge is more anti-White than the gay BLMer.
Following the initial murder charge, Roberts was granted bail in December 2021 — four months after he shot and killed Jason Wagar, 43 — when a different judge ruled Roberts "appeared to be the target of a crime, possibly a hate crime."
He literally murdered an unarmed White Man and they talk about him as if he is the victim.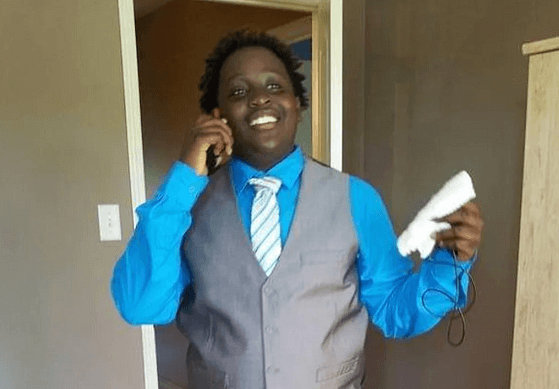 The level of victimhood inversion here is almost impossible to comprehend. It was one thing when they pretended that black criminals being in jail means that negroes are oppressed. Now they are pretending that they are the real victims when they murder White People.
Roberts was essentially cleared of murder last May in an arrangement that saw him plead guilty to a single firearms charge, namely possessing a loaded restricted handgun. Roberts remained free on bail pending his sentencing.
Another very common story that you'll see in Canadian "justice" is the prosecutors nakedly throwing their own cases for anti-White and political reasons. The Winnipeg Police and the Crown prosecutor did the exact same thing when refusing to press terrorism charges against the antifa Dave Alexander Zegarac for his clear and obvious terrorist attack against the Trucker Convoy Protesters. Or with the Vancouver RCMP refusing to press hate crime or terrorism charges against Yannick Bandagao, although I don't think I ever turned that into an article on this site.
The prosecution threw the case early on by giving him an deal where he was cleared of second degree murder for pleading guilty to minor gun crimes. Yes, he murdered an unarmed White Man, and the prosecution gave him a deal where they ignored that if he plead guilty to some minor gun charge. Then the judge gave him an extremely light sentence for that.
Wagar, court heard, was known to be violent and, according to Roberts' lawyer Pieters set up his client on August 12, 2021, for a "racially motivated" robbery at a Kingston apartment Roberts had been visiting.

A friend of Wagar's told police Wagar was "pissed because he didn't want n——s selling dope in his house," court heard.

The apartment, according to a statement of facts agreed to by Assistant Crown Attorney Greg Skerkowski and Pieters, was home to several people, including Wagar, who were living an "anti-social lifestyle and entrenched in the local criminal and drug subculture."
Another way the Crown threw the fight was by agreeing to a whole bunch of hearsay about how the White Man who was murdered was a real bad person. There is very good reason why lawyers and judges are supposed to fight tooth and nail against this. For example, judges aren't supposed to allow a prior conviction for pedophilia to be aired in court unless extremely relevant, because the jury will often just convict them because they hate them.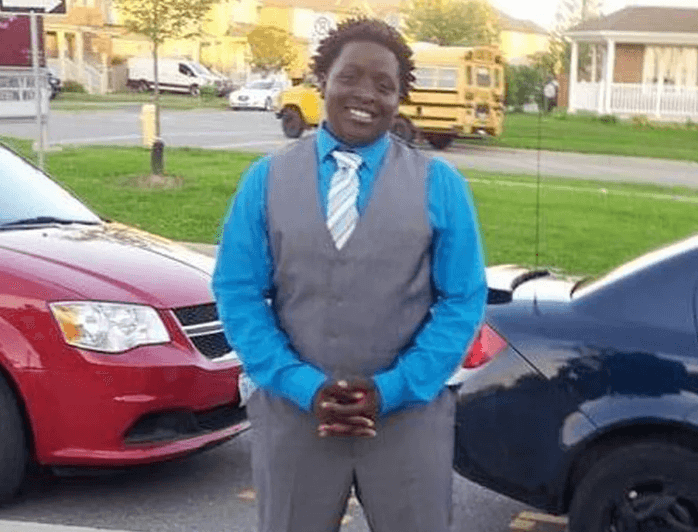 But this oppressed murderer of colour faced no opposition from the prosecution when his defense lawyer decided to slander the reputation of the unarmed White Man that he murdered.
Roberts also carried a large amount of cash with him — more than $7,000 — which his family said was because he didn't have a bank account to store his earnings from working in construction. He was also carrying 76 Percocet tablets and four tablets of OxyNEO.

Roberts had gone there from his Ajax home to "visit friends and engage in the illicit sale of controlled substances," reads the statement. He brought a gun for protection, though he did not intend to use it.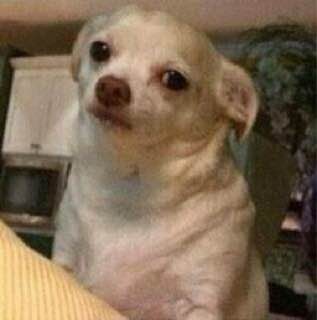 The fact is that he murdered an unarmed White Man. The fact is that he brought an illegal gun. The fact is that he had huge quantities of cash on him. The fact is that he had an enormous quantities of Percocet. The fact is that Jason Wagar did not have a firearm. And the fact is, that while they claim that Jason Wagar was "known to be violent," he did not have a criminal record.
What is not a fact is the totally unsupported claim that he didn't go to visit Jason Wagar without the intention of murdering someone if they got into a minor confrontation. Furthermore, they never explain what specifically lead to Jason Wagar being shot by Vaughan Roberts. They tell you he was shot four times, but they don't explain the supposed conflict that lead up to his "self-defense" murder of unarmed White Man Jason Wagar. 
The closest they get is a recap of his bail hearing.
Roberts admits to shooting Wagar, who was struck by four bullets, according to the agreed statement of facts.

A loaded 9mm Glock was found near the apartment in a fanny pack Roberts had brought with him. A machete and a pellet gun, believed to have belonged to Wagar, were found in the apartment.

Pieters, at Roberts' bail hearing, referenced messages obtained by police that used racist remarks and slurs, "in particular 'n—–,'" referring to Roberts and "other Black people in the Kingston area," as Wagar and others "geared up" for the robbery.
The level of insinuation in this piece is unbelievable. They don't even say that the messages were from Wagar, or that the machete was owned by him, let alone wielded by him during the confrontation. Instead, there were some messages out in the ether which used the term "nigger," and Jason Wagar might have owned a large knife. This justifies armed Vaughan Oscar Roberts shooting unarmed Jason Wagar four times. 
In granting bail to Roberts, Justice Marc Smith pointed to a "very strong" self-defence argument. "The evidence before me demonstrates that Mr. Roberts was the victim of a racist conspiracy and attacked immediately preceding the incident in question," said Smith.
It's amazing how every single institutional actor is shilling for this murderous Black as hard as his defense lawyer. And as they coddle him, they talk about how horribly discriminated against and oppressed he is. Again, there is no explanation of this supposed attack.
At Roberts' sentencing hearing, which began Jan. 19, a report by Barrington Walker, a Wilfrid Laurier University professor with an expertise in the history and impacts of anti-Black racism, was tabled in support of a more lenient sentence. Roberts' actions, Walker wrote in what is called an "Impact of Race and Culture Assessment" report, "cannot be properly understood outside of the broader context of violence that is a feature of Black life in Canada."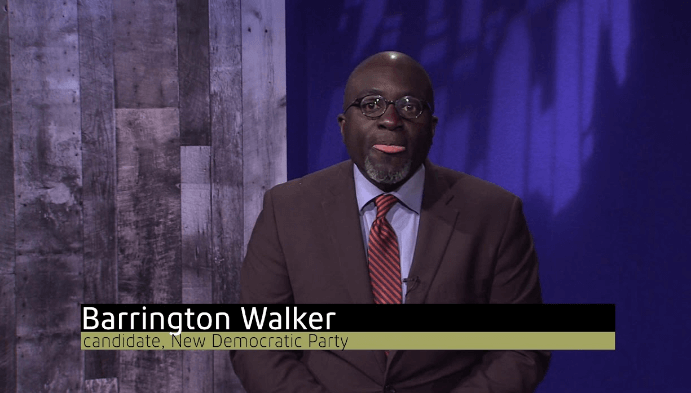 All of these anti-White pseudo-intellectuals are political. Barrington Walker just makes this even more explicit by running for office. He failed, and remains a Wilfrid Laurier University tenured professor of history. Here's his bio on their site.
I hold a PhD in History from the University of Toronto and am a professor of History at Wilfrid Laurier University (Canada) as well as the Senior Advisor, Equity, Diversity and Inclusion (EDI) in the Office of the Provost and VP Academic. Before coming to Wilfrid Laurier University, I was an associate professor of History at Queen's University (Canada). A historian of Modern Canada, my work focuses on the histories of Blacks, race immigration and the law. It seeks to illuminate the contours of Canadian modernity by exploring Canada's emergence as racial state through its histories of white supremacy, slavery, colonization/immigration, segregation and Jim Crowism. Much of my work considers how these practices were legitimized, and in some instances contested, by the rule of law and legal institutions.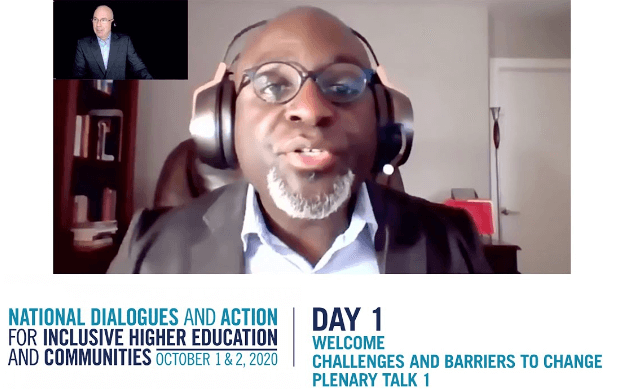 He currently holds a very privileged position.
Wilfrid Laurier University has appointed Barrington Walker as their new senior advisor: equity, diversity and inclusion to develop a strategy to enhance the existing diversity and support and continue to build at Laurier.

A government of Canada is funding the position with a grant of $384,700 over the span of two years which was announced on Nov. 9.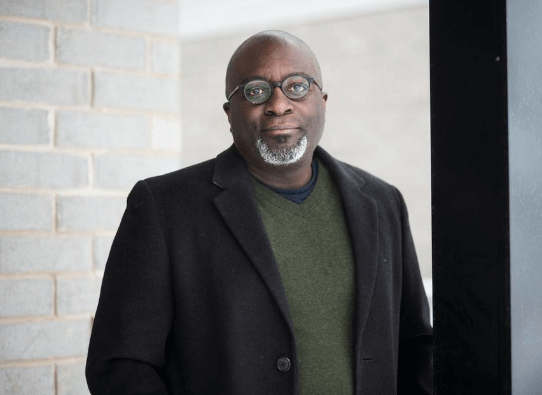 Your taxes get to pay for this privileged anti-White to write uncontested reports explaining how murderous negroes are so horribly oppressed that they just have to murder unarmed White People. They're just forced to, Goy. There's nothing they can do because there's all these vague forces that are conspiring against them. This is in contrast to the specific institutions that are against you. That doesn't count as oppression.

The comments point out the obvious. At no point in time do they bother explaining what caused the Black Vaughan Oscar Roberts to shoot the unarmed White Man Jason Wagar four times. They keep repeating that there was this "racist conspiracy to rob" Roberts, seemingly without evidence. 
I can't find a single picture of the actual victim, Jason Wagar, anywhere online. The WMD Liars refuse to show the face of the latest victim of Black criminality, so as to deny the victimhood of White People. Reading between the lines it looks like Wagar was relatively poor, and shared the apartment with a few other people who were druggies. I can easily believe that Wagar confronted the armed Roberts about coming to his house to sell drugs, which he clearly was, and Roberts shot him. 
The almost unbelievably anti-White propaganda rag, Toronto Star, does nothing to dispel this notion. And again, The Toronto Star refuses to capitalize the W in White People, while making a point of capitalizing the B in Black People.
Maclean's and the Toronto Star both changed their style to "Black" with a capital "B" before other Canadian outlets after columnists of colour in their newsrooms called for the change.

Newsrooms across North America are now taking a hard look at themselves, as journalists of colour, particularly Black journalists, point out the many ways in which news organizations have let them down.

CBC News does not capitalize "white" because:

There's no compelling evidence of a comparable shared "white history" or "white culture."
The umbrella term "white" refers to people with lighter skin, mainly of European descent, who already enjoy various capitalized terms to express their identities (e.g., Baltic, Irish, Nordic, Slavic).
There's no widespread championing of "White" in everyday English. Instead, the most passionate advocates also often appear to promote white separatism and white supremacy.
The Toronto Star, and of course the CBC, are nothing more than anti-White propaganda rags. That they are being so vague as to the facts of this case can only be interpreted as serving the interests of the murderous Vaughan Roberts.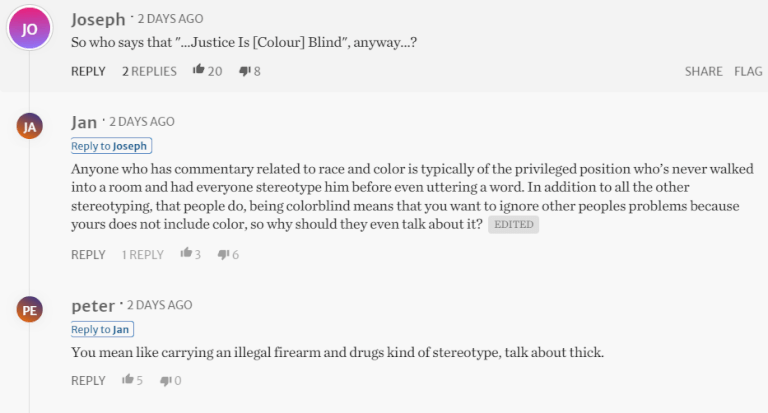 Even their heavily censored comments section is pointing out how absurd this is.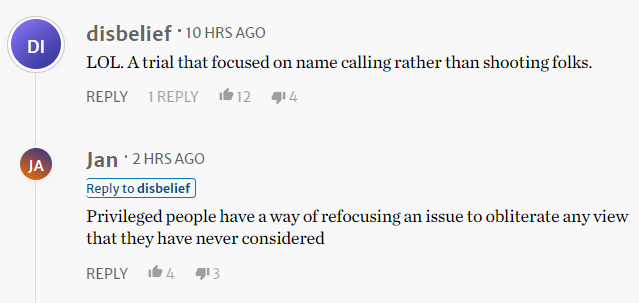 Of course it's not really a trial based on "name calling." It's a trial based on anti-Whiteness, with this being a clear example of a Black who committed second-degree murder against an unarmed White Man being utterly coddled and privileged through the system. He received less punishment for carrying an illegal firearm, along with huge amounts of drugs, to a house and murdering a man than a White Person would get for having a firearms infraction. 
UPDATE: Telegram commenter Leif Erikson found Alison Wheeler's salary.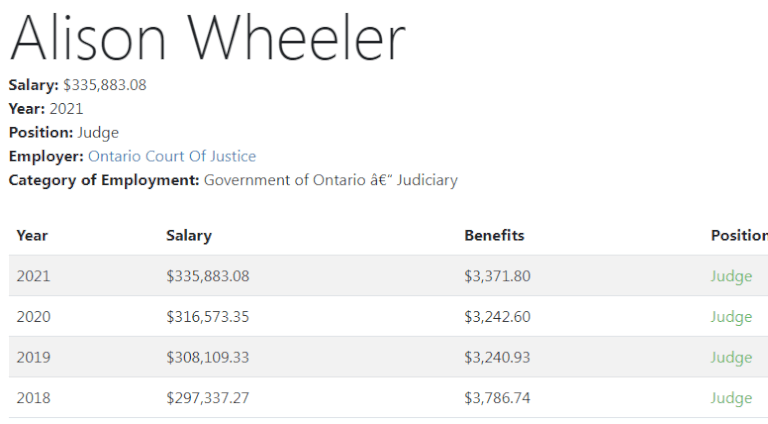 Almost three hundred and fifty thousand dollars per year, plus benefits, for her to be an anti-White activist.