In case you missed it, our political struggle is now over. It started with Ireland passing an extreme censorship law, probably due to the pressure mounting on them. Keith Woods gave the synopsis.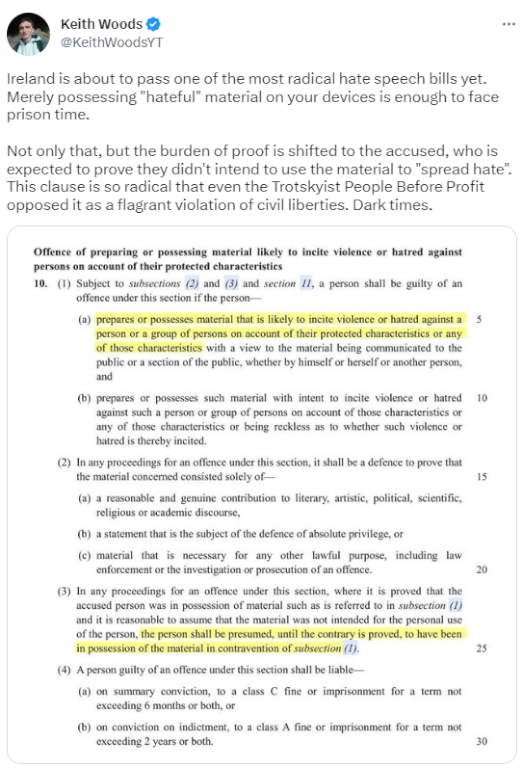 That was the routine, expected part. But then, seemingly out of nowhere, who did we see in Keith Woods' responses? Right at the very top, it's the skinnyfat Mars Nuking retard named Elon. 

At first I couldn't quite believe my eyes. After all, if the guy who bought twatter just to increase the censorship is replying to one of our goys viral tweets on twatter, then White race pretty much == saved at this point. I was convinced that this must be a parody account. But no, it's the real deal.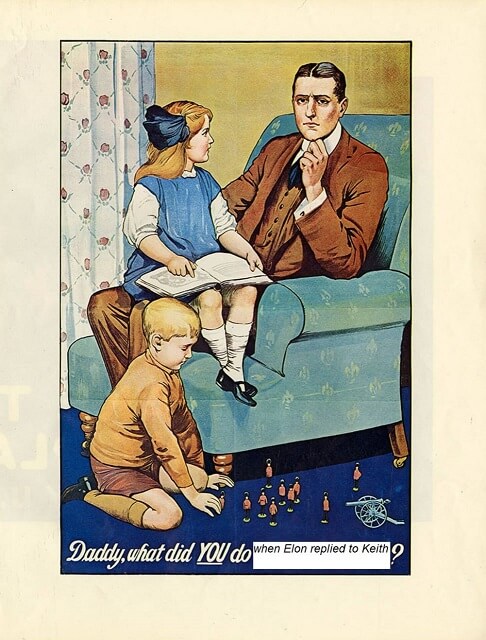 The real Elon responded to us and typed out on tweet supporting free speech, while continuing to ban everyone cool. Truly, he is our saviour.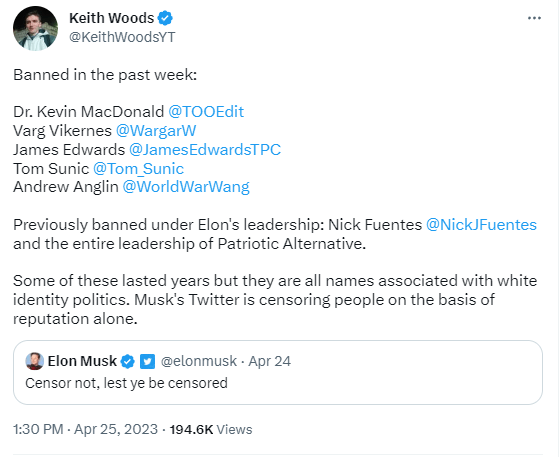 I fully expected Keith to throw away this monumental gift that Musk gave us. After all, Woods had previously responded to Musk bloviating about being a free speech warrior by pointing out that Musk's twatter had censored a bunch of at least ostensibly pro-White accounts apropos of nothing. It's not clear why he didn't include the NJP in there, since Musk's twatter doesn't just censor their accounts, but even links to their site. In fact, Musk's twatter is now even censoring JusticeReport.news links, something old twatter never did.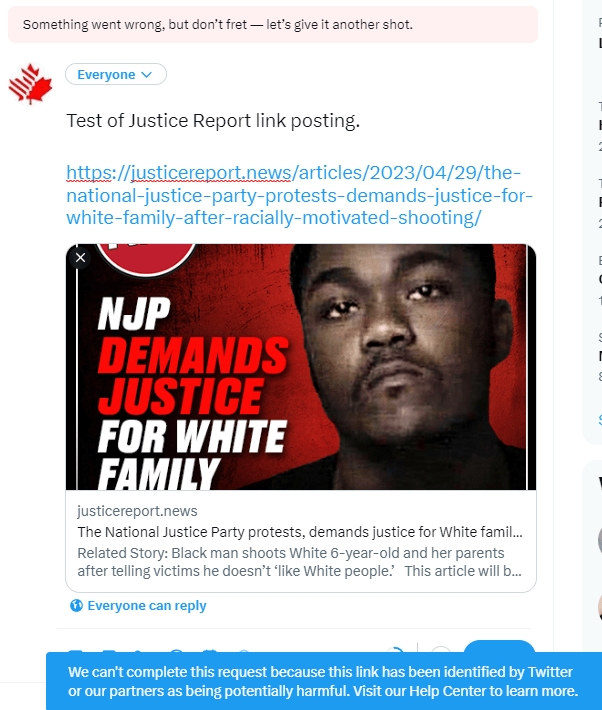 The point is that Woods' has a history of Bad Optics through pointing out how full of shit Elon is, so I fully expected him to throw away the White Race's salvation by using this as an opportunity to call out Elon on his bullshit.
Imagine my immense pleasure upon seeing Woods instead ordering Elon Musk bathwater. Woods praises him, and tells Musk that he hopes that he holds good on his promise to safeguard free speech. That seems like a very realistic thing to hope for.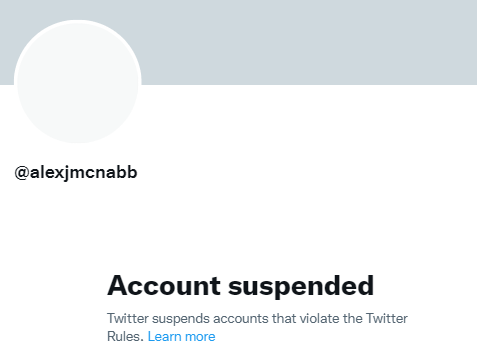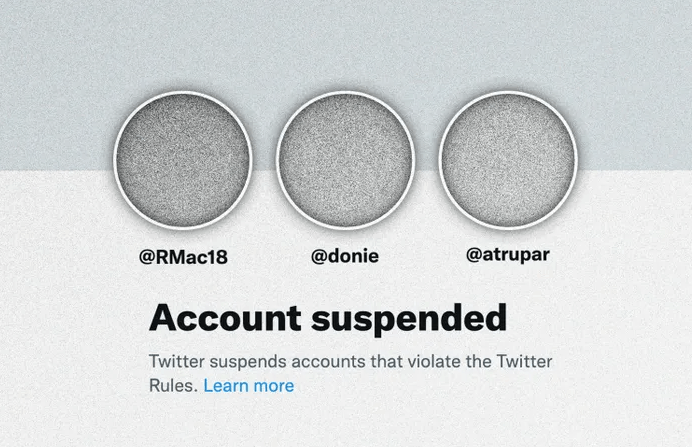 Jaime, can we pull up those two Woods' tweets and put them side by side?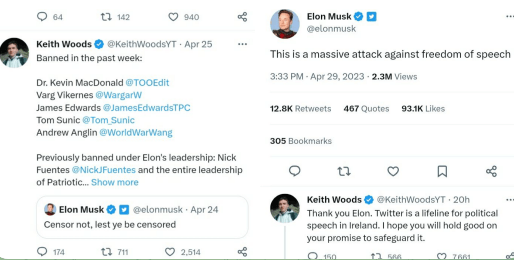 Predictably, the bad optics heterosexuals were none too pleased with Mr. Woods. 
Nothing against Keith Woods but this was a blown opportunity.  We understand he wants to preserve his account.  However when you have a man worse on "free speech" than the original Twitter telling you there's an attack against free speech you should probably point that out.  You don't have to sperg or even be mean about it, but at least go "yeah, by you" or something.  He's already broken his promise to "safeguard free speech" so asking him to keep his promise is meaningless.
The Chairperson (They/They) Mike Peinovich weighed in.
Mike Peinovich Telegram:
If Elon Musk really supported free speech as an ideological absolute, why not threaten to pull his money and investments out of Ireland if they pass this bill. Or to simply block twitter in Ireland as it will inevitably be used against people under this law, and Musk will no doubt cooperate. This is how Jews manipulate governments into forcing mass immigration and LGBT on people. Yet when a conservative CEO offers a throwaway, noncommittal comment we are expected to clap like seals for him. Musk is doing the bare minimum to guard his own rep on the new schizo right Twitter he has created.

It's good to bring attention to the issue, but more should be demanded of Musk than just a tweet and nothing more.

As far as raising awareness of the issue, I commend Keith for raising the specific provisions of Ireland's Bolshevik anti-speech law. That is necessary.

But everyone that isn't an MSNBC watching cat lady or mentally ill freak taking HRT is well aware that free speech in the West has effectively been canceled by Jews.

Musk is in a rare position to actually do something as an individual, and instead he is promoting cat turd.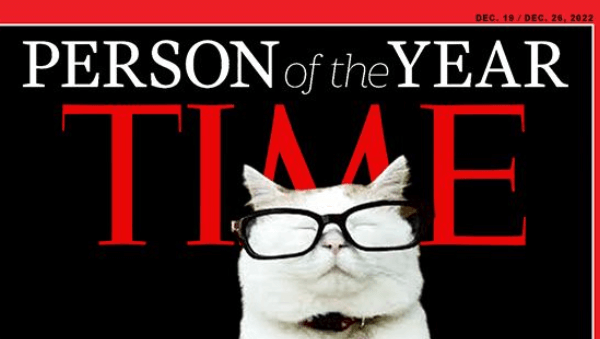 To remind you, that's not hyperbole. Musk's twatter got caught promoting himself, Catturd2, AOC, Ben Shapiro, LeBron James, and a whole host of other worthless time wasters. 
Yeah Keith should have demanded that Musk block all of Ireland from using twitter to save free speech, genius idea!

This idea that we must "demand" x or y from Elon Musk is retarded, he owes us nothing, he isn't a politician. The only very narrow and specific thing we can ask for from Musk is freedom for political speech on twitter because he stated himself that this is twitter's fundamental purpose and why he bought the platform. 

But because we have no real power or political influence, the only form this can realistically take is to "clap like seals" whenever he says pro-free speech shit.
Joel, if we have no real power or influence, why bother clapping like seals, instead of speaking truth to power?  Furthermore, I agree that obtaining power and influence is important, which is why I've been so critical on the Catboi Cult that Joel has recently ensconced himself in.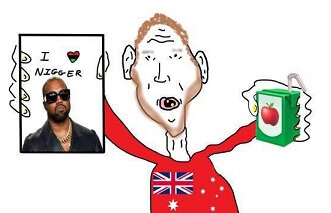 Where would we be without his genius insights?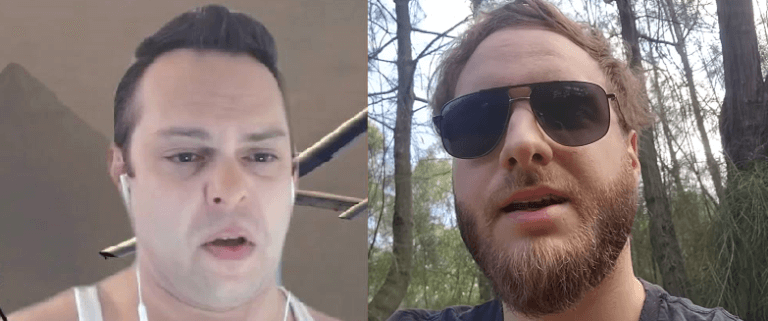 I recently wrote a piece on Joel Davis picking a fight with Striker over the FBI. At the time, I had the energy to do parody, but I am simply tired of these e-fags at this point. Joel Davis is an thin skinned fragile little faggot, and is almost a perfect example of The Faceless Men that I was mocking in my AH Publishing submission.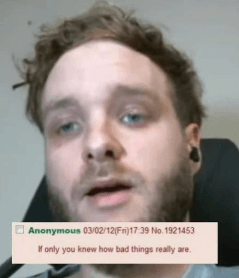 Maybe even worse. After all, I think that social media is gay. But he thinks that social media is highly productive, except make sure not to push back against frauds who have been upping the censorship against our guys. You'd think that might be just about the only productive use of social media, aside from finding people to do real life activism with ala Active Club, but apparently not. Spend all day shitposting and then suck Elon "ADL Uber Alles" Musk's dick when he gives you a throwaway line and no policy. It reminds me of a recent quote from Dominique Venner that Borzoi posted.
"Their seat in parliament is not a means but an end in itself: it must be kept at all costs. The lowly partisan is opportunistic by lack of doctrine and training. He trusts the smooth talker and his superficial impressions rather than analysis of political ideas and facts, he is dedicated to being duped." – Dominique Venner
Donald Trump Jr. got in on the fake free speech grift. You may remember this clown as the guy who recently pushed back against the grassroots boycott of Bud Light because they "weren't woke" because they donated to the Republican Party. 

To his credit, Woods had a decent response for him.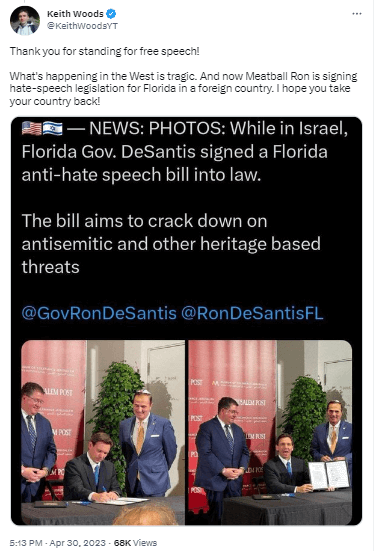 Woah woah woah! Someone get Joel Davis in here. Keith Woods needs to be coached better. We can't have him pushing back against our brave consubversatives, otherwise the DEMONrats will win.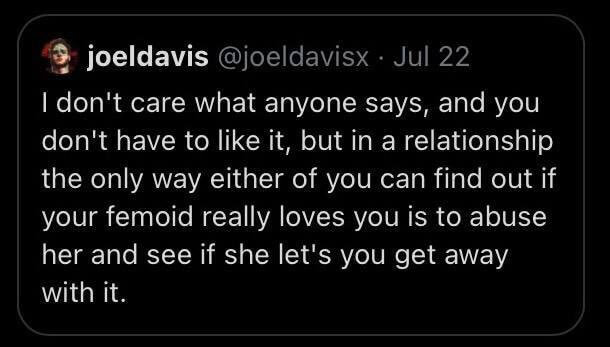 I don't care what anyone says, and you don't have to like it, but in a political relationship the only way either of you can find out if your cuckservative e-faggot really loves you is to censor them constantly, and see if they praise you for your committment to free speech anyway.