COLORADO SPRINGS, Colo. — A gunman entered a Colorado Springs LGBTQ club and immediately began firing with a semiautomatic rifle Saturday, killing five people and injuring 25, officials said.

Club owner Matthew Haynes told NBC News he never imagined "this level of hate" would descend on his club. He said the timing of the shooting worsens the situation with Thanksgiving on the horizon.

The suspect, whom officials identified as Anderson Lee Aldrich, 22, was injured in the attack, apprehended and hospitalized, Sgt. Pamela Castro, the Colorado Springs Police Department spokeswoman, said.
There was some speculation online that the shooter wasn't White. This was due to the Coulter rule, which states that the longer the mainstream media goes without naming the race of the shooter the more certain it becomes that he's non-White. I get where these people were coming from, but in this case they were incorrect. Anderson Lee Aldrich is indeed White and he shot up the local groomer fiesta. And no, he isn't a tranny himself, although he does have a history of bomb threats.
A man with the suspect's name and age was the subject of a June 2021 report of a bomb threat, according to a news release from the El Paso County Sheriff's Office, which noted that the man's mother told authorities "her son was threatening to cause harm to her with a homemade bomb, multiple weapons, and ammunition."

The suspect in that case was inside a home about a mile from his mother's house, according to the sheriff's office, which added that officials evacuated nearby homes following the bomb threat. It took authorities more than three hours to get the suspect to surrender, and officials arrested him on two counts of felony menacing and three counts of first-degree kidnapping. No bombs were found, according to the sheriff's office.

It was not immediately clear how the case was adjudicated or whether it was dropped or delayed.

Officials at the news conference Sunday did not confirm whether the suspect in that case was the same one believed to be the shooter at Club Q.

But Howard Black, spokesman for the district attorney's office, said in an email that the previous case "is part of the investigation at this time," and "additional information will be released as appropriate."
In other words, they're not quite sure it's the same guy, but he's the right age and in the right area. Other outlets are reporting much the same thing with even more circumstantial evidence linking the two. 
On Sunday, according to its Facebook page, Club Q planned to host a Drag Brunch for all ages, as well as later performances to honor Transgender Day of Remembrance, an annual observance that started in 1999 to honor the memory of transgender people killed in acts of anti-trans violence, according to GLAAD.
"Drag Brunch for all ages." In other words, a grooming party.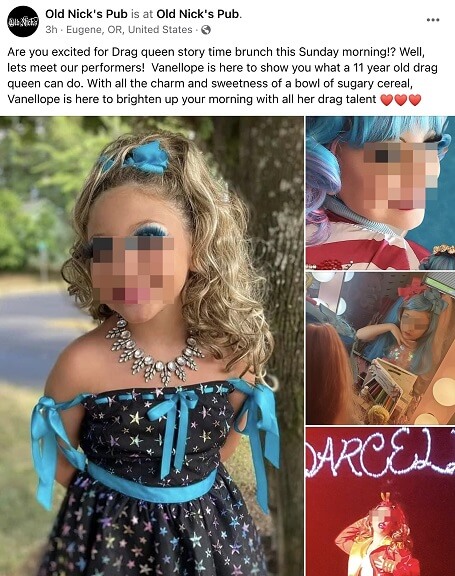 We've seen this story before.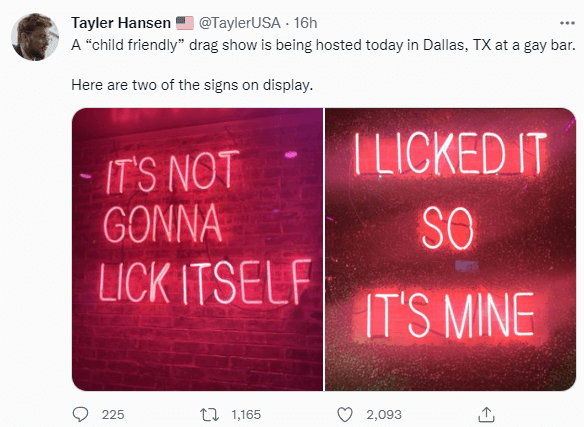 Many times in fact.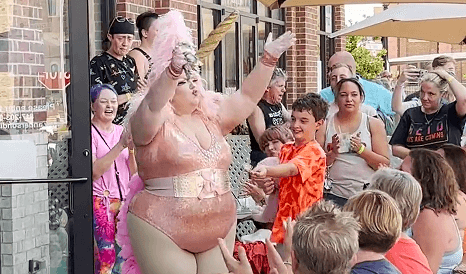 And it's never not disgusting.
So we had these Club Q groomers trying their hardest to groom and abuse the next generation. They set up their disgusting little groomer fiesta. Then Mr. Aldrich steps in and puts an end to it. Now, I'm not saying he should have murdered these people…
As for the specific people he shot, it looks like Baked Alaska finally took a load to the face that he didn't enjoy.
Here's a truly awful video by Moonman making fun of the Pulse nightclub shooting back in 2017. This is just terrible. You shouldn't enjoy it and it's not germane to the article.
Some had trouble decidin'
Which bathroom to hide in
They weren't sure if their gender matched the one they died in.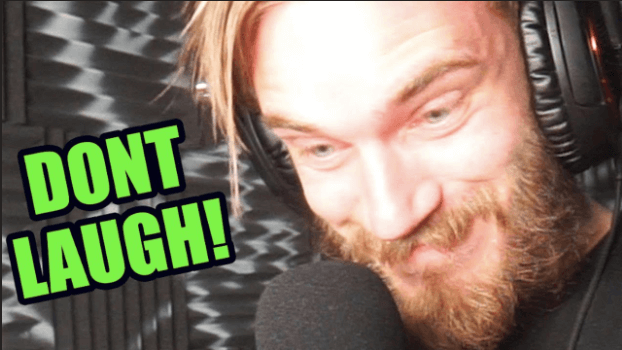 As far as the impact of this downstream, I think the age of mass shootings having any effect on policy is over. The Buffalo shooter couldn't inspire any tangible political action. This won't either. 
UPDATE: Here was some promotional material for this "all ages drag show."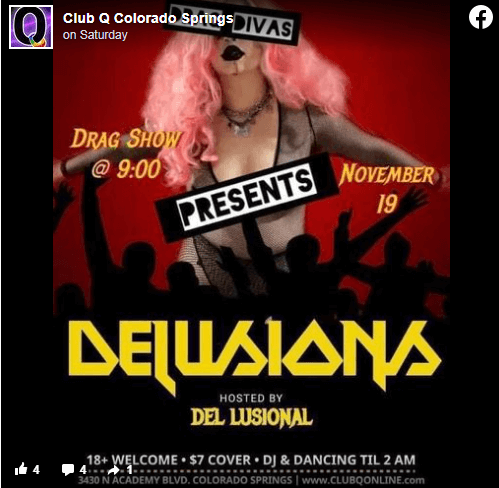 Look, I'm not saying he should have done it. But terrorism is just part and parcel of living in a big city.