Audrey Hale was the 28-year-old accused of fatally shooting three students and three adult staff members at The Covenant School in Nashville, Tennessee, on March 27, 2023, NBC News reports. The suspect, a Nashville resident who once attended the private Christian school, is also dead, police said. The victims were rushed to a local hospital where they were pronounced dead, according to officials.

A total of seven people, including the shooter, were killed at the school, police said. The victims have not been identified, and their ages were not released. Police said they were searching a home connected to Hale in the Nashville area. Heavy is working to confirm social media accounts that some have reported to be connected to Hale. A photo of Hale circulating on social media has not yet been confirmed by Heavy. NBC News' Gabe Gutierrez tweeted that Hale's name was confirmed by three law enforcement sources.

According to its website, The Covenant School is a private Presybyterian Christian school for students from preschool to sixth grade.
This evil fuck just murdered three children after showing up to a Christian elementary school. And yeah, it's a biological female troon with "he/him" pronouns in its bio.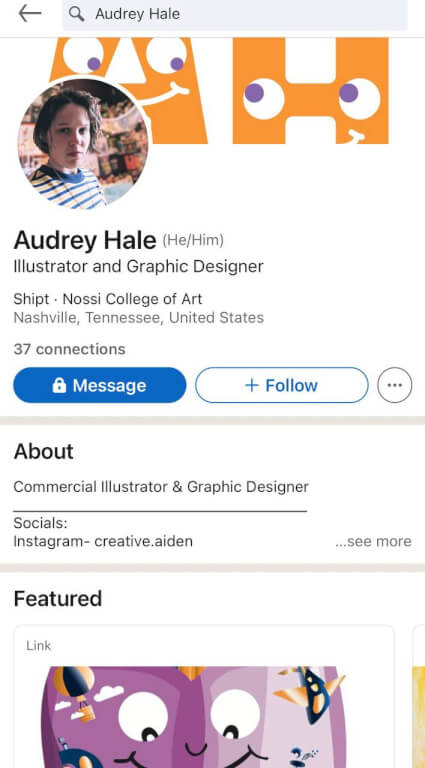 It's hard to know much more about Xir, because all the social media has been scrubbed.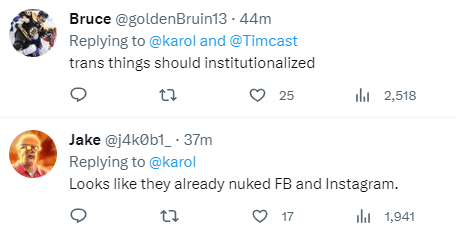 According to twatter user Jake, FB and Instagram have already been deleted. This was as much as confirmed by several other sources.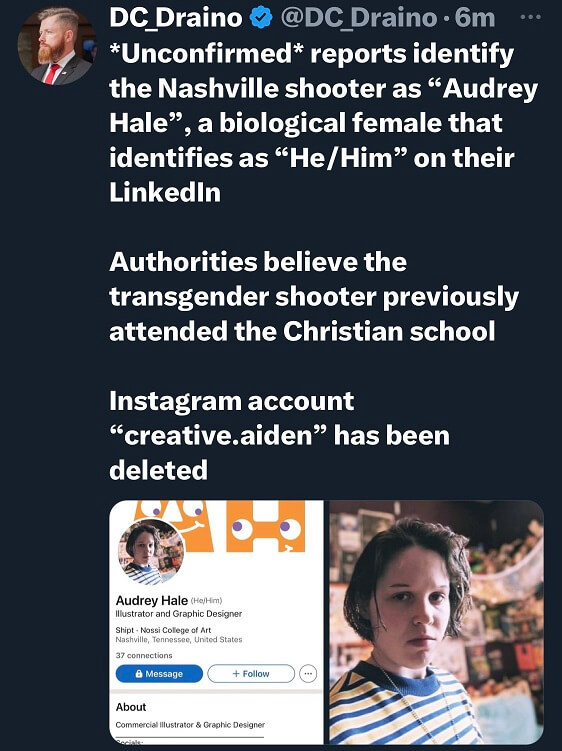 The Metro Nashville Police Department tweeted at 11 a.m., "An active shooter event has taken place at Covenant School, Covenant Presbyterian Church, on Burton Hills Dr. The shooter was engaged by MNPD and is dead. Student reunification with parents is at Woodmont Baptist Church, 2100 Woodmont Blvd." The active shooter call came at 10:13 a.m., police said at a press conference. An officer was cut by glass but no other injuries, including other gunshot victims, were reported, police said.

Nashville police tweeted, "Two MNPD officers who entered the building and went to the sounds of gunfire engaged the shooter on the second floor and fatally shot her."

The shooting suspect was "engaged by police" officers responding to an active shooter call at The Covenant School and she was shot and killed, according to The Tennessean. The newspaper wrote, "At the scene, scores of parents and onlookers gathered in a parking lot, awaiting updates, as helicopters circled the area, surrounded by a residential and busy businesses district."

Aaron added, "There was a five-member team that was on the second floor at that time. Two individuals from that five-member team opened fire on the shooter. We know at this point that this shooter is a female. She appears to be in her teens." He said, "By 10:27, the shooter was deceased. The officers had engaged the shooter by 10:27 and she was deceased. Again, I said the first call came in at 10:13 this morning."
Presumably the police would have found out who the suspect was at the time of shooting Xir, or shortly thereafter. But they delayed getting the details out, to give the censorious tech corporations a chance to cover up the obvious motive.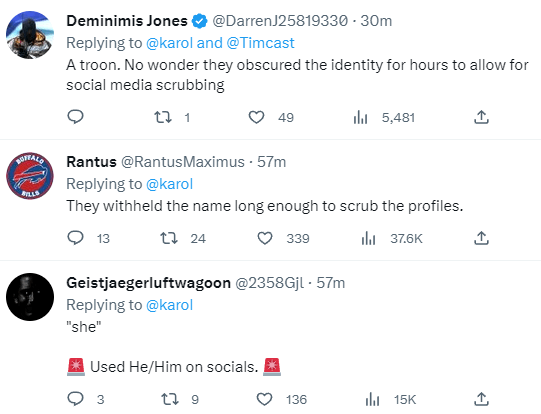 But don't worry, Goys. We've got the ATF on the scene. I'm sure they'll get to the bottom of this.
The federal Bureau of Alcohol, Tobacco, Firearms and Explosives (ATF) added on Twitter, "Special Agents from the Nashville Field Office are responding to assist the Metropolitan Nashville Police Department with an active shooter incident that has occurred at the Convenant School. For further details, follow @MNPDNashville."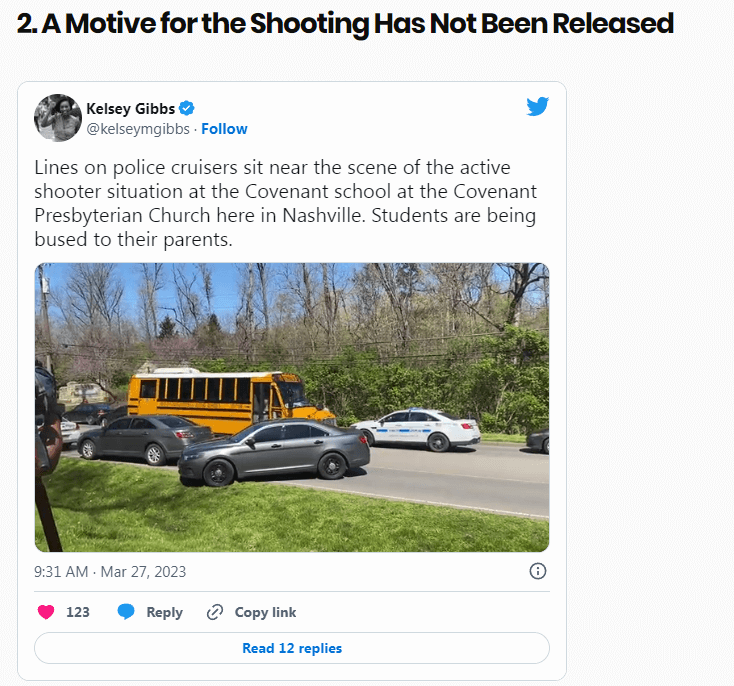 Even the normie below gets it, and so does everyone else. 

This is Audrey Hale, the evil troon who decided to murder a bunch of toddlers at a Christian elementary school in Nashville.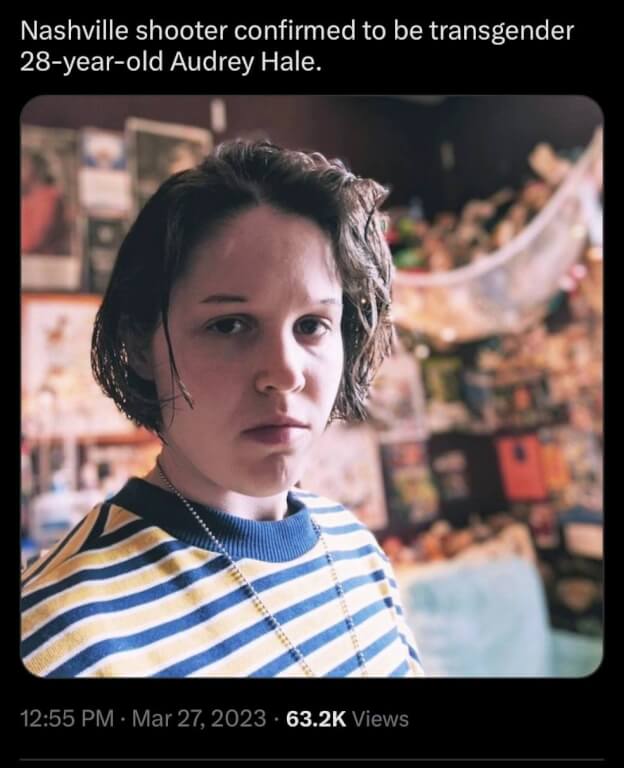 I have no doubt that Xir was incensed by the stochastic terrorism of the WMD Liars, who constantly tell these mentally ill deranged lunatics that they are being victimized by evil White/Christian/Normal People, and therefore justified in fighting "back" against them.
UPDATE:
Drake said police found a manifesto and writings from Hale.

"There's right now a theory but it is not confirmed," Drake said of the findings, adding that while he cannot confirm motive it was a targeted attack.
So the mutant wrote a manifesto, but the cops won't tell us what's in it.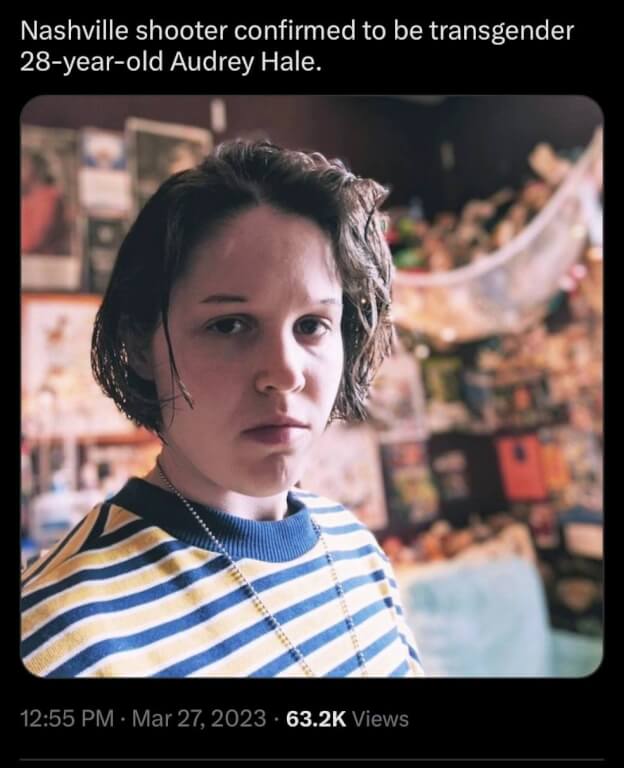 Reminds me of the antifa Dave Alexander Zegarac's terrorist attack in Winnipeg. It's absolutely disgusting if they refuse to publish that.