Remember when a tranny named Audrey Hale went to a school and murdered three children, and three adults? Remember how the troons gloated, then gloated some more? Well today they've upped themselves. 
A transgender pastor from North Dakota has compared the treatment of Nashville shooter Audrey Hale to the crucifixion of Jesus Christ less than a week after the twisted killer murdered six people, including three nine-year-old children.

Micah Louwagie, who goes by they/them pronouns, was recently installed as the pastor of St. Mark's Lutheran Church in Fargo, and delivered their first Easter-themed sermon to a small congregation on April 2.
Surely you jest?
Apparently not. Below is the transcript of the troon pastor.
In their recordings of Jesus' journey to the cross, the author makes a point of saying that the chief priests and the whole council were looking for false testimony against Jesus so that they might put him to death. Those leaders were looking for any excuse, valid or not, to crucify Jesus. And they found that reason. And that reason was solidified when the crowd shouted to release the [inaudible]. They had their final excuse.

They would kill the one whose reputation as a teacher and healer, and whose mission of love and dignity was so very threatening to their own reputation, that they needed to kill him in order to preserve their good image. 
Below we see the creature known as Micah Louwagie.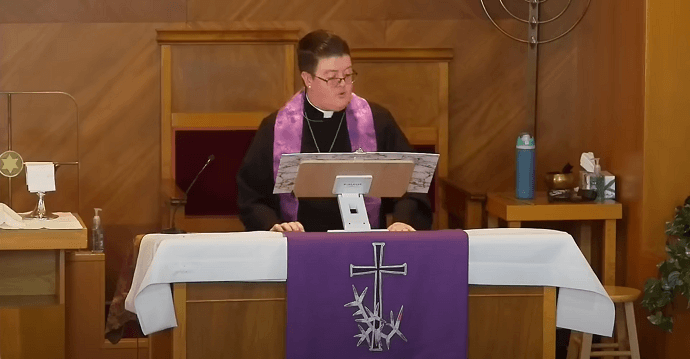 Jamie, can you zoom in on the left of the image for one second please?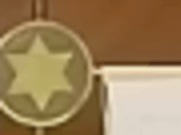 Thank you Jaime.
It's baffling to me that someone's existence can be so threatening that people decide they need to be controlled. That they need to have laws made against them. Or even worse, that the people that they find to be so threatening, should die.
That's sort of a weird way of condemning the tranny child murderer Audrey Hale, but as long as we get there eventually, I'm happy.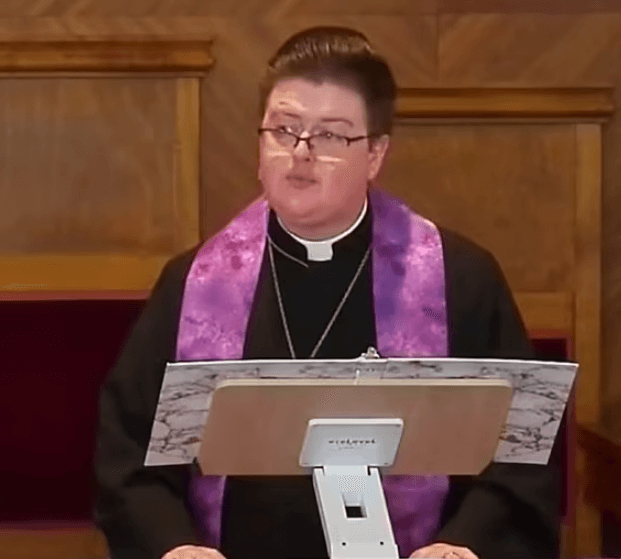 I'd be happier if this wasn't my pastor, but we can focus on that later.
There are a significant number of people who have deemed that the fact that the Nashville shooter happened to be a transperson, so it's been reported, is just the excuse they need to call for the eradication of trans folx.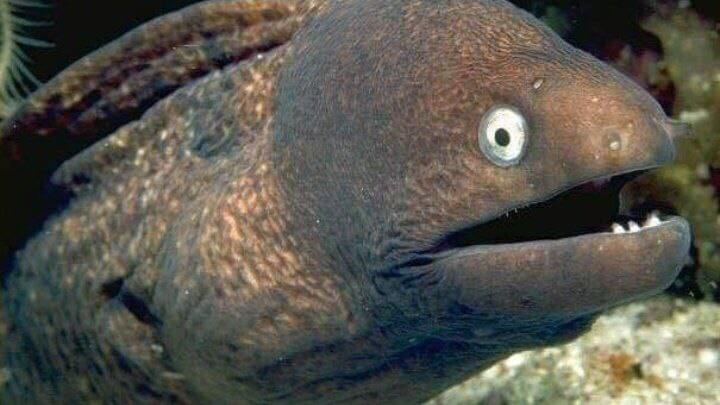 All trannies have mental illnesses, not just the ones who think that they're secretly dragons, birds, or wolves. But what you get with this disgusting, evil, smarmy piece of garbage is a combination of not just insanity, but incredibly privilege. To go out there and whine that you are the victims after your group murdered children, is something else. And to pretend that the tranny Audrey Hale's fake, made up identity is irrelevant to its murders is too absurd to even rebut.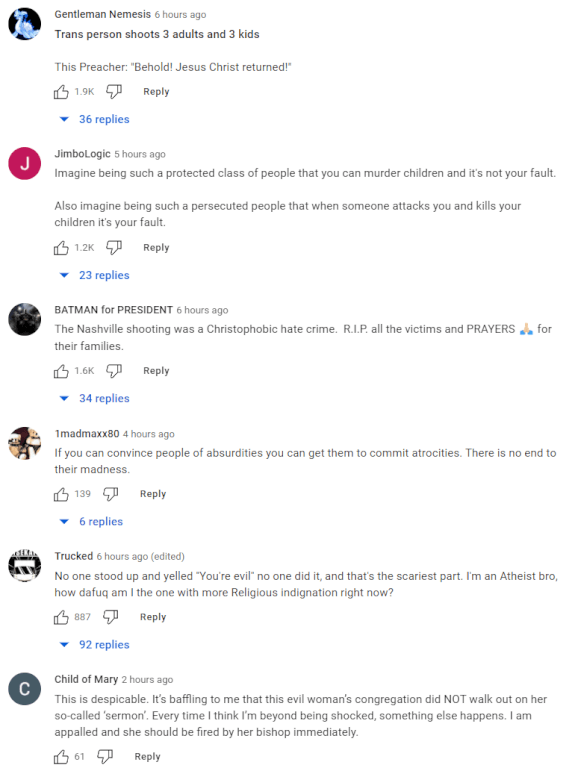 The comments, each in their own way, really hit the nail on the head.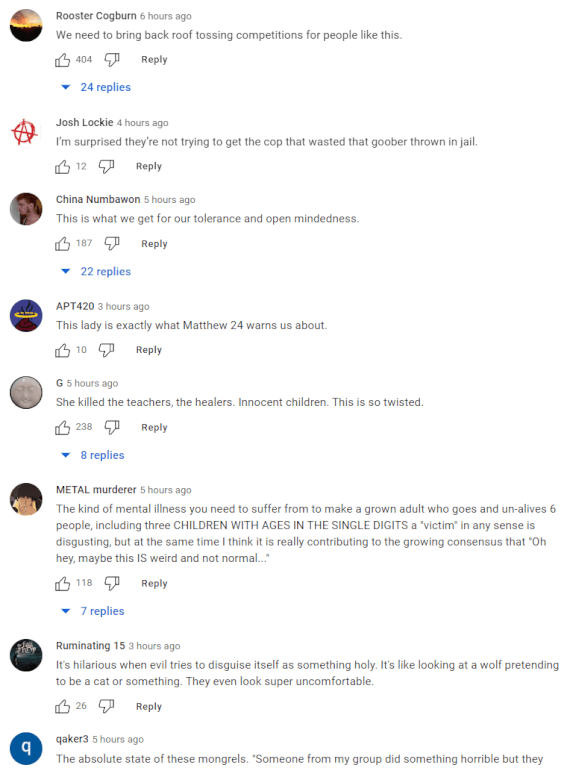 I've seen two different images for the six actual victims of the terrorist Audrey Hale. I believe this one is not entirely accurate, while the next one is.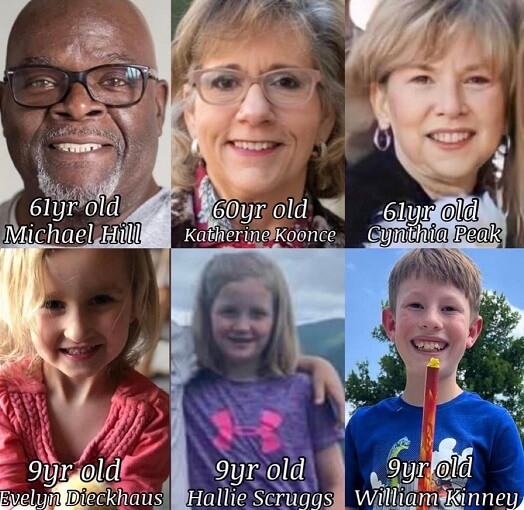 That's because I get confirmation of the second one in a memorial that was put up by people in the area.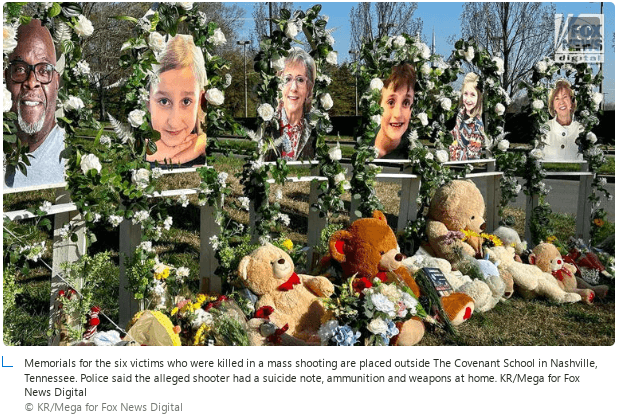 All I know is that there were seven people killed in a Nashville school on March 27th, 2023, and six of them were victims.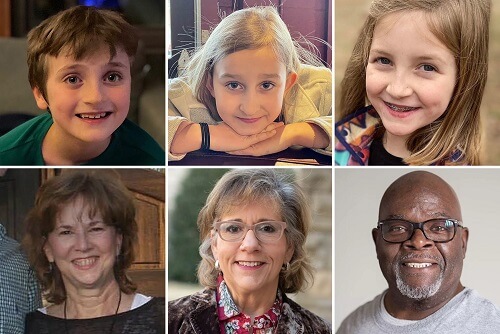 The seventh, not so much.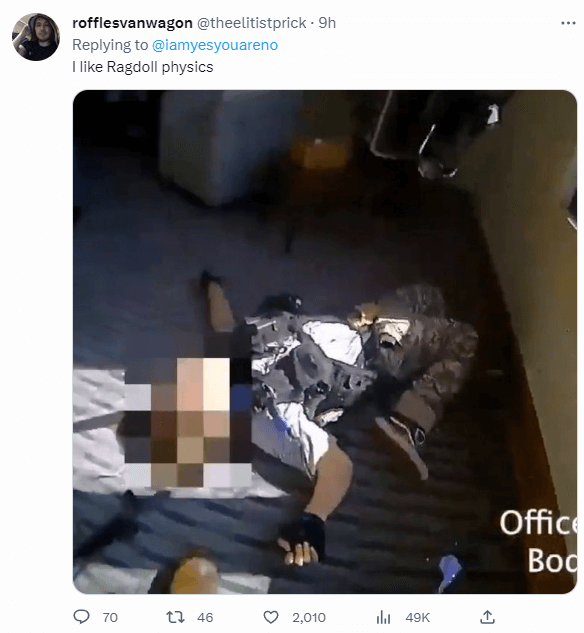 For the record, Fargo, North Dakota, is where Jupiter Paulsen was murdered and tortured by the Liberian migrant Arthur Kollie. How much would you bet that this creature had a sermon for her?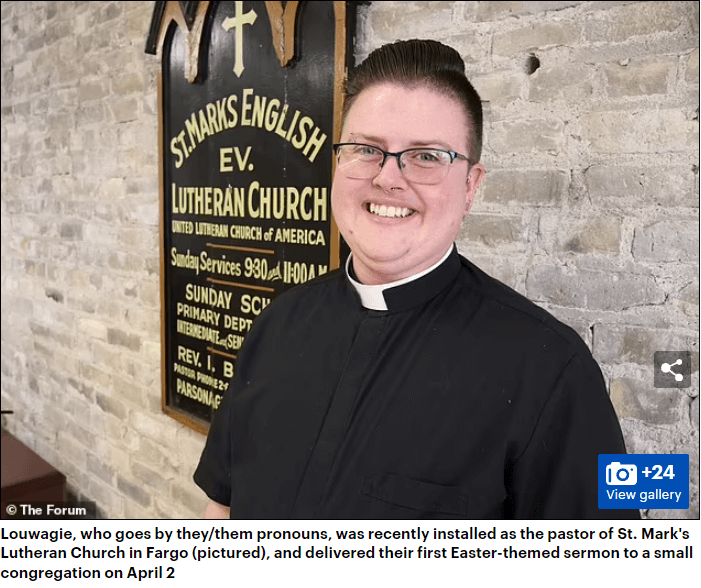 As for the church itself…
The Evangelical Lutheran Church in America (ELCA) is a mainline Protestant Lutheran church headquartered in Chicago, Illinois. The ELCA was officially formed on January 1, 1988, by the merging of three Lutheran church bodies. As of 2021, it has approximately 3.04 million baptized members in 8,724 congregations.[4]
I found this picture front and center on their website.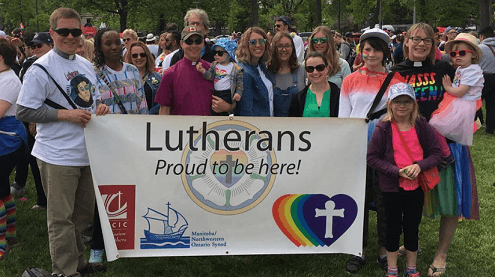 I have never had anything against religious people. I have never been to church a single time, with the only exception being when I was trying to get something going politically, but I don't have anything against regular churchgoers. As an aside, the church I went to was a big swing and a miss. Many such cases.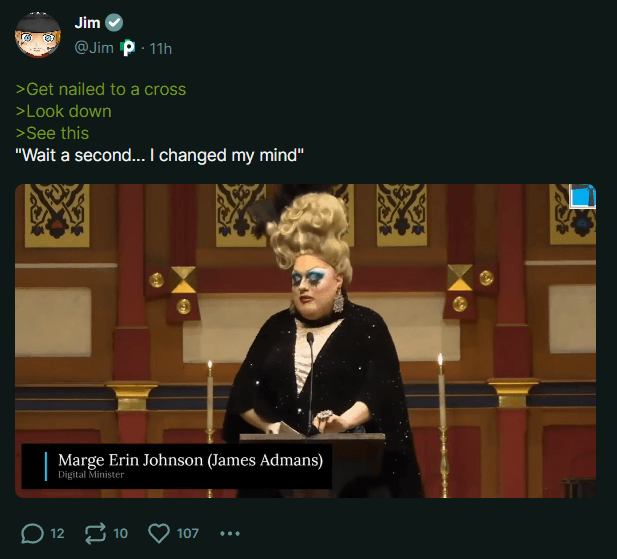 If you want to go to church, you do you. But let's not pretend that the personal is the political. Lifting weights, going to church, not eating seed oils. These are not the things that bring political change. Hell, these are barely the things that bring personal change, considering how many systemic forces are out there to oppress you.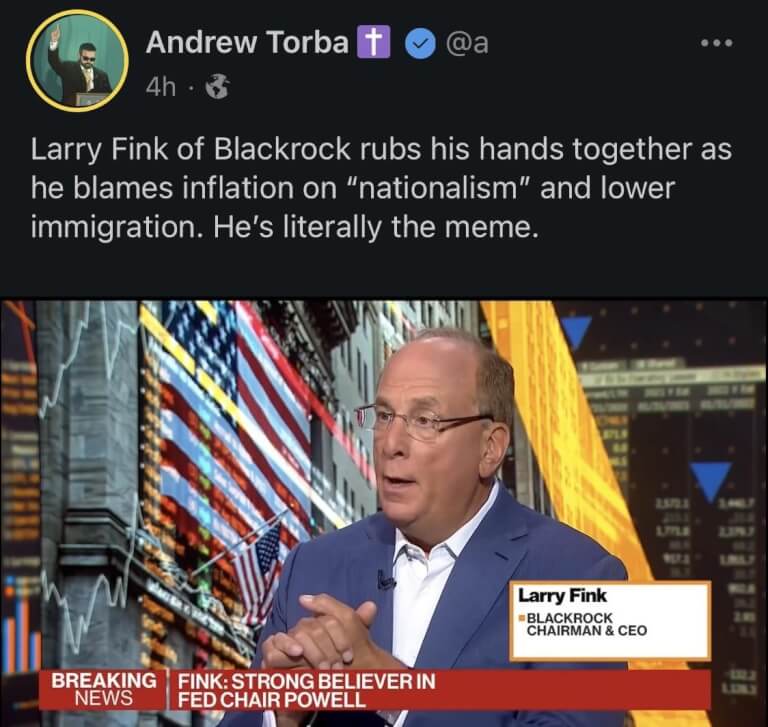 Larry Fink and Blackrock lost $1.7 trillion pushing anti-White hiring in all major publicly traded corporations. If you're White, then spending some more time getting yourself educated is a good thing to do, but don't pretend that studying harder, or graduating with a useful degree can guarantee you any success when you're up against deca-trillion dollar hedge funds with controlling interests in every major corporation fighting against you.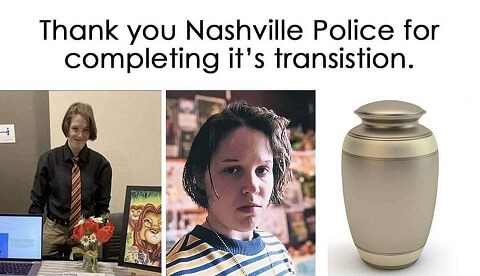 Here in Canada we had 70 churches get razed to the ground after a slander about residential schools being secret genocide facilities. I was the only one writing about it, let alone calling into the police. The rest of the constantly online e-Christians shut their mouths, conservatives did nothing, and real life churches said nothing. Similarly, the only church I've seen seven talking about this child murdering tranny terrorist is this one, and they're doing apologia.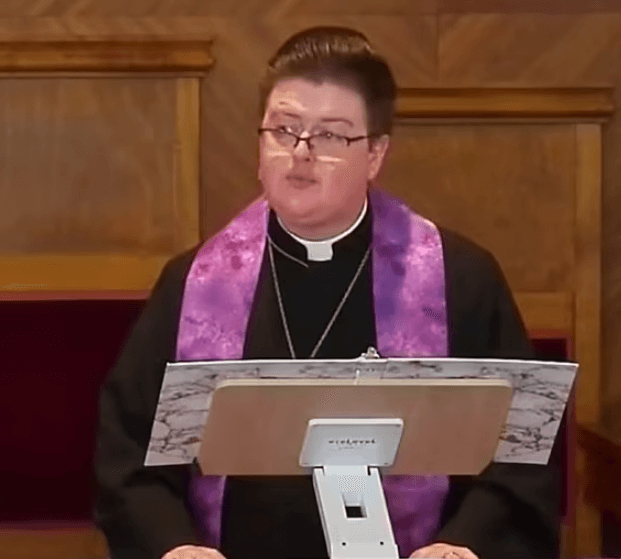 Does this mean that everyone running every church is the pedo pope? No, it just means that I don't ever want to hear about the Christian Nationalism finklethink ever again. Go to church all you want. You might meet a great girl. But anyone who bloviates about Christian stuff as if it's political is a grifter or a moron.