The media blackout on the protests currently underway in Europe has been so strong that even I didn't pay any attention to it until I heard about it on the latest FTN. 
PRAGUE, Oct 28 (Reuters) – Thousands of Czechs protested in Prague on Friday, demanding the centre-right government step down to allow an early election and calling for talks with Russia on gas supplies ahead of winter.

The demonstration on a national holiday in Prague's main square was the third organised by far-right political movements, fringe groups and the Communist party. [Ed Note: doubt] Police estimated the crowd in the lower tens of thousands, less than the two previous rallies.

The organising group "Czech Republic First!" opposes the European Union and NATO transatlantic alliance, and wants the nation of 10.7 million to be militarily neutral.

Protesters waved Czech flags, chanted "Resign, Resign" and carried signs calling for an exit from NATO and the EU.
Lower tens of thousands seems to be about right.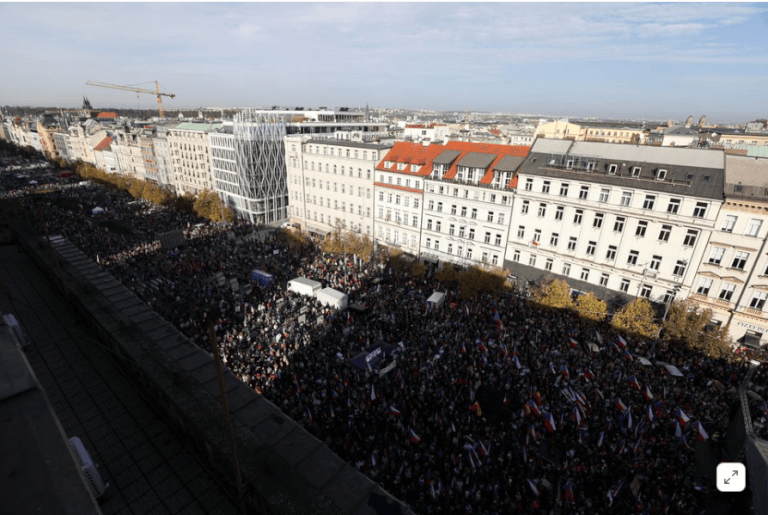 Considering that this was the smallest of the three rallies that is extremely impressive. I doubt that Communists had any serious importance to this rally, and seeing a "far-right," group, which we can read as simply populist, organized against a "centre-right," government, which we can read as neo-liberal shills, is extremely encouraging.
The protests are from a month ago. In the meantime has anything happened?
An estimated 70,000 people protested in Prague against the Czech government on Saturday, calling on the ruling coalition to do more to control soaring energy prices and voicing opposition to the European Union and NATO.

Police estimates put the number of protesters at around 70,000 by mid-afternoon.

Prime Minister Petr Fiala, who leads the center-right, five-party coalition, told CTK news service on Saturday that the protesters did not have the country's best interests at heart.

"The protest on Wenceslas Square was called by forces that are pro-Russian, are close to extreme positions and are against the interests of the Czech Republic," he said.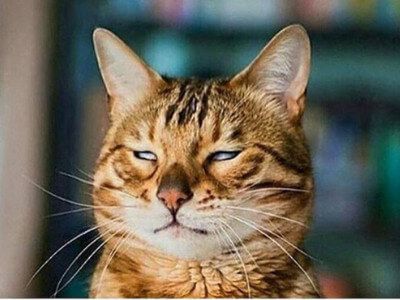 Let's get a look at this Petr Fiala character. I'm sure he'll be a real chisel jawed Chad if ever there –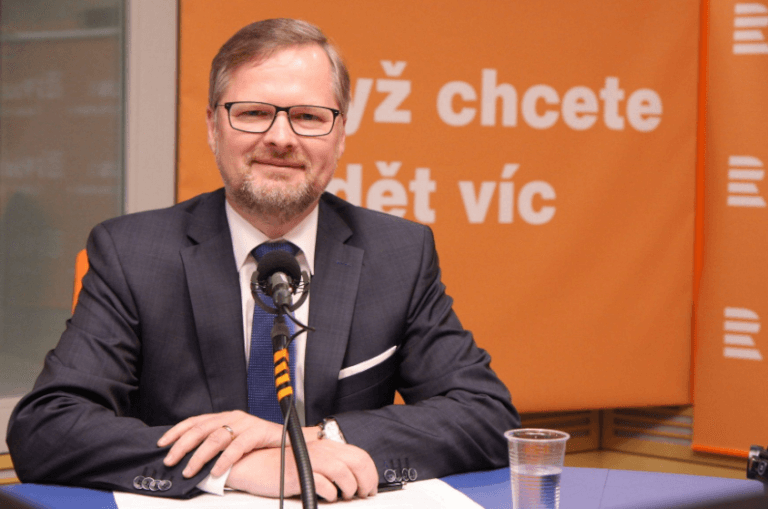 W-what is this?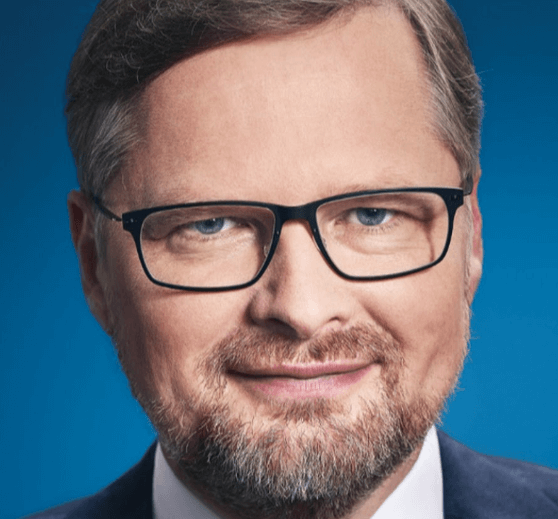 Oh my god. What. The. Fuck?
Imagine having this faggot pictured above being the guy responsible for you freezing your ass off this winter because you can't afford energy prices. Then imagine him doing his little Our Democracy routine with those smarmy, beady eyes staring little pinpricks into your soul and his lips pulling back to in a grimace like smile that shows you his yellowing teeth.
Thousands of people gathered at Opletalova street on Thursday to attend a protest march to the headquarters of Czech Television in Kavčí hory, demanding that one of the chief organisers of anti-government protests earlier this year, Ladislav Vrabel, be allowed to appear on the programmes, the Czech News Agency reports.

Czech Television tweeted that such an appearance would be against its codex and declined the request. Police are monitoring the demonstration.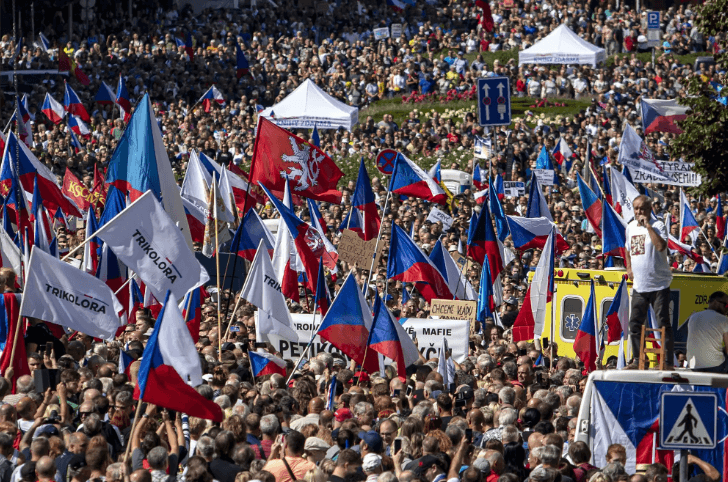 The picture above is from the September 3rd protest. I have zero idea what's going to happen next, but this is merely one country. A country I wish nothing but the best for, but a rather small country indeed. Let's find out what's happening in the rest of Europe.
MADRID — Across Europe, governments are slashing fuel taxes and doling out tens of billions of dollars to help consumers, truckers, farmers and others cope with spiking energy prices made worse by Russia's invasion of Ukraine. But it's not enough for some whose livelihoods hinge on fuel. Miguel Angel Rodriguez was one of 200 concrete truck drivers who held a slow-driving protest around Madrid this week.

…

In the meantime, workers are taking to the streets as gasoline across the EU's 27 countries has risen 40% from a year ago, to an average of the equivalent of £8.40 a gallon. Truckers around France, dissatisfied with aid they consider "insufficient," held a day of action Monday, with a group of independent drivers in Normandy and the English Channel region staging a blockade that prevented hundreds of trucks from moving. Collateral damage included a Paris gig by British hard rock group Royal Blood.
This is absolutely fantastic stuff. It's potentially illegal, but blocking roads – especially for something popular – is something a populist political group should consider at least an option for political action. This is especially true if you have a relatively rural base, since blocking highways can be done almost anywhere, and cause extreme logistical problems for the system.
It's one of the reasons why I had mixed feelings about the Honkocaust. It was funny, but that many truckers have an enormous amount of power and it was a shame seeing it all go to waste.
Also, a woman slapped Macron, which is also illegal and also awesome.
The band tweeted the cancellation of its show Monday night because its gear was stuck at a service station near Paris and "the protesters will not allow the (equipment) trucks to leave." In Cyprus, hundreds of livestock breeders protested Monday outside the country's Presidential Palace and demanded compensation to offset the sharp increase in animal feed prices because of higher transport costs tied to fuel price hikes. Spanish truck drivers have been disrupting delivery of fresh produce and other goods for supermarkets for more than a week, while farmers paraded their tractors through Madrid on Sunday.

Italian truck drivers and fishing boat owners and crews also have held one-day protests over high fuel costs. Their actions come even as governments have spent billions to help businesses and households. France last week unveiled a multibillion-euro economic assistance package, including partial subsidies of fuel for fishing boats and trucks over the next four months, and £3.3 billion to help some companies pay soaring gas and electric bills.
And from Reuters by way of MSN:
Nov 23 (Reuters) – European countries are facing strikes and protests due to high energy prices and mounting costs of living. Here are details of some recent and current industrial actions and demonstrations.

BRITAIN

* Thousands of

British railway workers

will stage further strikes over the next two months in a long-running dispute over pay, the RMT union said on Nov. 22, signaling travel disruption before and after the Christmas holiday period.
This may be similar to the US railway workers strike, where they somewhat have the government by the balls due to the economic precarity created by the shutting off of natural resources by Russia.
Now prepare yourself for a wall of text, since the article is already listing in point form the various strikes, and I don't want to miss anything.
* Hundreds of workers at

British security company G4S

have voted to strike for 48 hours in early December in a dispute over pay, trade union GMB said on Nov. 22, warning the walk out could cause cash shortages over the Christmas period.

* Exxon Mobil said on Nov. 21 its 390,000 barrel per day (bpd)

Fawley oil refinery

in southern England was unaffected by strike action. GMB Union workers had voted to strike on Nov. 21 to Dec 2. over pay.

* Thousands of

British civil servants

are planning for one month of "sustained industrial action" through the winter in an ongoing pay dispute, the Public and Commercial Services union said on Nov. 18, after the biggest strike vote in its history.

* Postal workers at Royal Mail will strike for six days in the run-up to the busy Christmas period in a dispute over pay and conditions. Workers will also strike on Black Friday.

* Tesco, one of Britain's largest private-sector employers, is offering its staff advances on their pay in the latest sign of the distress arising from a worsening cost-of-living crisis. Some 280,000 of the supermarket chain's workers will be able to receive up to 25% of their contractual pay early if they pay a small fee.
Now we move over to Germany.
Volkswagen

agreed on Nov. 23 a two-year wage deal for around 125,000 workers at its western German factories, offering around 8.5% more pay, which was below inflation but above what other employers have yielded in recent weeks.

* Germany's largest trade union agreed on Nov. 18 a below-inflation pay deal in a powerhouse region, setting the benchmark for 3.9 million metal and electrical sector workers nationwide.

The accord, which comes after the IG Metall union called for an 8% pay rise, would have been considered exceptionally generous until recently but is now below inflation, which was 11.6% last month in Germany, Europe's largest economy.
11.6% inflation over the year, as extrapolated from the increase in that one month of course. 11.6% inflation in a single month would be civilizationally challenging. Nevertheless, inflation is always under reported, and 12% inflation is quite disruptive.
We skipped over the previously mentioned countries, to see Portugal also experiencing unrest, mostly due to extremely high inflation. 
PORTUGAL

* Thousands of Portugal's doctors, nurses, teachers and civil servants walked off the job on Nov. 18 to demand wage increases amid rampant inflation, challenging the majority Socialist government a week before a final vote on the 2023 budget.

* Workers at Volkswagen's Autoeuropa car plant – one of Portugal's top exporters – will go on strike in the first two hours of each of the four shifts on Nov. 17 and 18 to demand an extraordinary pay rise due to galloping inflation.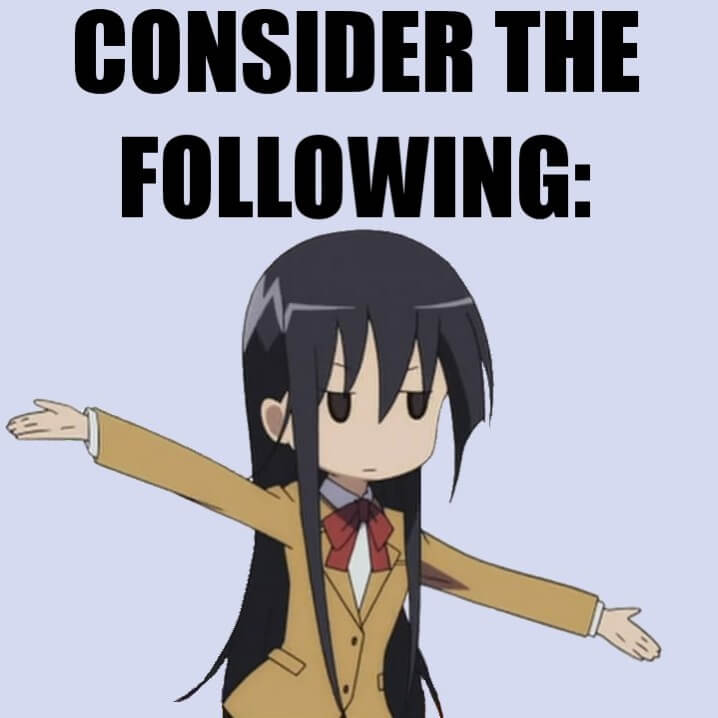 What does it all mean? Well, maybe nothing, maybe we'll get a spontaneous revolution. I find the latter very unlikely, but I do think the ground is going to be riper for populist parties in Europe than at any time since the 2007 economic depression. And if nothing else, Macron got slapped. Let's take another look at that.
Perfection.
UPDATE: Anonymous in the comments points out, with evidence, that the slap appears to be from one year ago. The camera angle is different, but it does look like the same incident.