I don't think I've ever written about James O'Keefe before. He's a Republican partisan, but is essentially what a Republican partisan would be if he weren't a complete fag. His team at Project Veritas has done some great undercover work exposing anti-White discrimination and grooming perverts. He paints this as ThoSE DEMONraTs, but the investigative journalism stands on its own merits.
O'Keefe begins the video by introducing us to Joseph Bruno, the dean of students at Francis W. Parker private school in Chicago, which charges $40k per student. It's an all grades school, although this is relevant for the high school aged kids.
O'Keefe: Parents might be stunned to learn that Bruno's version of love and acceptance is handing out sex toys to underage students.

Joseph Bruno: I've been the Dean for four years. During Pride, we do a Pride week every year, and I had, like, our LGBTQ+ health center come in.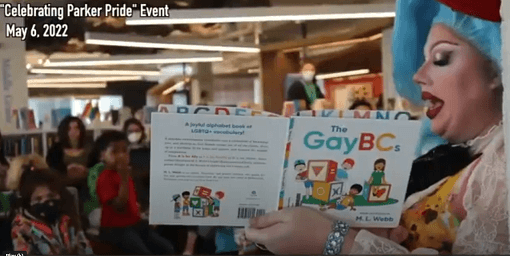 The first time I saw this I did a double take at the "LGBTQ+ health center." This is an all grades private school. It's not even that big. Even still, they have a special health center for the future AIDS patients of America. Although it turns out he mispoke and it's actually his LGBTQ+ health center and he brought it into the school.
Bruno (cont): They were passing around butt plugs and dildos to my students. They were talking about queer sex. Using lube versus using spit.

Interviewer: Who is this?

Bruno: This is an LGBTQ+ health center came in and talked to my high school students. They're just like passing around dildos and butt plugs. The kids are just playing with them. They're looking at them.

Interviewer: In the school?

Bruno: In the classroom. Yeah. While I'm sitting there. And then we had a drag queen come in and pass out brownies and cookies and do photos.

Interviewer: That's so amazing. And everybody's cool with that? The butt plugs and the dildos? Nobody complains?

Bruno: No.

Interviewer: I mean if the parents found out would they…

Bruno: No. It's queer sex.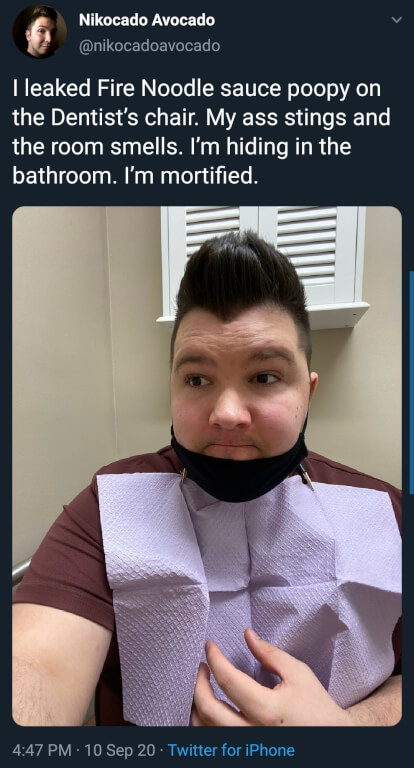 Haha. So true. Personally my asshole stopped working when I was sixteen from all the underage grooming I went through. #justGirlyFaggotThings. I mean like it's queer sex. If you aren't having foreign objects shoved into your ass can you really say that you're living in 2022?
Like, imagine being one of those amateurs who needed to watch Postmates video on taking a cavalcade of penises in the rectum. Embarrassing. This is why we need to teach 14 year olds about the relative pros and cons of spit versus lube. How else are they going to avoid making a whoopsie on the 398th penis that inserted itself into their rectum at the local fuckparty.
Joseph Bruno: This is the drag queen who came in.

Interviewer: What's her name?

Joseph Bruno: Alexis Bevels. She just hung out in my classroom. Or my office.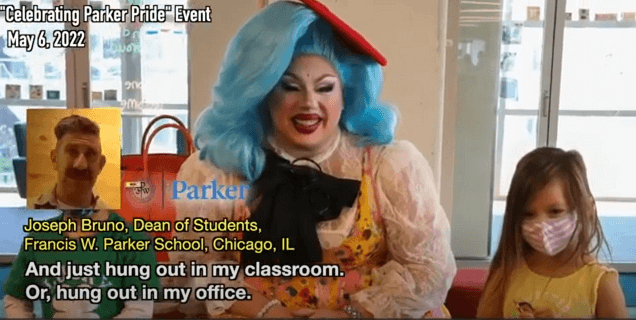 The groomer continues by bragging about how much money he has access to, which I don't doubt seeing as it's a $40k private school. We'll circle back to this, but the video is a few days old, so what came of this?
Joseph Bruno is the Francis W. Parker School dean in Chicago who is under fire after a Project Veritas video featuring him went viral online.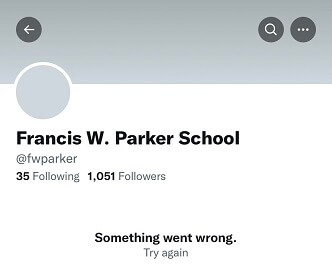 Unsurprisingly, this school for affluent Chicagoans is doubling down on the POZ.
The school added, "Last week – at an industry conference – one of our employees was targeted by a member of Project Veritas and misled to believe he was conversing with another conference attendee over a coffee. He was filmed without his knowledge or permission while describing one example of our inclusive, LGBTQ+ affirming, and comprehensive approach to sex education. Veritas deceptively edited the video with malicious intent."
Here's the "dangerous ambush" that prompted additional security measures.
— Project Veritas (@Project_Veritas) December 8, 2022
I'm sorry what the hell am I looking at?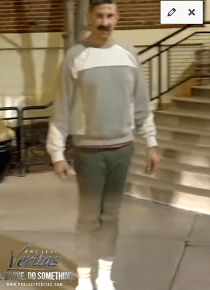 It's even creepier in motion. Or rather, the immediate lack of motion, as he just stands there for a few seconds with his legs totally straight, like his asshole has just fallen out, before waddling away. Dude's got problems.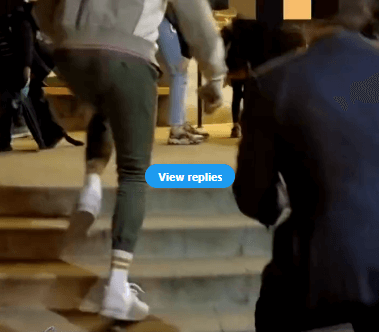 This groomer is far from as bad as ClownWorld gets, but I can't help but push back on this crybully premise of theirs. An affluent Chicago school draws a certain crowd, but a lot of the parents are against this disgusting pervert shit, and the same goes for the students. What these dishonest groomers will never acknowledge is the power dynamics at play.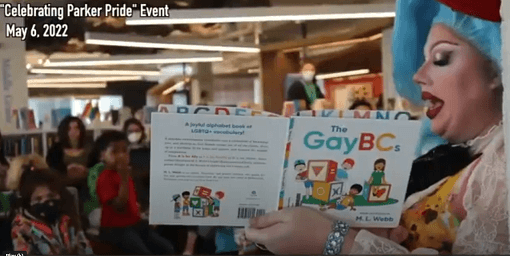 This disgusting faggot brings in this other disgusting Anus-American into his classroom. He pretends that the students are all happy and thrilled. In reality, they know if they speak out they will face discipline. That discipline may be as mild as him lecturing them right then and there, or it could escalate. Because no kids speak out, the groomer then pretends that they all love this disgusting garbage.
I dealt with a very similar situation in Edmonton, Alberta. A group of kids made a White Lives Matter instagram page and got mercilessly attacked by the local and district school administration. So, as always, they pretend that they aren't forcing this on the student body.
UPDATE: @fwparker just sent an email attacking Project Veritas & defending the schools "comprehensive approach to sex education"

"Please know this video contains descriptive language. If you choose to view it, we ask you not to share it, because it will add to its viral power" pic.twitter.com/7qXfXbvA9m

— Project Veritas (@Project_Veritas) December 8, 2022
O'Keefe posted this reply. But the top two replies are correct, and indicative of the correctly shifting mindset of people.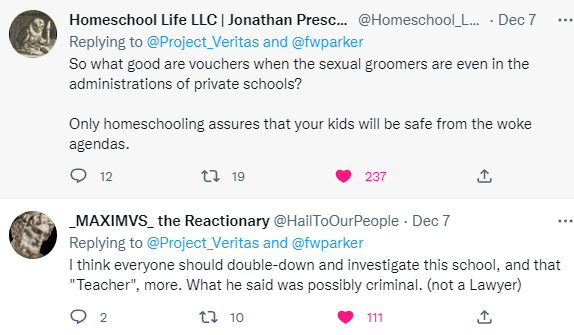 LOLbertarianism is done. It has no natural audience. The solution to these problems is collective and state action. That has always been the solution, that will always be the solution.