Yesterday we sent out a call to arms. We had an NGO very interested in grooming the kids, and we needed to soak up all the free tickets. How well did that go?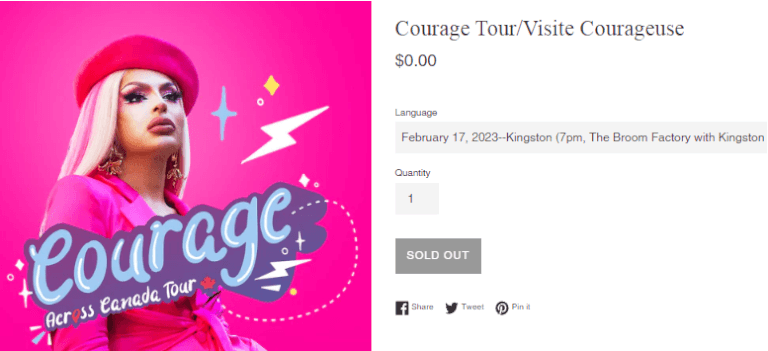 I'd say it went swimmingly, considering that every single one of their events is now sold out. You can confirm that by going to their tickets page yourself. I was screenshotting them as they fell one by one, but I don't know exactly when the last of them was holocausted, as I got wrapped up in work in the late afternoon. I just know that it was already down to just two of the Groomer Fiesta's after just a few hours of our action.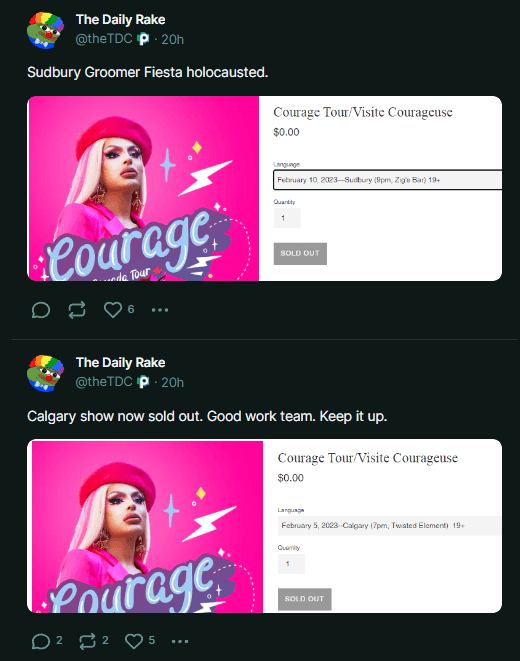 They were probably both gone by the late afternoon, but I got a telegram message from someone at 1:53 AM.
Fuck. Too late to help.
Because the tickets were all gone, as they should be.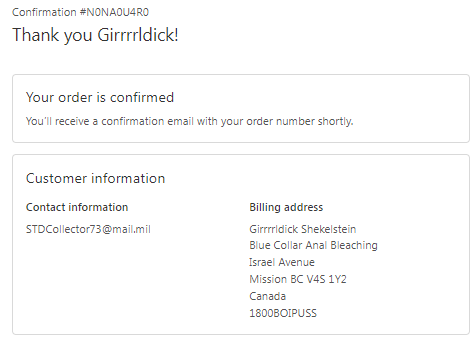 I promised praise for the best community works, and I'm excluding myself from any prizes. Good thing too, since my contributions still crack me up.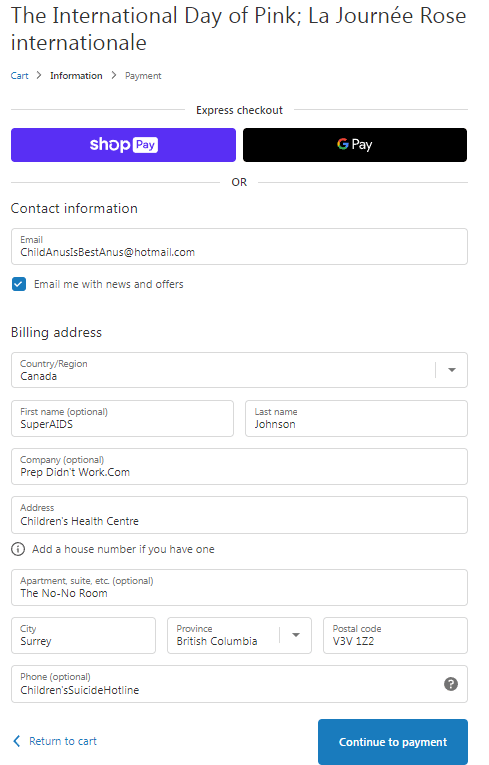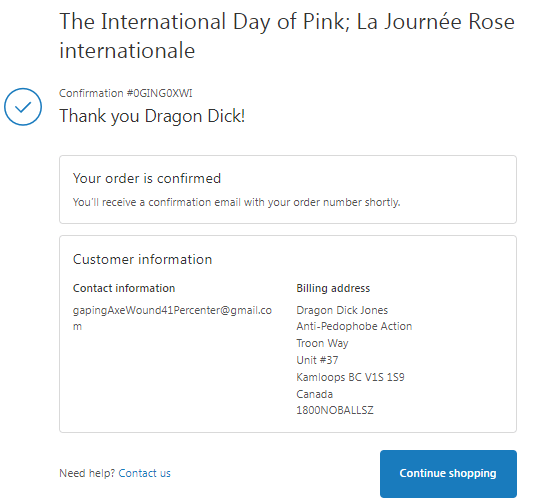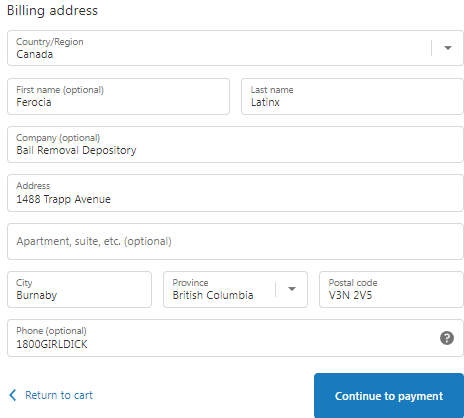 The funniest bit was the names for the trannies who were ostensibly showing up. I'm kicking myself for not screencapping the fourth one. It was great, and they didn't display that information back to you.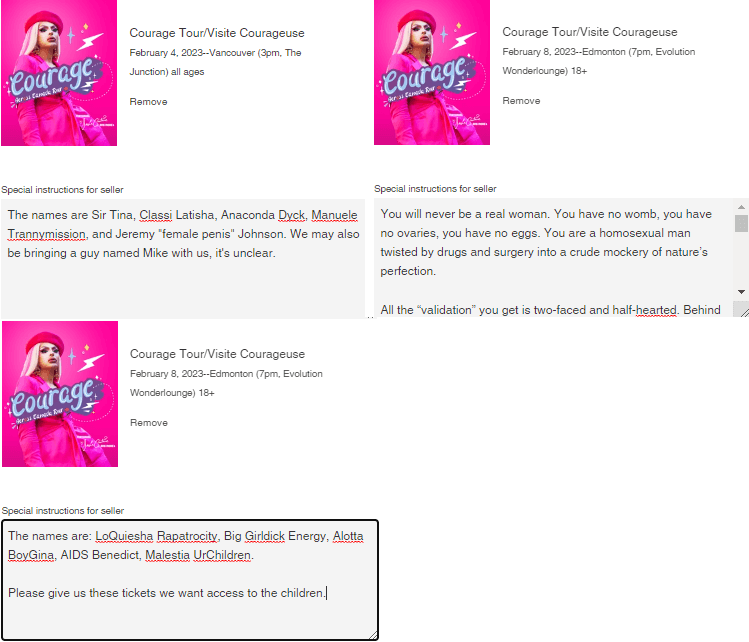 With that out of the way, let's take a look at our user contributions and see who had the best ones. All of these came from Poast. 
We're off to a good start with flux's contribution, although we don't have a name. His email address is ChildMolester69@yahoo.com and he typically works out of the corporation Pozzing Negholes LLC, for tax purposes. Their location is 41 Percent Lane, in Dildo, Newfoundland. However, while Dildo is a real town in Newfoundland, and 41 Percent Lane exists, there is no 41 Percent Lane in Newfoundland, so the judges are knocking a half point off. After all, we demand perfect realism.
Next up we have Sachs Ahffinder, pictured above. He's making an international trip from his apartment, Noose Oaks, located on Rape Road in Hell, North Carolina. You can reach him at KidDiddler@gmail.com, or look up his company, The Basement.
It warmed my heart to see internet legend Chuck Deringer showing up to one of these events. I never knew that his Feed and Seed shop was located on 81 Troon Close, Qualicum Beach, British Columbia. He's so close we could even meet one day. And I'm pretty sure I just heard Richard Spencer talking shit about him.
In a stunning turn of events, well not that stunning, Canadian PM Justin Trudeau will be showing up. He's a regular at these diverse gatherings of AIDS, so it shouldn't be that much of a surprise, but it's still heartwarming to see him coming here.
Turns out we've also got Albert Sneed, of Sneed's Feed and Seed, located on 420 Troon Avenue, Mount Plymouth, Florida. I hope there won't be any issues when both of them show up. Hopefully they booked tickets to different events. 
We end with Moe Lester Unkonkwe, of the Love Adoption Center. You can contact him at AIDS@hotmail.com 
I'm sure I'm missing an entry or two, but with what we have here, who will be crowned the winner? 
User eee, with his Poast representing Mr. Deringer. Our judges found that his contributions were clever, to the point, and touched on a number of familiar cultural touchstones that we all hold near and dear to our hearts. Congratulations to user eee.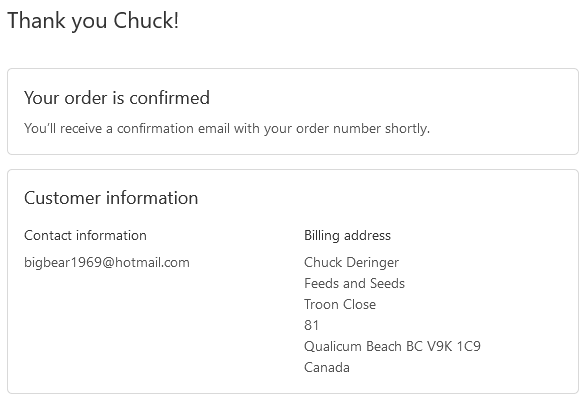 But there's a twist! He has to share first place prize with user Corsair!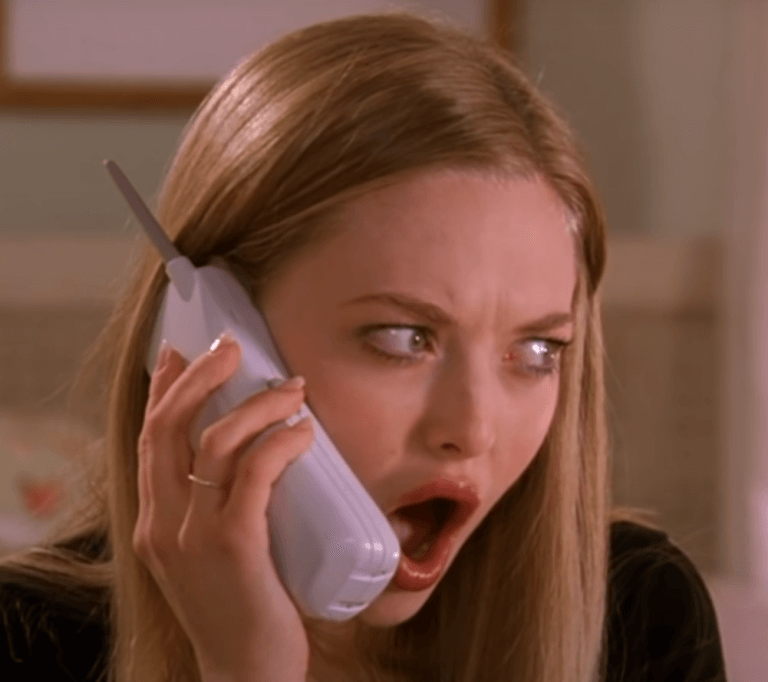 Anyone who has the connections to get Justin Trudeau to come to one of these events deserves immense praise, and random internet guy Corsair came through for us here.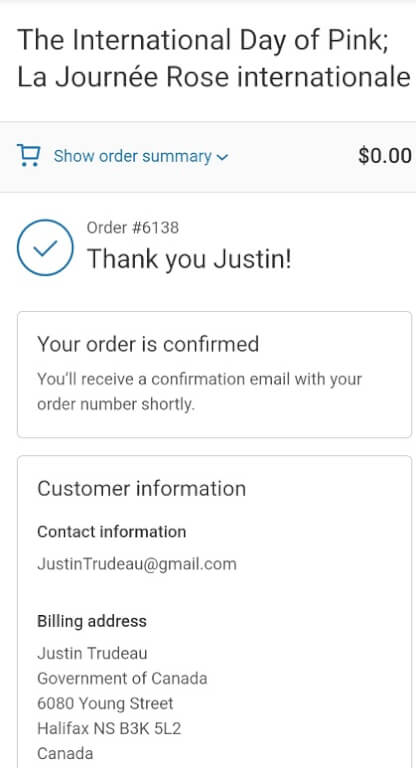 But he didn't just stop there. Instead, he helped Moe Lester get all the access to the unsupervised children that he could ever dream of. If Moe Lester had lived in a funnier area, this entry would have won the prize of Corsair in and of itself. Nevertheless, it was enough for him to share first place with user eee.
I award both of them 500 points, and have given user Sky the runner up prize. Bit thanks to everyone who entered the competition.