Earlier today I wrote about the boycott of Target. I thought it would hurt Target somewhat, and that would be that.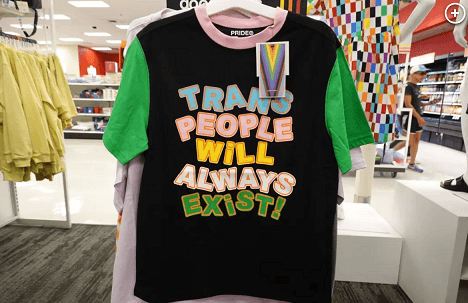 Unlike Bud Light, Target is in an industry that is only moderately competitive, so expectations were low.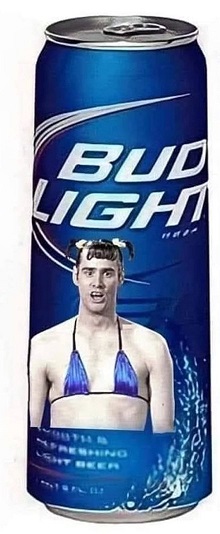 That's still my opinion, but someone sent me the following screencaps in the telegram chat.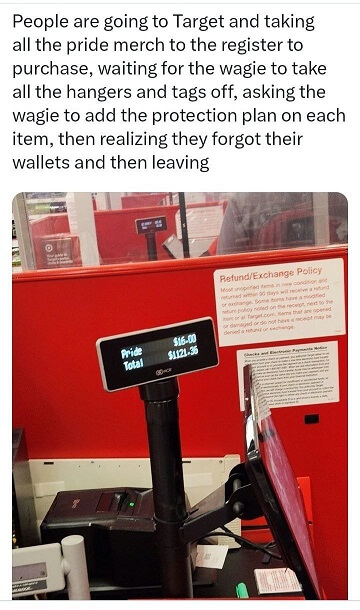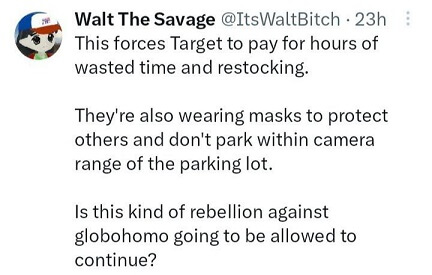 Is this real? Furthermore, is this important? To answer the first question I did a little sleuthing, and eventually stumbled upon a 4chan thread where people detailed, pictures included, themselves grabbing thousands of dollars worth of Target merchandise before "realizing" that they forgot their wallet and walking out.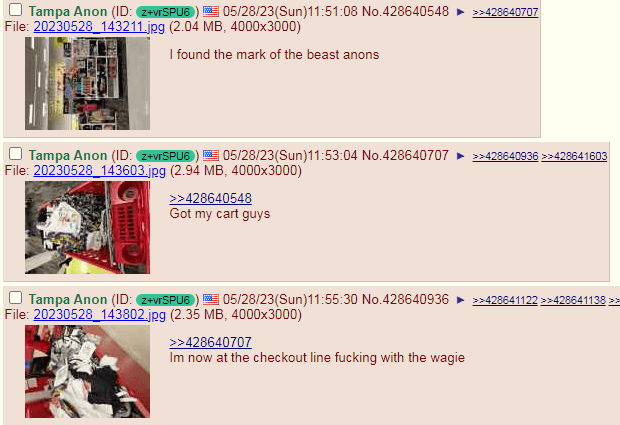 Since the pictures are difficult to make out, I have taken the liberty of saving them separately, as well as rotating them by 90*.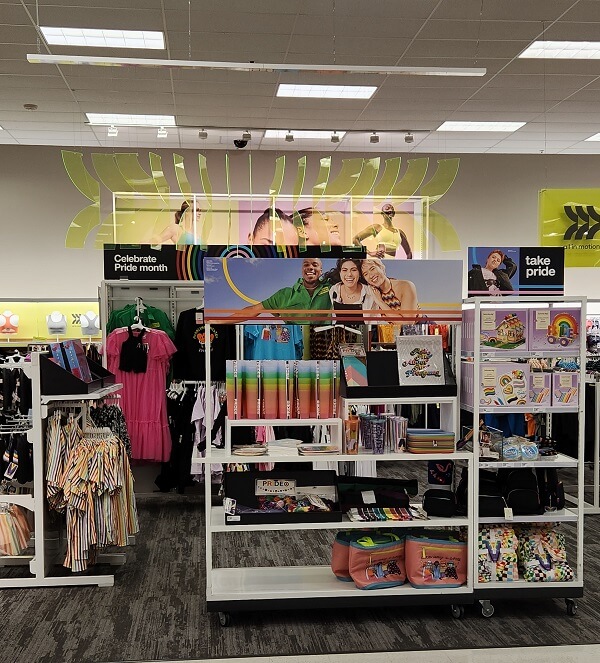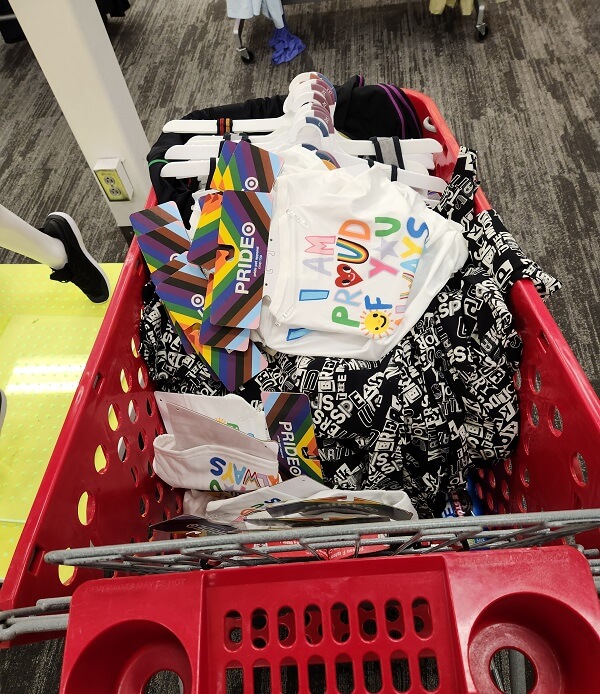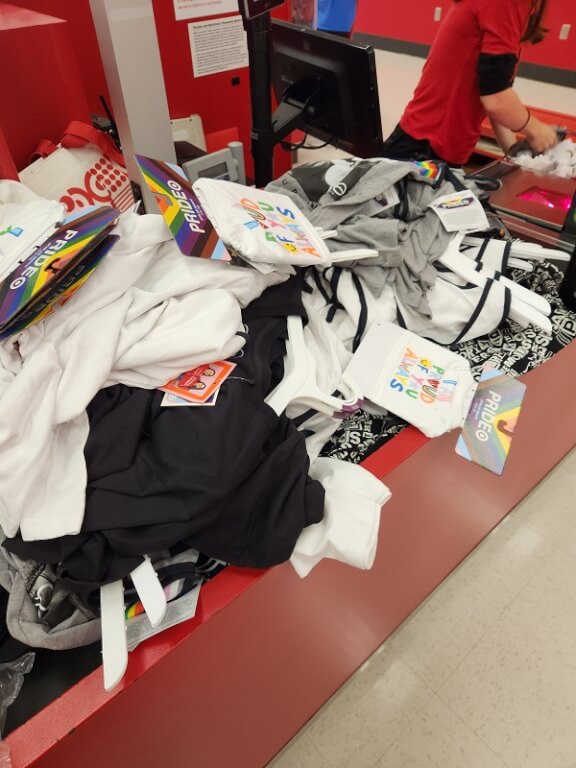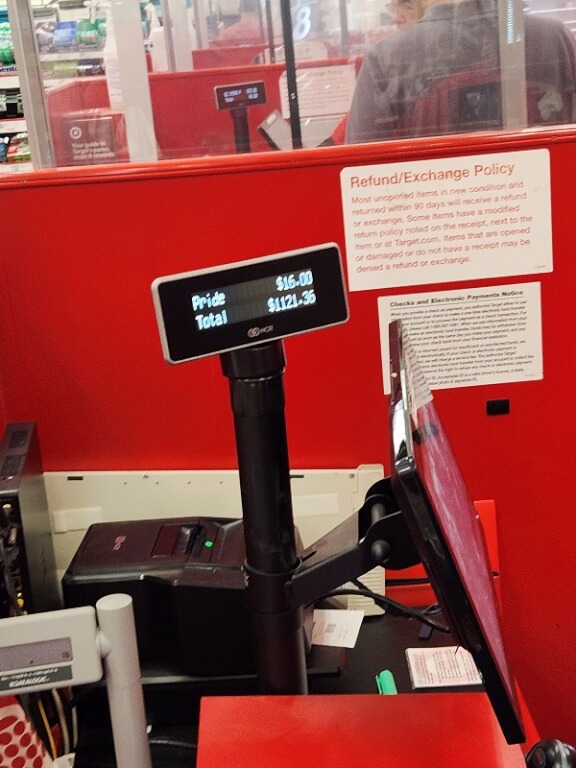 Other users posted pictures of themselves at the checkout line, just before "forgetting" their wallets.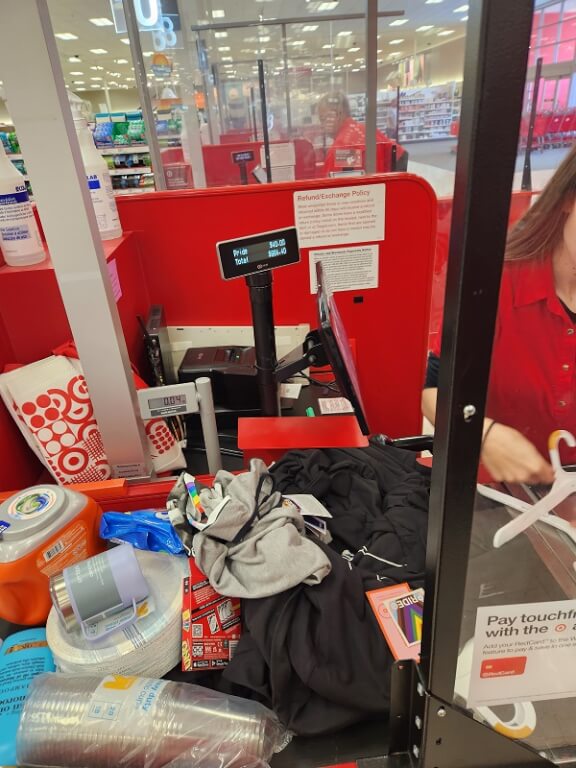 I've debunked 4Chan claims before, so take this with a grain of salt. However, there have also been some great things that come from 4Chan, even its current iteration, and this could be one of them.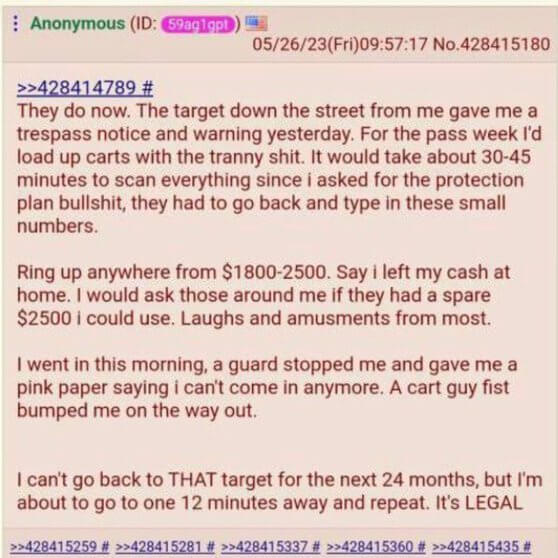 >Asking the people around you for a spare $2500.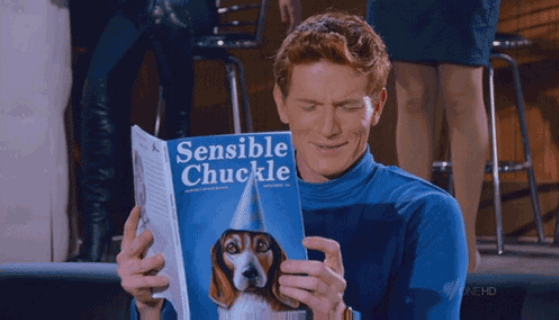 There were some shills in both that thread and the one on twitter, countersignaling this type of activism/trolling. A variety of tactics were used. One of them was calling people doing this kind of activism "liberal redditors."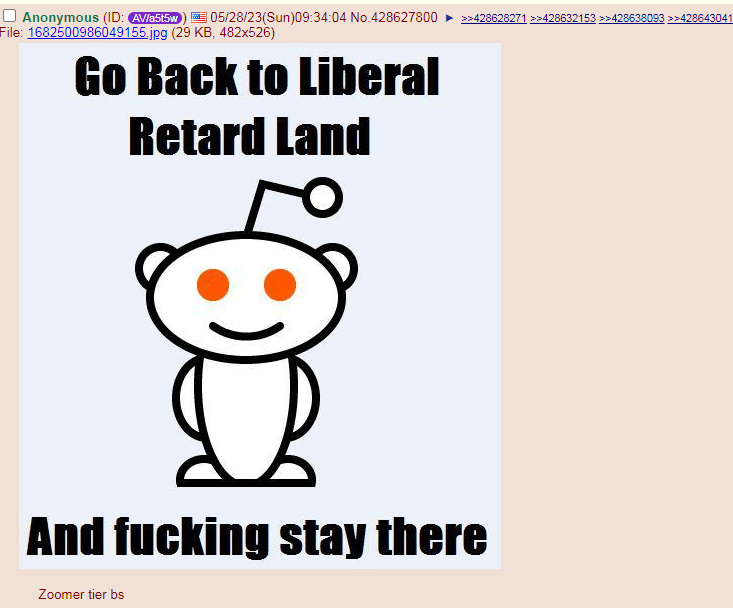 That was a bit out there. Then some antifa pretended to be a manager at a Target. Some people fell for the bait and got dragged into a long twatter thread. Sad. Many such cases. 

A much more common, and theoretically more reasonable countersignal, was to whine that the employees are being punished for this. Some of this was in bad faith, but some was merely misguided.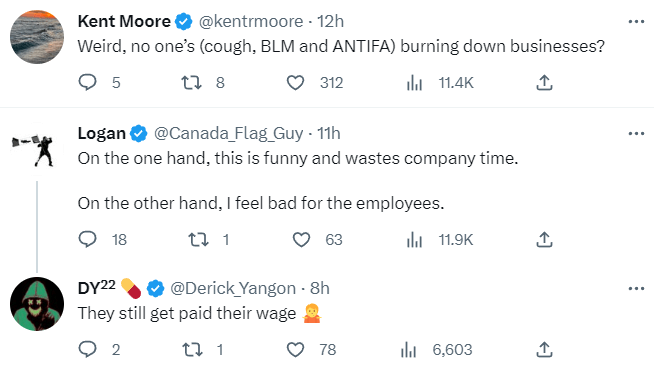 Ultimately it shows the lack of confidence in their beliefs that servatives have. If you aren't willing to mildly inconvenience some Target employees who are being paid anyway, then quit politics. Arguably if you're on twitter you've already quit politics, but you should stop even pretending if you're going to be this much of a wimp about it.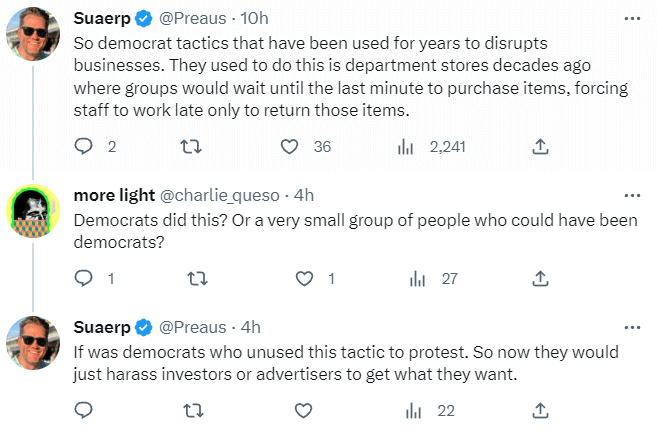 User "Suaerp," calls this "Democrat tactics." "Antifa tactics," would be more appropriate. "Actual political action," would be even better. Considering the sunglasses, there's a chance "Suaerp" is an AI bot, but he could simply be a moron or a shill. The real people have much better takes.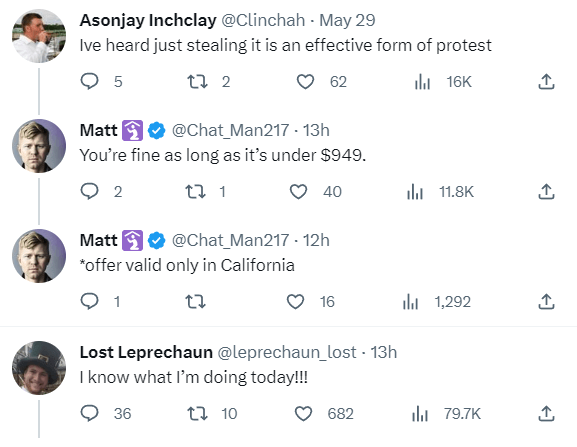 The (p)redditors are having a meltdown.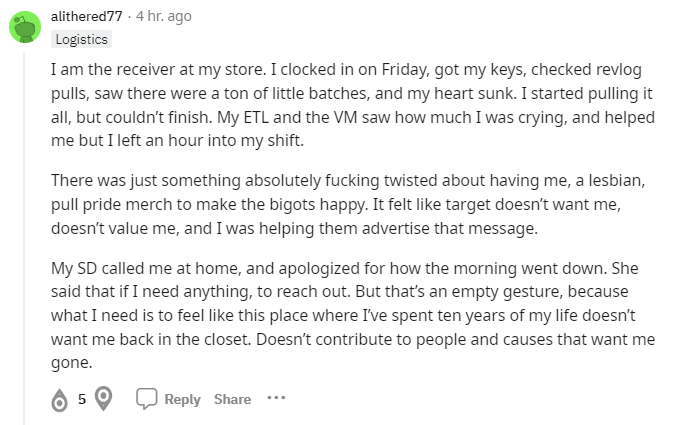 This isn't entirely due to the trolling/activism of course. The above lesbian is just whining that the AIDS merchandise is being removed from sale.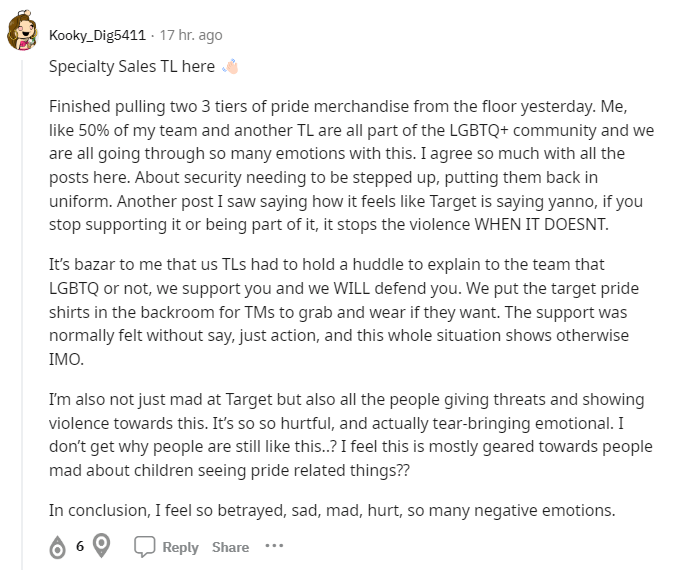 A similar complaint from Kooky_Dig5411 whines about pulling merchandise from the shelves. But some of them are complaining about the activism directly.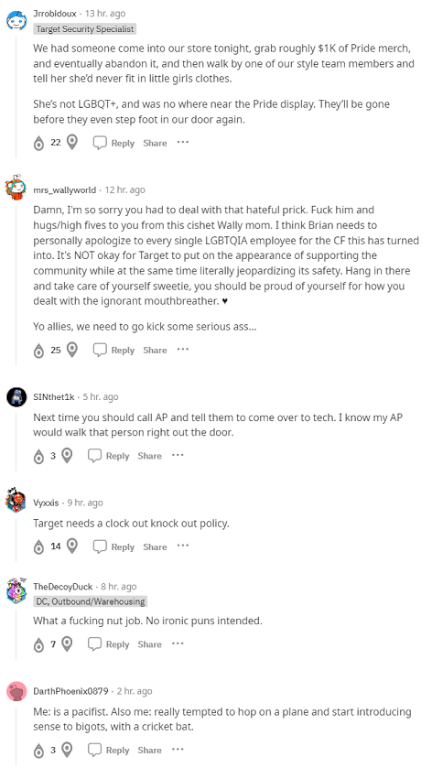 We had someone come into our store tonight, grab roughly $1k of Pride merch, and eventually abandon it, and then walk by one of our style team members and tell her she'd never fit in little girls clothes. 

She's not LGBQT+, and was no where[sic] near the Pride display. They'll be gone before they step foot in our door again.
A picture of the alleged suspect has been circulating online.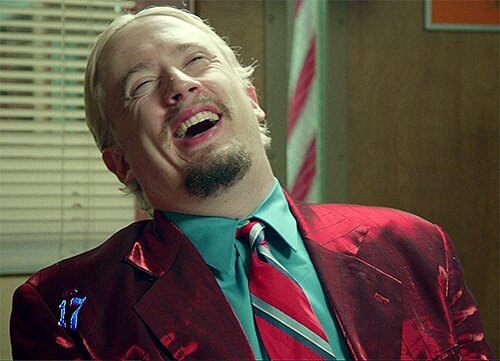 At worst, this type of activism is funny, but harmless. At best, this type of activism is funny and productive. If Target still operated in Canada I'd happily do this myself.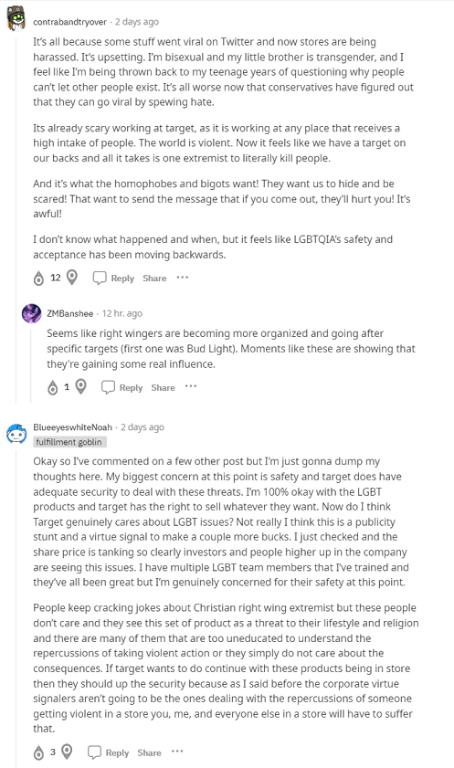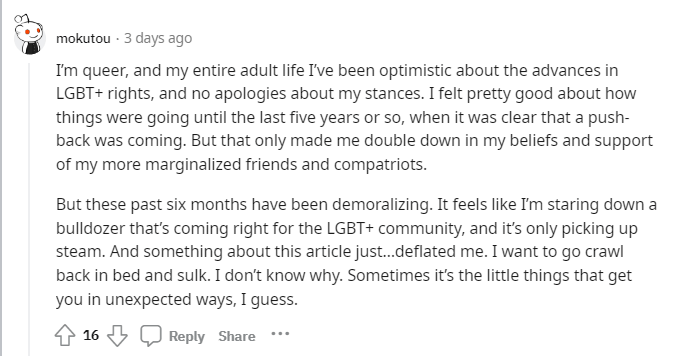 I still don't know how important this is, and couldn't hope to quantify the effect this would have on the megacorp's bottom line. I'm just sad that I can't go into a Target, shove a bunch of Groomer merch in a shopping cart, push it to the back of the store, hit on some cute girl working there on my way out, and leave.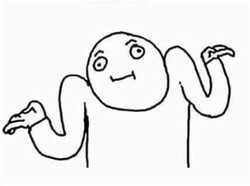 Even if this particular action isn't the most meaningful thing in the entire world, it's good that there are people doing this, with some confirmation from the seething redditors. It also feels like a new corner is being turned with the so-called right, where the obnoxious tactics that were once the purview of the butthole-left are being embraced by people who are actual dissidents.