Read all our coverage of the Waukesha BLM anti-White terrorist attack that has thus far murdered 6 White People, and injured 47 others here.
OSHKOSH, Wis. – Senators Ron Johnson and Tammy Baldwin issued a joint statement Saturday, demanding that individuals and groups stop exploiting the Waukesha parade tragedy for political gain.
"As the U.S. Senators representing Wisconsin, one from each political party, we are asking anyone considering such action to cease and desist," the senators said.
The statement comes after a man drove an SUV into a crowd of paradegoers on November 21, killing six people and injuring at least 60 more.
The driver of the SUV is in police custody.
Pretty bloodless article isn't it? Apparently anti-White BLM activist who made social media posts talking about doing violence to White People is just a "driver of the SUV." 
And Republican Senator Ron Johnson would really prefer it if you stopped politicizing these generic apolitical tragedies, goy. 
"We have full confidence in the local officials who responded with extraordinary professionalism, competence, integrity and compassion," the senators said. "They should be afforded the respect and support they deserve to undertake their responsibilities without outside interference."
The senators asked that anyone wishing to support the victims of the tragedy donate to the United for Waukesha Community Fund.
The fund was established by the Waukesha Community Foundation and United Way of Greater Milwaukee & Waukesha County.
Above is his November 25th, tweet on the BLM terrorist attack. Oh I'm sorry, the "tragic events that occurred in Waukesha." 
The Republican doesn't tweet very often, and in fact only has four tweets since the BLM Christmas Massacre, which I've printed out below.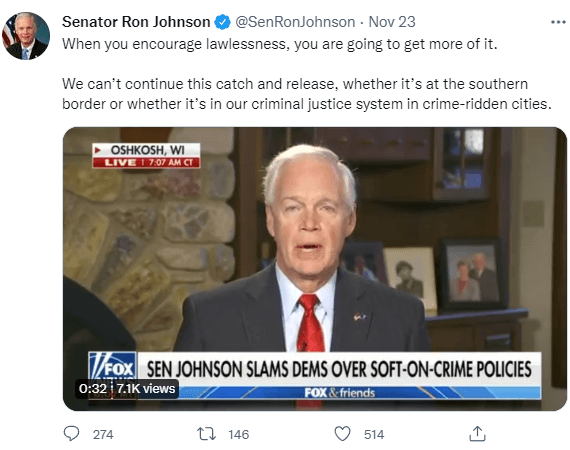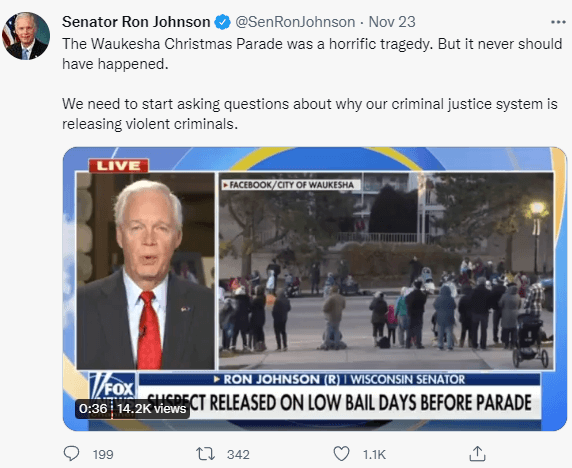 So he's turning this anti-White terrorist attack into an opportunity to "slam the dems," over bail reform. Good thing Republicans don't support letting career criminals out of j-
Oh right. My bad. Well at least this Cuckservative is just trying to get politics, and would never engage in racial or ethnic pandering after a ter-
Oh. My bad. I guess this is just for White People then. 
As for the article itself, our editor emailed the creator of the Channel3000 article, Kyle Jones, under the pseudonym "Abdulmajid." The emails can be hard to read, so I'll explain what these emails mean below.


Our editor wanted to get them to explain why they refused to print who was protesting, the National Justice Party. Of course, we know this is because they hate giving the NJP any views, but our editor wanted to get them to admit this, which is why he pretended to be "Abduljamid." 
Kyle Jones, the propagandist, pretended that he didn't know where the NJP was protesting, or even who specifically was protesting. This is pretty absurd. Our editor then tried a prompting email, where he showed Kyle Jones a picture of the protest pretending to wonder if it's some socialist group.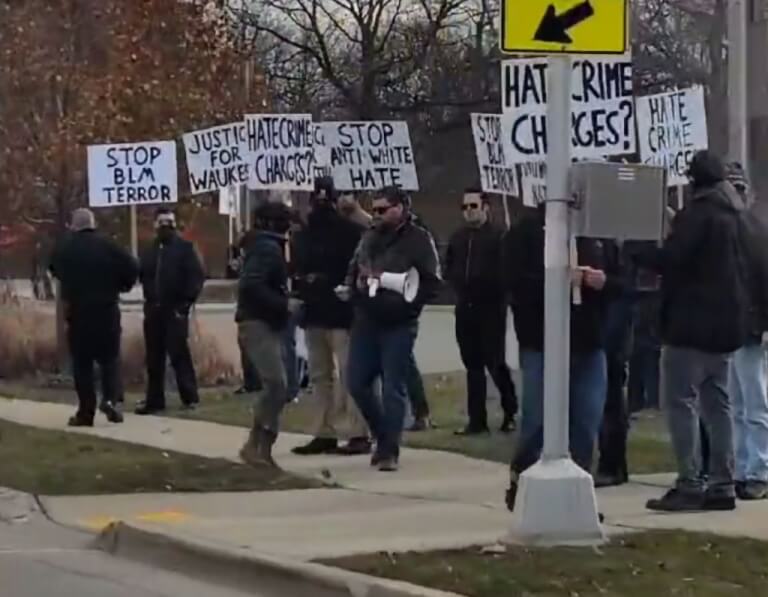 Kyle Jones then quickly responded:
"Hmm. That's the Waukesha County courthouse.
However the Anti-Defamation League says the NJP is a well-known white supremacist group that attended the Unite the Right rally in Charlottesville in 2017. So probably not socialist.
Thanks for passing this along."
We'll let you be the judge of whether the soyboy above is just accidentally not mentioning the NJP protest by name, while casually dropping ADL talking points about them.