KYIV, Oct 10 (Reuters) – Russia rained cruise missiles on busy Ukrainian cities on Monday in what the United States called "horrific strikes", killing civilians and knocking out power and heat with its most widespread air attacks since the start of the war.

Ukrainian officials said at least 11 people were killed and scores injured, with swathes of the country left without power.

Thousands of residents raced to bomb shelters as air raid sirens rang out through the day. The barrage of dozens of cruise missiles fired from air, land and sea was the biggest wave of air strikes to hit locations away from the front line, at least since the initial volleys on the war's first day, Feb. 24.

President Vladimir Putin said he had ordered "massive" long range strikes after an attack on the bridge linking Russia to the annexed Crimean peninsula over the weekend, and threatened more strikes in future if Ukraine hits Russian territory.

"To leave such acts without a response is simply impossible," he said, alleging other, unspecified attacks on Russian energy infrastructure.

Ukrainian President Volodymyr Zelenskiy said they were deliberately timed to kill people, as well as to knock out Ukraine's power grid. His prime minister said 11 major infrastructure targets were hit in eight regions, leaving swaths of the country with no electricity, water or heat.

"They are trying to destroy us and wipe us off the face of the earth," Zelenskiy said.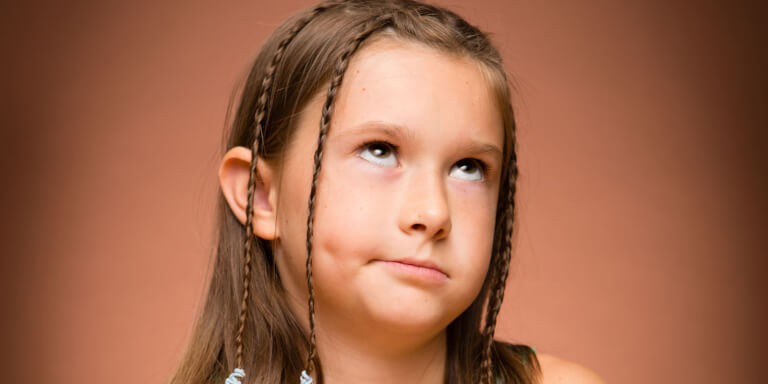 I continue to be impressed by how idiotic the Zelensky Regime's propaganda is. Nothing can top the Ghost of Kiev, but there's something uniquely annoying about this Zionist kikel pretending like he gives a single fuck about the Ukrainian People while he ludicrously pretends that Russian missile strikes were deliberately designed to kill civilians. I'm quite sure that they would have targeted apartment buildings if that were the case, and they've had the option to flatten Kiev with nuclear weapons since day 1. Frankly, enough 2,000 lbs bombs would do the trick just fine, and yet they've decided to not do that because of the obvious humanitarian concerns. But with the attack on the Crimean bridge, which the Washington Post tells us that at least one Ukrainian government official explicitly took credit for, coupled with the sabotage of Nordstream in late September, and it was clear that the gloves needed to come off, and civilian infrastructure, although not civilians, were targeted.
And yet, despite the fact that Russia has deliberately avoided critical heating and power infrastructure up until this point, while Ukraine has repeatedly shelled nuclear power plants, the narrative from the WMD Liars has been that the Russians are deliberately targeting trans babies of colour for genocide. Now that they've started targeting civilian infrastructure the narrative is that… they are targeting trans babies of colour for genocide. I guess when you start off by claiming that the other side is full of genocidal and irrational monsters there's really no way to rhetorically escalate.
Zelenskiy said the strikes had two main targets: energy infrastructure and people.

"Such a time and such targets were specially chosen to cause as much damage as possible," he said in a video message filmed on a mobile phone on an empty central Kyiv street.
Were they supposed to target areas that didn't cause the most damage possible?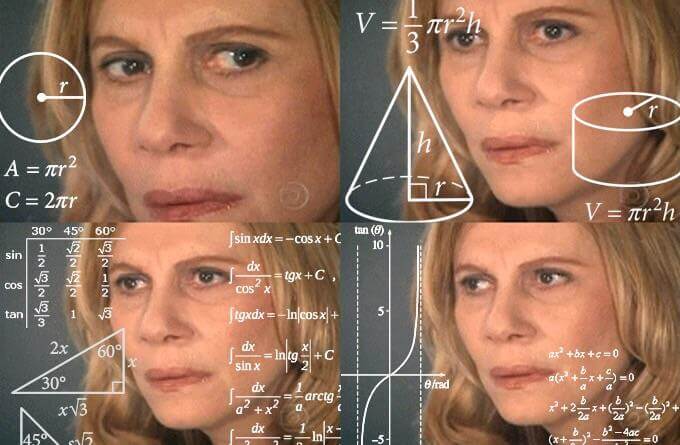 According to Zelensky, yes. He's gotten used to them showing far more restraint, and he's now going to have to explain to people why they don't have any heat or electricity just because it was really important to ban Russian ethnics in the eastern part of Ukraine from speaking Russian in their own homes. Why it was so important to deny these people the right to self-determination that he thinks entitles Israel to racially cleanse and murder Palestinian goyim.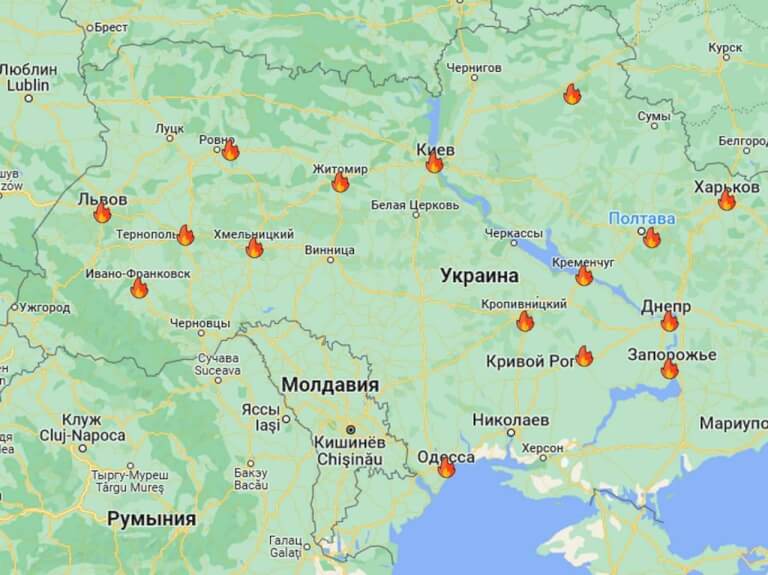 The areas hit by these strikes are marked in the above map. I can't read this language, but in English the names for these cities are below.
Battlefield Insights Telegram:
Preliminary targets of missile strikes on Ukraine according to OSINT and telegram channels 

The following cities were hit:

– Kyiv 

– Dnepropetrovsk 

– Kharkiv 

– Zaporozhye 

– Ternopil 

– Odessa 

– Krivoy Rog 

– Lviv 

– Zhytomyr 

– Rivne 

– Nikolaev 

– Krapivnitsky 

– Kremenchug 

– Konotop 

Attacks on critical infrastructure: 

– Glavk SBU (Kyiv) 

– CHPP-5 (Kyiv) 

– CHPP-6 (Kyiv) 

– Lvovskaya CHPP (Lviv) 

– Burshtynska TPP (Ivano-Frankivsk region) 

– EU Advisory Mission (Kyiv) 

– Department of Law Enforcement Agencies (Kyiv) Kyiv and Kharkov 

Total loss of power: 

– Lviv 

– Zhytomyr 

– Sumy 

– Kharkiv 

– Khmelnitsky 

– Poltava 

– Ternopl 

– Lutsk 

Partial loss of power and full/partial loss of water supply: basically all over Ukraine. 

Source: various Russian media, telegram channels, Ukrainian media and user reports 

t.me/battleinsights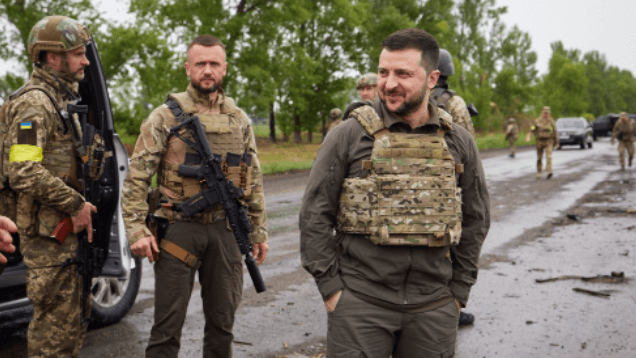 As always I hope that this war ends as soon as possible. More and more I believe that this is not in the cards. Of course, this could all have been avoided by simply agreeing to Russia's plan for autonomy in the Donbas region, but that wouldn't have lead to the highest murder of White People and the most money stolen by the Military Industrial Complex. And that just wouldn't do.