Let's start with the unambiguous schadenfreude. 
Don Lemon was terminated from his anchor role at CNN, he announced Monday.

The news comes after Variety published a story earlier this month on allegations that he mistreated his female colleagues over the course of his career there. And earlier this year, he faced backlash over widely criticized comments he made on-air.

Lemon announced the news on Twitter, saying he was informed by his agent that he was being terminated.

"I am stunned," Lemon wrote. "After 17 years at CNN I would have thought someone in management would have had the decency to tell me directly."
That's so saaaaaaad. Bet that really hurt, didn't it?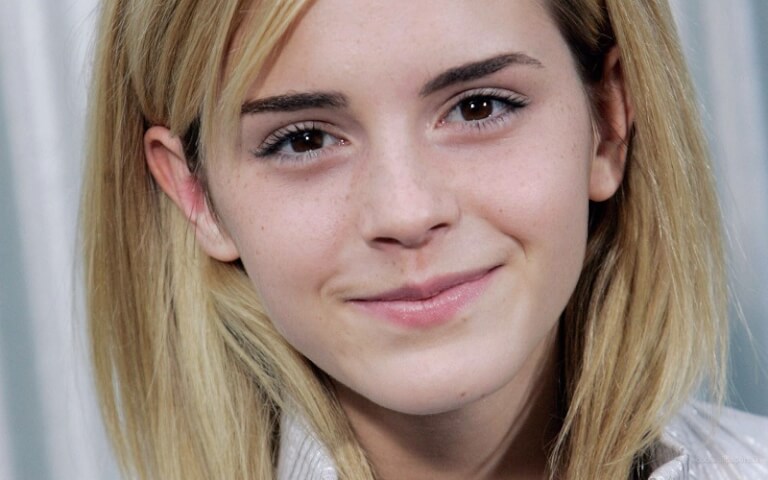 Someone reposted his tweeted out statement in the Daily Rake telegram chat. I thought it was fake. After all, Don Lemon was a long time CNN contributor, and while he was anti-White, annoying, and unwatchable, with terrible ratings, it's not like (((CNN))) is run for financial profit. To see them holocaust him so suddenly, combined with his delicious tears on twatter, seemed too good to be true.
Lemon has been with CNN since 2006, joining the network after anchoring at NBC Chicago and working as a correspondent for NBC News, the "TODAY" show and "NBC Nightly News."
It seemed fake, but it wasn't.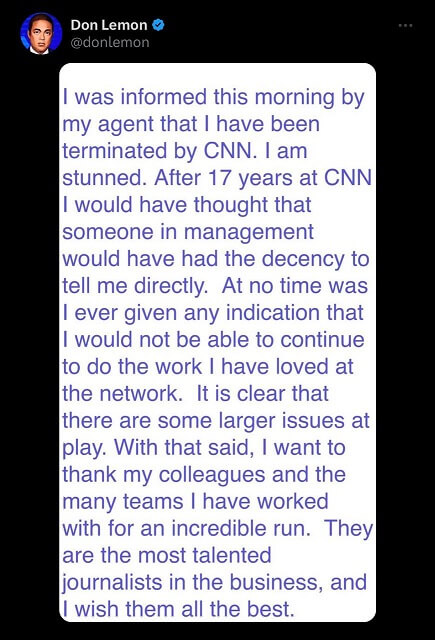 The comments are unanimously celebratory.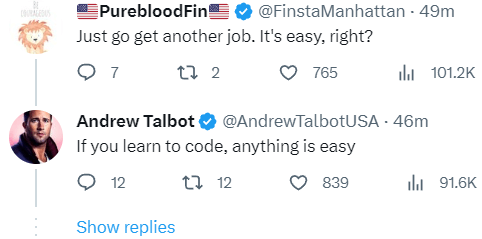 Jebus makes a good point. 

Lemon is indeed spreading disinformation in his bio. If Elon Musk wasn't a complete and utter faggot 55 year old billionaire who spends all his time memeing on twatter he'd holocaust Lemon's account while talking about how important twitter is taking disinformation. 

Let's take a look at that book.

Actually, let's not, and move on to the main course.
NEW YORK – 

Fox News said Monday it has "agreed to part ways" with Tucker Carlson, its popular and controversial host, less than a week after settling a lawsuit over the network's 2020 election reporting.

"We thank him for his service to the network as a host and prior to that as a contributor," the press release from the network said.

Carlson became Fox's most popular personality after replacing Bill O'Reilly in Fox's prime-time lineup in 2016. He's also consistently drawn headline for controversial coverage, including most recently airing tapes from the Jan. 6 Capitol insurrection to minimize the impact of the deadly attack.
Carlson isn't just Fox's most popular commentator. He is the most popular news personality in the entire world, by far, and his show is regularly the most watched show of any kind in America for any given week.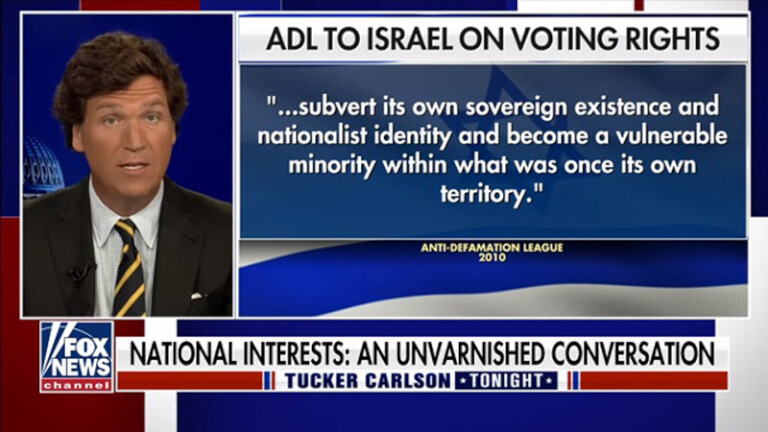 Clearly, people like what Tucker is selling. I don't, since I've believed for years that he exists as a fake populist, but even then he's undeniably done some great journalism, such as the recent coverage of Jan 6th. Previously he did a great expose on Republican mega donor (((Paul Singer))). You know you're over the target when Republicans are criticizing you. 
There was no immediate explanation from Fox about why Carlson was leaving. A text message to Carlson seeking comment was not immediately returned.

Fox agreed last week to pay Dominion Voting Systems more than US$787 million and acknowledged that some of its reporting following the 2020 election — which allowed former U.S. President Donald Trump's aides to amplify false charges of election fraud — was incorrect.

But that reporting mostly concerned other shows, not Carlson's. His name did come up during the case, primarily because of email and text messages that were revealed as part of the lawsuit.
Orange Faggot is completely fake. However, the (((Democracy Class))) hates him because he talks about real issues, instead of fake, time wasting nonsense. Tucker Carlson is much the same way. He's very far from our guy, but the (((ADL))) and others still very much want him off the air.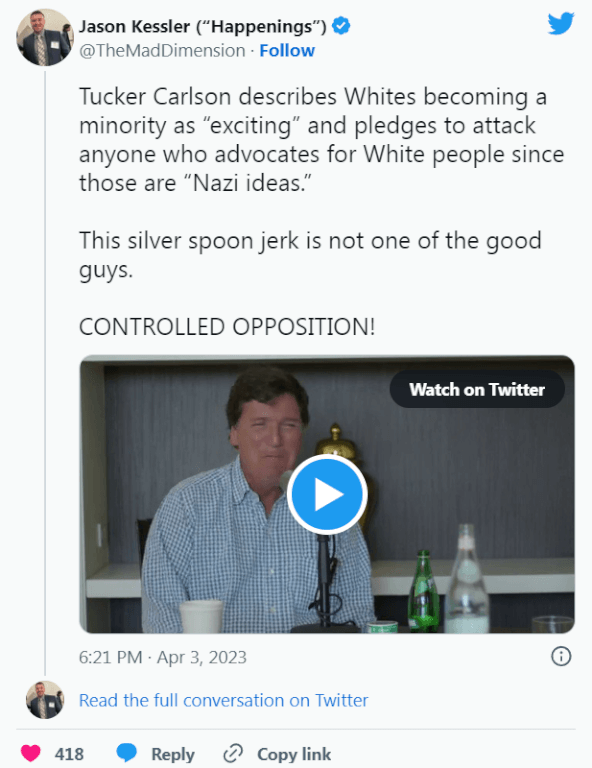 And to paraphrase Eric Striker, they're dancing like it's 911.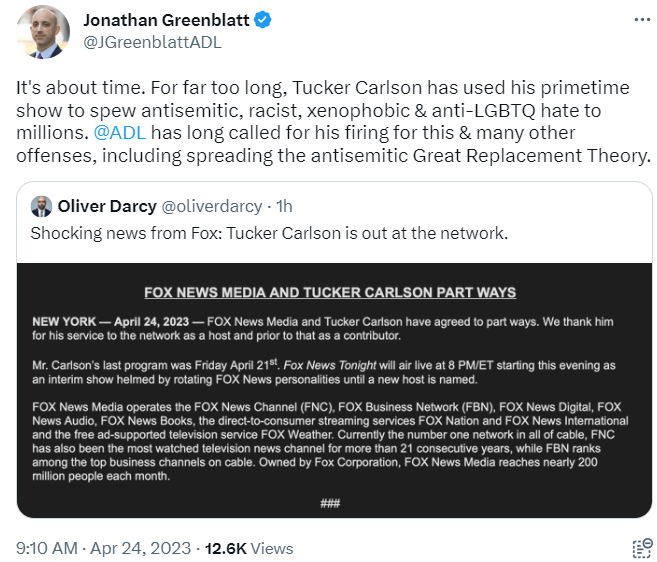 What will happen with Tucker Carlson? No one can know for sure. I doubt that he'll be the next Bill O'Reilly, the previous Fox Jews primetime fag, who called a Black woman "hot chocolate," or something like that. Sean Hannity, Bill O'Reilly, Glenn Beck, these are all replaceable fags who would truly be nothing without Fox. Carlson has a serious audience, who will probably follow him wherever he goes. And once he's out there pushing only somewhat kosher populism, Fox's relevancy will be as far in the rearview mirror as Buzzfeed's.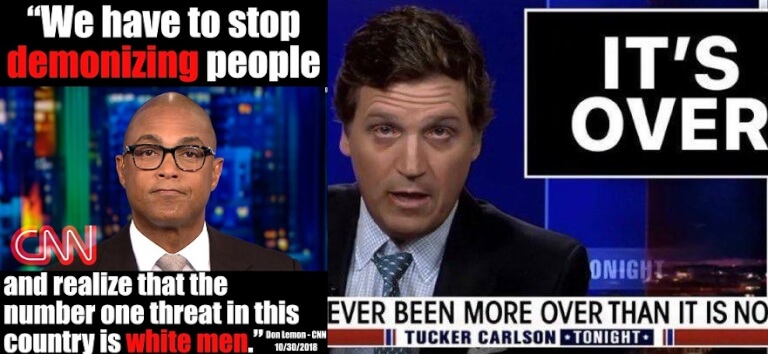 Maybe Carlson will start his own online show, or even news network. Maybe they'll dredge up some sex scandal. Maybe he'll run for president. Who knows? Five years ago I would have been outraged by this. Now I'm mostly just a passive observer. The Democracy Class is making some moves, and you don't have a seat at the table.