You may know Pierre Poilievre as the transparent shill who is constantly touted as a freedom loving "populist" firebrand.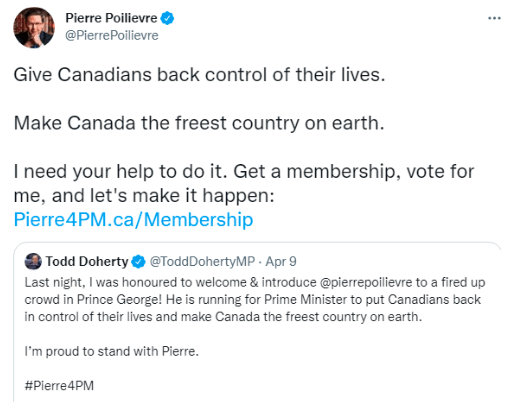 Let's take a look at the Freedom Squad that he's assembled around himself. Today we focus on John Baird.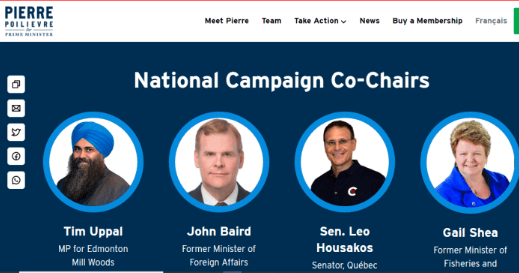 I first stumbled upon John Baird a few years back when writing a story about the consubversatives takedown of Derek Sloan. My disgust was purely visual, at first.
He caught my eye in part because of the quote I saw from him on Derek Sloan's cartoonishly stupid eviction from the Cuck Party.
"I've worked well with many social conservatives in our party over the years. They are welcome in our party, but Derek Sloan's behaviour is not," wrote former Conservative cabinet minister John Baird on social media this week.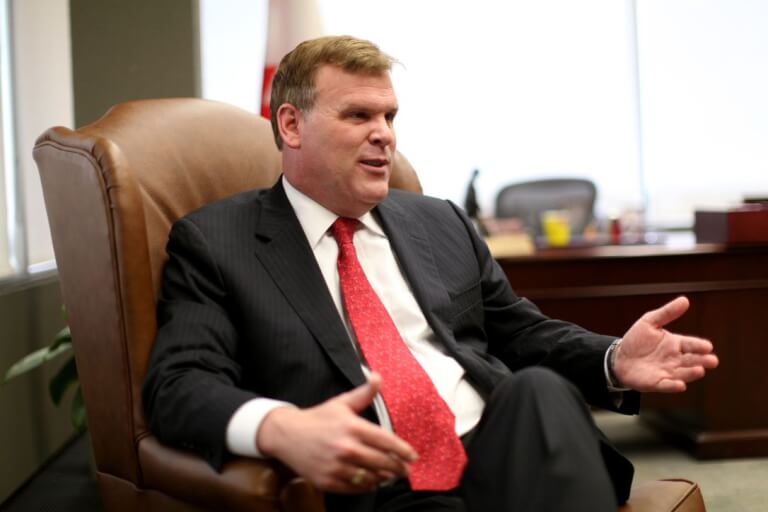 My Pedo-Dar was beeping at me. He looks even more gross than that Republican guy who was favouriting instagram pictures of fags talking about getting pegged or whatever.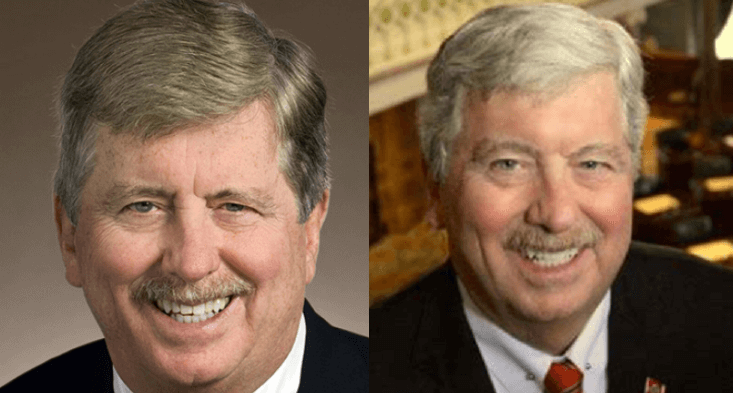 I've had a few false positives, it's not 100%. But what I could guarantee, even at the time, was that any consubversative denouncing Derek Sloan for being a "social conservative," would be an absolute shill for Yidsrael and a whore for whichever billionaires give him his next check. 
John Baird is a Senior Advisor to various enterprises and a former Senior Cabinet Minister in the Government of Canada.

An instrumental figure in bilateral trade and investment relationships, Mr. Baird has played a leading role in the Canada-China dialogue and worked to build ties with ASEAN countries. In addition, Mr. Baird has worked closely with international leaders to strengthen security and economic ties with the United States and Middle Eastern countries.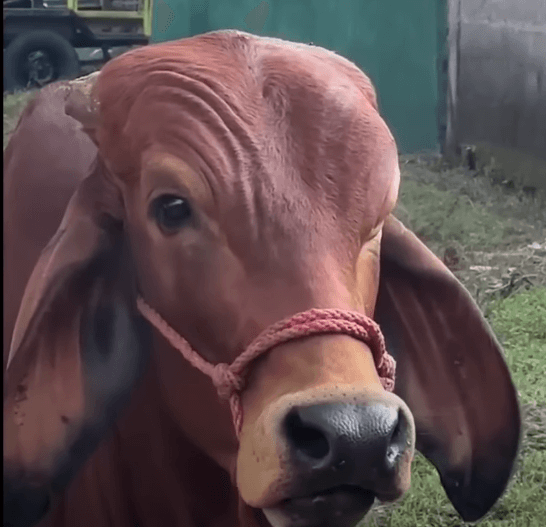 You may be wondering why his bio is on the website of Canadian Pacific, a rail corporation. Skim the rest and you'll probably get it. 
A native of Ottawa, Baird spent three terms as a member of Parliament and four years as Minister of Foreign Affairs. He also served as President of the Treasury Board, Minister of the Environment, Minister of Transport and Infrastructure, and Leader of the Government in the House of Commons. In 2010, he was selected by MPs from all parties as Parliamentarian of the Year. Prior to entering federal politics, Mr. Baird spent ten years in the Ontario Legislature where he served as Minister of Community and Social Services, Minister of Energy, and Government House Leader.

Currently, Mr. Baird serves as a Senior Business Advisor with Bennett Jones LLP, a premier Canadian law firm. In addition, Mr. Baird sits on the advisory board of Barrick Gold Corp. and the corporate boards of Canadian Forest Products (Canfor, as Chair), the FWD Group (former ING Insurance Asia), PineBridge Investments (former AIG Investments), and Osisko Gold Royalties Ltd. He also serves as a Senior Advisor at Eurasia Group, a global political risk consultancy.

Mr. Baird also volunteers his time with Community Living Ontario, an organization that supports individuals with developmental disabilities, the Prince's Charities, the charitable office of His Majesty King Charles III, and is a board member of the Friends of Israel Initiative. He holds an Honours Bachelor of Arts in Political Studies and an Honourary Doctor of Laws from Queen's University at Kingston.

* Chair of the Corporate Governance, Nominating and Social Responsibility Committee and member of the Risk and Sustainability Committee.
In short, he's a complete and utter member of our parasite class who sits on the board of the "Friends of Israel" Initiative. When he's not doing that, he's vaguely a part of about a dozen other corporations. He is a man of the people, whereby "people" I mean billionaires with dual citizenship.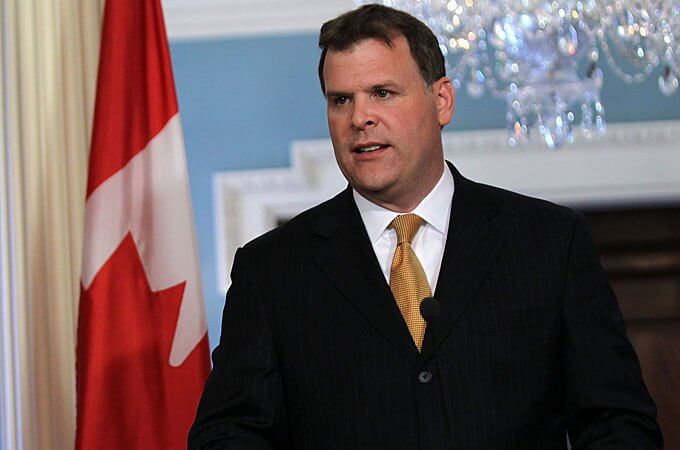 I've always loved the implication that these career politicians are secretly these renaissance men with all these different talents. This guy is the Transport Minister, the Environment Minister, President of the Treasury, Leader of the Government, and sits on a dozen corporate boards. Imagine having so much experience that you can do all those jobs to a high level. Then imagine having literally no experience and doing them anyway because that's how politics actually works. It's not like we've got actual geniuses running things.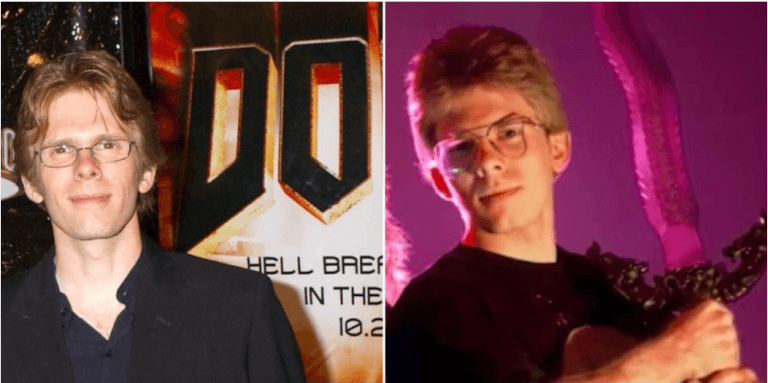 John Baird is one of these guys who's always just sort of there. He was "Environmental Minister," for a year, then Transport Minister while the Conservatives were the minority party. Then when the Consubversatives won in 2010 he got a vague "Cabinet Minister," job. I don't even know what that means other than that he's a member of the club that you're not invited to. 
You would think from that little blurb on Canadian Pacific's website that he was out of politics now. Indeed his Wikipedia page also lists him as retired. That could indicate that he's a reliable little shill who can always be counted on to say something subversive. But that would underplay his importance. The truth is that he's just as important now, being out of politics, as he was when he had an official position. That's why it didn't matter that he was a "Cabinet minister," with no official position. He's a company man, as long as that company is Moisha's Israel Emporium.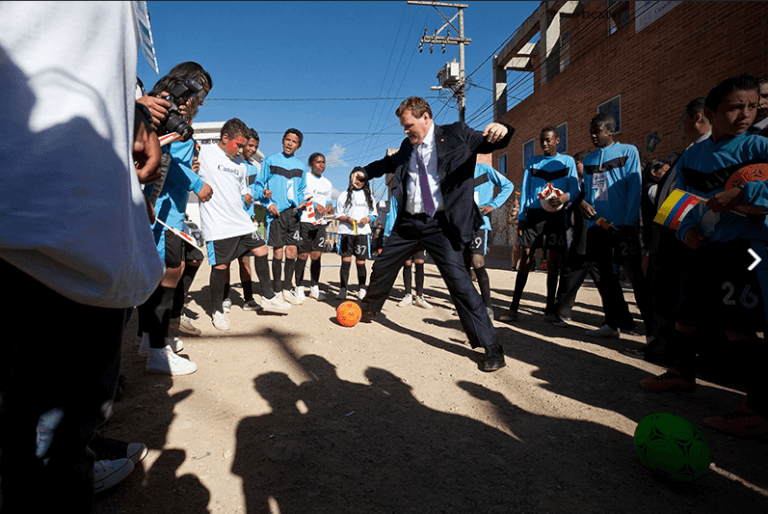 The picture above, found on his website, sums up this fag quite nicely. Look at all these diverse urban youths of colour! John Baird is taking a hammer to the outdated notion of the stuffy old White Man Conservative. Look at him playing soccer with a bunch of brown kids. Hip!
The kids are obviously disinterested, which makes it all the more odd that he proudly shows off this picture. Anyway, his site links to his twatter account, and this is literally the second tweet from the top.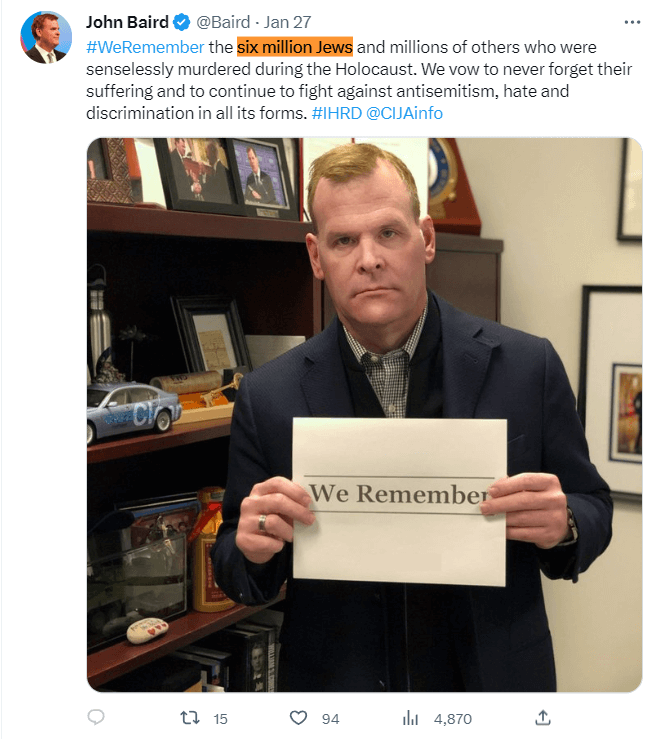 No, really. Six million piles of shoes, Goyim. You'd have to have some dirt on you to shill this hard for Schlomo and the Rabbis of Zion. It's all he uses his twatter account for.

Getting back to his site, we can see him below finishing some deal with the Obama Administration that 100% did not benefit Canadians in any way. I have no idea what specifically is happening in the picture, nor do I care to find out. It can simply be assumed that his donors are being serviced at your expense.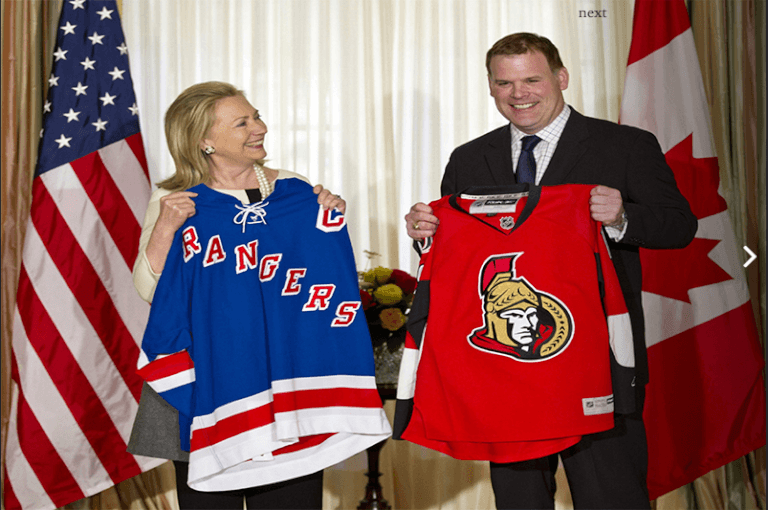 It's amazing how I can't find a single picture of him on his own website, where he doesn't look like a total creepy asshole. 
WJC's young Jewish Diplomats addressed by former Canadian FM John Baird at Toronto training session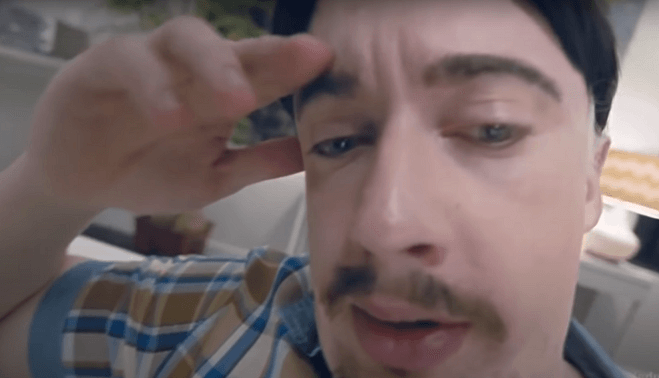 Former Canadian Foreign Minister John Baird addressed a group of World Jewish Congress' Jewish Diplomats (JDs) in Toronto on Sunday, for an off-the-record conversation together with the Canadian Center for Israel and Jewish affairs.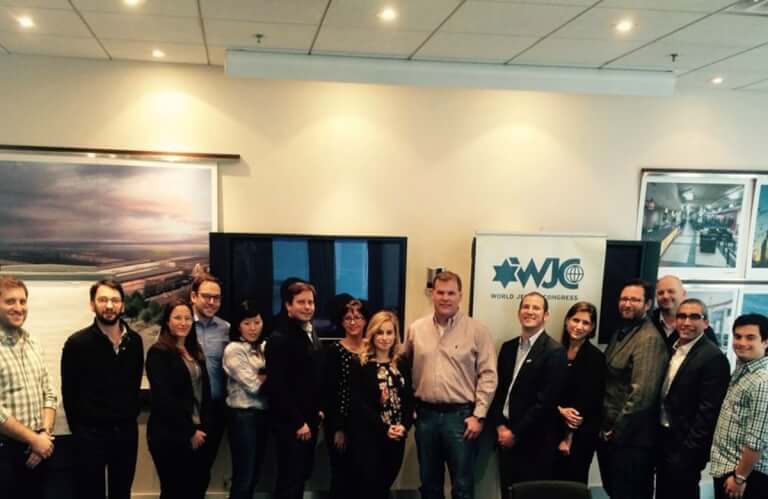 I'm sure the reason their conversation was off the record was because the things they were going to say were going to be so damn popular that it would make the Goyim look bad. Definitely not because Baird was promising them "oh yeah, I'll send lots of goyim to die for your ethnostate," and they were saying "on your knees before I give you this $10,000.00 cheque you fucking goy-whore."
Ten members of the WJC's flagship Jewish Diplomatic Corps (JDCorps) program and three members of CIJA's young leadership program gathered in the Canadian city for the day-long session aimed at providing them with a practical training module on diplomatic engagement.

Baird's address focused on his views on Israel, Iran, the Boycott, Divestment and Sanctions movement, and issues pertaining to the United Nations and international diplomacy.
The center for Yidsrael and Heebish Advocacy don't want their views on the Jew Ethnostate of Israel, the nation of Iran, or the popular Boycott Divest and Sanction movement made public. That's so damn odd. Must be because they have really popular and democratic views.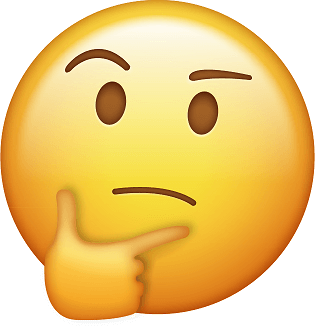 Those Jews, always looking out for the Goyim when making secret backroom deals with politicians. Thank God this is what is popular in the Consubversative Party of Canada. I would hate for them to switch their attention from backroom off-the-record talks with Jew Supremacists to ending racial discrimination against White People or stopping Child Trannies.
But hold on a second. Because Pierre Poilievre said something really profound and inspiring in his campaign announcement speech. It was all freedom this and freedom that.
That's why I'm running for Prime Minster. To put you back in charge of your life. Together we will make Canadians the freest people on earth. With freedom to build a business without red tape, or heavy tax.

Freedom to keep the fruits of your labour, and share them with loved ones, and neighbours. Freedom, from the invisible thief of inflation. Freedom, to raise you kids with your values, freedom to make your own health and vaccine choices. Freedom to speak without fear, and freedom to worship god in your own way.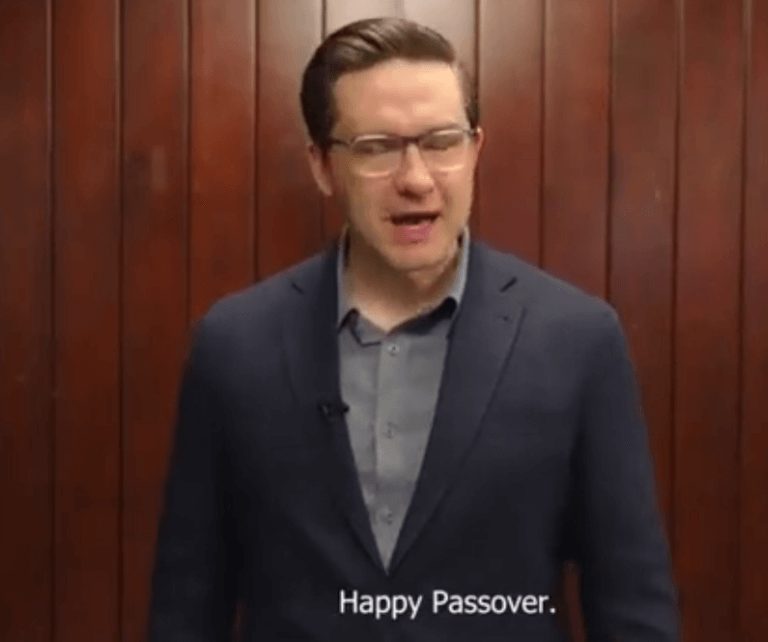 Freedom freedom freedom. We've got freedom out the yingyang Goys. It's just neverending freedom over here. 
Say one thing about Pierre Poilievre, say that he loves freedom. He would never hire someone who got paid to take away your freedoms, would he?
In 2018, Baird became a Director with CIJA, the Centre for Israel and Jewish Affairs. He has long been a supporter of the organization. This is a lobbyist group that attempts to change policy in Canada. What's disturbing is what CIJA lists in terms of its political influence.

Hate speech and internet-based hate: For Canada to adopt policies – either/and through legislation or policies adjustments that will provide measurable standards for internet-based dissemination of hate speech, including explicit provisions within the Crimical Code and/or the Human Rights Act.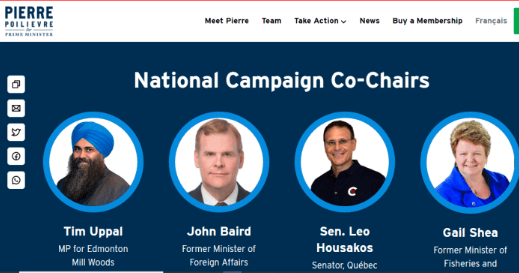 It seems completely incongruent that people who claim to value freedom would be so willing to water it down under the guise of fighting hate speech.

Poilievre and Baird are also silent about Bill C-250, a Private Member's Bill that would criminalize Holocaust denial. Not only would this be a criminal offence, but it could result in prison time. This came from "Conservative" M.P. Kevin Waugh.

Waugh was lobbied by CIJA recently before introducing this Bill. It's fair to assume that these are the people pushing for it.
You can read about that here.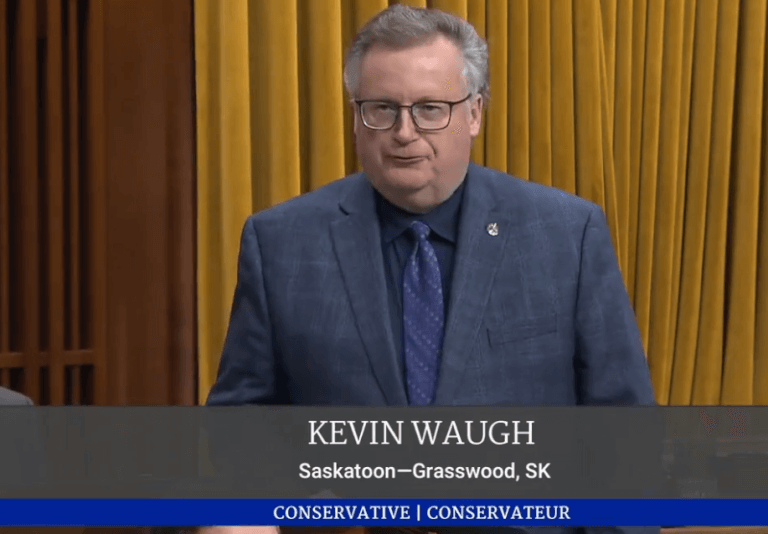 Consubversatives. They love freedom so much that they can't do anything about trillion dollar multinationals censoring you. Sorry, Goy, freedom ties our hands.
Oh but Schlomo wants you thrown in jail for fact-checking, or even "downplaying" the lampshadocaust? Get to steppin, Goy. Freedom can wait this time.