I had to rely on Google Translate for this story. You'd think that a protester getting shot at by the police with the intent to kill would be international news. Well it is, but it's not good propaganda from the perspective of our (((privileged class))), so they're not going to write about it.
The blockade in Heerenveen is over, in Drachten tractors again gathered at a distribution center on Wednesday morning.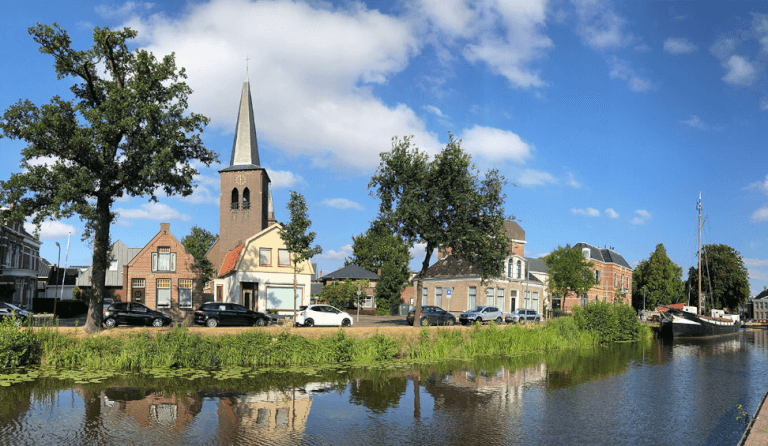 Heerenveen is a Dutch town with a population around 50k, according to Wikipedia. I don't know much more about it than that.
The police aimed at activists in Heerenveen on Tuesday evening. Several warning shots were also fired.

This happened near the ramp to the A32 highway, near the Mercurius, around 10:40 PM. According to the police, tractor drivers tried to drive into police officers and police cars.

The situation was threatening, police said. Warning shots were fired and targeted shots were also fired. A tractor has been hit. A tractor drove away and was stopped shortly afterwards on Jousterweg. Three people have been arrested.

No one was injured in the shootings, police said just after 11:30 p.m. on Tuesday evening. The area is closed for investigation. Because a police officer fired shots, the National Criminal Investigation Service was called in to conduct an independent investigation. This usually happens in such situations.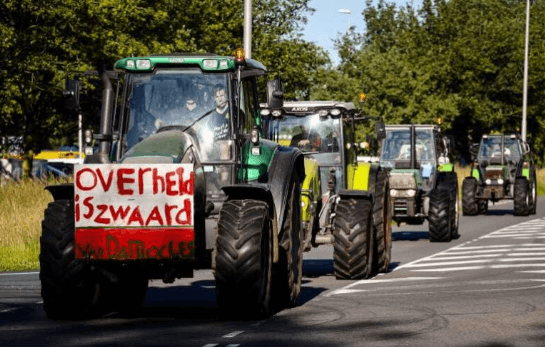 The Dutch Trucker protest appears similar to the Canadian trucker protest, but better. I don't mean to dismiss the Canadian truckers, and I tepidly supported them at the time, but I never had much hope that it would amount to anything politically.
Many images of the police action in Heerenveen are circulating on social media. There were also incidents on the A7. Caroline van der Plas of the BBB political party wants an emergency debate following the shooting incident.

A little earlier in the evening, Mayor Tjeerd van der Zwan had issued an emergency order. This order, until nine o'clock on Wednesday morning, applies to business park IBF on the northeast side of Heerenveen.

The reason is the blockades on Monday and Tuesday and "serious fear of disturbance of public order and serious fear of disorder," explained Van der Zwan. The distribution centers of Lidl and Spar are located on the IBF (south of the A7) motorway. Transport company Bakker Group is also located here. These three companies were blocked on Monday and Tuesday.
Tjeerd Van Der Zwan certainly sounds Dutch to my untrained ears. Here's what he looks like.
I can't pretend to be too informed on what's going on here, but I strongly suspect that we've got a Globo Homo enjoyer here who was abusing the population through the police. The language barrier prevents me from doing much more research on this cunt himself though.
Who were the cops shooting at anyway?
Jouke, a 16-year-old teen that was shot at by Dutch police officers late Tuesday night, has just been freed.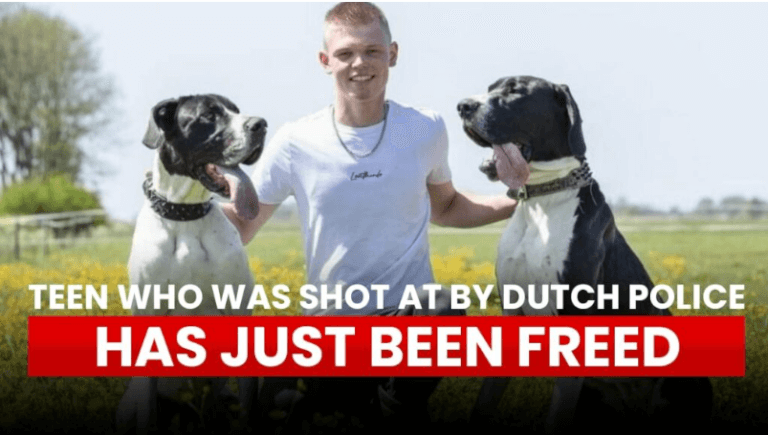 All I can find of this guy is that he goes by Jouke. No last name was given. Or potentially no first name, I don't speak enough Dutch to know which is which. In any case, the police shot at a sixteen year old protester in what was clearly not a life threatening situation.
Before being released, a massive crowd of Dutch farmers and protesters rallied outside the police station holding him to protest the arrest.

Indeed, farmers and other protesters showed up in droves, with tractors lining the streets and people crowding the sidewalks. Signs to Free Jouke have been seen across the country, and police have been under extreme pressure.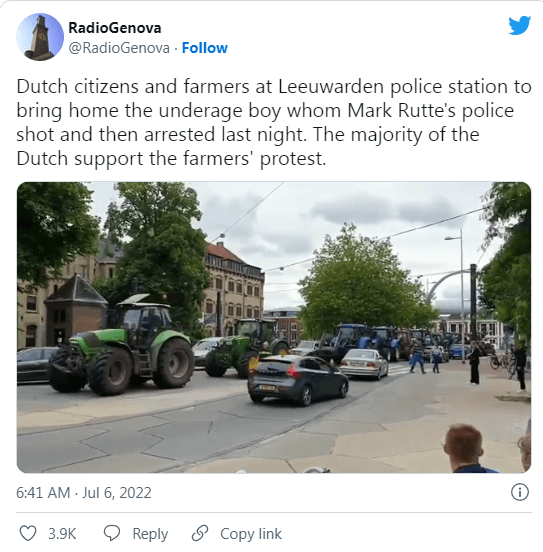 It's not hard to see why. Jouke is alive only because the cops accidentally shot a part of his tractor that isn't glass. This shooting happened at night, and was done on a moving tractor, so it is beyond unlikely that the cops intentionally shot that tiny little strip.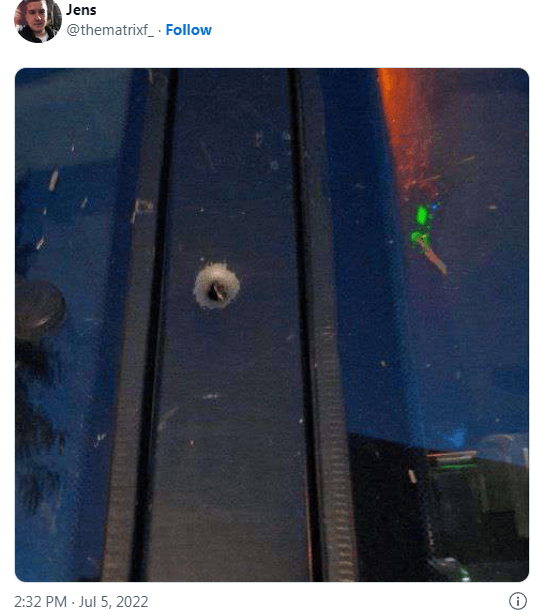 What's more, if they did intentionally shoot that part of the tractor, then it obviously wasn't a life threatening situation.
As previously reported by The Counter Signal, the incident occurred late last night at roughly 11:30 pm (GMT).

Police claimed that the teen attempted to ram into police and vehicles with a slow-moving tractor before the officers opened fire on him, admitting that "targeted shots were fired."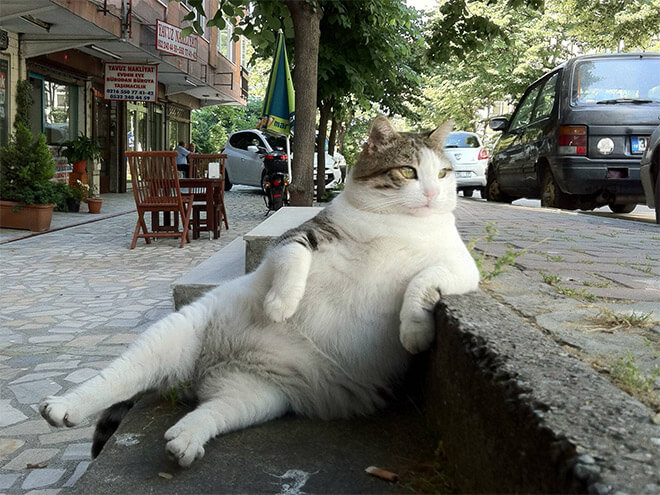 The security cameras have shockingly high resolution footage of this horrible event. Turns out Jouke had gone on quite the low speed rampage in his tractor.
"At about 10:40 pm, tractor drivers attempted to drive into officers and service vehicles. This happened at the entrance Mercurius/A32 in Heerenveen. A threatening situation arose. Warning shots were fired, and targeted shots were fired," Politie Fryslân tweeted following the incident. [translated from Dutch]

"A tractor was hit. A tractor drove away from the incident and was stopped shortly afterwards on Jousterweg. Three suspects have been arrested. No one was injured. The road is currently closed for the investigation."

However, video from the scene tells a different story, and it's clear that Jouke was attempting to leave the protest before the shots were fired and was several meters from the officers. He did not appear to pose any risk.
BREAKING: SHOTS FIRED AT PROTESTERS BY PRIME MINISTER RUTTE'S OFFICERShttps://t.co/363xQ40wUR pic.twitter.com/dwfz4P6Lyq

— Keean Bexte 🇳🇱 (@TheRealKeean) July 5, 2022
Oh, nevermind. I was sure that Austin Powers clip was the real footage. Instead it turns out the blue antifa shot at a bunch of White People protesting. Who could have predicted this?
The police's actions come after several municipalities declared emergency ordinance orders, bestowing upon police unprecedented powers to deal with protesters blockading food distribution centres.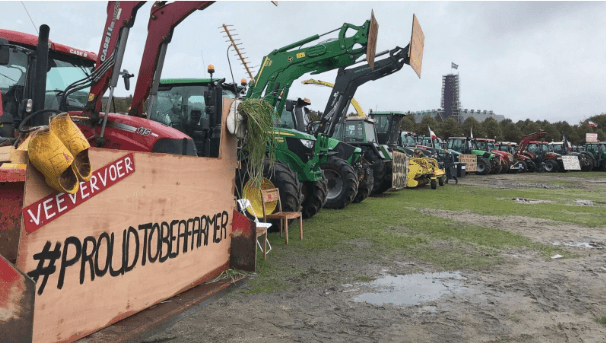 I'll do my best to cover this protest as it happens. The police outright shooting at the citizens, let alone an unarmed sixteen year old leaving the protest, is definitely an escalation. Good on these farmers for getting out there and protesting.