I promised an update on the Tranny Pedo Hour happening in Kelowna not this upcoming Saturday, but the one after. The propaganda pieces I read mentioned some petition, but that had been holocausted by the time I got around to writing about it. Anyway, let's meet our groomers.
A drag queen has spoken out after a Kelowna woman started an online petition against the return of Drag Story Time at the Okanagan Regional Library, downtown Kelowna.

The petition calls on Kelowna's mayor and council to stop supporting or funding these types of events.

At Story Time's last show, in 2019, protesters gathered outside the Okanagan Regional Library to denounce the exposure of children to drag performers.

Freida Whales, drag queen and activist, spoke to Capital News about the controversy surrounding their upcoming performance.
Okay let's look at this Freida Whales and see what's up.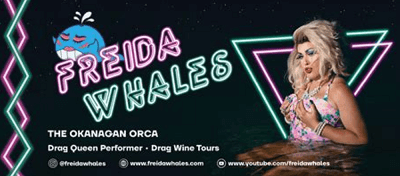 I'll just tell you now, this is going to be one of those stories where all of your biases are confirmed except for the pedophilia charges.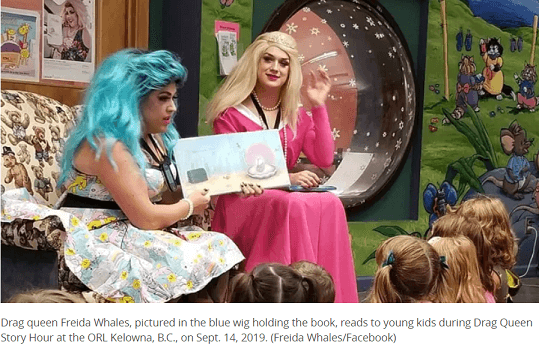 Those will undoubtedly come later.
"Drag story time is intended as a fun program where a colourful character (myself) comes dressed up to read stories to children and families. It is about inclusivity and understanding, and the stories I plan on reading are based on just being yourself and the acceptance around that," said Whales.
Just being yourself? Buddy, you're a man.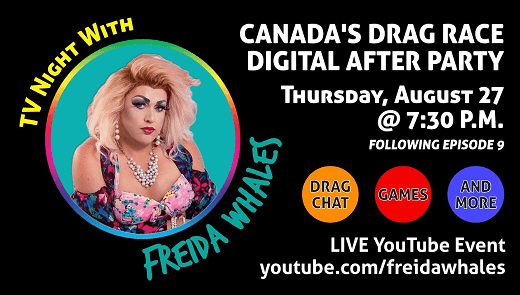 Doesn't anyone see this I feel like I'm taking crazy pills.
Kelowna has had residents speak out on all-ages drag shows in the past.

A group of protesters showed up on Dec. 7 outside DunnEnzies on Lakeshore Road to protest the all-ages drag show taking place where there were children in attendance.

Baird's petition has gathered more than 2000 signatures as of Jan. 16.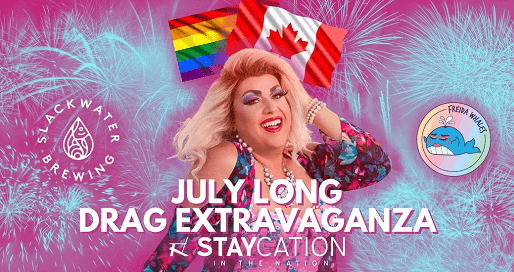 Baird's petition was signed by at least 2,000 people. Probably many more people before it was utterly holocausted. Change.org took it down, but left this replacement up.
It is with great sadness and disappointment that I have seen the recent petition in Kelowna to end Drag story time and other family friendly LGBTQ+ events. People opposed to these events unfortunately do not understand that exposure to LGBTQ+ entertainment only serves to enlighten young people that there are many ways to live a happy, fulfilled and fun life. Family friendly Drag events provide opportunities for children to be exposed to different ways of living. They do not involve sexually explicit material, but serve to demonstrate different ways of being in this world through art, clothing and expression.

As a tax payer of Kelowna, I hope the Mayor and City Council continue to support events that encourage a variety of diverse representation including people from the LGBTQ+ community, different ethniticities and various cultural backgrounds.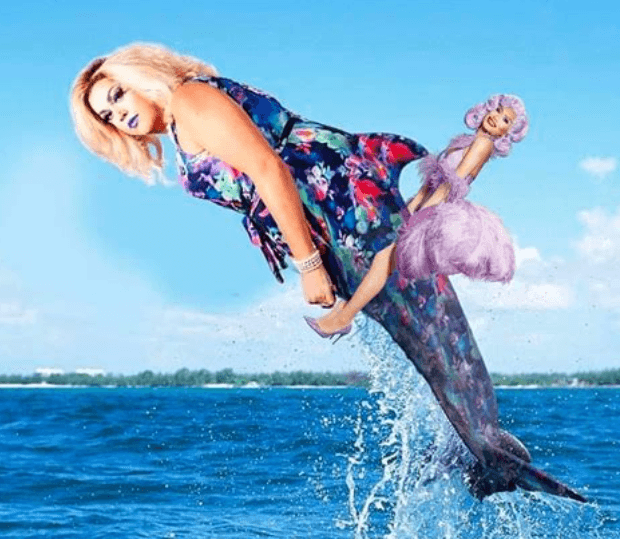 Thank you Sydney Richardson-Carr. Anyway the top comment is from Crystal Grymaloski.
As a child who grew up in a very controlled environment with no/limited exposure to anyone different than the typical white settler evangelical subsection of society, I had to actively dismantle incorrect thoughts and beliefs and unlearn unnecessary hate as an adult. I am hoping that my city will continue to offer programming that is fun, inclusive, educational, and safe such as drag story time. I am a firm believer that choice is important and this is no way steps anyone's liberties. It's more so the censure of such things that impede freedom and inclusivity in society.
Why does it feel like I'm reading someone doing a parody of a dystopian sci-fi novel?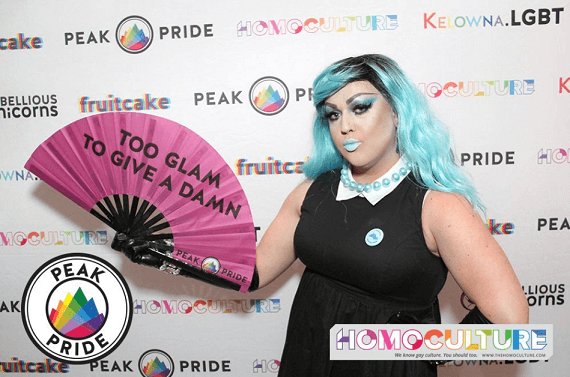 Well that's just the world that we live in. This happens often these days.
Library CEO Don Nettleton also wrote a letter to the board, warning that the event will offend a significant segment of society.

He recommended that the board approve a policy that programs for children should be "acceptable by the bulk of society (aimed at the middle of the road) to avoid controversy and be as well accepted in the community as possible."

However, this view has divided the library's management team.

The library board is holding a meeting on Nov. 20, and is scheduled to decide on whether or not to enact a policy that could stop events like Drag Queen Story Time.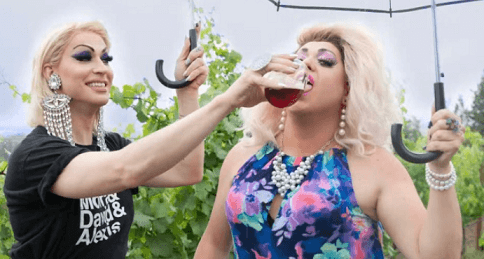 This story is from November 19th, 2019, and is back when the first Pedo Tranny Hour event was being held. Let's see what the outcome of that library meeting was.
Don Nettleton, the ORL's chief executive officer, had suggested the board issue specific guidelines to branches on what kind of children's programming is appropriate. He wrote that Drag Queen Storytime "will be offensive to a significant segment of our society."

But, not only did ORL board members, made of politicians from Okanagan towns and cities, not accept Nettleton's suggestion, he was directed along with all senior staff to "take sensitivity and diversity training," according to a release from the ORL after the board meeting.

"Drag Queen Storytime is inappropriate for their age, needlessly divisive to the community and deviates from the board's main purpose of early literacy encouragement in a safe and neutral environment that everybody in the community will find acceptable," Nettleton wrote in his letter to the board.
They made him take "diversity and sensitivity training." But he did stick to his guns.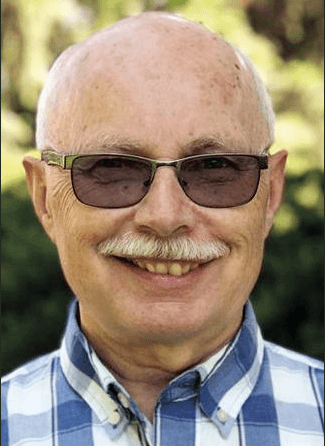 Very based Mr. Nettleton. Unfortunately he retired in September of 2022, but our best wishes towards him.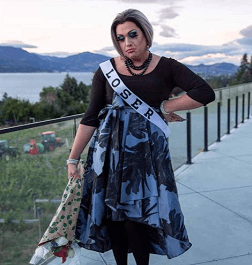 Anyway, the main pervert, Freida Whales, has too many insane pictures for me to post them all. He also has a "Mukbang," video. If you don't know what that is, read this piece of mine on Nikocado Avocado. But in short, it's binge eating on camera.
So the children can see the trannies reading stories, which they never asked for. The adults can watch the fake women binge eating Taco Bell, which we never asked for. It's a family-friendly drag show.
Freida Whales is often seen with another groomer, Brooke Lynn Hytes. I was going to write something else, but it's just another pervert. There's not much to say that hasn't been said a thousand times already. 
BTW I started the above video a few seconds before Frieda Whales starts dancing. Here's a screencap, although the crowd's total lack of energy is more apparent in motion.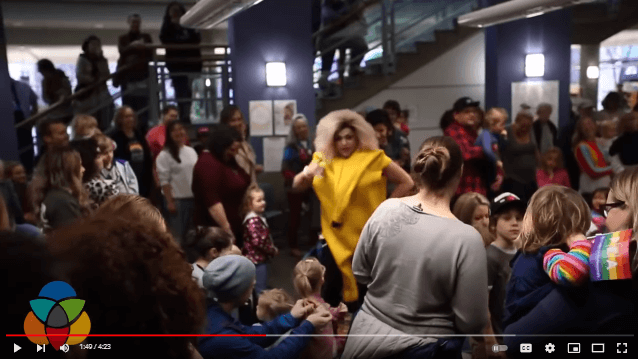 That's an underreported aspect of the whole groomer story time project. The kids don't like it. They don't want these scary creeps around them. They just want a normal woman reading to them. Not one of these things.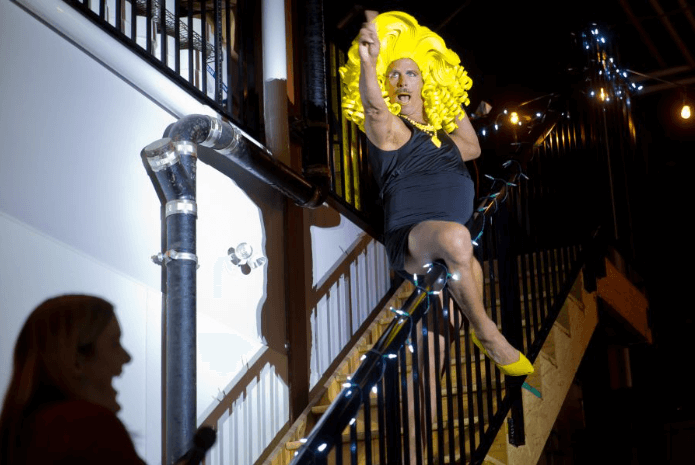 And another underreported aspect of all this is how gross and overweight most of these creeps are. I got the above image from an article about a groomer event that Freida Whales had put on. It had this one great bit.
And there was the Okanagan's oldest performing drag queen. She calls herself Sophonda Dick.
buT We'RE NoT SeCXuAliSZinG ChiLDRenE
She's 70 years of age and coincidentally has been performing drag since the 70s.

"She made it possible for all the drag queens in the valley to be drag queens," said Whales.

"Way back when, she was running from mobs of people trying to kill her. Her dad outed her and tried to electro-shock therapy the gay out of her.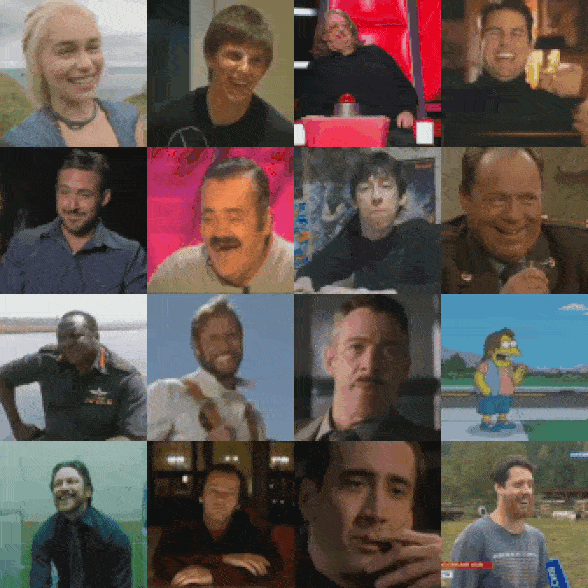 She's literally the inspiration for all the local drag queens."
I can't even imagine being so delusional that I'd put these kinds of images out there with my name attached to them. Look at the above image. Now, understand that they're putting out this viscerally repulsive groomer as the face of their brand.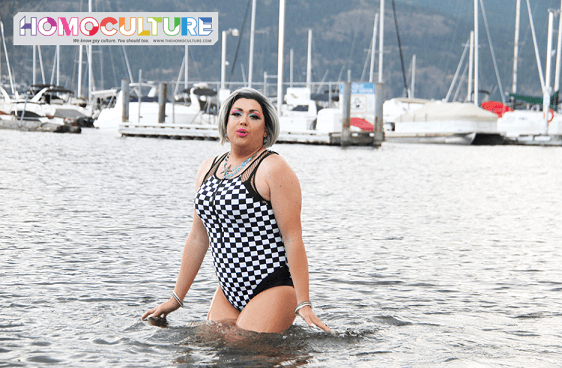 Anyway, these people are horrorshows who want access to your children. 
A Kelowna woman's petition against a forthcoming drag event geared towards children was removed after the platform hosting the petition called the woman's message "hate speech."

Baird says the petition reached nearly 2,500 signatures before change.org removed it.

"We're writing to let you know that information you've included in your petition has been identified as hate speech," reads the memo provided to the Western Standard.

"We don't allow content that attacks or maligns an entire class of people based on characteristics such as their age, colour, disability, ethnic origin, gender identity, nationality, national origin, race, religion, sex, sexual orientation, medical condition, or veteran status. As such, we have had to remove your petition."
It can get tiring to point out but crybullying is these people's default for everything.
It's a shame I couldn't get anything going in terms of municipal elections in BC last year, because, while it's not much, you can at least put an end to these kinds of things. In any case I hope there's a good local protest for these things, pass out some fact sheets about STDs and prolapsed anuses and enjoy yourself. Remember, for all the positive propaganda these people get, everyone hates them.