CTV:
A series of protests against Drag Queen story hours in recent weeks has made the city of Calgary act to try and stop them.

Described as protests of hate by Mayor Jyoti Gondek, the city'is asking that council immediately approve the new Safe and Inclusive Access Bylaw.
Trucks of peace. Protests of hate. Grooming of love.
It would ensure that any event taking place inside a city facility such as public libraries, or city-owned or affiliated recreation centres, like the YMCA, a 100-metre buffer zone will be in place to stop any protests.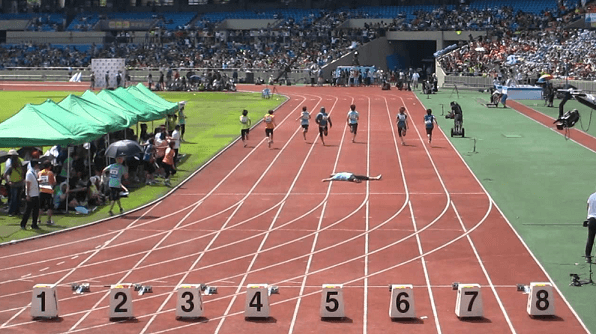 This law would be ridiculous if it specified 10 meters of separation. 100 meters is just a fancy way of making it illegal to protest something. In the confines of a city you often won't be able to see anything 100 meters away, nor will you be heard.
Any person who contravenes the bylaw is guilty of an offence pursuant to this proposed bylaw.

If convicted, they could face a fine of up to $10,000 and/or one year in prison.
I looked through the very same document they link to and I didn't see anything about 1 year in prison.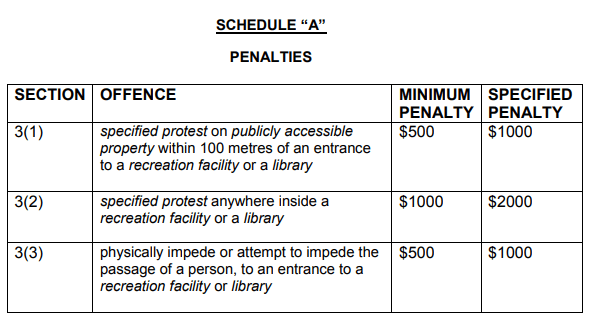 I didn't think that municipal bylaws can include jail time, but it turns out there are some niche exceptions.
Municipal tickets are intended for minor to medium bylaw contraventions, with a maximum possible fine set by regulation (currently $1,000).

Prosecutions under the Offence Act are intended for serious bylaw contraventions – the maximum possible penalty for municipal bylaw contraventions is $10,000 and 6 months imprisonment.

Certain matters, such as an offence related to the discharge of a firearm, may only be initiated by long-form Information. Such matters are sufficiently serious that it is in the public interest for the person alleged to have contravened the bylaw to be heard by or admit guilt in front of the court.
The actual max limit that cities are allowed to fine people is $1,000. There is a small carve out for cities for crimes like an illegal gun discharge. In those cases the accused has more rights and the matter is decided before a judge. Even then, the maximum prison sentence is 6 months, not one year.
CTV is doing factually false scare tactics on this.
Any specified protest on public property within 100 metres of an entrance to a recreation facility or library could see a minimum $500 penalty. If protests occur inside one of those facilities, a $1,000 fine could be issued.

Ward 7 councillor Terry Wong believes council will have to address several questions when it debates Tuesday.

"Is it an infringement on a person's rights?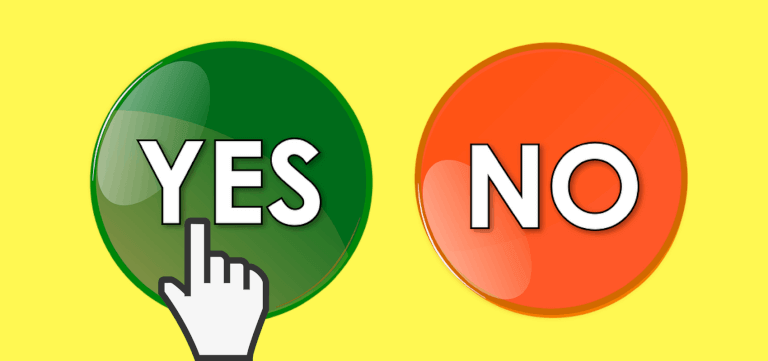 We can have all the constitutional debates, we can have all the social moral debates whether that's right or wrong," he said.

But the other question I think we need to take a look at is, who we are leaving out and the unintended consequences of doing what we're doing."

Wong adds that he would like to see city hall covered under the bylaw, with frequent protests and events held there and possibly expand the buffer zone.

"If we have 500 people, 100 meters is nothing," said Wong.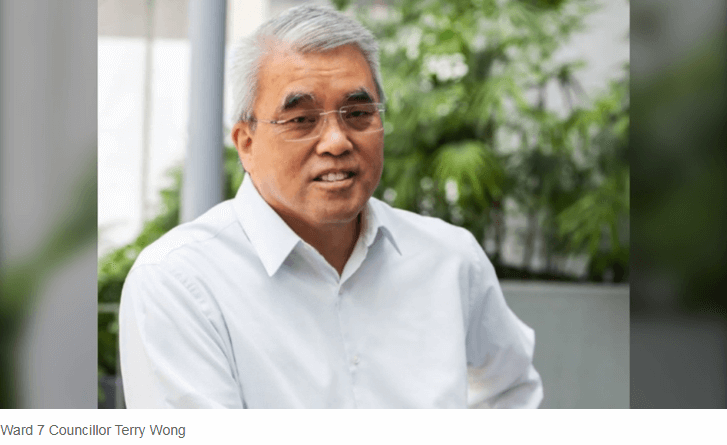 100 meters is entirely out of sight in the downtown area. The above is what someone says when they're trying to sound reasonable but have a ridiculous take. It's absurd.
Anna Murphy, vice-chair for the city's gender, equity, diversity and inclusion sub committee and a strong LGBTQ2+ advocate, says the proposed bylaw is a step in the right direction to keeping members of the community safe.

"We are exhausted and terrified, our existence being under constant threat and attack by those who seek to eradicate us simply because of who we are, "she said.

"I think that this will be a puzzle piece. I think there's a bigger puzzle that we have to put together."
I don't know what that flowery language means but let's take a look at this Anna character. I'm sure she's –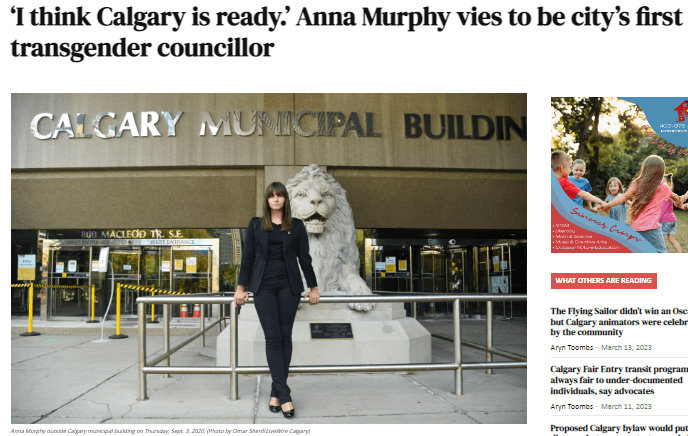 A man. I wouldn't have predicted that, and yet find myself entirely unsurprised.
Murphy says she's been left disappointed by recent protests.

"It's heartbreaking because I know and we know that these demonstrations of hate do not reflect the true spirit and energy that we know Calgary to have," said Murphy.

Ward 11 councillor Kourtney Penner says she will support the bylaw at Tuesday's vote.

"It is providing that zone where people can enter and exit a facility free of intimidation and harassment, be that verbal or non-verbal," said Penner.
This vote should have already happened as of time of writing, although I can't find an update. I did find something else that is somewhat ironic.
On Feb. 12, it was reported that bylaw and police officers ticketed two teenagers for excessive noise after an interaction between members and allies of the LGBTQ2S+ community and a religious group got heated, according to attendees.

Bylaw officers told Global News Monday they are not proceeding with the tickets. Instead, officers said the incident was an opportunity to "educate" young people on the bylaw requirements.
Those are the perverts. They typically show up to events with whistles or noise makers to be as obnoxious as possible. In this case, they clearly broke the city bylaws, but the Calgary police decided to let them off scott free. Not so for Pastor Derek Reimer.
And you can see some of the protest above.
There were a lot of neighbourhood complaints according to police crews, but many attendees said they were targeted by hate-fueled speech.

Earlier this month, Chinook Blast organizers had to postpone two performances due to anti-LGBTQ2S+ protests.
Oh no. Less of this stuff? How will the gay toddlers of colour live through this deprivation?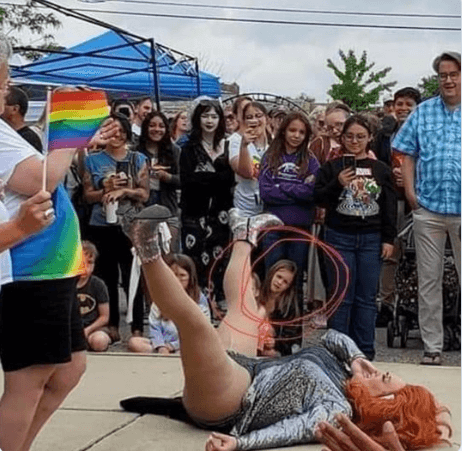 I'm curious as to which events specifically got delayed.
On February 10, Calgary mayor Jyoti Gondek held a press conference to announce that the city's street harassment bylaw would be used against drag protesters, essentially creating a religious police force for the priestly drag queen class.

The announcement was in response to the postponement of two events—an on-ice drag show and a performance by DJ Gaysnakes—that had been planned for Chinook Blast, a Calgary winter festival.

Gondek herself explained that she was invoking the bylaw to deal with the "hateful messages" outside of such events. In other words: to deal with speech that she doesn't approve of.

She made this point quite clear at the press conference:

"What you don't have the right to do is use hateful language in a public space to make people feel unsafe and uncomfortable and unwanted. That can't happen. So, what we are planning to do is use our street harassment bylaw to ensure that anyone who is communicating hate at an event like this is not able to do so."
Let's take a closer look at that press conference, because it is amazing.
Jyoti Gondek: We had a drag brunch at the rec room in the north of Calgary by our community of drag queens in Calgary who have done amazing work promoting inclusion and really raising awareness of how important it is to be a welcoming community. Unfortunately, some members of our population thought it would be a good idea to protest this event. Which is, I'm just gonna use my opinion, a horrible thing to do.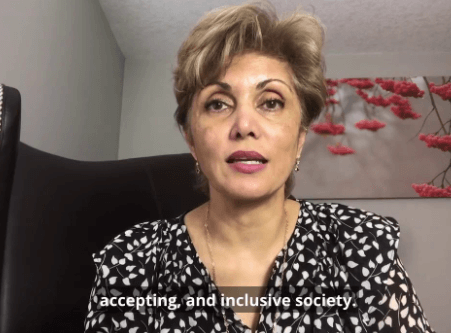 As is always the case, up is down, black is white, and the people excluding you are all about inclusivity. The entire point of this
"inclusivity" bullshit is to exclude normal people from the political conversation. Usually that means White People. In this case that means all normal people who are opposed to child grooming.
I was very happy that CPS [Calgary Police Service] was there to provide a buffer, and to ensure that everyone was safe, and that the show could go on. My question is, do we have the ability, when a protest is rooted in hatred, to ticket people and shut this down. How does it work?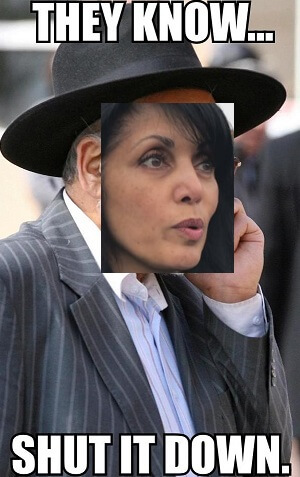 She's really assmad at the peasants who dared say no to the mentally ill perverts who want access to children. The politically correct term for this hatred is pedophobia.
A Calgary man who protested a drag show geared towards kids was denied bail after refusing to distance himself from future shows and drag performers.

Calgary man Derek Reimer faces criminal charges for shouting homophobic and transphobic slurs during a drag storytime-for-children show – last week, he refused bail conditions in provincial court, and the standoff continued on Monday, CBC News reported.
This is not the first time that Pastor Derek Reimer has been in trouble for protesting. He was issued two tickets in 2021 for protesting Covid-19 stuff, and beat both of them in court. Unfortunately, our (((Democracy Class))) takes grooming children much more seriously than Covid-19 enforcement.
Calgary man Derek Reimer faces criminal charges for shouting homophobic and transphobic slurs during a drag storytime-for-children show – last week, he refused bail conditions in provincial court, and the standoff continued on Monday, CBC News reported.

On Monday, Reimer's lawyer deferred the case a week, saying Reimer still feels he cannot satisfy the bail conditions. Reimer will reportedly stay in custody until March 14, when another court hearing takes place.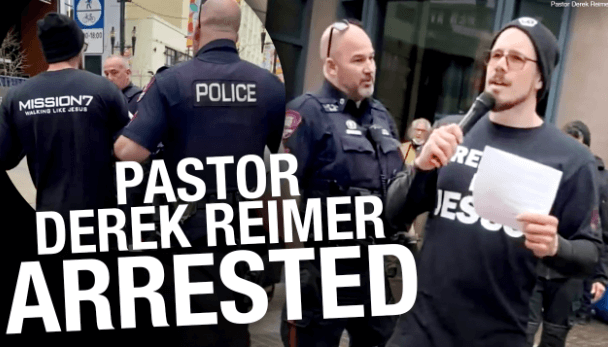 That article was written on March 7th, and he only waits until March 14th for his court appearance. Not agreeing to oppressive bail conditions when you only have to wait a week in jail is very reasonable. It's also ridiculous on the part of the Calgary Police, especially in light of them arbitrarily dropping the noise bylaw infractions against the two perverts. 
True North News doesn't tell us what "homophobic and trannyphobic slurs" Mr. Reimer used. Then again, neither does the CBC. It's possible he said "groomers and trannies," or something like that. To be clear, he's charged with causing a disturbance. However, they then add "hate motivated" charges on top of that.
The drag storytime-for-children event took place at the Seton branch of Calgary Public Library. In similar events, youth under the age of 9 are invited to watch attired drag queens read children's stories.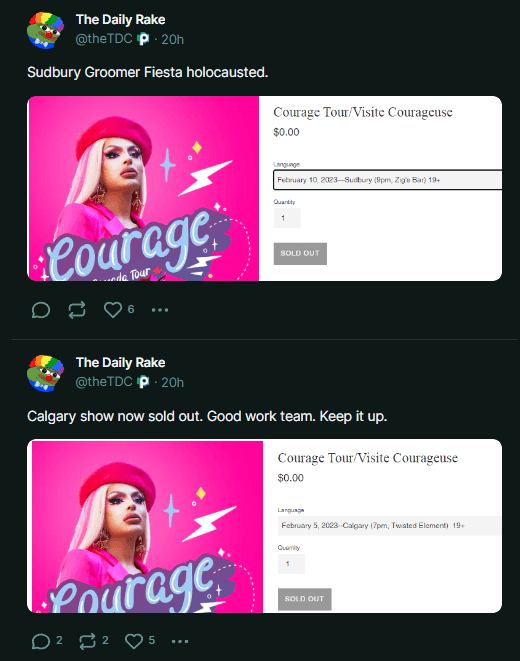 I think this might be connected to the Drag Courage events that we trolled a while back. There are a lot of these pervert events though, so we can't be sure. And yes, they're often run by confirmed pedos with CSAM convictions.
The news comes after politicians spent months criticizing Canada's bail system, saying it is far-too lenient in letting repeat, violent offenders walk.
It's almost like they're anti-Whites and perverts, and adopt fake principles tactically to get what they want. That's the subtext that True North News is not interested in giving to you.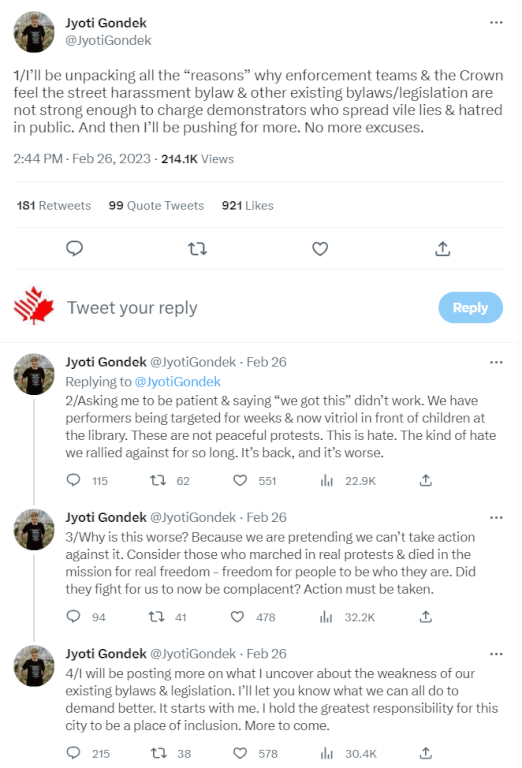 The Jyoti cries out "freedom" as it makes it illegal for you to protest. Responses are universally negative.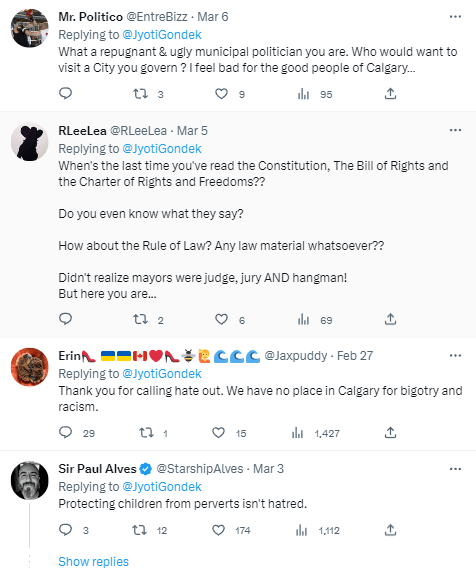 At least until Smitty shows up. You see this is literal terrorism. Xir is scared. 

One last bit of Calgary news.
Calgary is set to approve a process for handling petitions to recall city politicians, but one political scientist says its details are so strict that a successful campaign would be nearly impossible.

The local policy, up for discussion at city hall Tuesday, fulfils requirements set out by the UCP government's Recall Act. That legislation gives constituents the power to boot their MLA, city council member or school trustee from office if they meet several lofty thresholds.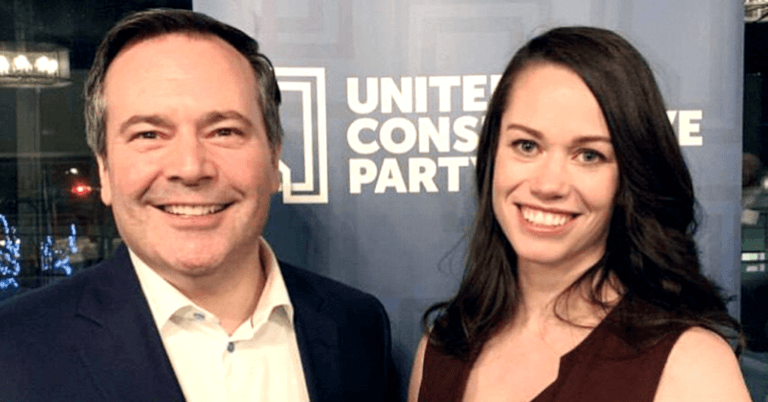 That law is from 2021. Did worthless cunt Jason Kenney's political party do something good for once?
Albertans could soon have the power to recall their MLA, city council member or school board trustee under new legislation tabled Monday by the UCP government.

"At the end of the day, ordinary Alberta voters are the boss in our democracy and if they lose faith in their elected representatives, they can hold them to account in between elections," said Premier Jason Kenney as he announced the proposed legislation, dubbed the Recall Act.
Let me check something real quick.

Doesn't affect judges == worthless. And letting cities implement their own version of this makes it even more worthless.
Now back to our article.
If you don't like a sitting politician, just make sure to get 40% of the entire population to sign handwritten "fuck this bitch" letters under the supervision of elections officials. That's a realistic proposition, especially when half the population doesn't bother voting in the first place.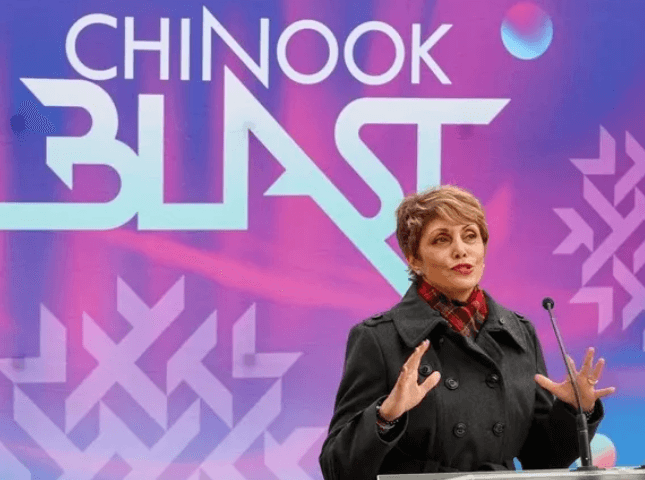 Albertan municipal elections are in 2025. You really might as well wait until then to electorally holocaust these types.