The first part of this article is just recounting the experience of the shooting from the perspective of one of the parents. In this case we focus on Angeli Gomez, the mother of two children who survived. Feel free to skim over this part, and you can see the backstory to the Uvalde shooting here and here.
It has been just over a month since the community of Uvalde experienced the tragedy of a gunman who killed 19 children and two teachers at Robb Elementary.

One Uvalde mother took matters into her own hands that afternoon when she heard gunshots while outside the elementary school.

Angeli Rose Gomez says she heard there was an active shooter and quickly rushed to the school, where her two young boys went.

It was just moments when she walked up to the school and was face-to-face with law enforcement when she heard gunshots, then children screaming inside. Gomez said law enforcement were not doing what she hoped, so she tried to get some parents to force some action to get law enforcement into the school.

Gomez said authorities were telling her if she did not cooperate then she would be handcuffed, she eventually was. She then told them she would cooperate and calm down just so she could be released.

"As soon as they [police] take me off the cuff I see his arm like, give me a little gateway, because I'm real little so a little gateway where I can just run."

Gomez said there was no doubt in her mind she would run into the school and save her children herself, which is what she planned to do.

Immediately, Gomez jumped a fence and began banging on a door window where she saw her oldest son's teacher. Gomez told her, "like you already have a gateway out, so might as well just come out like if I'm going to run out with him, y'all just come on too."

Within minutes Gomez is able to get her oldest son and some of his classmates out. But her youngest was still inside. She ran around the school desperately searching for his classroom.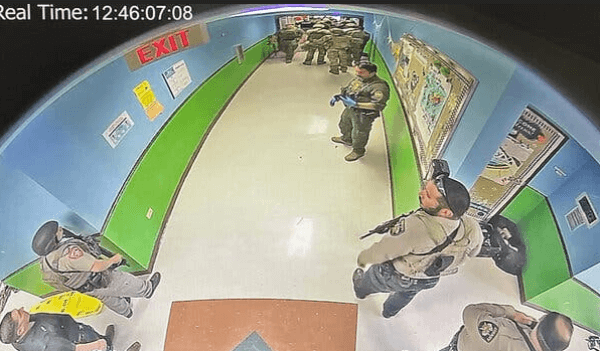 The action, or rather the inaction of the Uvalde Police was shameful. Security camera footage recorded them in the school minutes after the shooting began, doing nothing for over an hour. They then lied about this and other crucial details, only to have security camera footage contradict their claims. And their track record of treating the parents harsher than the students continues.
Ever since that harrowing day, Gomez says she has faced scrutiny from law enforcement, even at her own home, "the other night we were exercising and we had a cop parked at the corner like, flickering us with his headlights."

Because of these incidents, Gomez said she has had to separate from her boys, "just so my sons don't feel like they have to watch cops passing by, stopping, parking."
The police in our countries are political forces staffed with cowards. Because they don't feel like Angeli Gomez is a physical threat to them, they'll happily stalk her outside of her home in an attempt to intimidate her.
Earlier on Saturday, Gomez went to Uvalde's Town Square to continue protesting with other members of the community. With signs in hands that read, "Fire Pete Arredondo," Gomez said she wants to see Arredondo gone without pay.
You'd think with a name like Arredondo, and a Hispanic town, that Pete Arredondo would be some sort of Indio type. Maybe Spanish.
You could even be forgiven for thinking that if you saw his sign, where they probably lightened up his skin.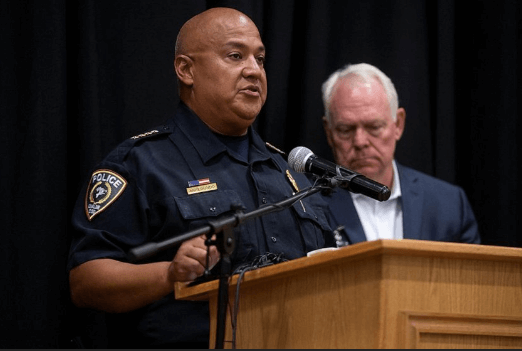 But no, this is Black Pete, the incompetent and cowardly police chief. Amazing how there are all these Black police chiefs absolutely everywhere across the country. It's almost like there's this weird agenda to do that.
Her goal moving forward is to file a lawsuit. Her lawyer, who was sitting next to her during this interview, Mark Di Carlo, a criminal defense lawyer from Corpus Christi said, "the fact that he wasn't fired immediately based upon whatever it is, hours of video, from testimonies such as Angeli's; is an indication that there is some sort of what, corruption or wrong-doing."

Di Carlo told media that he is currently representing about 15 parents in the Uvalde community. When asked when lawsuits will be filed, he said he wants to focus on gathering evidence and information before rushing to filing lawsuits.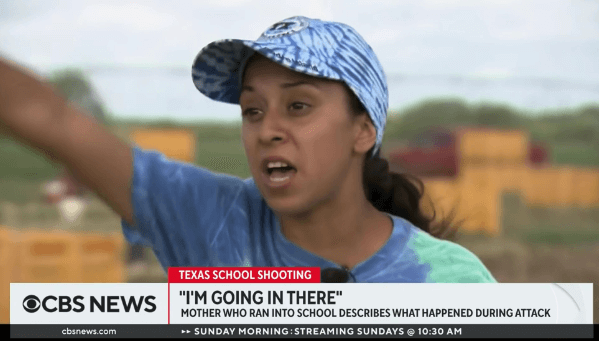 I wish Angeli Gomez all the best with her lawsuit and fight against the Uvalde Police. It's not our fight, but it's emblematic of how corrupt the police forces truly are in this country. When you turn the police into a political force, the only thing that keeps the rank and file there is the easy paycheck and the pension. And you can't ask the pension seekers in blue to put their lives on the line just for some measly children crying out for help. That's just unreasonable.